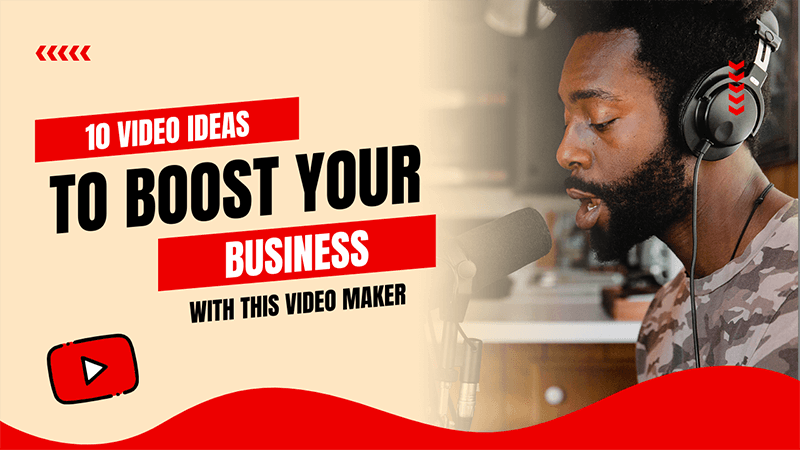 From video email marketing campaigns to your business YouTube channel, learn how to make the most of videos for your video marketing strategy! Profit from Placeit by taking advantage of all the videos we offer to boost your business.
Placeit's Video Maker is super easy to use. Our videos are completely customizable so you can meet your needs. Use Placeit to create all sorts of animated marketing videos, intro makers, Instagram videos, Slideshow videos, Sales videos, and much more. Looking for inspiration? Take a look at these video ideas and start sharing yours!
What You'll Find: 
1. Tell a Story About Your Product or Service
Video marketing is more complex than telling your potential customers to buy your stuff. Make a video about your greatest features, how your products are done, where are they done, what's your added value, and more! Tell us your product story using product videos.
Make your competitors jealous of fun animated videos to brag about your star products or services in a bold way! Everyone is doing video advertising now so come join the experts with professional-looking videos!
2. Present Your Business with a Video
Make a company overview video that is perfect for investors, new clients, etc. Using Placeit's Slide Show Video Maker you can tell your business story easily. It's not all about the product or service you sell. Not even about your latest promotions. Telling your customers who you are is an important part of every brand's identity.
3. Share a Testimonial & Inspire Confidence
Customers love to hear feedback from other customers. You can say anything about your brand, but a customer's review will always be more reliable. Good reviews build trust over other customers. Show off your best reviews with a fun testimonial video. 
4. Show, Teach, Share! Try These Tutorial Videos
Make a tutorial video showing your customers how to do something. This works beautifully too for frequently asked questions. Gather your information, research what your customers would like to know, and make a video about it!
5. Promote a Sale in a Bold Way!
Online video marketing is just the perfect way to promote a sale or a special offer! Animated videos can help your sales look way more interesting than (let's be honest here) they actually are. So get started on those promo videos today!
6. Get Involved in Your Community
Making fundraiser videos is a perfect way to get your community engaged and excited about your brand's cause. Got an event coming up? Are you collaborating with a cause? Let them know and be part of it!
7. Make Videos for Your YouTube Channel
Keep your YouTube channel updated easily with helpful content to update your viewers every week! Make your own video easily with Placeit's YouTube Video Maker.  Not only you can make awesome content for your channel, but you can also add cool intros to your videos!
✨ You might like: How to Edit YouTube Videos Like a Pro
8. Make Videos for Your Social Media
Share your updates, events, and more on your social media. Choose a video for business marketing to help you brand your social media with your style. For example, you can share inspirational quotes using these inspirational quotes videos or other kinds of visuals for your social media video marketing.
9. Celebrate Your Wins!
Celebrate your first 100K followers, or a milestone for your business, maybe a special occasion? Anything you'd like to share! Inspire your community by sharing your goals with our fun Instagram Video Maker tool!
10. Tease a Blog Post!
Wrote something great? Make a video to tease your followers into reading your newest blog post! You can make amazing content teaser videos to promote your most recent news, events, updates, or anything else!
Let's Wrap it up!
Using the right tool you can effectively promote your business, brand your social media, and engage with your customers with fun animated videos you can make on your own. Look pro right from the start we promise you won't need any help this is just the most simple tool ever! Give Placeit's Video Maker a try.
---
11 Video Inspirations You Can Make with This Video Maker
Making videos to boost your marketing efforts is easier than ever using a video maker online tool. In just a few clicks and right from your browser you can create professional looking animations to promote, sell, update and more about your brand online.
Make Videos for Your Business
"I couldn't believe how easy it was to make a video with

Placeit

's video maker!
"
Shania Hulme
5

/5