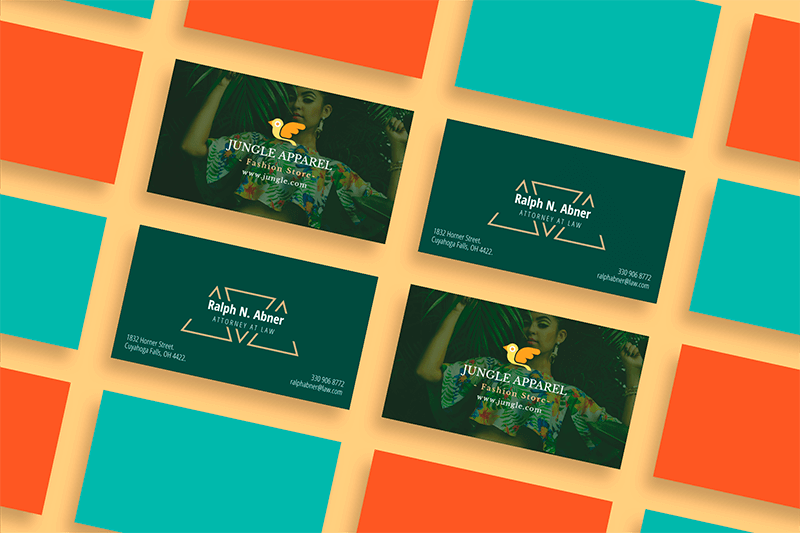 Create an easy, personalized business card in just a few clicks with this online tool. Using an online business card maker, you can create a unique design in just a few clicks. We will tell you everything you need to know about designing a professional business card for your brand.
What You'll Find Here
Business cards are still a pretty huge deal when presenting yourself and your brand. Business card maker apps have made it really easy for anyone to make their own design easily and surprise everyone with professional business cards made by themselves. 
Whether you are a business professional, an entrepreneur, a non-profit collaborator, or a freelancer, creating your designs will be absolutely easy using a business card builder.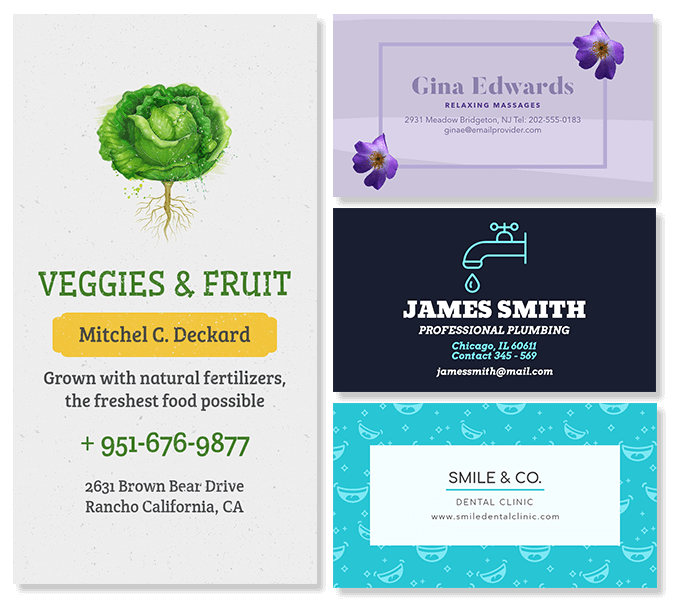 6 Reasons Why You Need a Business Card
1. Make a Great First Impression
Make a good first impression with your potential clients.
2. It Makes You Look Prepared & Professional
Having a business card with all your contact information including your social media channels, is the easiest form to hand out your professional contact.
3. It can Help You Stand Out for Your Style & Originality
Business cards don't necessarily need to be basic, or do they? You have the opportunity to take a simple branding asset and turn it into whatever you want your brand to represent with creativity!   
4. It Is a Tool to Help People Remember You
5.
It is a Personal Touch
When handing out a business card you create a personal connection with the potential client.
6. It's a Classic Promotion Tool
It can also work as a lead generation tool if you play your cards right. 
Other Benefits
Designing a business card is super affordable. You can create your own design and print it all on a budget! 
Also, you can hand out your business cards in all kinds of creative ways. Leave them sitting in strategic places, or hanging, deliver with your product or service. 
You can apply a special deal or promo code on them so that people don't lose them, and so on.
What Should I Feature on my Business Card?
First, you should consider the most relevant information: your name, title, logo, company's name, and contact information like your business phone number, email, website, and/or social media (professional profiles). 
You can add additional information depending on your job title or role, for example, your streaming channels, links for Influencers, taglines, and so on. 
How to Make a Business Card Design
Get into Placeit, select "Designs" from the top bar then select "Apparel & Print" and there you will find the business card maker!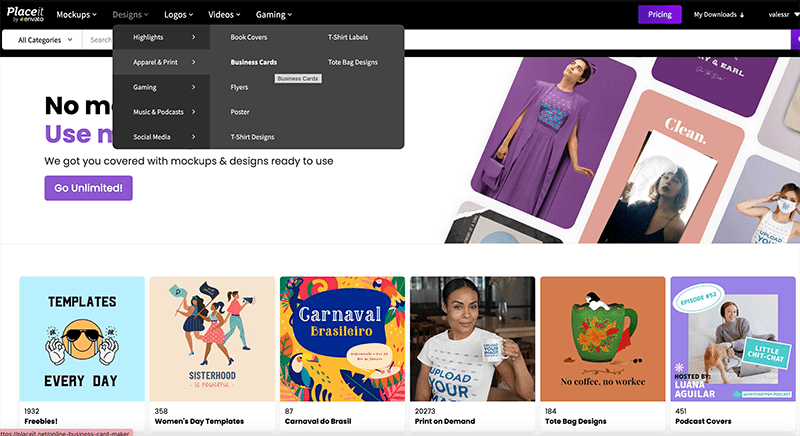 2. You will be redirected to our business card creator with tons of templates to choose from. So all you have to do is choose a template that fits with your business industry and style! You can use the drop-down menu to filter by industry of the left side tags. You can also filter by mixed, best selling, newest, and free!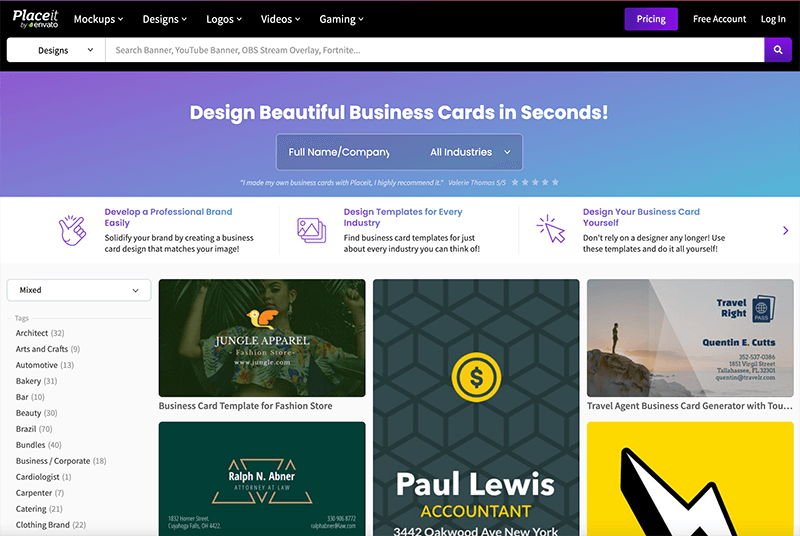 3. Once on the editing screen of your template, you can start customizing as much as you need to ensure an original design. You can change fonts, colors, graphics, backgrounds, upload your own image and/or logo!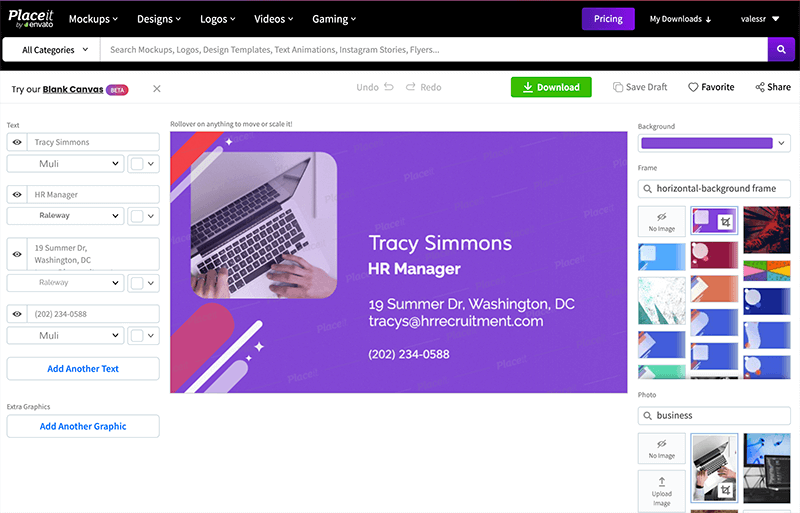 Pro Tip: You can also use the blank canvas to start from the ground up! 
4. Once you are completely done editing your business card design you simply have to click on the download button. You receive right away a high-resolution image ready to be shared everywhere or in print!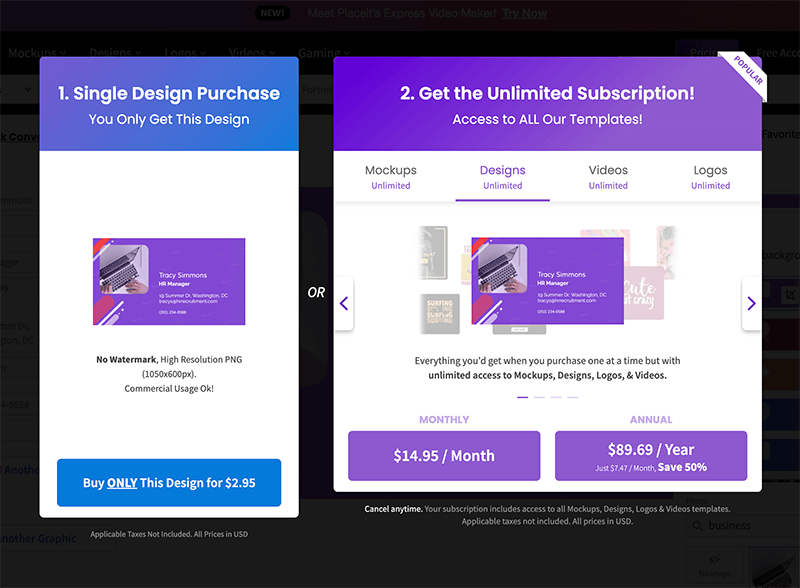 What's Your Industry?
Architect, Automotive, Bakery, Bar, Beauty, Catering, Clothing Brand, Coffee Shop, Consulting, Contractor, Daycare, Dental, Design, Education, Electrician, Event Planner, Finance, Fitness, Florist, Landscapist,  Medical, Moving Companies, Musician, Organic Products, Pets, Photographer, Plumber, Real Estate, Sports, Technology, Travel, Wellness, Writer
Do you have an industry? You can check out our hairstylist business cards maker to get inspired, our handyman business card maker, or check out our How to make a trustworthy real state business card post.
Free Business Card Templates
Great news! You can try a few of these business card templates completely for free! All you have to do is get back to the virtual business card maker library and then filter on the top left corner as "free". That's it! You are now looking at our business card maker free to download and try out any design you like. 
Our Business card maker free downloads are only temporary and constantly changing so whenever you see something you like you should try it out right away!  
How to Make a Business Card Mockup
Showcasing your business card creations on a professional mockup can help you visualize what they will look like before even printing! Using business card mockups is just as easy as creating a design, so go ahead and try it out!
Branding: Going to the Infinity & Beyond!

Create an impressive visual identity for your brand. Placeit allows you to create all kinds of branding assets for your business with infinite customization options. 
A brand should always start with a solid logo. Don't have one yet? It's time! With the same easy online tool, you can create a logo that represents your business perfectly. 
You can create stunning social media posts and use this express video maker to promote your business and brand just like the pros. in just a few clicks and a few customizations here and there you will have stunning images and videos to post for your brand! 
Also, create eye-catching flyers to get the word out on your most recent services and products. And find so much more on Placeit!
FAQ
---
---