From the Experts Advice:

Some people may say business cards are no longer needed, but remember that mobiles' battery sometimes dies at the most important moment of any meeting. Even if they write down your contact information, they will not remember your name or company just with one time you had an exchange. Colors are processed faster, so this is why a trustworthy real estate business card will help you be memorable to whomever you meet.
Why Will a Real Estate Business Card Be Helpful?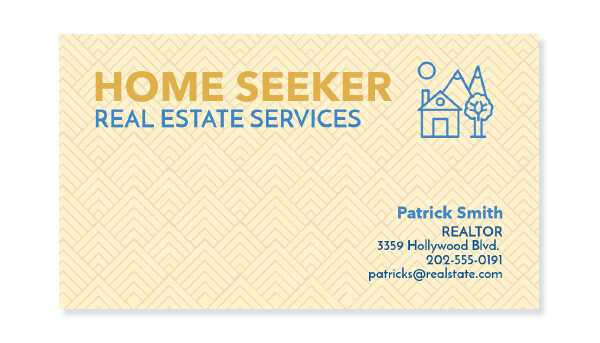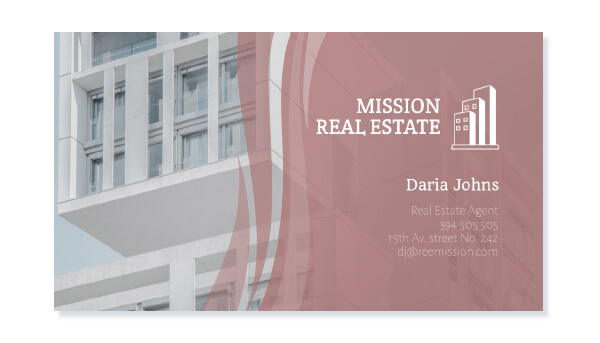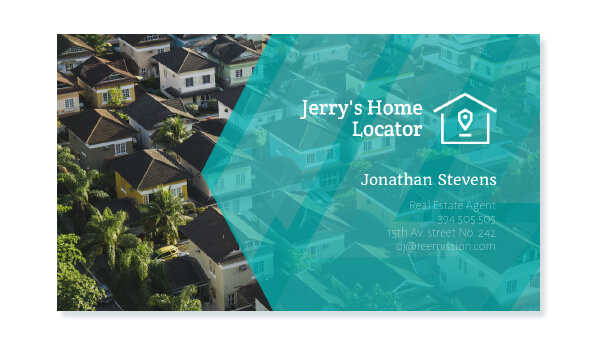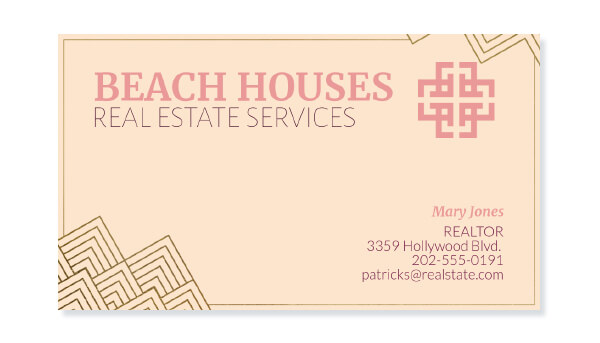 Real Estate Business Card Modern
Real Estate Business Card Design Maker
Business Card Real Estate Design
Real Estate Business Card With Golden Outline
Success Is About Being Trustworthy In Real Estate Business
So what are you really doing in the real estate business? You are not selling houses, you are looking and helping somebody to create their new home! It's so important that your future client has all your contact information and always feels that you are available. This may be their 1st home, their new space to study, new office it's a lot of what space emotionally projects to them.
You must know what their life is about, what they do, who is gonna be paying, what do they like. All this extra info gives you insights into what their real needs are about. This can narrow your options and save time. But not everybody speaks openly about their private life and you will have the responsibility of showing them options, so you must be trustworthy. It's not about showing a ton of houses, it's about showing the right ones!
What Realtors Have to Say:
We spoke to Marina Ramirez, realtor DRE# 02016043 from Century 21 in California and she shared some knowledge on two main questions about trust and closing deals:
Q: How Do You Create Trust Between You and Your Clients?
Dealing with clients is more than a job it is a work of art. The goal is to gain clients' trust and assure them they are well represented and will achieve the best possible outcome in the sale or purchase of their home. Even though the process is the same for any home, the clients and the situations will vary. It is important that the realtor is sensitive to the client's wants and needs and they know their wishes are your priorities. Not only for the transaction's sake but also for the relationship that is being built. Keep in mind, our job as Realtors relies heavily on referrals, and those referrals are a product of great experiences.
A Realtor Wears Many Hats
As realtors, we wear many hats the most obvious is that of the salesperson. However, we are not limited to that. Sometimes we are that of a nanny and will look after children while our clients look at homes. Other times we are a therapist when listening to clients' situations and helping them cope. We are also a teacher as we help them understand the process and give them all their options. We do whatever it takes to make that client feel comfortable and gain their trust because that is what it all comes down to. If the agent has gained the trust of the client, the agent will be given the job to handle one of their most valuable assets.
Give Something Valuable
Give your clients something of value, something that will set you apart from the rest. For me, that is time. Don't overbook yourself so much that when your client needs you,  you are not available. If you get a call for a showing, try hard to make a time that is most convenient for them work even if it means rearranging your schedule. Answer every phone call or send a text to acknowledge their call and set up a callback time. Keep in mind, if you don't answer someone else will.
Be an Expert
Most importantly, be an expert. After all, what you are being hired for is your expertise, not your opinion. Know the market, do research before meetings, and avoid "I don't know". If you exuberate confidence, you will gain the trust of your clients. Peace of mind is the most valuable gift you can give your client. The home buying or selling process can be stressful but dealing with a realtor it shouldn't be.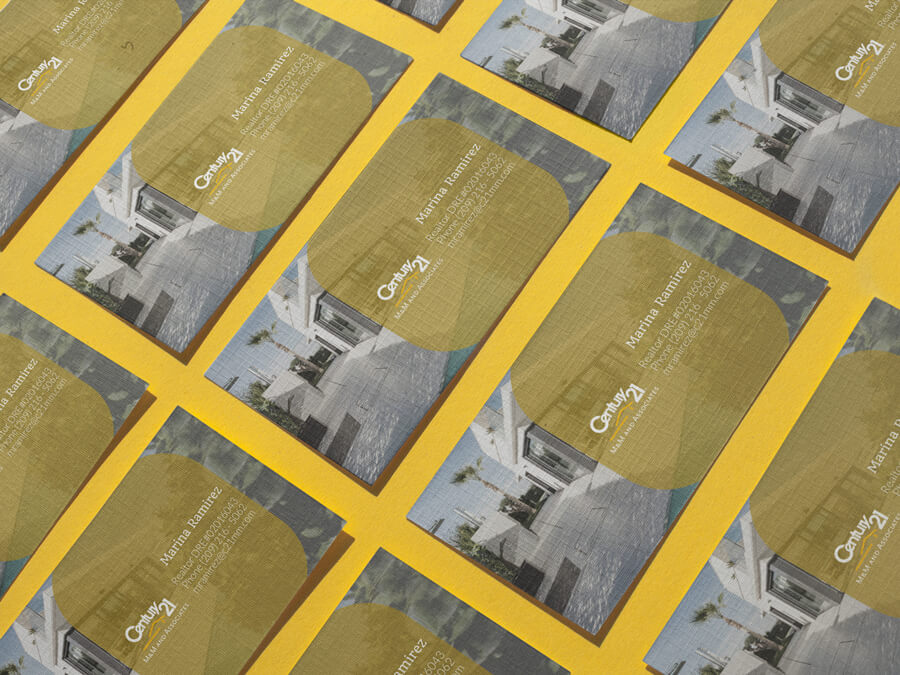 Mockup of Business Cards Lying on a Yellow Surface by Placeit
Q: How Do You Close A Deal?
There are three key ingredients to closing a real estate transaction:
First and Foremost Is Communication
Build a relationship with your client and really get to know their expectations. Do not leave anything undisclosed, do not assume anything, and keep everything in writing. Make sure it is clear to the client that you are only there to represent them and not to make decisions for them. It is our job as the Realtor to explain everything, give all the options and explain all possible outcomes but it is ultimately the client's choice.
Build a Team
It is also crucial to build a team that you know will deliver the same quality of service that you provide. Team up with a trusted lender, title, and escrow company that shares the same work ethic as you do because they will have a huge role in a successful closing.
Always Be Proactive
Being one step ahead will not only prove yourself to your clients but will avoid sticky situations. Constant reminders to your clients will help ensure all deadlines are met and clients achieve their goals in a timely manner.  Do not wait until the last minute to schedule inspections and appraisals. It can take time to get worked on the schedule, get a report back, and finalize negotiations. Don't leave for tomorrow what can be done today!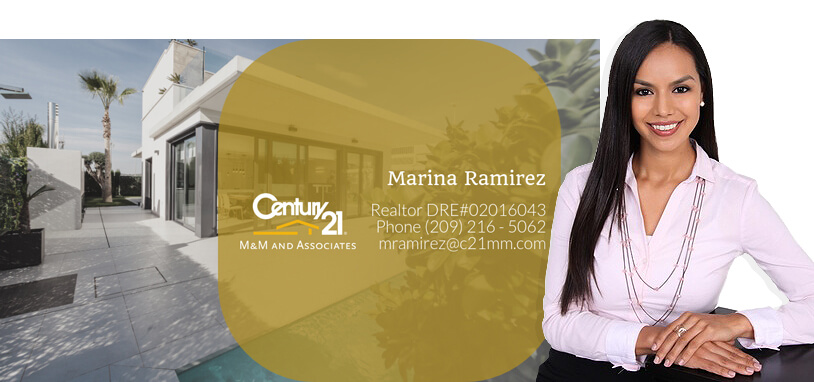 Start Creating Your Personal Branding with Smart Tools
Personal branding is about how people perceive you. When building up your real estate brand you'll want to think about at least 3 concepts around your own philosophy in your work and your life and start taking care of little details like:
A well-written and accurate bio.
A professional studio photograph.
Up to date website and social networks.
A clear and effective communication strategy.
Create Your Own Real Estate Business Card
Here you can start expressing your style, and the type of projects you normally are really good at.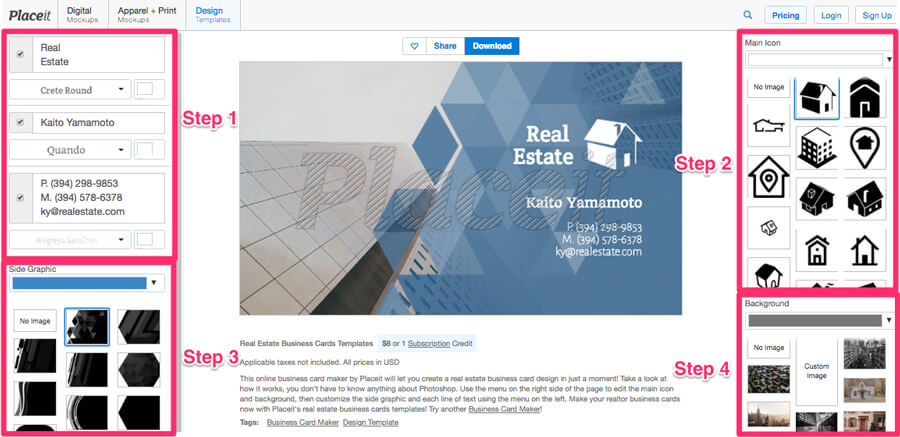 Step 1. Choose your favorite font and write down your information.
Step 2. Select your favorite icon, this will be placed on your right side over the color texture.
Step 3. Select your favorite texture and color, this will be placed on your right side of the business card with transparency.
Step 4. Select your favorite background picture.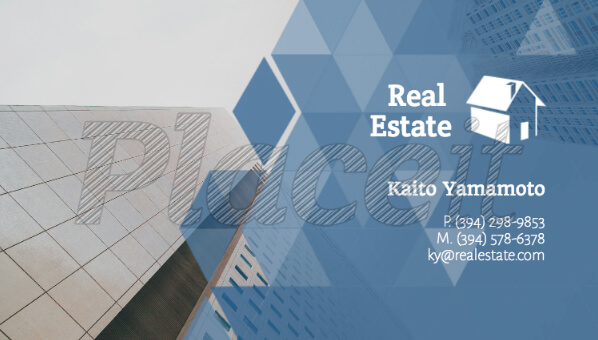 Ok Fine, Where Do I Start?
Once you're convinced of your design, you are ready to download it. You can pay for just that design or consider membership and access to all these great tools that will help you create good graphic communication. You can also look at other business cards options for many other templates to customize!
Create Your Real Estate Social Media Graphics
You can use graphics or videos to thank new clients, approach new ones, or show new homes you may have available. Or just share with your follower's tips over how to make the best buy or your own philosophy. With Placeit you will find an online business card maker and other tools to create awesome graphics. Look at these examples.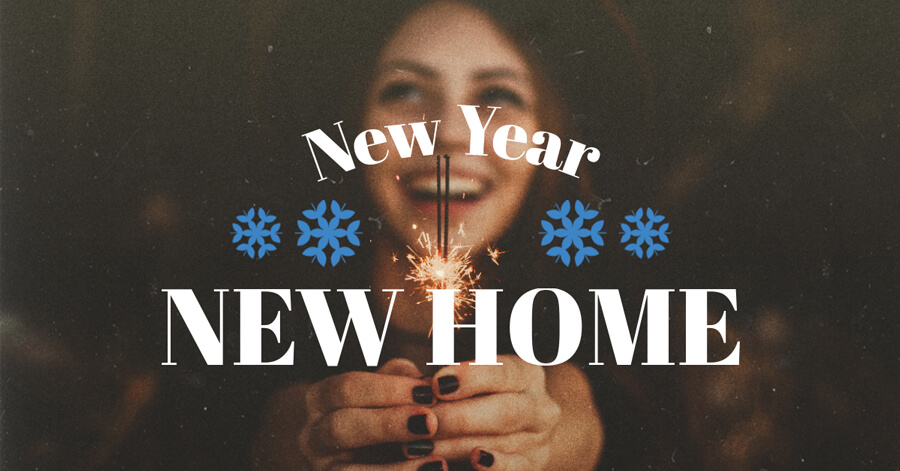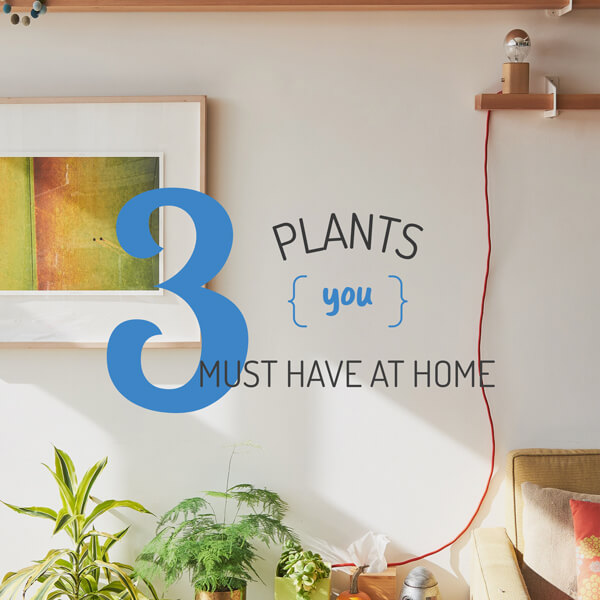 Make It Personal, Create Great Merchandising
This way they won't forget you and their experience. A happy client that feels pampered will always recommend you.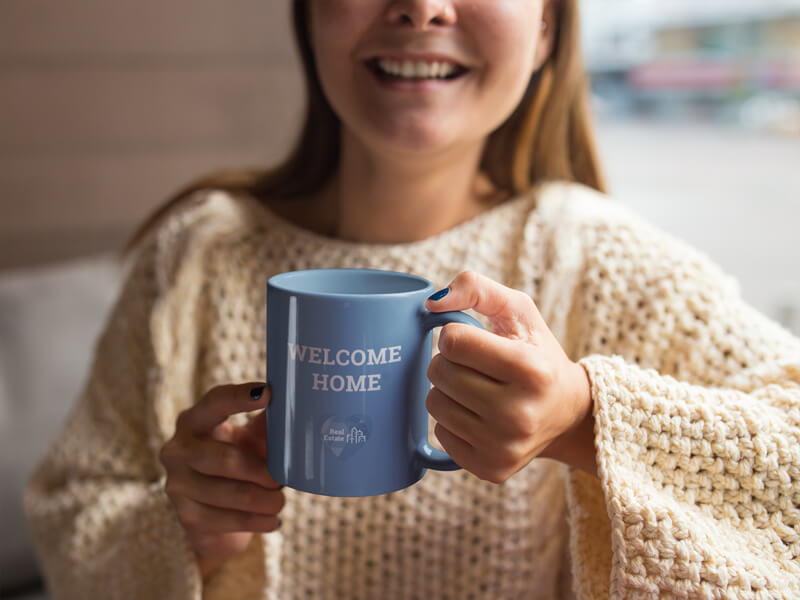 Create your merchandising and leave that little detail in their new home. Like a pair of cups with some special coffee beans and a note saying, enjoy your first cup of coffee at your new home.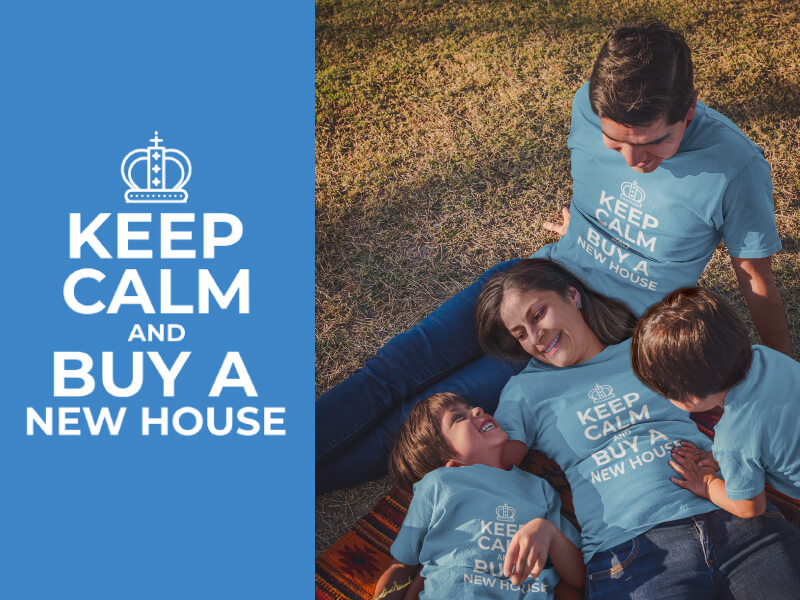 Give those t-shirts once they have joined the real estate family, make them proud of their new acquisition.
Being trustworthy in real estate is really about showing your passion on this topic, letting them know you care about your clients, and creating all that world around what you believe with graphics, messages, and of course a great team that will support your whole communication and advertisement on any channel you choose.
Keep calm and create business cards and graphics!
Do you want to create your own logo in the real estate business? This guide on how to make a real estate logo using a Real Estate Logo Maker is all the help you'll need to make your own! If you already have a logo but it's in need of an update, rebranding your business may be a great option. P.S. Another service that complements real state is a moving one, so recommend our Moving Company Logo to your networking!
---
Placeit Is the Perfect Tool for All Realtors
When it comes to being trustworthy you can actually start thinking about how to build this through your personal branding. Social networks can actually connect your with more people and Placeit helps you by being that perfect tool for creating your own real estate logo, picture and video mockups to express that idea you have in mind or even t-shirts as merchandise.
Make a Trustworthy Business Card
---