Best Dropshipping Websites to Start a T-Shirt Business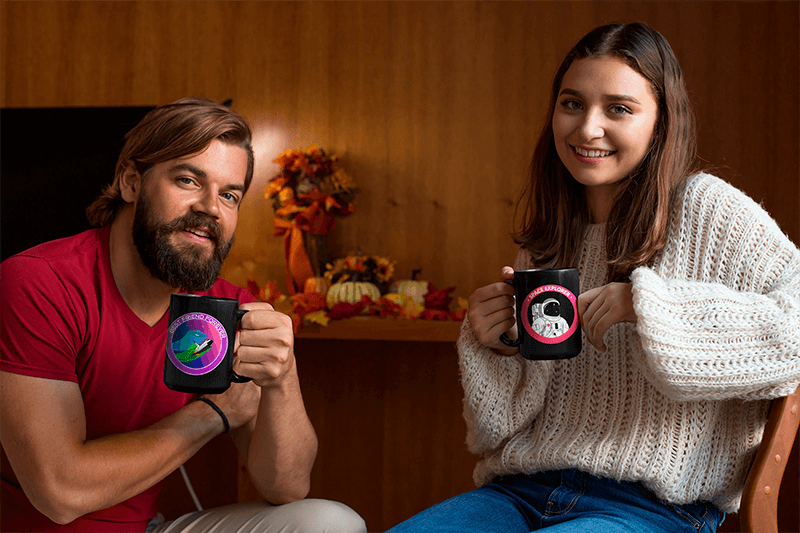 What Is Dropshipping?
Dropshipping is a process in which a retailer passes customer orders to a supplier partner, who then ships the order to the customer. By dropshipping, you can save up a lot of money from printing equipment to printing materials, and you won't have to purchase or store blank t-shirts at home, and you can forget about packaging and shipping too. Starting a t-shirt dropshipping business is an excellent idea because it has very low upfront costs with huge growth potential.
As easy as it sounds, you still need to put a lot of effort into creating amazing t-shirt designs, promoting your t-shirts, and your website to drive traffic and start making sales. Allowing the experts to fulfill client's orders leaves you with the sole responsibility of setting up a beautiful website, optimizing it for search, and promoting it day and night until it gets off the ground.
📦🤑 Want to sell more than t-shirts? Then keep reading this list that includes the  Best Dropshipping Products to Lift Up Your Sales in 2023
How's the T-Shirt Dropshipping Industry Performing?
According to eMarketer, worldwide retail e-commerce sales will increase to more than $6.54 trillion by 2022. By selling t-shirts online you can get a piece of that tasty cake. Have a quick look at the table below: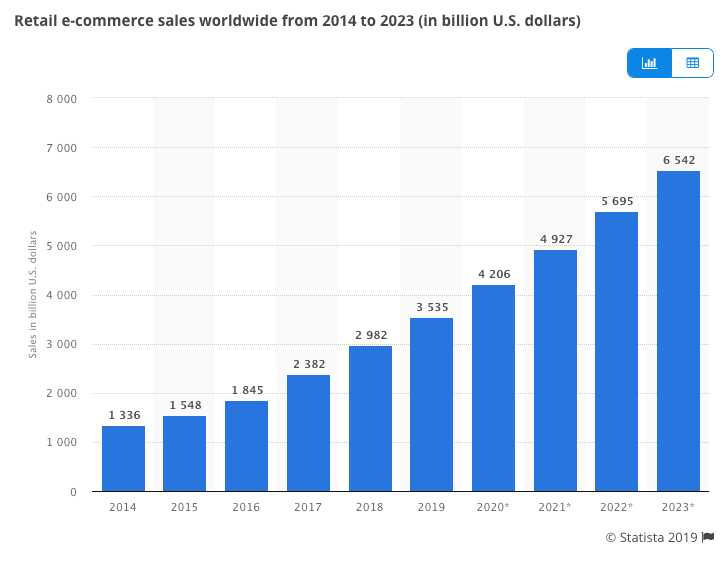 Good news is, there's a handful of easy-to-use tools to help you set up an e-commerce-enabled website to start selling t-shirts and all sorts of apparel online with your brand and your designs. Eager to get started? Go try the t-shirt mockup generator tool which will help you boost your t-shirt business along the road.
By choosing a t-shirt drop-shipping business model, t-shirtpreneurs like yourself can stop worrying about having to purchase wholesale t-shirts, print designs on them, and have them shipped to the end customer. Dropshipping is, in most cases, an artist's optimal distribution channel.
To help you get started selling t-shirts from your own website as soon as possible, in this blog post, I will show you which are the best dropshipping sites for your t-shirt business and the reason why you should partner with one of the drop-shipping companies on the list. Let's do this!
---
Best Dropshipping Sites Guide
---
Without a doubt, Printful is the t-shirt dropshipping leader. With almost 8 years in the business, Printful now provides top-of-the-line dropshipping services for everyone. With the best social media following base and highest domain authority ranking among the dropshipping companies analyzed in this blog post, it makes sense to talk about Printful first.
Printful's name is a combination of the two essential parts of the company's service – print products and fulfillment. Having locations in both the USA and Latvia, allows Printful to offer a fast and reliable service to most countries in the world.
What I certainly liked about Printful and what differentiates it from other t-shirt dropshipping sites is the number of e-commerce platforms Printful is partnered with and the possibility of custom branding the products you sell. You can integrate Printful to Shopify, WooCommerce, Storenvy, BigCommerce, Gumroad, Tictail, Big Cartel, Ecwid, Amazon, Etsy, and Weebly. Maybe having this big amount of business partners is the reason why Printful has printed up to 12.5 million products since 2013 until now.
With custom branding, you get the opportunity to wow your customers by sending custom stickers with your branding on every purchase. Your customers will gladly paste these stickers on their belongings, becoming brand ambassadors and helping your business reach wider audiences. Remember, it's all about the details!
Printful's Costs
With Printful, you get to choose how much profit you want to make out of your orders. Their profit calculator allows you to see how much you could potentially be earning per successful purchase. A minimum profit margin of 30% is recommended.
So How Does Printful Dropshipping Service Works?
Once you configure your shop and set up your website you will be more than ready to sell. The way it works is pretty straightforward as the following graphic shows.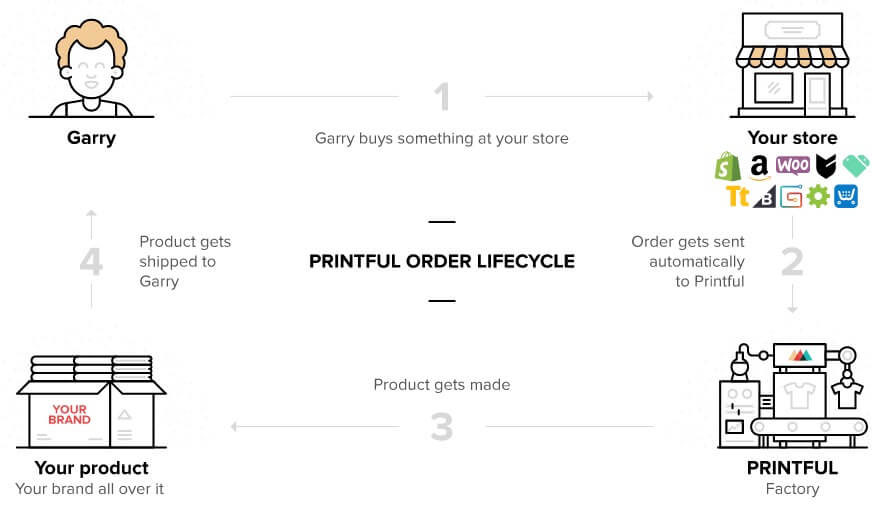 How Printful Processes Your Sales:
1. You set up your store and upload your unique designs.
2. A customer purchases on your site.
3. Printful automatically receives the order, processes it, and ships it.
4. Your client receives your item.
Considering printing and shipping times, customers can expect their t-shirts to be on their doorstep in about a week. Domestic deliveries are always sent with tracking codes! For all orders being shipped outside of California and North Carolina, you're not required to pay tax, which is awesome.
What are Printful's Most Popular T-Shirts?
What Else Does Printful offer?
✓ Warehousing Fulfillment
✓ Design Services
✓ Ecommerce Photography
Printful has done an excellent job on the tutorials side as well, make sure to check their YouTube channel. Also, don't forget to read their guides and FAQ section, this will help you prepare your art files before submitting them to Printful and have them ready for sale.
Printful Install Guides:
---

Printsome was founded in the United Kingdom with the mission to modernize the T-shirt printing industry. With state-of-the-art technology and an agency mindset, the company launched with a strategy that always puts the customer experience first.
Since its inception, they have focused mainly on the B2B sector. IKEA, Shazam, and Rockstar are just some of the brands they have worked with. Now, they're taking the experience they've gained over the years and using it to launch their new 'print on demand' branch.
Thanks to this initiative, Printsome can now cater to the entrepreneur who always dreamed of launching their line of T-shirts but did not have the resources to do so. Printsome On Demand offers all the tools and services needed to run a successful e-commerce business.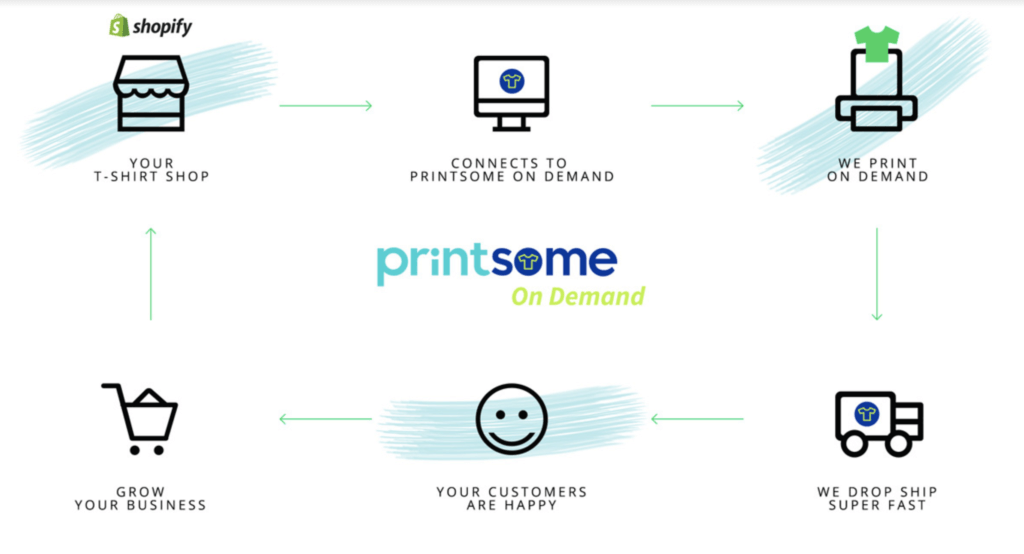 How does Printsome On Demand work?
To get started with Printsome On-Demand, those interested just have to register for a free account and follow the installation instructions. Not only do online entrepreneurs gain access to Printsome's technology but its famous customer service as well. From then on, Printsome promises to take care of everything from printing to shipping.
Unlike the B2B service, print on demand is available for all of Europe and shipping can be made anywhere in the world.
Shopify App
Thanks to a new app, any Shopify store owner can connect their e-commerce business with Printsome's systems in just a few clicks. It is as easy as just clicking 'install' on the Shopify App Store.
What Makes Printsome on Demand Different?
The company has a proven track record of offering high-quality, professional printing services vouched by more than 16,000 customers and is the go-to supplier for SMEs and big companies all throughout the UK and Europe. Since it was launched in 2013, Printsome's customer service and quality have become a reference in customer experience.
Tailored options
Years of experience in the garment printing industry
Expert customer service
360º services
Simplicity and ease of implementation
A Well-Sorted Catalog
Over the years, Printsome has learned which are the best garments for each printing technique. In this case, digital printing. The team has put together a catalog of hand-picked items which will guarantee the best possible results.
Printsome's best-sold garments are:
Printsome On Demand's Pricing
Dropshipping is a pretty risk-free way of launching an online T-Shirt business. Like most of its competitors, Printsome On Demand doesn't have any subscription or monthly fees. It only charges a fixed rate per garment sold.
This means that if the business fails to pick up, then there are no reasons to panic. No sales, no expenses.
More About Printsome:
---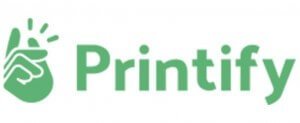 Now, Printify is a whole new thing. Printify is like the Uber of the Print on Demand Drop Shipping websites since they don't really own any printers! What Printify really has is a great technology that connects your favorite E-commerce Platform (e.g. Shopify, WooCommerce) with printers, dropshippers, and your customers.
When you publish your Printify products and clients buy them on your Shopify or WooCommerce store, Printify will send orders to production and shipping directly to your customer – with your branding.
Printify Pricing
Printify allows you to reduce costs by choosing the print company to work with. It wouldn't make sense to have t-shirts manufactured in east Europe when your target market is on the West Coast.
Those t-shirts would end up having high shipping costs that your final customer would have to pay. Printify allows you to choose a print shop located as close as possible to your target audience and this way helps your customers get your t-shirt designs for less and way faster! You don't have to pay any monthly fees – pay only per fulfilled order.
This means that you can also choose what items to sell by Print Provider. Your items' final pricing then depends on a few different variables. You can select them by price, quality, and location.
There are different available t-shirt models, manufactured different brands, and sold by different providers. Before you choose the t-shirts you want to sell, you need to have a clear understanding of which brands are suited for your online t-shirt shop. You can choose from different print providers located in the United States, China, and the United Kingdom.
What's Else is Good About Printify?
Its website and web design are modern, intuitive, and easy to navigate. I'm sure you will quickly find your way through Printify and will have no trouble setting up your store even without their super thorough user manual. They've done an excellent job writing down guides that help you all the way throughout the design process and selling stage. Check them out below:
Printify Install Guides:
---

Printaura is also a great company to choose as a t-shirt drop-shipping partner. Talking about functionality, Printaura and Printful offer practically the same services. Printaura prints and dropships a huge variety of products enabling thousands to sell high-quality goods on their own websites and allowing customers to purchase amazing designs from every corner in the world. Headquartered in New York, Printaura is able to offer international shipping at affordable prices.
Again, what's great about a dropshipping leader like Print Aura is that your items are labeled with your brand logo and you can include branding stickers and alike with every shipment, making your customers fall in love with your brand. Your customers won't have the slightest clue that you are running a business with your mere laptop.
You can connect Printaura with Shopify, WooCommerce, Etsy, Storeenvy, Opencart, and Bigcommece. Talking about website aesthetics, an update to their website design would certainly make it compete with Printful. Printaura's website is not as easy and intuitive to navigate, but still, it's not that complicated either.
Print Aura does a really great job guiding users through the whole shop set-up process. It's as easy as: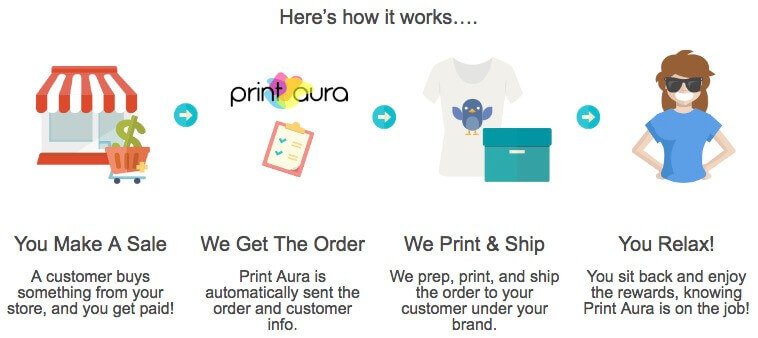 Printaura Install Guides
---

Teelaunch is another leading print-on-demand fulfillment company. By simply uploading your designs you will be able to have them printed on over 35 different physical items which your clients will be able to order online straight from your website. T-shirts, pillows, mugs, posters, stickers, cutting boards, pet beds, you name it!
Teelaunch is the perfect partner for your Shopify-powered store since it is exclusively made for Shopify. With 14 production facilities around the world (United States, Canada, Australia, and the United Kingdom) Teelaunch is able to serve globally. With only 2 years in the business, Teelaunch now owns a slice of the big dropshipping pie and will continue to grow if they keep providing such a good service.
Teelaunch will immediately send you to the Shopify Apps website to link your Shopify account with Teelaunch. The process is pretty straightforward. Teelaunch's marketing efforts are significantly smaller when compared with Printful and Printaura. As Teelaunch keeps growing, its marketing team should as well and we will start seeing more on the Internet about this great dropshipping company.

Teelaunch doesn't have video tutorials like Printful or Printaura to help you out all the way through your t-shirt venture. A few guidelines are shown and that's it.
What makes Teelaunch different?
You won't be able to brand your items as with Printful and Printaura
It works with Shopify and Etsy.
You will upload your art files directly to Shopify
Pricing
Here's a spreadsheet with Teelaunch products costs.
Teelaunch Install Guide
---

Thinking about selling custom t-shirts and merch? CustomCat could be the partner you are looking for. With more than 17 years in the business, CustomCat now has one of the most productive productions and fulfillment systems in the business. Located in Corktown, Detroit, CustomCat provides Direct-to-Garment (DTG), Embroidery, and Dye Sublimation decoration for over 500 products and merchandise.

CustomCat connects seamlessly with your Shopify or WooCommerce powered website. CustomCat pricing is surprisingly low when compared to other companies. It takes on average 2-3 business days for items to be produced and shipped from their facilities and it takes less than a week for items to arrive to a domestic destination and no more than two weeks to reach an international destination.
The CustomCat catalog includes everything from t-shirts and hoodies to smartphone cases, dog leashes, laptop sleeves, beer steins, and more!
CustomCat Install Guides
---

To start selling on Oberlo you must search which products to sell in your store. Oberlo's Starter plan is 100% free.
There are millions of options to choose from and tons of niches such as men's and women's fashion, home decor, sports, beauty, and many more. You can add the Chrome extension to add products to your store directly from AliExpress with only a couple clicks.
Find winning products with their "Order Volume" feature. You can discover sales trends over the last 30 days or the last six months to make informative decisions.
Customize Your Products
You can hand-pick your product photos, edit product descriptions and titles, and personalize your store for your customers.
Set Competitive Prices
Use Oberlo data to set prices that match industry standards. You can edit pricing individually and in bulk.
Use Oberlo in Your Language
Use Oberlo in English, French, Spanish, Italian, German, or Brazilian Portuguese to launch your business.

You can place an unlimited number of orders on your store without needing to upgrade your subscription plan. You can choose your suppliers. This dropshipping website notifies you whenever there is a change in your inventory levels or prices. Also, the great thing about Oberlo Data Dashboard is that you can keep track of your sales, statistics, best-selling products all in an organized manner.
Amazing Features
Variant Mapping: Merge similar products from different suppliers and separate colors and sizes onto their own product pages.
Track Customer Orders: provide your customers with expected delivery dates and up-to-date delivery information.
Add Multiple Users: Give your whole team access to Oberlo so that they can help you run your store efficiently.
Bulk Orders: automate bulk orders and fulfill multiple orders with one click.
And more!
---
Directory with the Best Websites for Dropshipping T-shirts
Are you more of a visual person? No worries, I've set up this Dropshipping Websites Directory for you. This t-shirt dropshipping directory shows the contact information of each company and the brand and garments you can sell through each of the dropshipping companies reviewed on this post. You can also find out to which e-commerce companies you can connect your t-shirt business to and the estimated fulfillment and shipping times of each of these dropshipping companies.
If you are looking for a print-on-demand site that is also a great place to build your storefront and sell your digital products, try Sellfy!
---
E-Commerce Platforms
---

You might be wondering, what's Shopify and why are all these companies partnering with Shopify. Shopify is an e-commerce company that has developed an easy to use online platform for online stores and retail point-of-sale systems. Shopify is the tool that both beginner and advanced e-commerce business owners use. Here's a great Shopify guide for beginners to start selling T-shirts on Shopify on the right foot.
With Shopify you get all you need to run an online business:
✓ Hosting with Security Certificates
✓ Your Own Domain
✓ Themes to Customize Your Website
✓ Payment Gateway (to accept payments online)
✓ Security Certificate
✓ E-mail
✓ Analytics
✓ Mobile App
✓ Apps
✓ Assistance
Shopify offers a 14-day free trial for you to get used to it and connect a Dropshipping website to your Shopify account. It's a fully functional trial period that you should use to test the many Shopify functionalities and get used to Shopify dashboards.
Shopify has 4 different pricing plans, Lite Shopify, Basic Shopify, Shopify, and Advanced Shopify. You will probably be just fine with a Basic Shopify account which costs $29 USD and includes everything you need to get started. You can find in this post a link to an extended trial period.
Once that you have your Shopify account up and running you will be able to connect to any of the previously mentioned drop shipping companies and start selling your awesome t-shirts in no time.
Well, Shopify looks cool, is there something more to it?
Yes, there is! Shopify and your Drop Shipping company of choice can be both super-powered by Shopify apps. Some of my favorite apps are ones that allow you to "upsell" merch. These apps will show related products to your customers when they are about to complete a purchase so that they can add more items to their order.
There are many more useful apps for Shopify that will boost your Shopify-powered e-commerce website. Google "best Shopify apps" whenever you are ready and get started with the right foot. Plus, when you go with a platform like Shopify to manage your dropshipping business, you can skip other monotonous tasks like sifting through web hosting plans, choosing a CMS, and having to build an entire website on your own.
Another great Shopify advantage is that by following a few simple steps you can connect your Instagram Business account to it so that you can sell t-shirts directly via Instagram! Check this guide we prepared for you explaining to you how.
https://youtu.be/gKsvU4PF2Qc
---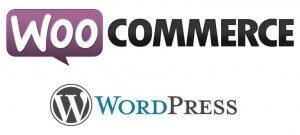 WooCommerce is another excellent e-commerce solution for building your online t-shirt business. WooCommerce works exclusively on WordPress and it integrates perfectly with it. WooCommerce has extensions that will boost your t-shirt selling efforts. No coding experience needed at all!
WooCommerce doesn't take a cut of any of your sales, which is great. To take payments directly on your online store you can use a WordPress plugin like Stripe which is one of the leading online payment gateway companies at the moment.
Another cool feature is that you can sell t-shirts directly through your Facebook Business page which is where your target audience may be spending a lot of their time online.
What WooCommerce lacks is a dashboard view similar to the one Shopify has, which allows you to review your performance at a glance. While it isn't integrated from the start, don't worry, there's a plugin for that.
If you already use WordPress or you've used WordPress in the past and you feel comfortable in the WordPress environment you will definitely love and find the WooCommerce plugin very easy to use and set up.
Yes, I Know How to Use WordPress and I Want WooCommerce!
Great choice, read the WooCoommerce Setup Wizard and get started ASAP!
---
T-shirt Marketing Tips
---

While most of the dropshipping companies mentioned above have their own t-shirt mockup tool, none of those tools beat Placeit's t-shirt mockups. So you might be wondering, what do I need to create t-shirt mockups? It's easy, you just need your art file in JPEG or PNG and simply upload it to one of the many templates featuring real models that are available in Placeit.
T-Shirt mockups allow you to promote your designs in the best way possible. Once you upload your t-shirt designs to your website you still need to do some advertising to let the world know about your new venture.
No business is successful without marketing. Using t-shirt mockups gives you the possibility of showcasing your designs in a professional way that will result in sales! Have a look at this t-shirt mockup featuring a good-looking guy with tattoos!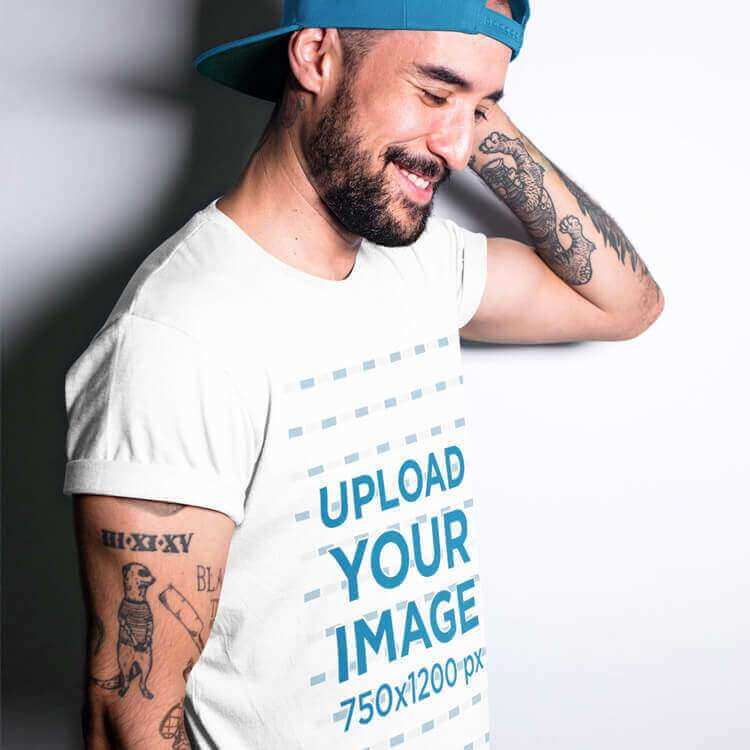 Someone could think that in order to have a clothing brand succeed, you'll need to invest in finding models to promote your t-shirt designs and arranging photoshoots that will make your brand stand out, wrong. Here's where Placeit comes to the rescue. Simply upload your design, resize it, position it, and voilá, you will see your design on a t-shirt. Click on the image below to get started!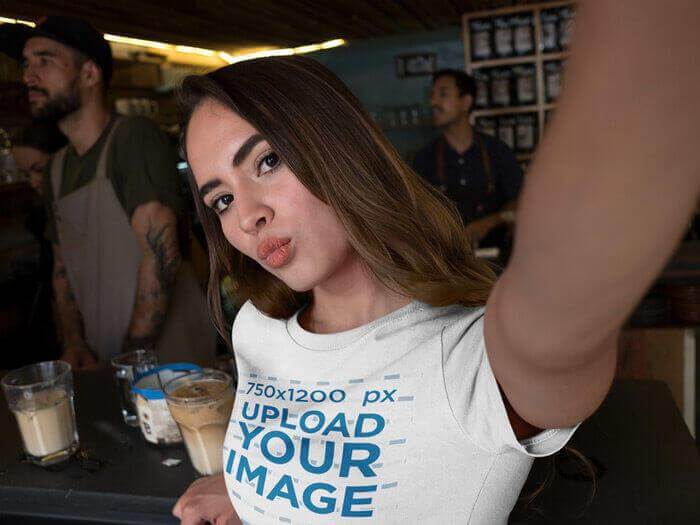 On Placeit you can find templates with models from all over the world wearing t-shirts that you can customize with your own t-shirt designs.
Forget about organizing an expensive photoshoot or wasting hours in Photoshop. Placeit's interface is super easy to use. Want to try it? Click on the image below!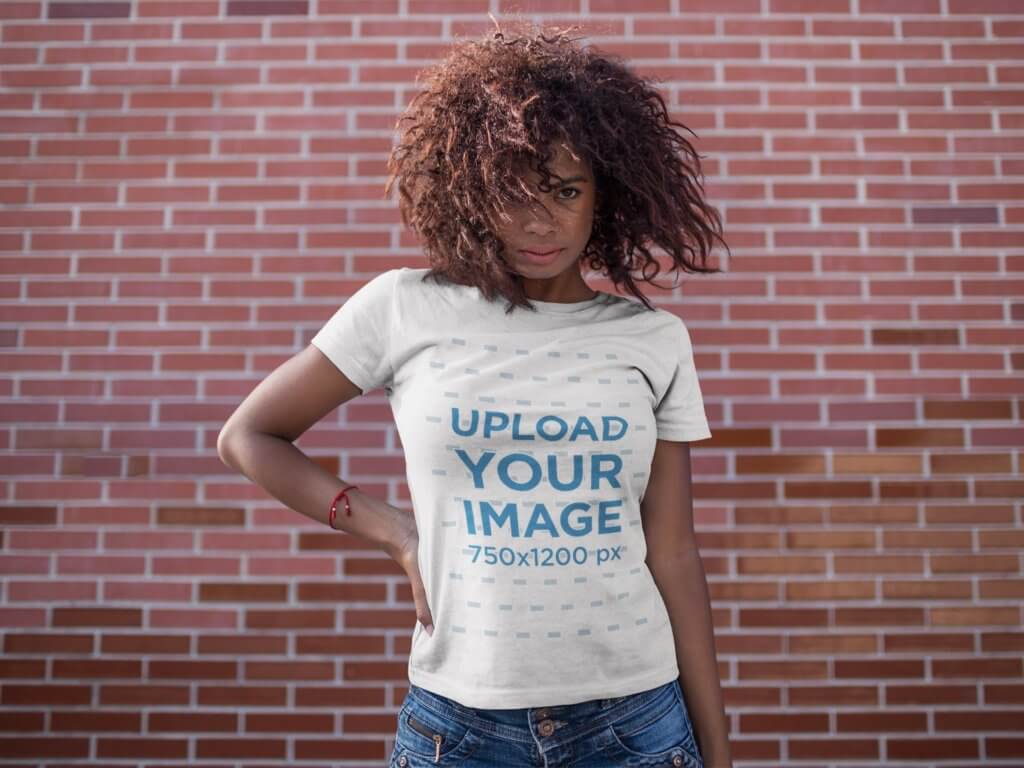 Placeit is meant to be as easy to use as possible. To create a t-shirt mockup you will just have to upload a t-shirt design, then place it in whatever position you wish and voilá you will have your design on a t-shirt in seconds!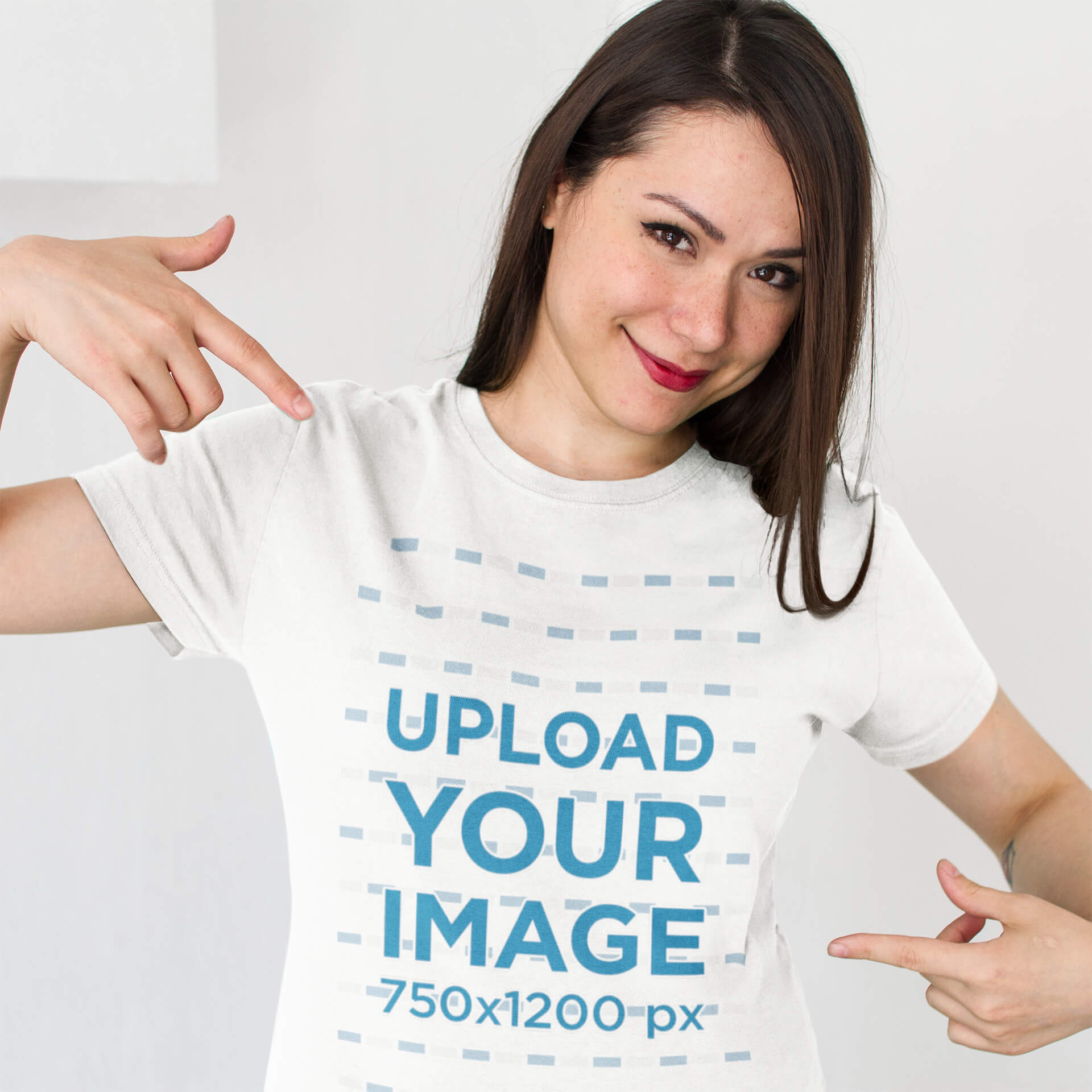 You can use these images on your website, on your Facebook Business Page, on Instagram, on your e-mail newsletter, anywhere! Using mockups is a great way to display your designs with real products being used in context, especially because you will want to give your potential clients a real idea of how your t-shirt will actually look like. Placeit makes it really easy for you to create outstanding t-shirt mockups, so don't think about it twice and start using it right away!
Want more styles? You got it! Try our new polo shirt mockups to get the look you're after!
T-Shirt Video Mockups are the ultimate way to promote your t-shirt designs. Websites with video on them are more attractive than websites without video. Besides this, your customers will be amazed by seeing videos of beautiful people wearing your brand and will be more convinced of purchasing.
Forget about hiring models, organizing and producing a video shooting and everything related to it and all the editing that comes after it, and create the video you are longing for in seconds from your laptop. This and many other benefits come from sharing video content on your website, social media, email campaigns, etc. Go and make a t-shirt video mockup online and boost sales! Here's an example of what your video could look like:
Ready to create t-shirt mockups straight from your browser? Visit Placeit now!
Get the Most Out of Your Time and Design More T-Shirts
Coming up with a winner t-shirt design may be time-consuming. If you're trying to keep your reel updated at a fast pace, check out Placeit's T-shirt Design Maker. It's incredibly easy to use, simply pick from a number of themed templates and customize everything from text, fonts, and colors to images and icons. Create beautiful designs and display them in your online shop in minutes!

Finally, we advise you to post your t-shirt mockups on your Social Media as it is an effective marketing channel (plus your brand will look super pro). Take this effort one step further by creating specific images for your posts with Placeit's Social Media Image Maker. You won't have to worry about size specifications since the templates got this covered for you.
That's it! Put these tips into practice and improve your t-shirt business's image to sell more!
---
To Wrap-Up
Sell t-shirts online with the maximum profit by using any of the services mentioned above. Selling t-shirts from your own website and partnering with a drop shipping company has many benefits. Once you get some experience selling t-shirts online you should consider expanding your product line.
As seen on the Print on Demand vs Dropshipping Case Study on our blog, when you sell via a print on demand website there's no way to track who visits your website which means that you can't retarget these users. By having your own website you can show ads to people that visited your shop but didn't purchase, this is called retargeting and it can be done through Facebook Ads or Google AdWords to show your products to these users while they are surfing the web.
To learn more on how to optimize your keywords for ads and for your website go to our Best SEO Keyword Tips for Your T-Shirt Brand. Also, if you only sell on a marketplace like Redbubble, Society 6, or alike, people can get distracted with designs from other artists, which is why a big advantage of having your own website is that your customers will focus solely on your designs. Create your own brand using these tips to elevate your business.
Seasonal t-shirt designs are a great idea to take advantage of the hot sales and seasonal rush of customers, so think about this too, it's all about the perfect timing. Want to try some 4th of July t-shirt designs for example?
"My t-shirt designs look awesome on Placeit's mockups"
Michael Shafran 5/5
---
---