iPhone and MacBook Mockups For Mobile Responsive Websites
Feeling like it might be time for you to upgrade your business marketing strategy, but can't seem to decide on which is the best way to do this? Look no more because at Placeit we've come up with the ideal solution, stock photo mockups! Use one of our different mockups to advertise your ideas and make a lasting impression on your potential users almost instantly. To help you with this at Placeit we've come up with a list of  "10 iPhone & MacBook Mockups For Mobile Optimized Websites" for you to check out. Your new website or latest app will look beyond amazing being displayed on such original mockups like these ones! Browse our iPhone mockup collection and check out our Macbook mockups as well!
iPhone 6 and MacBook Air Mockup of Young Woman Sitting at a Table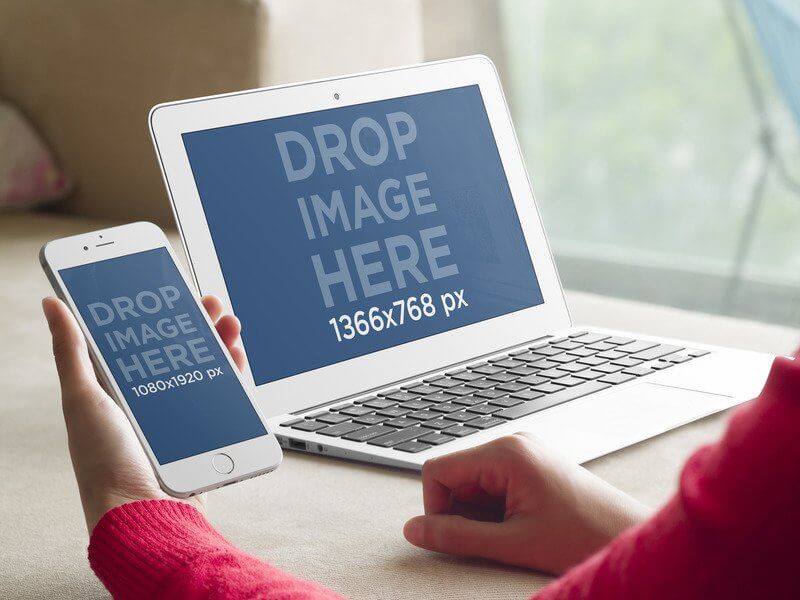 This scene is the perfect marketing tool for everyone. Do you have an app or website that helps with productivity? Or a fun new social app or game? Perhaps you have a website that helps students? The great thing about this mockup is that it doesn't matter what your app is this mockup will work for you. This scenario features a young woman sitting at a table at home; she is wearing a hot pink sweater and is holding a white iPhone 6 in portrait position with her left hand while browsing through a MacBook Air. This is a very bright image which lets both Apple devices stand out and steal the spotlight. Having two different screens means you can upload two different screenshots to this mockup, making it twice as effective as an online marketing tool. Go ahead and try it out real quick so you will have an amazing image you will be able to share within coworkers, potential clients, and users.
You can use this iPhone 6 mockup and MacBook Pro mockup to show off a responsive website. Here, a man is holding up his iPhone 6 while he is also working on his MacBook Pro. He is sitting at a wooden desk with an iMac nearby. The scene has dark lighting like he is working late. You can show off both your app and your site or a great responsive design. The iPhone 6 mockup  holds an image of  750x1334px. The MacBook Pro mockup holds an image of 1280x800px.
MacBook Pro and iPhone 6 Over a Wooden Desk Mockup Template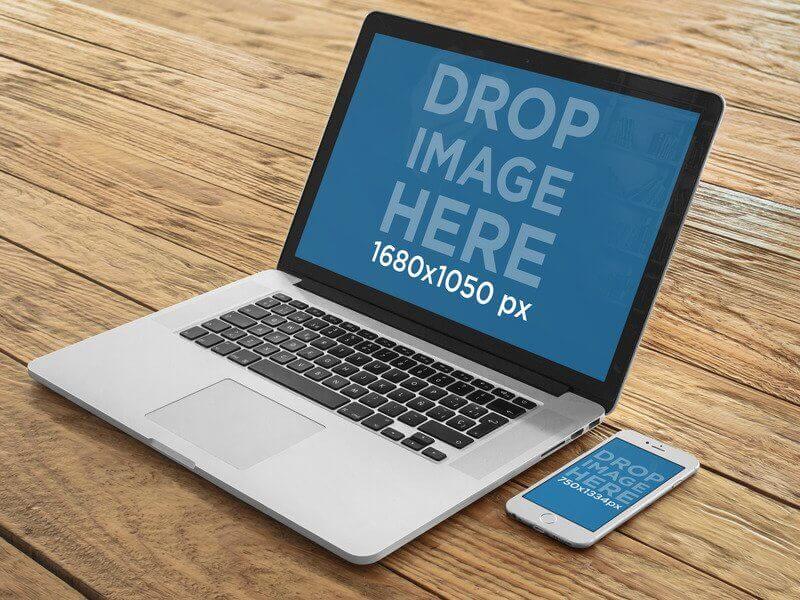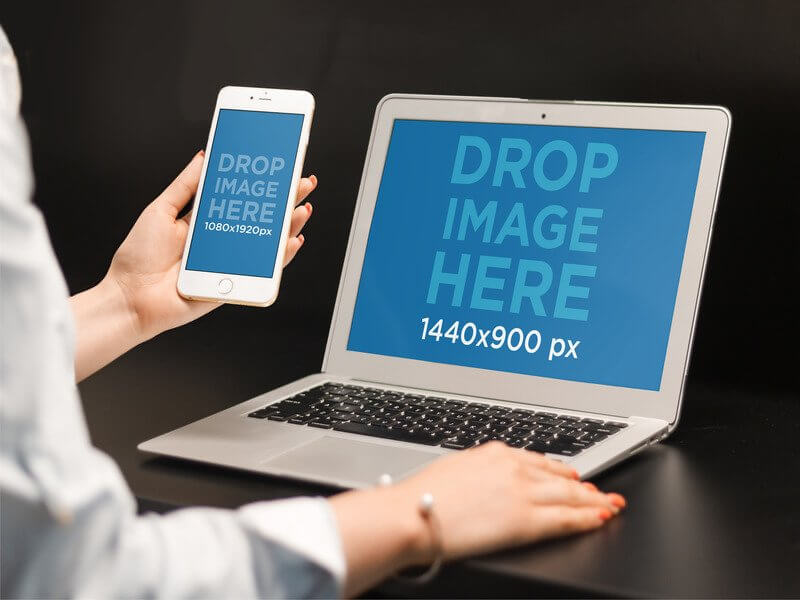 ---
---