Display Your Business Branding on These Mockups
Branding mockups are outstanding marketing tools because they allow you to display your designs in an attractive, eye-catching way to potential consumers. If you just came up with a new design and are looking for a professional, modern way to introduce it to the world, then you should definitely check out Placeit's branding mockups.

By using branding mockups to help you advertise your ideas, you will be able to boost your business visual marketing campaign in no time!
Take a look at these branding mockups from Placeit, each mockup provides an original scenario for you to display your new designs within context, making them more appealing and desirable! Find coffee cups, paper bags, boxes, and much more!
To customize any mockup all you need to do is choose an image, upload it onto the template that best matches your visual marketing idea, and let Placeit resize it for you. In only a matter of minutes, you will get original visual content to start using as part of your marketing campaign! Forget about Photoshop and all those other editing programs and start using Placeit's branding mockups today. Take a look at our latest window decal mockups!
🔥​Check out everything you need to brand your business on this post.
Here's a list of some of Placeit's branding templates for you to check out.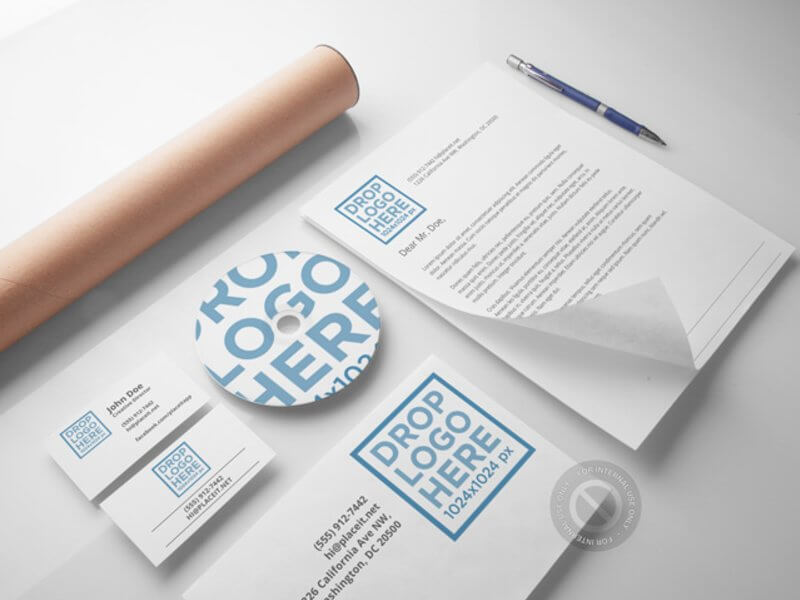 This branding and corporate visual identity mockup template will add a whole new level of professionalism when presenting design work to clients, so waste no time and make it an essential asset of your visual marketing campaign. Just drag and drop an image onto the template and let Placeit adjust it and resize it for you. Enjoy great content within minutes by making marketing tools from Placeit the latest addition to your marketing plan!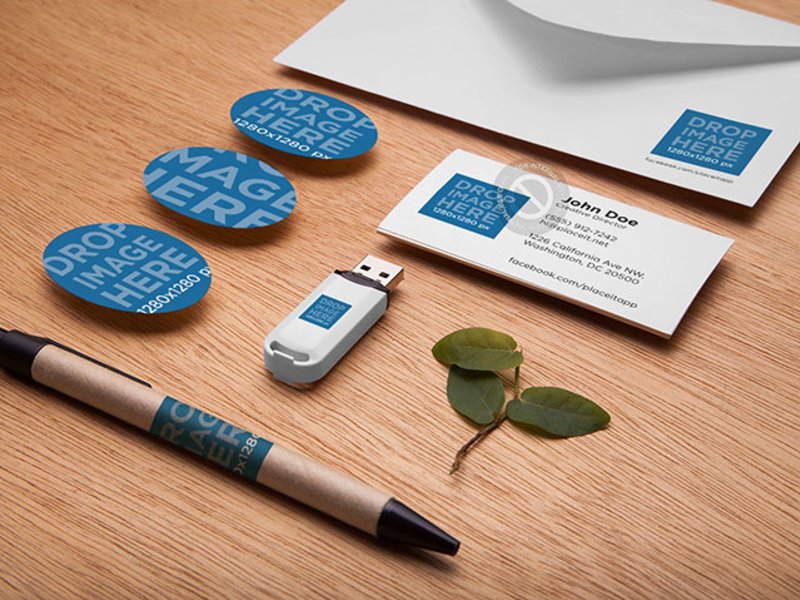 Advertise your most recent design within this great branding mockup and make sure to leave a lasting impression on potential viewers. This branding mockup features a wide assortment of office supplies neatly organized on top of a wooden desk. Customize this original, up-to-date photo mockup from Placeit by just dragging and dropping an image of your choice onto the template or inputting a URL address. Why spend lots of time and money on creating visual content when you can use Placeit's mockups! Placeit marketing tools make it easy for you to create outstanding visual assets within minutes, so waste no more time and make them part of your marketing strategy today!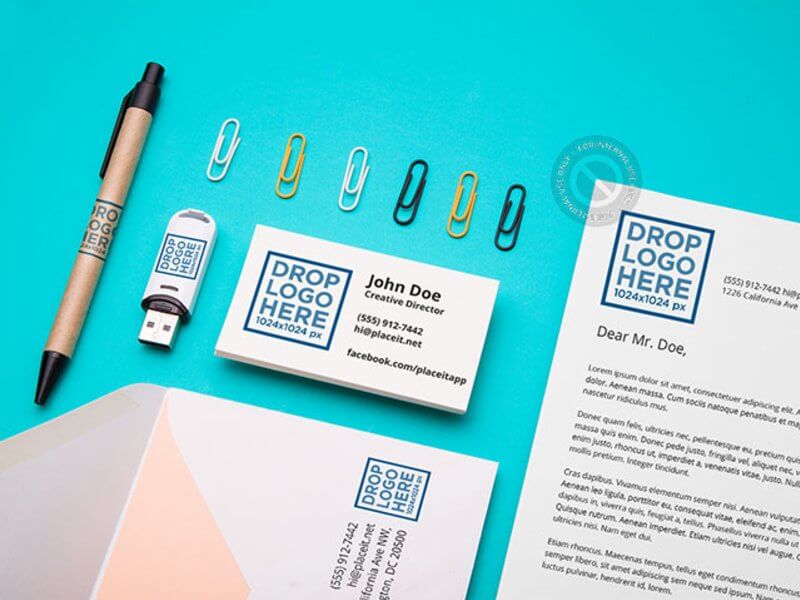 This branding mockup is one of the best ways for you to showcase your business ideas within a wide variety of stationery items. This mockup features a pen, a flash drive, some
business cards
, and an envelope among other things. Add an image to personalize this original template and see how your ideas come to life! This is definitely a great mockup to implement as a marketing tool because it will help you boost your visual campaign, so wait no more and make Placeit's mockups an essential asset of your marketing plan right away!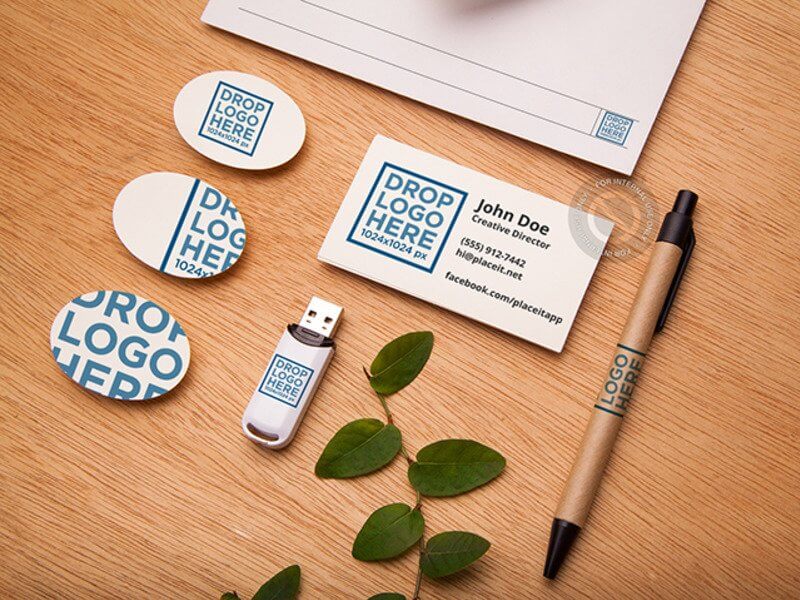 This branding mockup features a wide range of stationery items to showcase your projects, ideas, or new designs in a very realistic style. This stationery mockup from Placeit features a flash drive, pen, business cards, among other things, which you will be able to use to advertise your business. Personalize this great mockup by just dragging and dropping an image onto the template and see how Placeit helps you create outstanding visual content within minutes! Use stationery mockups and say goodbye to time-consuming, expensive marketing campaigns! Find USB Flash Drive mockups
here
!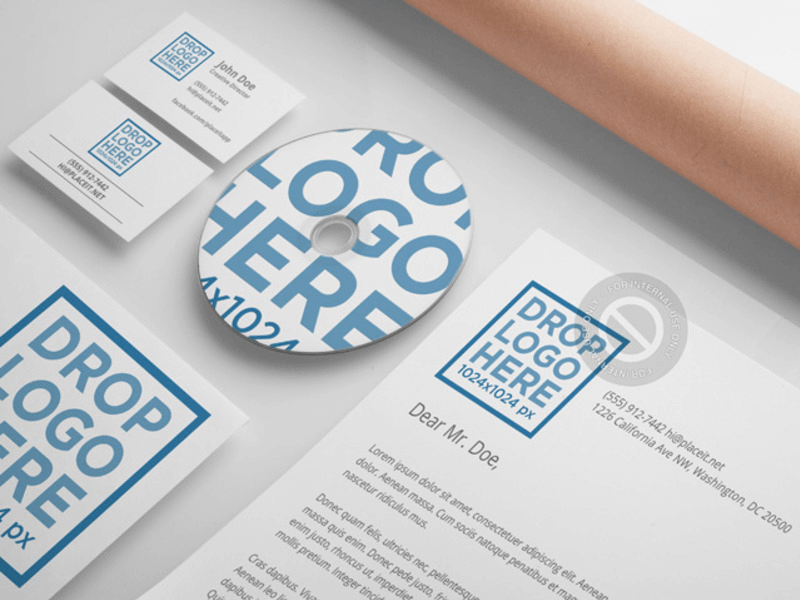 Marketing had never been this fun, but thanks to Placeit's stationery mockups now you can start enjoying it! Use this branding mockup featuring a set of various items to advertise your latest business ideas or brand new designs and make a lasting impression on potential clients. To use this original mockup all you have to do is drag and drop an image onto the template and let Placeit do the rest for you. Start enjoying authentic visual content within minutes thanks to the help of marketing tools from Placeit today!
If you liked these mockups and want to access our entire gallery just click here! Keep in mind that by using
branding mockups
you will enhance your visual marketing strategy and improve the way you present your designs to potential consumers. So what are you waiting for? Start using branding mockups today!
Check out our collection of folder and bottle mockups as well to showcase your designs in different ways. If you master design software, these sign, mupi, and billboard mockup templates, might be of your interest. Also, don't forget to take a look at the 8 essentials to branding your business online!
---
---