Get The Right Facebook Ad Image Size Always
What You'll Find:
Is Facebook Advertising Suited For My Business?
It most likely is. Nowadays, whoever isn't using Facebook to boost their business is probably losing the game. Besides, it's super easy to learn how to use Facebook Ads to promote your business; anyone can do it. Here's some data to convince you.
According to Sprout Social, as of December 2016, Facebook's user base is as follows: 74 billion monthly mobile active users, so there's that. Social Networking is how users enjoy spending their time on mobile, as the Comscore graphic below shows. This is a major reason for advertising on Facebook, due to the fact that what users love to do on their mobile is check on Facebook. As a matter of fact, Facebook reports that mobile advertising revenue represented approximately 87% of advertising revenue for the second quarter, so yeah, there are a lot of business owners advertising on Facebook.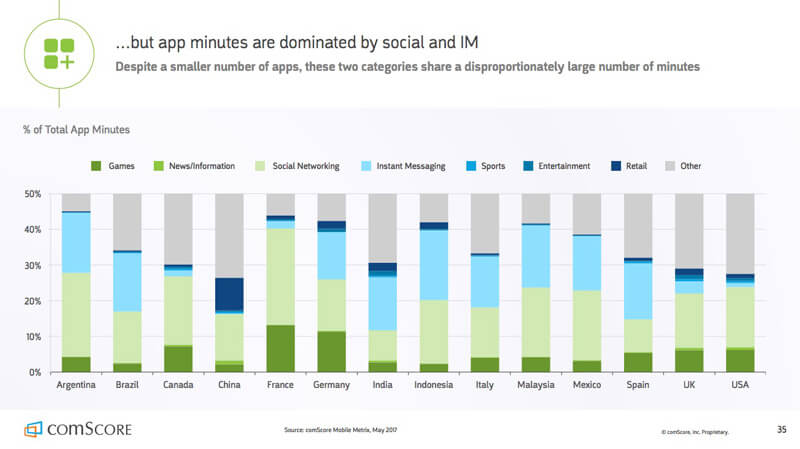 Furthermore, research shows that a lot of users have Facebook on their home-screen, as the graph below shows. The Facebook app is considered essential for many, thus making it home-screen-worthy and more prone to being opened frequently, probably many times a day. So yes, advertising on Facebook makes a lot of sense, and it's fundamental that you get your Facebook Ad Image sizes right so that you can get on top of the competition. So go for it!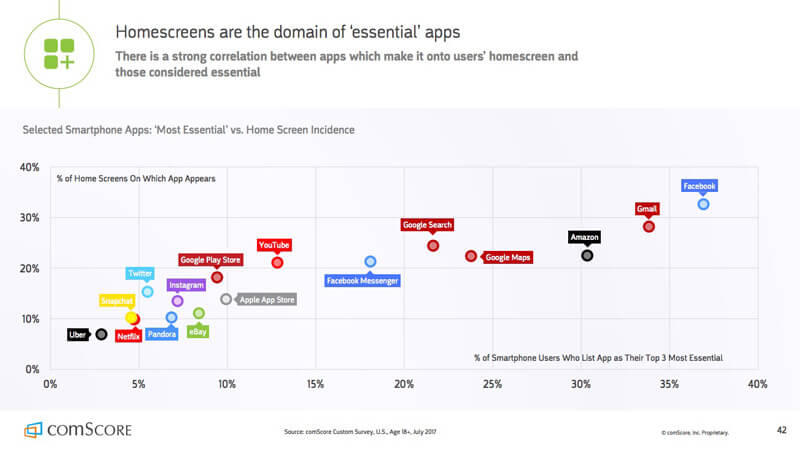 What Makes a Very Good Facebook Ad
Even though Facebook Ads has a very forward and easy-to-use interface, your Facebook Ads could still go wrong if one is not careful enough. When in doubt, always check Facebook's official Facebook Ads guides, which will help you to get started and eventually become an expert at it. In this post, I will specifically help you get the image part of your ads right.
When creating a Facebook Ad, a lot of people ask themselves:
Does the image that I am using have the right dimensions? Will it display perfectly across-device?
This is what used to happen to me all of the time. Specifically because Facebook loves to change. One day you go to Facebook and see it works a certain way, then on the next day, it's changed. Besides this, there are two aspects that Facebook is not very clear about.
There's a recommended Facebook Ad image size for advertising on the Facebook Ads Manager platform.
There is another recommended Facebook image size for posting on your Facebook Page wall.
Here's where things used to get a little mixed up. Not anymore.
What You Really Need to Know About Facebook Ad Image Sizes
The safest Facebook Ad image size to use is 1200×628 px (Image Ratio 1.9:1). The table below should be the only table you need to always get your images resized perfectly when advertising on Facebook. If you already have your image, use Placeit's image cropper for hassle-free resizing.
Optimal Facebook Image Ad Size Per Campaign
| | | Single Image | Canvas Cover | Carousel | Slideshow | Collection |
| --- | --- | --- | --- | --- | --- | --- |
| Awareness | Brand Awareness | 1200×628 px | 1200×628 px | 1080×1080 px | 1280×720 px | N/A |
| | Reach | 1200×628 px | 1200×628 px | 1080×1080 px | 1280×720 px | N/A |
| Consideration | Traffic | 1200×628 px | 1200×628 px | 1080×1080 px | 1280×720 px | 1080×1080 px |
| | Engagement (Post) | 1200×628 px | N/A | N/A | 1280×720 px | N/A |
| | Engagement (Likes) | 1200×444 px | N/A | N/A | 1280×720 px | N/A |
| | Engagement (Events) | 1200×628 px | N/A | 1080×1080 px | 1280×720 px | N/A |
| | App Installs | 1200×628 px | N/A | 1080×1080 px | 1280×720 px | N/A |
| | Lead Generation | 1200×628 px | N/A | 1080×1080 px | 1280×720 px | N/A |
| Conversion | Conversions | 1200×628 px | N/A | 1080×1080 px | 1280×720 px | 1080×1080 px |
| | Product Catalog Sales | 1200×628 px | N/A | 1080×1080 px | N/A | 1200×628 px |
| | Store Visits | 1200×628 px | N/A | 1080×1080 px | N/A | N/A |
How to Create Facebook Ad Images Without the Hassle
It's easy. Follow the next 3 short steps:
Go to Placeit.net and on the Top Menu bar, hover over Digital, and go to the Facebook Ads section.
Select a Facebook Ad Image and customize it with your app or website screenshot and add some compelling copy to make it stand out. Check this slideshow with a few examples!


facebook-ad-image-size-01.jpeg

facebook-ad-image-size-03.jpeg

facebook-ad-image-size-02.jpeg

Download your 1200×628 px image and upload it to the Facebook Ads Manager. That's it.
Your ad should look like this! Awesome, right!?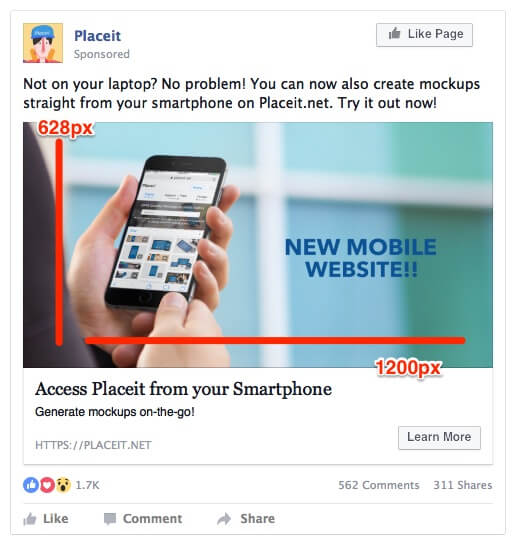 With Placeit, it's easy to create eye-catching Facebook Ad Images that will look great on your ads. Whether you want to promote a new or updated app, let the world know about a new mobile website, or even push a blog post, you can easily create Facebook Ad Images that show a person with a smartphone in their hands and your website or app on inside the smartphone's frame showing a preview of whatever it is that you are promoting.
---
What About Going Mobile First?
When using a 1200×628 px image, your ad image gets perfectly resized to fit mobile screens. Facebook will not crop your image if you provide the right Facebook Ad image dimensions. If you fail to do so, Facebook could crop an important area of your image which could cause a low performance of your Facebook Advertising efforts.
So is there something that can be done if you want to advertise your business with a full portrait image?
Our smartphones have huge tall screens so using a tall full portrait to promote your business would make more sense, right? Well, Facebook thinks otherwise, and for now, the image size to use on Facebook Advertising is 1200×628 pixels in (90% of the cases).
Still, there's a way to accomplish this. You can boost a post instead of creating an Ad in Facebook Ad Manager; I'll show you how. By doing this, you can upload a big vertical image of 487×730 px, which is the maximum size that Facebook renders on both desktop and mobile. Anything bigger than 487×730 will get resized, and if there's text in it, it might get too small to read at first glance. Here's a screenshot of the test I did to prove it.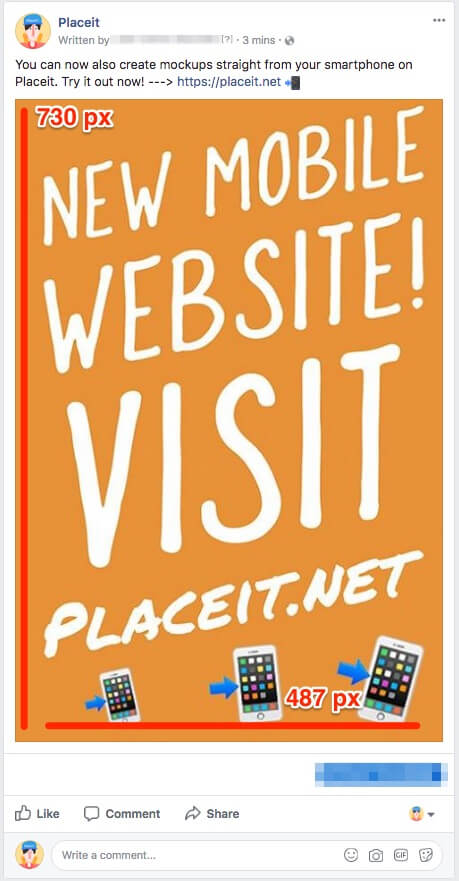 Pro tip: You can create social media designs like the one inside the ad above with Placeit's new Social Media Image Maker.
The bigger the image you share the more inevitable your post will be. Once you share content with an image on your Facebook Page, you can go ahead and click on the blue Promote button to expand your post's reach.

So very much depending on your business and your target audience, you should decide between using the Facebook Ads Manager or "Boosting" a blog post. Go to Placeit instead to create Facebook Ad Images.
---
To Wrap-Up
Facebook Ad Images are great assets to use to boost content and showcase new apps. Placeit makes it easy to create the images that you need to improve the clickthrough rate of your Facebook Advertising efforts. Visit Placeit and generate great imagery to promote your digital business with mockups! This list of useful social media tools can also help you stay on top of all your social media goals.
---
---