iPhone X Mockup Templates Roundup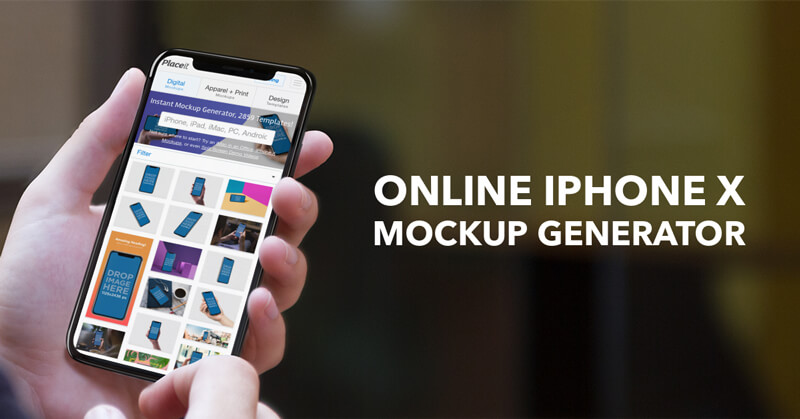 New iPhone X mockup compilation! In this blog post, you will find a collection with the best iPhone X mockups available on Placeit. As you may already know, what makes Placeit's iPhone mockups different from the rest is that on Placeit you don't need to download any PSD or Sketch files, instead, the only thing you need to do is to drag and drop a JPEG or PNG image file or type a website's URL into one of the iPhone X mockups from the list below and voilá you will see on your browser screen a beautiful iPhone X showing your app or responsive website UX in a matter of seconds! Convenient isn't it!? Take a look at some of our pixel-perfect iPhone X mockups and a bunch of use cases where you can use the mockups to have your products and projects look professional! And be sure to check out our transparent mockups if you're interested in something a little more versatile, these mockups don't have backgrounds so you can use them wherever you need. Landing pages, ads, banners, you name it, they look stunning!
You can download iPhone X mockups in 3 different sizes depending on your needs:
Small: 600×212 px (wide) or 400×300 px
High: 2720×960 px (wide) or 1920×1440 px
Super High: 4080×1440 px (wide) or 3300x2475px
So without further ado, here is a compilation of iPhone X Mockup templates available at Placeit. There are iPhone X mockups ready to fulfill all kinds of marketing and design necessities. If you need an iPhone X mockup over a transparent background for maximum versatility, or an iPhone X mockup photo seen from over the shoulder and being held, or an iPhone X being used on a certain setting, we have them all (even some free ones!). Browse around!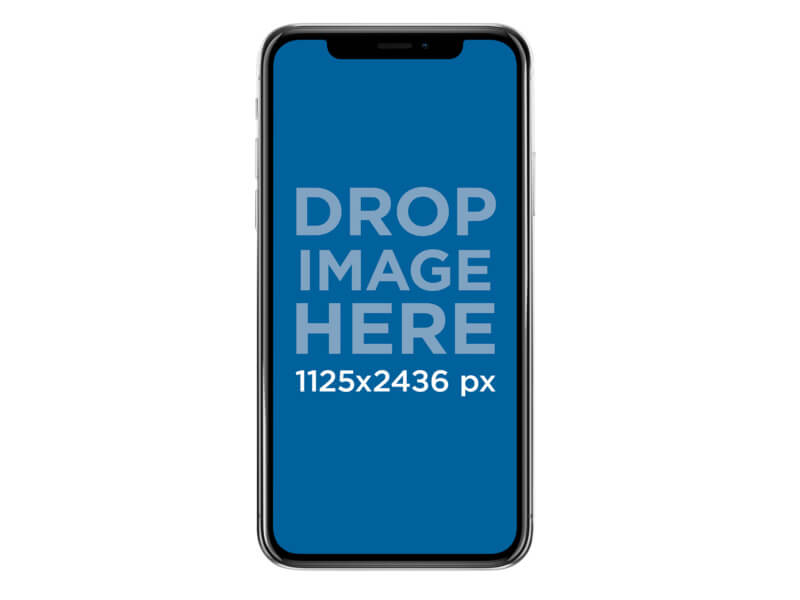 Try this iPhone X mockup viewed from the front and with a transparent background (PNG) that is ready to be used as a great visual marketing asset on your website. As easy as taking a screenshot on your iPhone X and then uploading that screenshot you took to this iPhone X Mockup and hitting the download button. No graphic designing skills, no extra software needed, just your browser and a screenshot!


Customize this sleek iPhone X mockup template that puts design first. If your app is edgy and has a smooth and polished UX then this iPhone template will go perfectly with it. No need to ask your graphic designer for help. You can edit this mockup without having any graphic design knowledge. Forget about Photoshop, Sketch, GIMP, and all those troublesome software once and for all!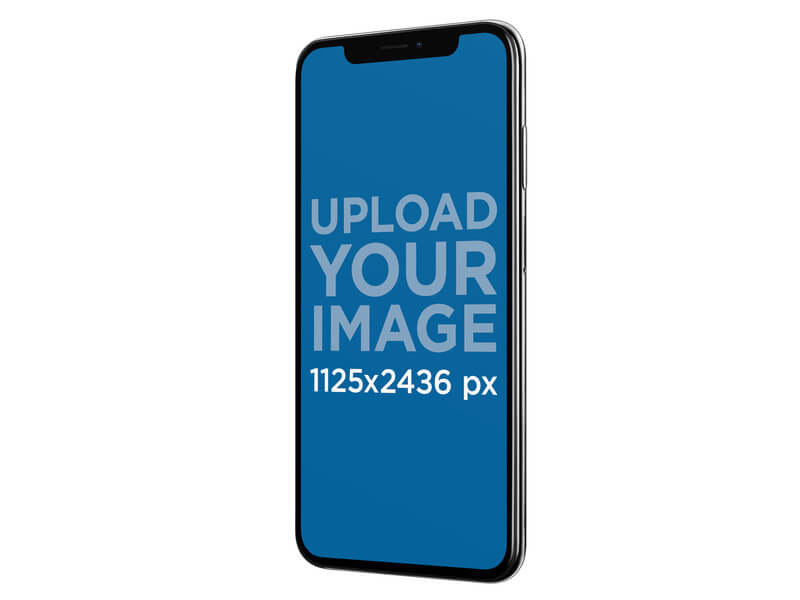 This iPhone X mockup shown in an angled view is both elegant and attractive. Furthermore, Placeit will adjust the image file that you upload to make it look as if a graphic designer had created this mockup. There are infinite use cases for this iPhone X template, it's up to you to decide how you will want to promote your app or website!


Life seems easy when you see this iPhone mockup don't you think? Your app makes lives easier? Then you should go with this iPhone X Mockup featuring a woman using her iPhone X while resting on a couch and looking awesome while at it. Grocery shopping, clothing shopping, you name it.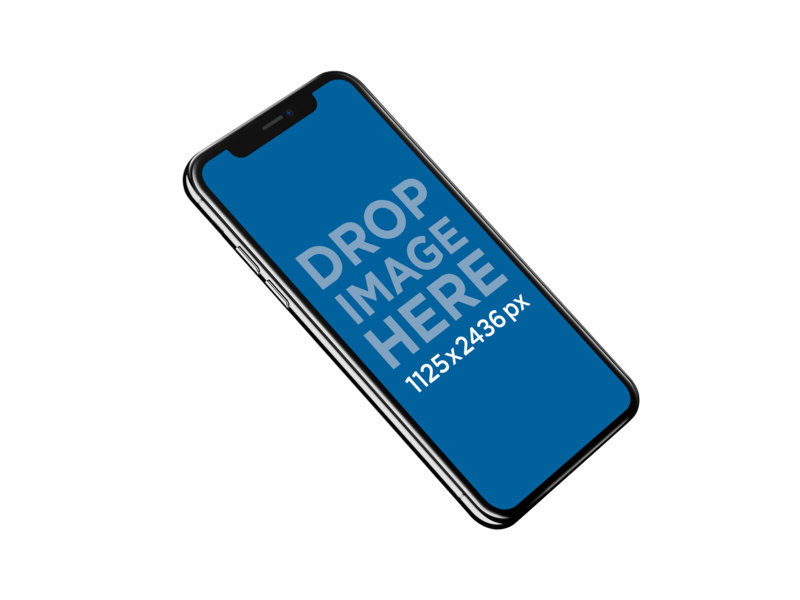 For best results, upload an image file with 1125×2436 px dimensions or more to get a crystal clear iPhone X mockup you can share around. Placeit will do its best to resize your image and make it look good if you upload an image with a lower resolution than the recommended one. Ready? Go ahead and customize this iPhone X mockup viewed from top!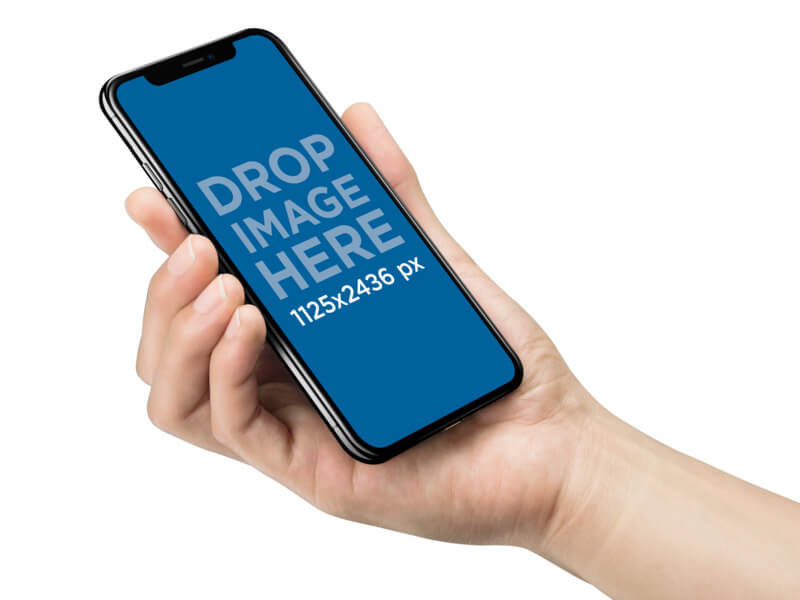 A best practice is to showcase your app or website on an iPhone X that is being held by someone to give a realistic impression to the viewer. This way, on their minds, they can assume that if someone else is using the app or website why they shouldn't. Click on the image to go to Placeit then drop your image on this iPhone X mockup template on a transparent background (PNG) to add it to your visual marketing strategy and promote your new website like the pros.


Let your customers know that they can shop on your app or mobile website on the go by using this iPhone mockup. Show the confirmation screen on this iPhone X Mockup to teach customers that they don't need a desktop computer to fulfill an order with your business. This is just one example of the many use cases you can give to this iPhone X mockup being used by a girl.


This iPhone X mockup template is great because it shows a woman smiling while interacting with her iPhone X. This helps because it transmits positive emotions to the viewer thus making them feel good and relate your app or website with positive feelings. Try this iPhone X mockup here!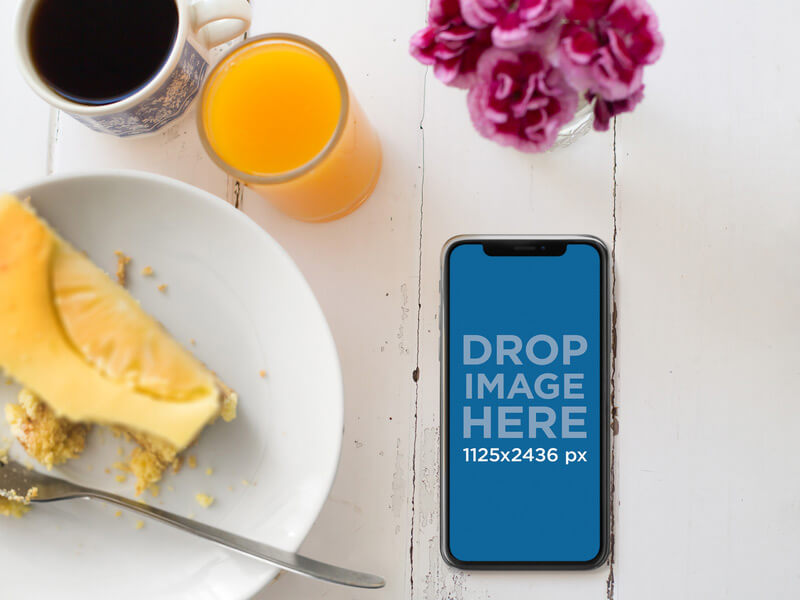 Who doesn't use their smartphone while having breakfast? Relate to your customers by customizing this iPhone X Mockup on a breakfast setting and show your business in the right context. The easiest way to create iPhone X mockups is with Placeit, no doubt about it! The job is done in just a matter of seconds and you don't need to purchase and install expensive software to create iPhone mockups that look awesome.


Use this iPhone X mockup with a background of what seems to be an office to show your business app. Let them know they can organize stuff, sort out tasks, or get valuable insight with your app. This is also a perfect mockup to use if you want to educate your customers that they can use your app to purchase something on their brand-new smartphones.


Even though are meant to disconnect when at the beach, it is not always possible and you have to bring your iPhone with you. But this woman doesn't necessarily need to be working. Maybe she is using the latest version of your photography app, entertainment app or is sharing content on social media. She might be even reading your latest ebook! Possibilities are endless. What we know is that it is super easy to customize this iPhone X Mockup. Go ahead and tap on the image to customize it. Yes, you can create iPhone mockups from your smartphone too!
Bottom Line: Work Smarter Not Harder
Browse the full iPhone mockup (and even our phone case mockups) gallery on Placeit and choose the iPhone X Mockup template that best matches your business necessities. In Placeit we specialize in making lives easier for entrepreneurs and digital marketers. We take away the hassle involved in the creation of marketing material and help you and your business thrive. Who said you needed a graphic designer to create amazing images to promote your business? Prove everyone wrong with Placeit by your side and help your business grow today! We have a quick tutorial on how to make an iPhone mockup for you to check out if you want to see how easy it really is! Changed your mind? You can also create Macbook Mockups!
---
---