Hoodie Mockups to Promote Your Designs
Create outstanding visual content to boost your new clothing visual marketing campaign with Placeit's hoodie mockups help, and make an ever-lasting impression on your target market at a glance! By showcasing your latest designs with one of Placeit's hoodie mockups, you will be making your products and ideas more relatable and desirable to potential consumers, so making them an addition to your visual marketing campaign might not be such a bad idea after all, don't you think? Placeit's hoodie mockups are here to help you make your image marketing stronger than ever!
Besides being great marketing tools, hoodie mockups are really easy to use! To customize one of our hoodie mockups all you need to do is simply upload one of your brand new designs onto the template of your choice and in no time, Placeit will resize the image, delivering a compelling visual asset ready to be used as part of your visual campaign right away!
Here's a list with some of our hoodie mockups for you to check out: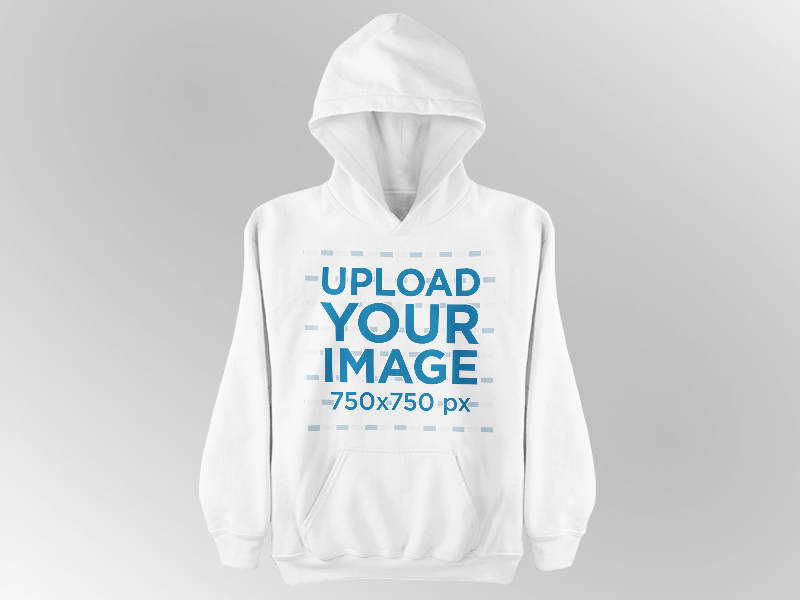 Make this hoodie mockup featuring a hoodie on a hanger an essential for your clothing business visual marketing campaign, make get your designs the attention they deserve! To customize this original hoodie mockup all that you need to do is drag and drop an image featuring one of your brand's new designs onto the template and Placeit will handle the rest of the work for you.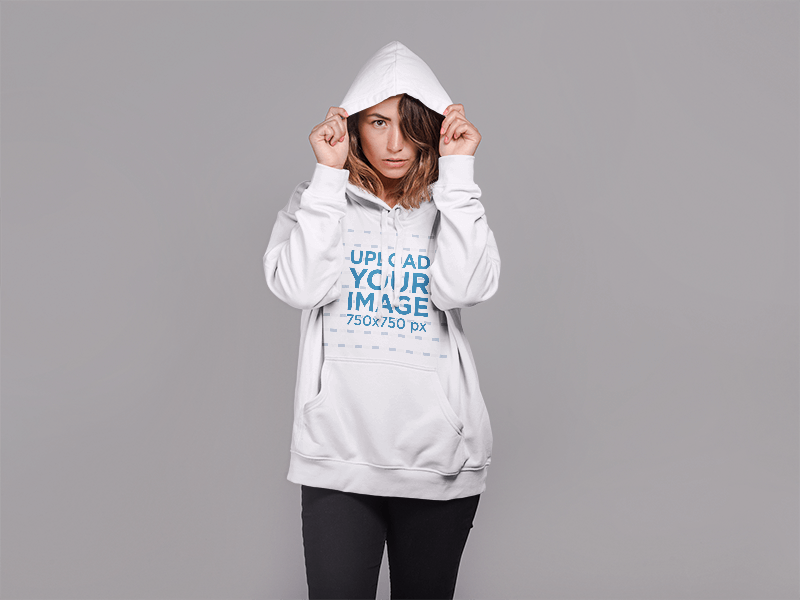 Thinking about introducing a new clothing line into the market? If you are, then wait no more and go ahead and check out Placeit's hoodie mockups to help you display your hoodies designs in a successful way! Placeit's mockups are great marketing tools that allow you to display your designs not only in a real-life context but also in a simple, versatile and professional way, thus making it easier for your clients to feel attracted to your designs. This hoodie mockup, for example, features a full zip hoodie being worn by an invisible model. Customize this original hoodie mockup right away and advertise your products in an attractive way that will definitely appeal to viewers and clients. Keep in mind that when using clothing mockups you get to choose the color of the garment being displayed on the template in order for it to match the colors on your designs!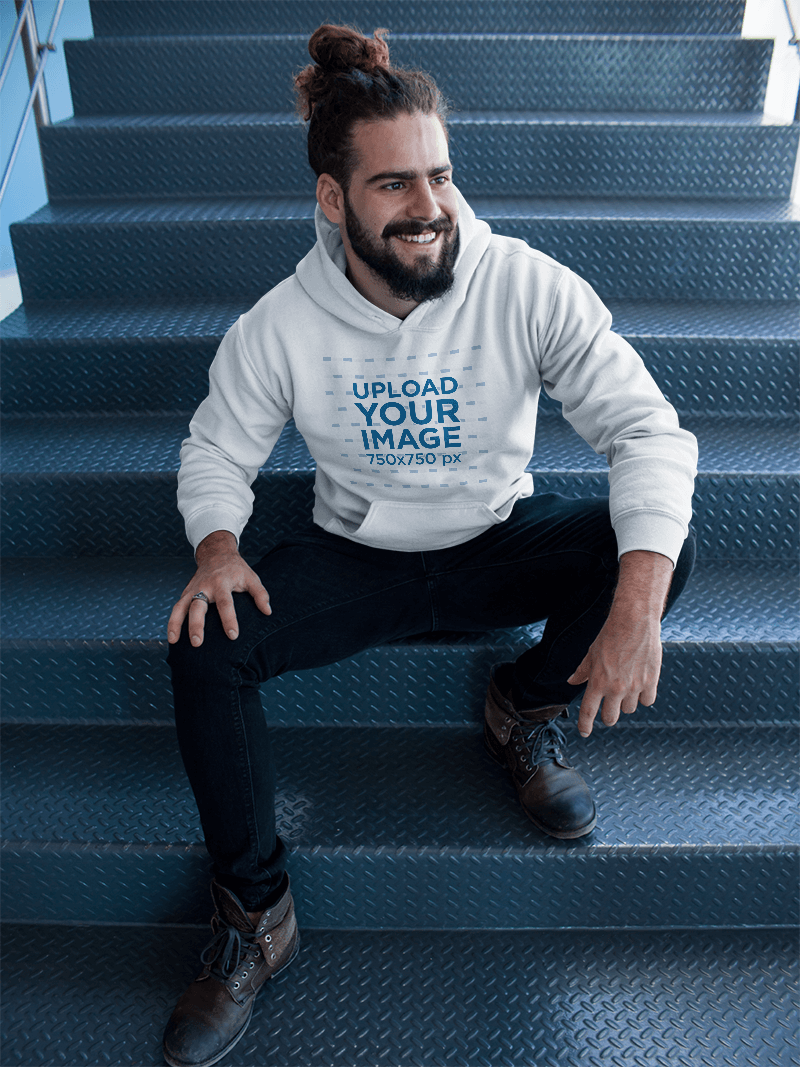 Make this hoodie mockup featuring a man wearing a pullover hoodie the latest addition to your visual marketing campaign and leave a lasting impression on your prospective clients at a glance. If you've got a new sportswear line ready to be released into the market, then this hoodie mockup might be exactly what you need. To customize this original mockup, just simply drag and drop an image featuring one of your designs onto the template and in just a matter of minutes, Placeit will deliver an outstanding, original image ready to be used as part of your marketing campaign. It might be time for an upgrade and what better way to do this than by making clothing mockups a fundamental asset of your marketing tools!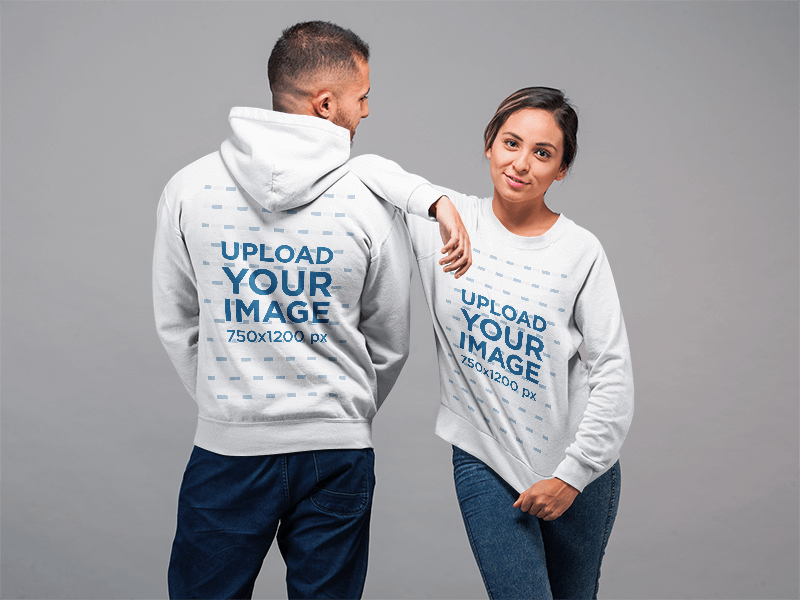 Portray your latest design for a pullover hoodie with a beautiful two-sided hoodie mockup from Placeit! This one features a couple wearing hoodies showing both sides, front and back, of your hoodie design!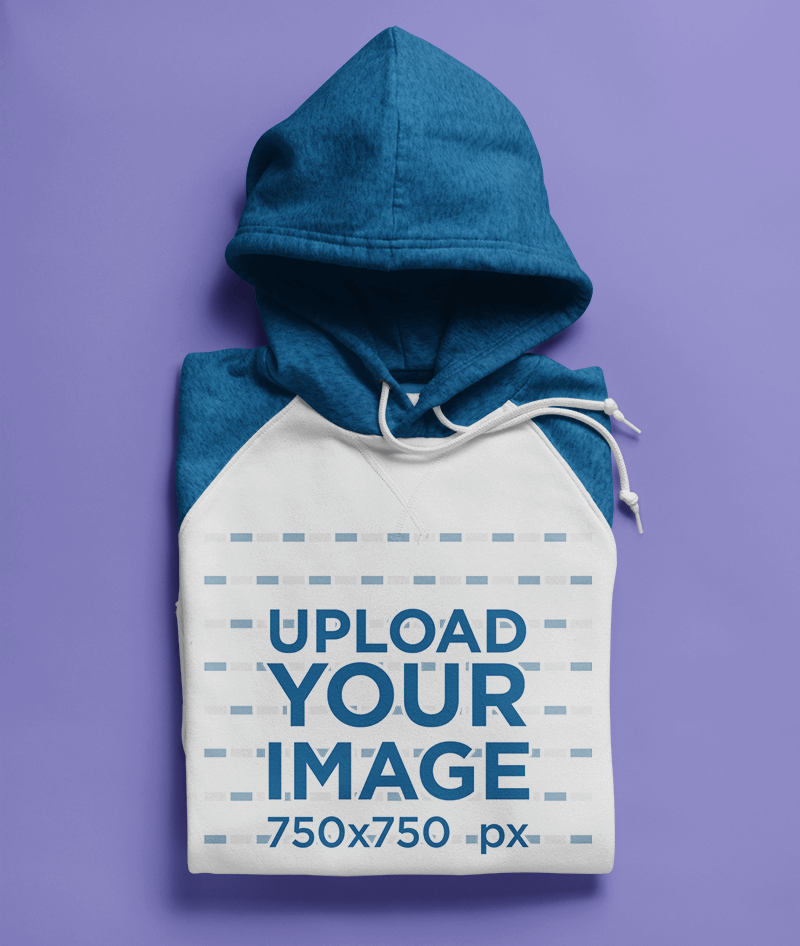 This raglan hoodie mockup of a pullover hoodie over a flat backdrop is essential if you are putting up a clothing website or online store. A simple and beautiful image like this one is a really powerful visual asset that will help you display your latest designs in a professional and appealing way! Plus, you can customize this template's colors by sections to match those you are selling! Make your design be the main attraction with this hoodie mockup.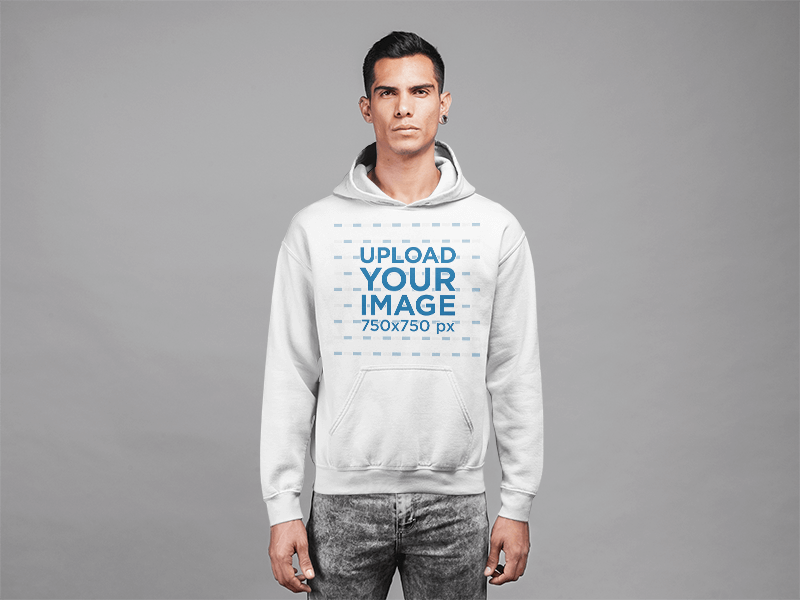 You can choose whichever color you prefer for this hoodie on a young man, you just have to use the menu on the right side of your screen after opening the hoodie mockup. Use gorgeous visuals to portray your designs and make your audience love your brand! A high-quality visual is essential to start selling more.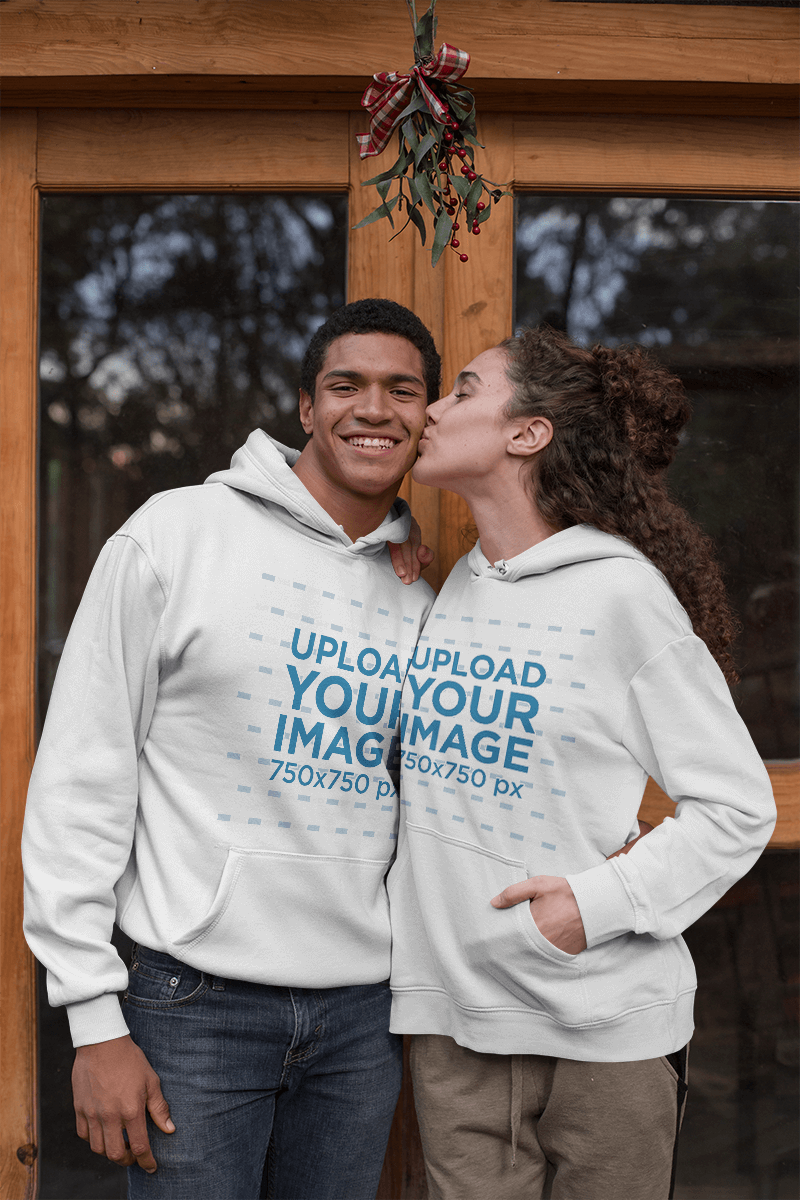 Showcase your Christmas design with a pair of hoodie mockups featuring a young couple under a mistletoe! This mockup is great to display romantic designs or Christmassy designs with a perfect scenario. Drag-and-drop a jpeg or png image file over the interface after having entered in the mockup to merge your design with her hoodie. Showcase your latest addition with this mockup, your audience will feel related to this image since you are showing them a photorealistic visual. Use the power of a beautiful mockup and see how your income grows!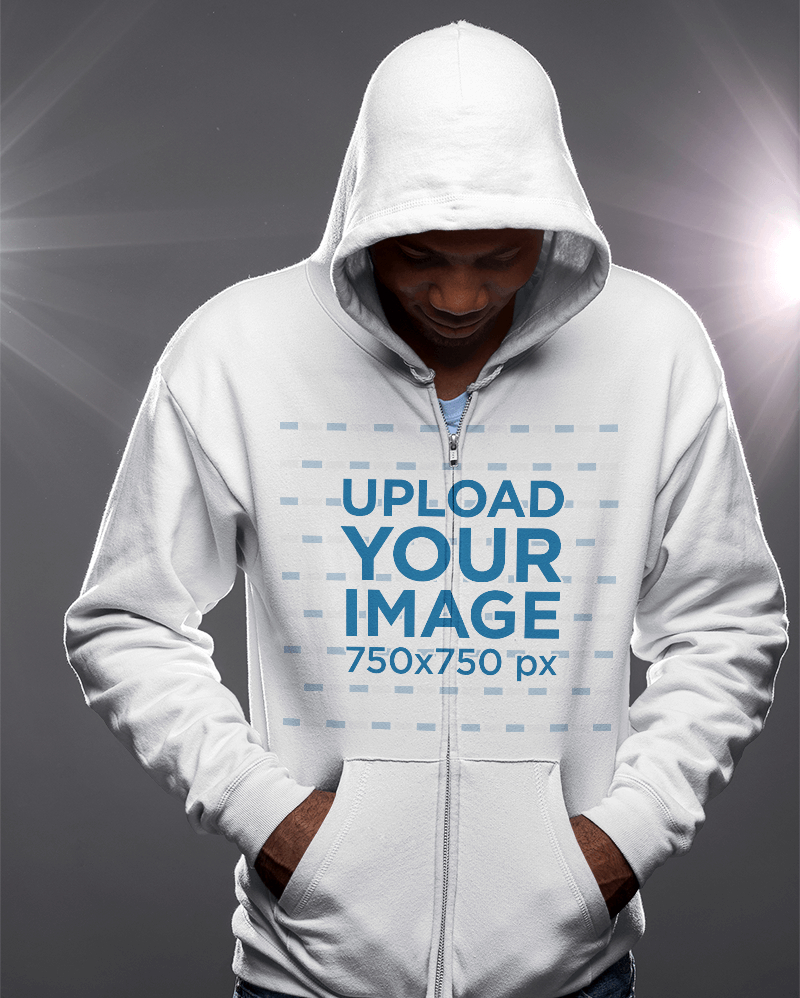 Showcase your most awesome design using this mockup of a black man wearing a full zip hoodie while against a solid background, isn't it a good option to show your awesome ideas? Start using it to portray your great designs in a creative way. Change the hoodie color with the menu on the right side of the screen and display your design in the most accurate way!
Men's Pullover Hoodie Invisible Model Mockup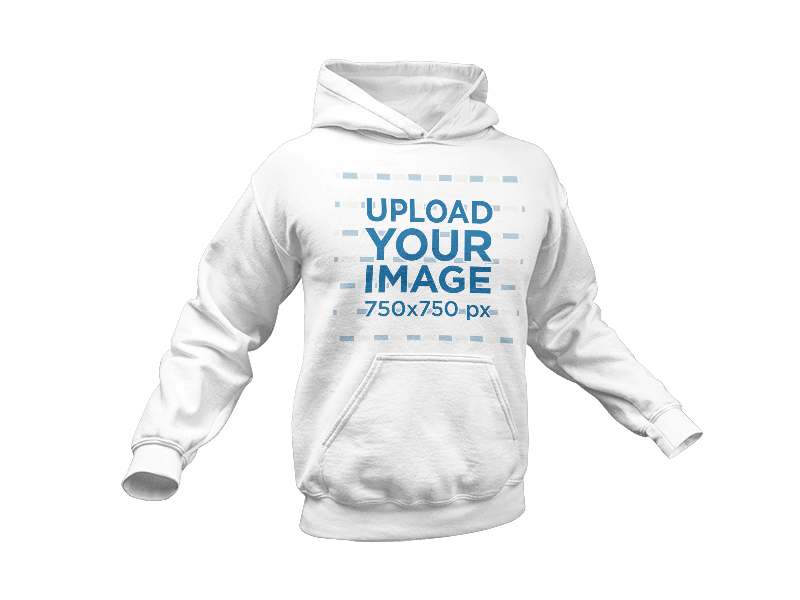 Use this hoodie mockup on an invisible model to show a design with a clean and simple display. With nothing else to drag the attention but your design, use this mockup to drag-and-drop an image file over the interface so it can be merged with the hoodie. After a couple of seconds you will see your design merged with this hoodie mockup, how great is that? Say goodbye to ye old Photoshop, and hi to Placeit!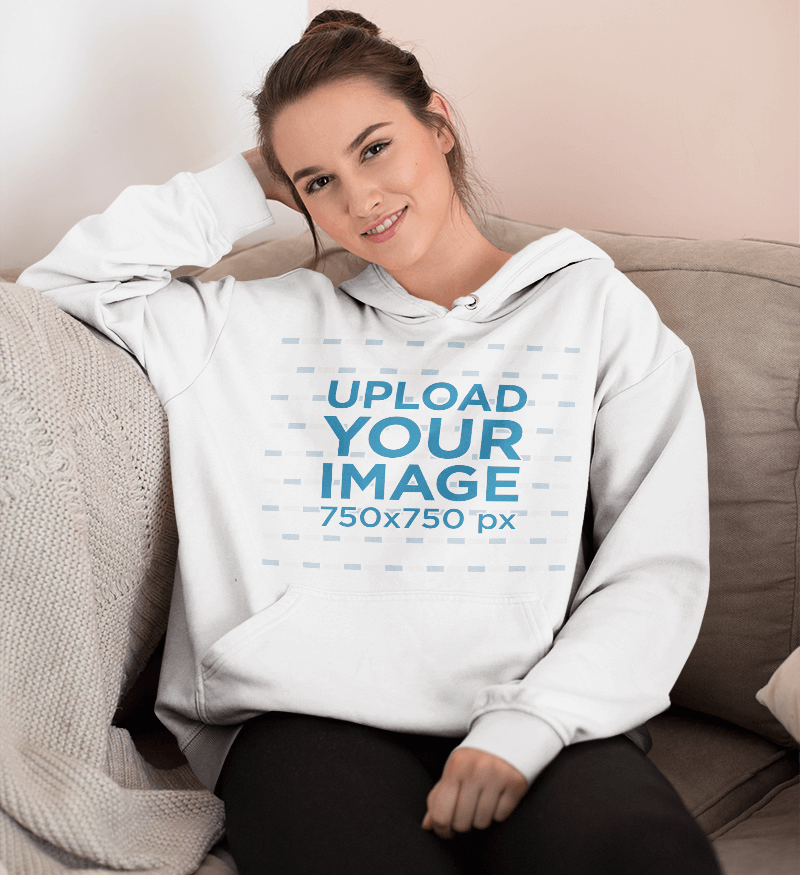 Turn this Placeit's hoodie mockup into an essential and improve your image marketing! You will just need to drag-and-drop an image file over the hoodie interface, after a couple of seconds you will see both things merged. Isn't it great? The full-zip hoodie is on a hanger, against a transparent background. Always remember that a simple and beautiful image like this one is a great option for you to showcase your latest designs, they will surely stand out!
What did you think of these hoodie mockups? If you feel like they are exactly what your marketing strategy needs, then waste no more time and make them part of your fundamental assets right away! Learn more about selling hoodies online. Don't forget to also take a look at our latest hoodie templates here!
If you've enjoyed this post you might also want to check out our 10 Best Free Mockups for Your POD Site or our Use Mockups of Lifestyle Images for Blogging.
---
Create t-shirt and other apparel mockups with Placeit
If you're selling custom design apparel, hoodies are the perfect option for the coldest months. Placeit has literally thousands of clothing mockups for all seasons: t-shirts, tank tops, polo shirts, baby onesies, and many more. They're easy to use straight from your browser, without photoshop, and the images are high resolution and with a professional finish. Get to know if your designs will sell without printing them:
Create Your Mockup Now
---