Create a Poster in Minutes!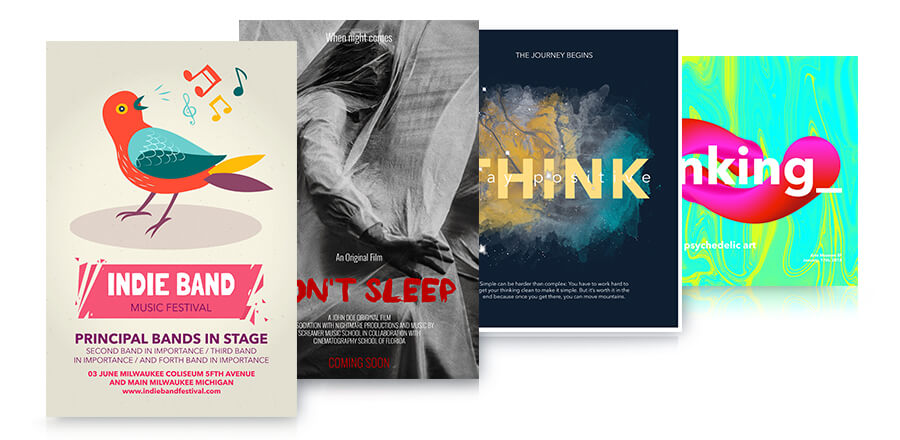 Whether you work in the printing industry or as a graphic designer, showcasing your projects is a key step of the process. And what better way to display your designs than with compelling visuals? Mockups are handy assets that help you display your work within the context and in a professional manner. Don't forget to check out our platform which basically works like a poster design software, but better since you don't need to download any tool, just work online! Placeit also allows you to create photorealistic mockups with your poster designs in seconds to present your projects on real-life objects.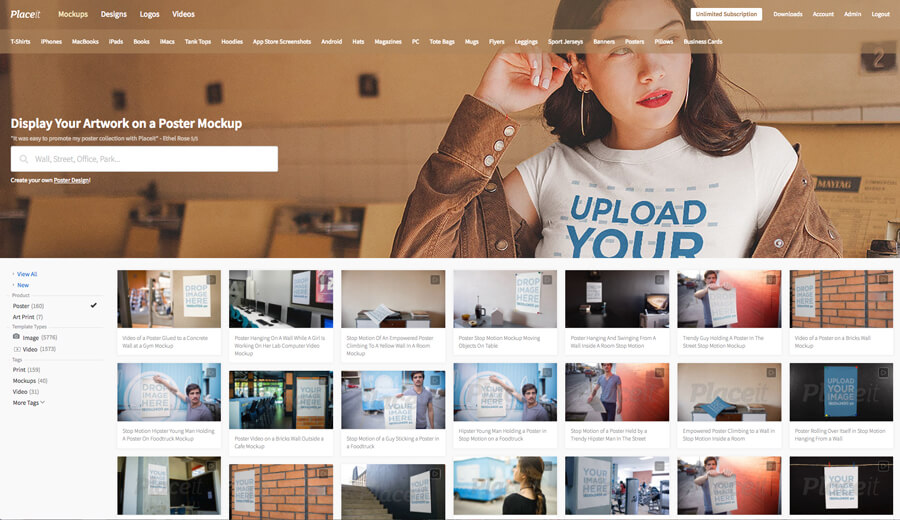 Are You Looking for a Poster Maker App?
We have it! Placeit has integrated the perfect poster maker app so you don't have to buy any specialized graphic design software. Just pick your favorite poster style, try it on different styles and get more poster ideas. You only need 3 steps to create your poster.
Step 1. Select your favorite design style.
Step 2. Select your favorite main graphic.
Step 3. Customize your information and select your favorite font.
Step 4. Download your file.
How to Make a Poster Mockup
Step 1. Visit Placeit and use the filters to select a mockup of the item you need. It can be an image, a video or stop motion.
Step 2. Upload your design to the mockup.
Step 3. Download your mockup!
Here's a quick video tutorial on this process:
And check out the result! This stop-motion video for your poster design is so cool! Upload it to your social networks, especially Facebook or Instagram since they're very successful with videos!
The Right Poster Mockup App Will Help Make Your Project Successful
It's all about images, the more realistic, the more people connect with projects. If you made a movie, have a special event, made decorative posters or you're having a grand opening you can use mockups on different scenarios. We have so many options to place your incredible poster on images, videos or stop motion videos like the above example. It all depends on what kind of design you made. Here are some poster making mockups ideas that can help you figure out the best scenario for yours.
Decoration Scenario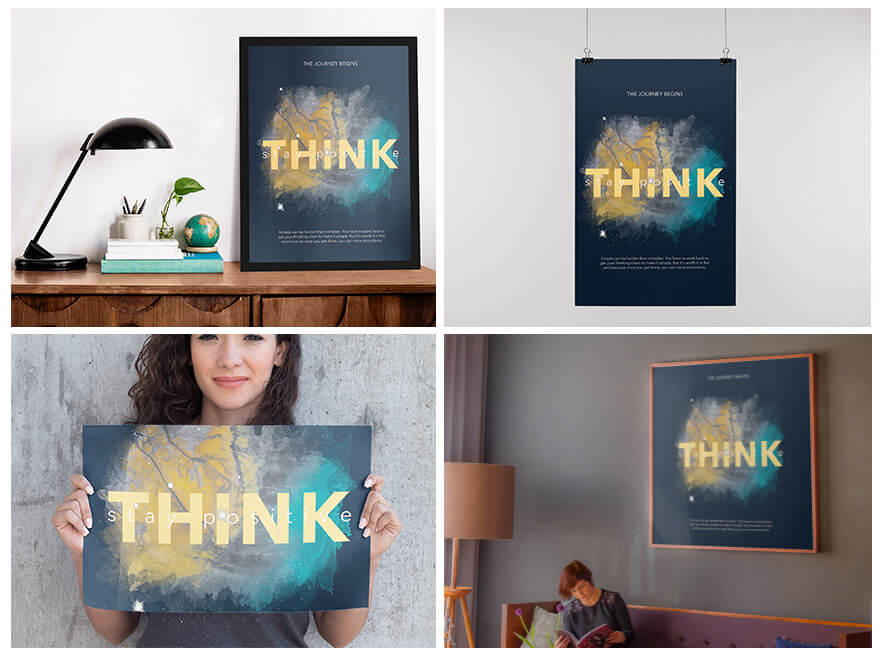 If your poster is a decoration type, make sure to place it in home environments, with a person holding it or on plain color backgrounds.
Specialized Niches Scenarios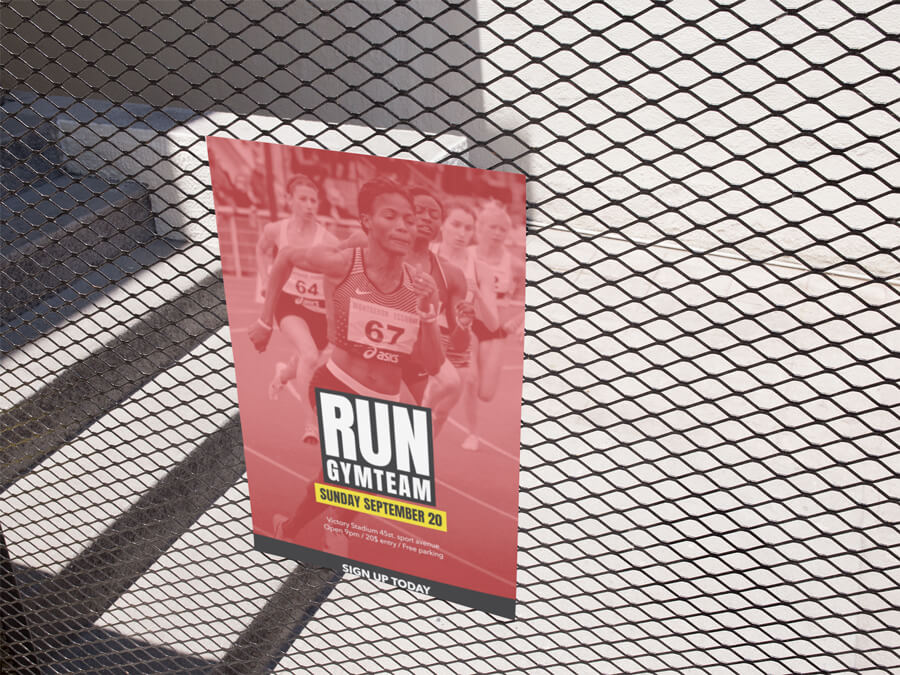 If you have a business and recently did your grand opening or have a coming event, don't let customers forget about you. Create your social media graphics and use your poster placed in a scenario that can illustrate your event. You will find a specific business niche you like gyms, offices, urban backgrounds, etc.
People Scenarios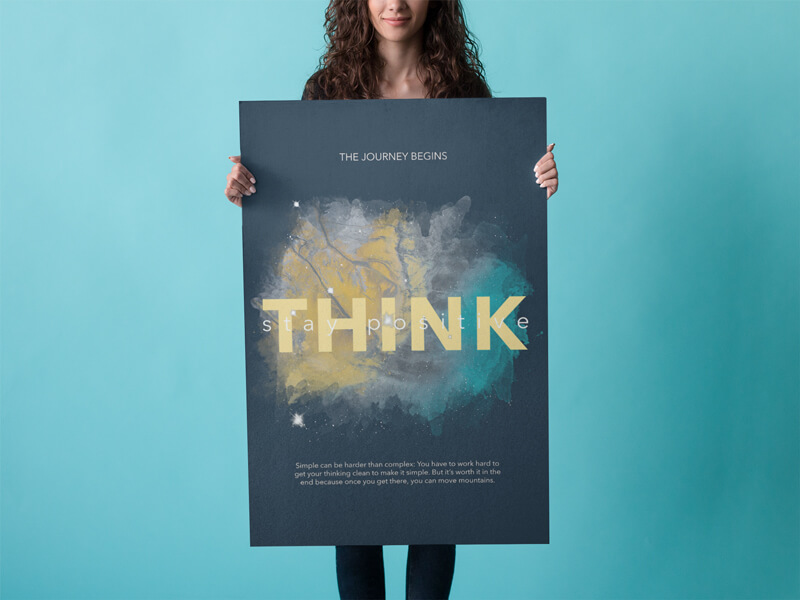 Don't worry if your poster is vertical or horizontal or if you want a simple background or with people.  We have them all! You will find a variety of options with the simple colored background or a person holding the poster.  You will be amazed by our stop-motion and video options.
Enjoy creating your mockups! And you will since you don't have to download any software or be a designer. You just need to trust in your sense of picking the best graphic, colors, and fonts according to the message you want to communicate.
Visit Placeit for Poster Design Templates, Social Media Images, Ad Banners, Stationery and More Mockups! 
Read about Creating Beautiful Instagram Graphics to Promote Your Business as well to showcase your content in different ways.
"Believe me,Placeit is the perfect tool for any entrepreneur!"
Peter Nelson 5/5
---
Placeit Is like a Poster Maker Software, But Much Better!
You don't need to download any software or be a designer. Placeit is an online platform that allows you to design posters and place them on interesting mockups according to your goal. You can also add social media images for your social networks, create ad banners or flyers. Thinking of making out of your project a small business? Create your logo and business card in minutes. The perfect tool for any entrepreneur!
Create Your First Poster Mockup!
---