"I don't know how I made product mockups before Placeit" – Antonio Garcia
5/5
Apple has revolutionized the way we consume technology, and one of the many reasons for this is the supreme quality of their products. The MacBook is a one-of-a-kind device that offers both power and brilliant design. If you just developed a brand new web app, software or website, surely you will want to show it off to the world, and what better way to do so than by using free MacBook mockups. 
Mockups are a great asset when it comes to visual content, especially because they allow you to display your product in a context, being used by people and in different scenarios. Placeit has 120+ free MacBook mockups ready for you to use, all you need to do is add your image on the MacBook's screen and Placeit will do all the magic to deliver a compelling image in which your product will steal the spotlight and stand out from the competition.
Here are a few examples of free MacBook Mockups in which you can showcase your new website or app: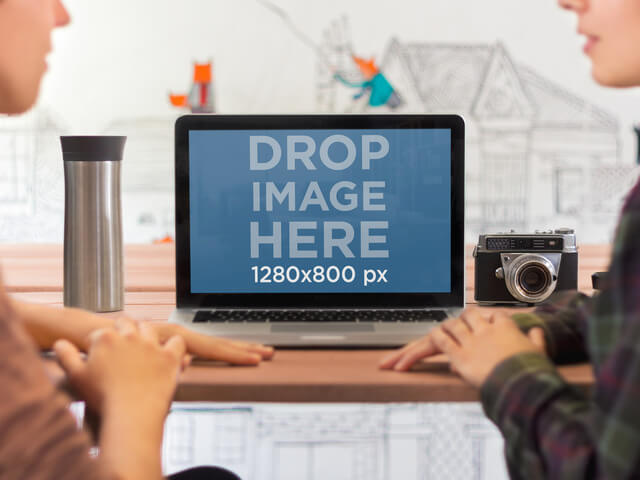 Try this Product Mockup of a Macbook Over a Wooden Desk
Do you have a great creative website? Set it up on the wide version Macbook mockup between two girls on a wooden desk. This mockup will hold an image of 1280x800px. Next to the Macbook sits an old fashioned camera on the right. On the left rests a travel mug. The two girls discuss their latest project.

Try this Macbook Mockup Template at a Creative Office Environment
Take a look at this beautiful Macbook mockup template at a creative office environment, don't imagine how great your new app or website will look while being displayed in this setting, go ahead and try it out right away to see for yourself; all you need to do is type your URL above or drag and drop an image straight into the Macbook Pro to create a compelling visual asset that will enhance your advertorial campaign.

Try this Macbook Mockup of a Girl at the Library
This Macbook mockup template features a pretty lady using her sleek Macbook Pro to do an important research at the library, she could be working on her master's degree or preparing a class or presentation, it's up to you to decide what shows on the laptop's screen. All you need to do is drag and drop a screenshot straight into the macbook pro, or simply type the URL above and Placeit will do it for you. Use this macbook mockup right away to enhance online marketing.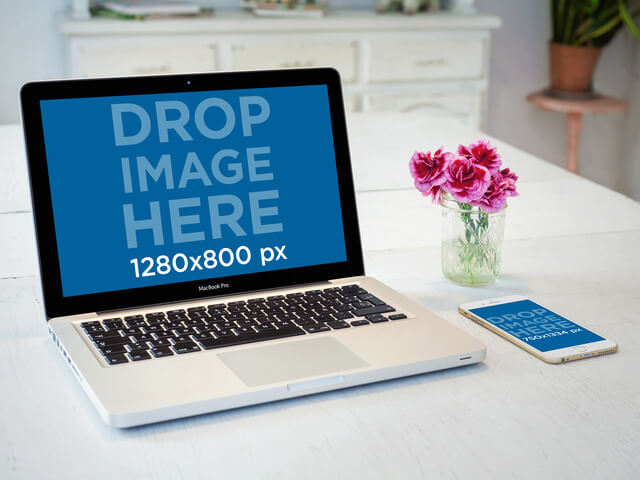 Mockup of an iPhone 6 Lying Next to a Macbook Pro on a Wooden Table
This is the perfect mockup for you to showcase your new app or website in an original, relatable way to your consumers. This stock photo features an iPhone 6 lying next to a macbook pro on top of a white wooden table in a kitchen. Display your website or app on the screen of the devices featured on the image and allow your consumers to take a glimpse at what your product has to offer them. All you have to do is drag and drop a screenshot of whatever it is you want to advertise onto the template so that Placeit can help you resize it, before you go ahead and start using this amazing stock photo as part of your visual marketing campaign. Macbook mockups here!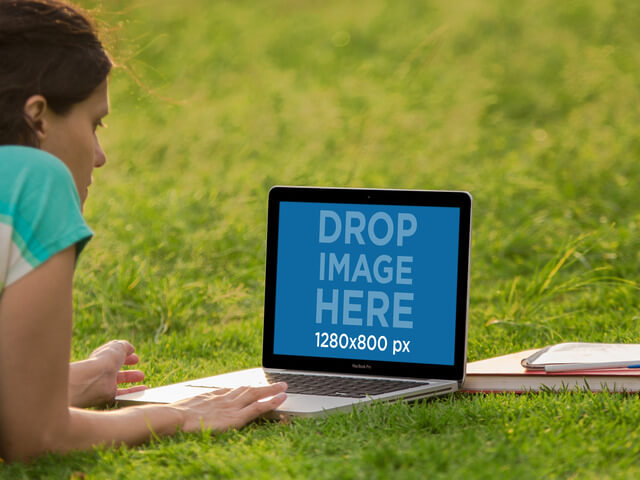 Laptop Mockup of a Girl Working on her Macbook at the Park
Have you been feeling like your visual marketing strategy is not good enough for you to introduce your new iOS app or website into the marketplace? Stop stressing because at Placeit marketing tools we've come up with an idea to help you out with this. Use our stock photo templates in real-life situations to showcase your ideas and make an impression on potential clients straightaway. This laptop mockup features a young female student lying on the grass at the park using her Macbook Pro to finish writing an essay. While browsing the internet, she comes up with your amazing new website and can't seem to be able to stop going through it! A mockup like this could work for almost any app/website. To start using Placeit's templates all you need to do is drag and drop a screenshot of your new app straight into the iPhone's screen, or simply type your URL above and Placeit will do it for you. What are you waiting for? Start using photo mockups as part of your visual marketing strategy today! See more MacBook mockups.
By using MacBook mockups, you will be providing your new app or website with a real-life context to which their consumer demographic can relate to. Placeit has a wide variety of options to select the environment that adequates the best to your product for your app marketing campaign. Remember all MacBook mockups are free on their small sizes, give them a try and have fun while showcasing your app or website for the world to see.
---
---