"Advertising friends, Placeit will save a couple years of pitch life" Diego Zambrano
5/5
When you think about a creative office, what's the first computer that comes to your mind? The iMac, right? Well, that is no surprise since this is one of the most powerful desktop computers in the market! A great machine with super sleek design and sharp screen resolution makes the iMac a favorite for designers and professionals from different fields.
iMac mockups are a great way to showcase your new website or app in a clever manner that will display its design and features in full splendor. Placeit has tons of free iMac mockups for you to use on your app marketing campaign, think about how cool your screenshots would look while being displayed on these 1920×1080 shiny screens, and try them right away! Take a look at these free iMac mockups:

Try this iMac Sitting on Top of a Glass Desk at a Home Office 
This stock photo features an iMac sitting on top of a glass desk at a home office. This is a beautiful image that will allow you to display pretty much any kind of app or website you want to. To use mockups like this, all you have to do is drag and drop a screenshot of your app/website onto the template so Placeit can adjust it for you. Create an outstanding visual content with the help of Placeit today and start making lasting impressions on your consumers now! PSD mockups here!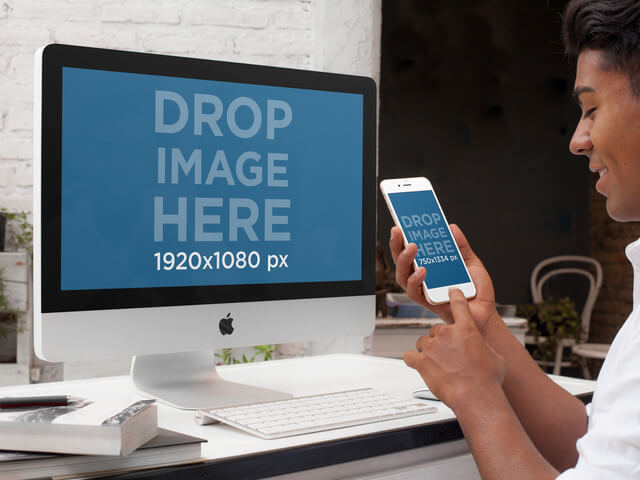 Try this Mockup of a Young Designer Working on an iMac and Using an iPhone
This is a great shot of a young designer working an iMac, while at the same time using his white iPhone 6 in a portrait position. This is not just a nice picture, this is the ideal mockup template for you to use as part of your business's visual marketing campaign, as you will be able to showcase your app or website within real-life context images. All you need to do is drag and drop a screenshot of your app/website onto the template and Placeit will an outstanding image for you to start using right away!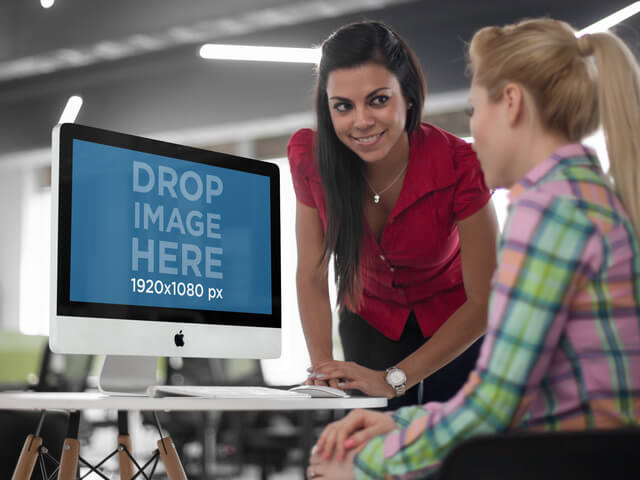 Try this Two Young Businesswoman Chatting in Front of an iMac Mockup
This iMac mockup features two young businesswoman chatting at the office, while one uses an iMac . Use this real-life situation stock photo to advertise your website or web apps and catch your potential consumers attention immediately! All you have to do is drag and drop an image onto the iMac on the template and Placeit will resize it for you. Keep in mind that by using everyday scenario mockups your ideas will look more friendly, making your products more desirable to your consumers. Stop wasting time searching for up-to-date marketing strategies and make marketing tools form Placeit an essential asset of your visual marketing campaign today!
Try this Mockup Featuring an iMac at a Creative Office
Introduce your new website into the marketplace in an attractive, striking way by making this iMac mockup from Placeit part of your visual marketing strategy today! This stock photo mockup features an iMac at a creative office, sitting on top of a vintage desk. Get amazing visual content by simply dragging and dropping a screenshot of your app or website onto the iMac on the template. Don't be scared to take risks and use this beautiful image to attract your consumers attention, making your product more desirable and demanded.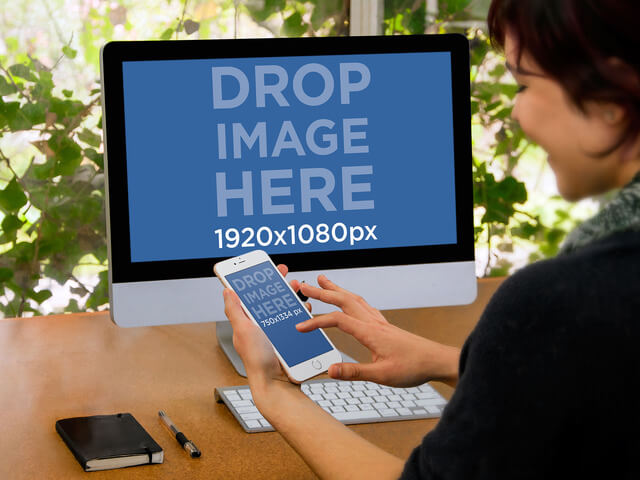 Try this Product Mockup of an iMac and iPhone 6 being used by a Woman
Need to show off a responsive website? You can use this iPhone 6 and iMac mockup at an office. The iPhone 6 Plus is being used by a woman. The iMac rests on a wooden desk in front of the girl. The iMac holds an image of 1920x1080px and theiPhone will hold an image of 780x1080px. See more Multiple Device Mockups here!
Using these free iMac mockups from Placeit is very simple, you don't need Photoshop or any other kind of image editing software, just drag and drop your image straight into the iMac and Placeit will do all the necessary adjustments to deliver a quality asset that will let your website or web app stand out from the competition. You will be able to choose from a wide variety of iMac mockup templates to select the one that best fits your business, from a creative and fun vibe to a high end corporate office, with or without characters, it's up to you!
Go ahead and use these free iMac mockups right away to enhance the way you promote your new website to your clients and partners, all you need is an image or a URL to create a professional and compelling piece of app marketing! Remember these are free iMac mockups if you select the small size image download!
See more free and popular mockups.
---
---