Every Template You'll Ever Need for Your Cannabis Brand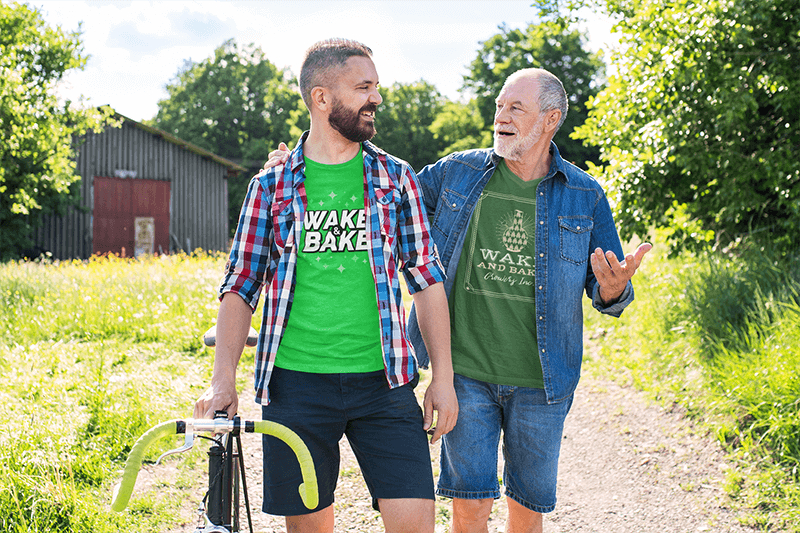 Hemp, weed, pot, cannabis, marijuana, there are many ways to call it, but the fact is that the cannabis market is going through a complete rebranding due to its new legality in some places in the world. This is happening because more and more people realize the amazing properties of cannabis products! But you already know this, so let's go over all the cannabis design trends rising out there and that you can use for your own creations!
The cannabis industry is rapidly growing, with more and more opportunities becoming real for cannabis enthusiasts. There are different extractions from cannabis that can be used in many markets like THC, CBD (which is becoming wildly popular) hemp, and so on. We did our research, and we've found thousands of great and helpful applications for cannabis. Just take a look at a few of them:
Cannabis Applications
For medical purposes such as an anti-stress product, pain-free medication, anti-inflammatory, that is helpful for several diseases.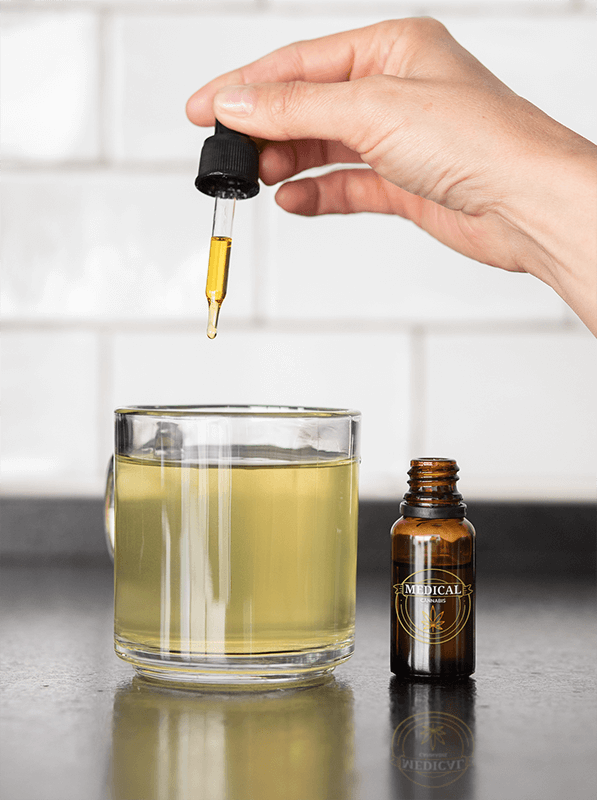 Dropper mockup featuring a woman adding CBD drops to her tea
Its anti-inflammatory effects work great for athletes' recovery and even injuries! There are existing products for athletes such as ointments, oils, pills, tea, cremes, there is even a cannabis-based protein on the market! 
Dropper bottle mockup of a man taking CBD oil
There are tons of great uses for pet owners because it reduces pain in our pets and helps with many issues they might have while also helping with stress. (I've personally tried this one and you can actually see the improvement).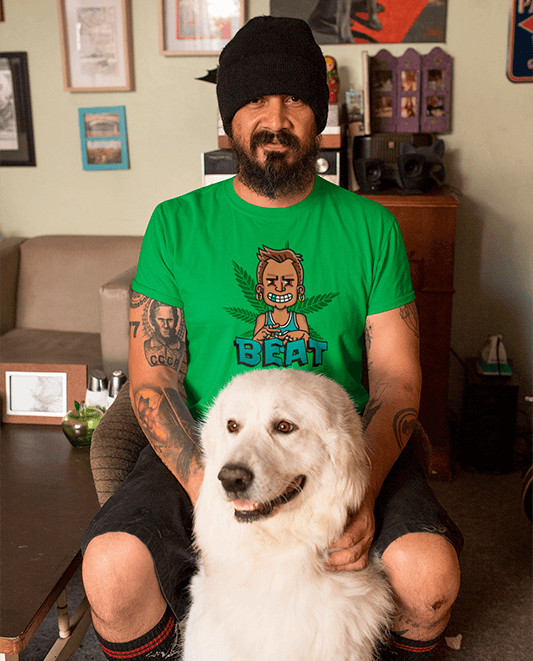 Cannabis t-shirt mockup featuring a man at home with his dog
Tons of beauty products now have cannabis because it has a very hydrating property for the skin.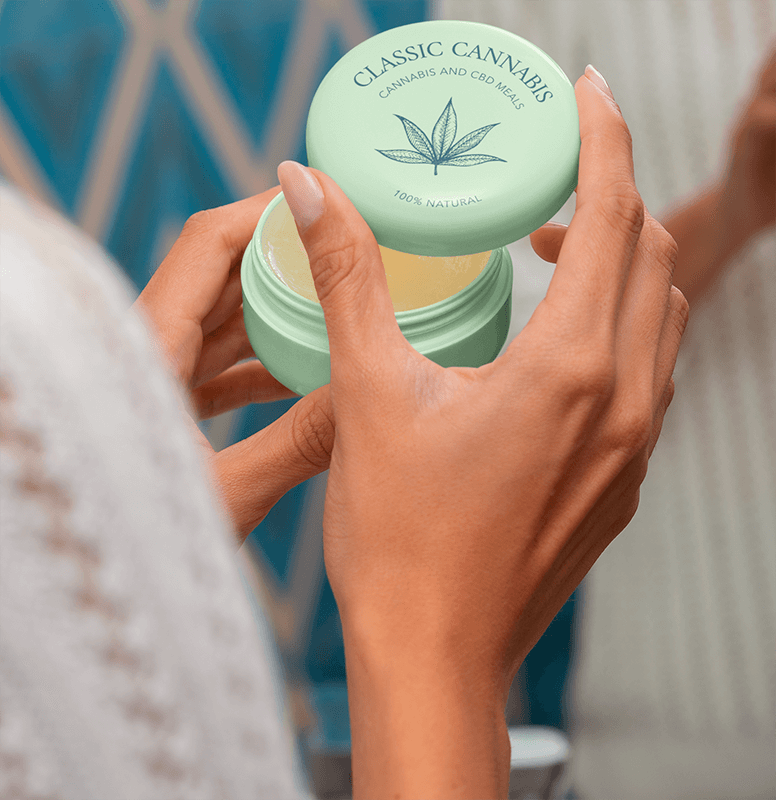 Mockup of a woman holding a cannabis cosmetic jar
So we know now there are many properties to the cannabis products, so we might as well try it cooked! Yes, there are a few restaurants now using cannabis recipes such as cannabis pesto! There are even brands that focus on cannabis-infused beer! If this is a product your business is expanding into, check out Placeit's beer label maker to create unique beer labels in seconds!
But enough about this, without any further ado, let's go directly into your very own cannabis brand designs. We've gathered a few great design trends to market your products just like a pro. 
Marijuana Logos
Yes, we are all very familiar with the classic seven-pointed green leaf that represents cannabis. However, there are tons of different (more creative) ways you can represent your business with a weed logo or CBD logo. 
Like with any other logo creation, before you even think about your design, you need to think about your target audience. Cannabis products are no longer for the hippie, long beard, skateboarding guy (sorry for the cliche); there are all kinds of niches now! Mothers, athletes, seniors, and so on. And it will most likely keep diversifying, so keep your eye on the right audience. Let's see a few cannabis logo trends for the new businesses. 
How to Make Your Marijuana Logo
Placeit has tons of customizable templates, all you have to do is choose a template you like and make arrangements to fit your new brand! Add your brand's name, select your brand's colors, choose your main graphics, and voilá! It's all done and ready to be downloaded everywhere.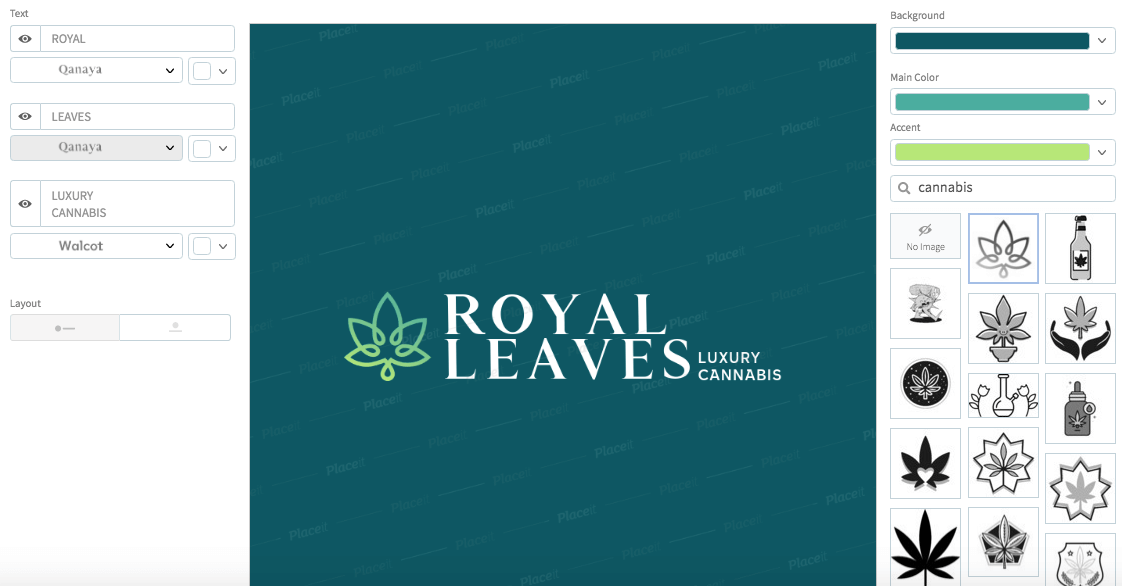 Cannabis Designs for T-Shirts
With tons of new cannabis brands up and going, merch is kind of a big deal when branding and even when making some extra cash for your business. You can not only design cannabis t-shirts for your brand, but also hoodies, pouches, hats, tote bags, and so on! Get your business groove on print! 
Promote Your Merch with Cannabis Designs
Cannabis Designs for Social Media
Promote all over social media and post new content regularly using pre-made templates. Just a few teaks here and there, and your designs are ready to be posted. Also, if you'll be making your posts, you might as well work on your social media covers too. There are tons of templates to choose from just take a look: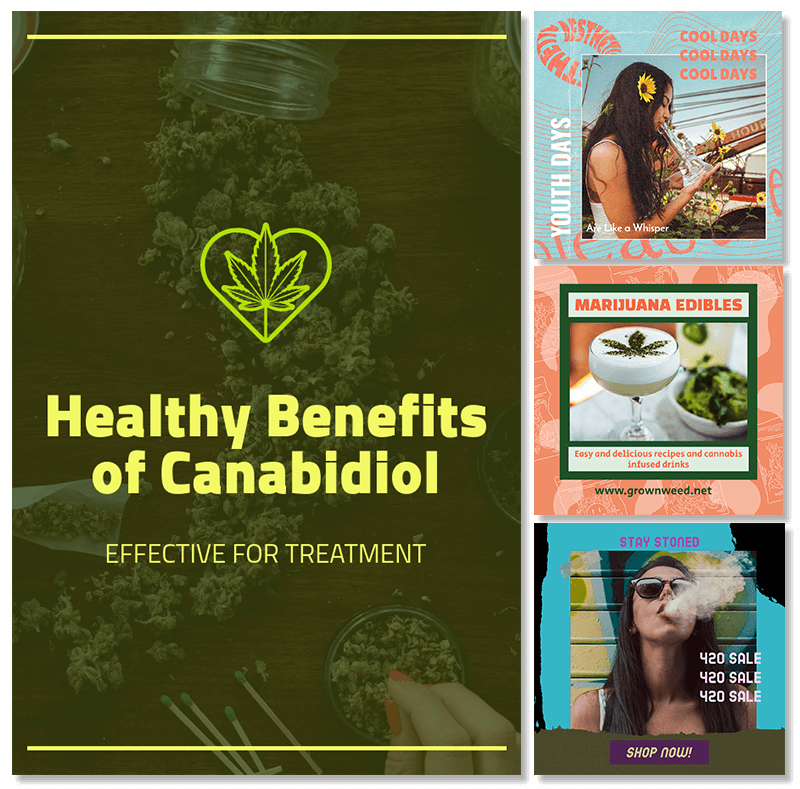 Cannabis Promo Videos
Use engaging videos to hook your audience into your brand! Just as using our design templates, Placeit's video maker is super easy to use, so easy, they are practically ready. Just add a few customizations here and there and post right away.
Cannabis Ad Templates
Make banner ads to promote your new products using an eye-catching call to action you can post everywhere. Find the perfect ad banner size for each social media platform.
Be Aware of All Regulations
Keep making unique designs for your products while keeping an eye on your state's regulations on the subject. For example, if you are making cannabis packaging, make sure you are stating that the products inside are for adult use only. 
Last Thoughts
We hope you found your inspiration to start branding your cannabis merch right away. Like we said, using Placeit's templates, the work is basically done; all you have to do is make a few customizations, and you'll have everything you need to brand your business in a few clicks!
---
Compilation: Cannabis Design Trends
Make some grooving cannabis designs using Placeit's templates. Brand your whole cannabis business and promote using our social media posts, logo maker, t-shirt designer, videos and more. Making cannabis lifestyle merch has never been easier!
Get Your Cannabis Designs Ready!
---
Hundreds of High-Res Freebies Just for You!