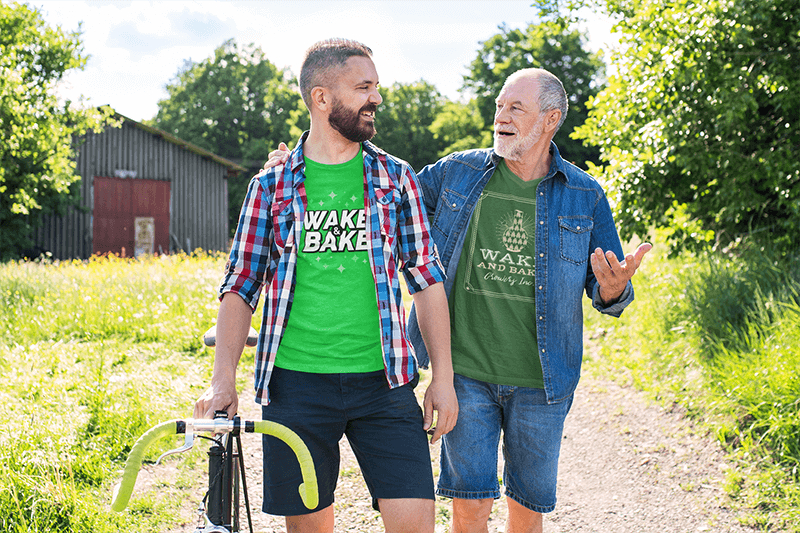 Hemp, weed, pot, cannabis, marijuana, there are many ways to call it, but the fact is that the cannabis market is going through a complete rebranding due to its new legality in some places in the world. This is happening because more and more people realize the unique properties of cannabis products! But you already know this, so let's go over all the cannabis design trends rising out there that you can use for your own creations!
🌿 This Is What You'll Find:
The cannabis industry is rapidly growing, with more and more opportunities becoming real for cannabis enthusiasts. There are different extractions from cannabis that can be used in many markets, like THC, CBD (which is becoming wildly popular), hemp, and so on. We did our research, and we've found thousands of excellent and helpful applications for cannabis. Just take a look at a few of them:
5 Common Cannabis Applications
For medical purposes, such as an anti-stress product, pain-free medication, and anti-inflammatory, that is helpful for several diseases.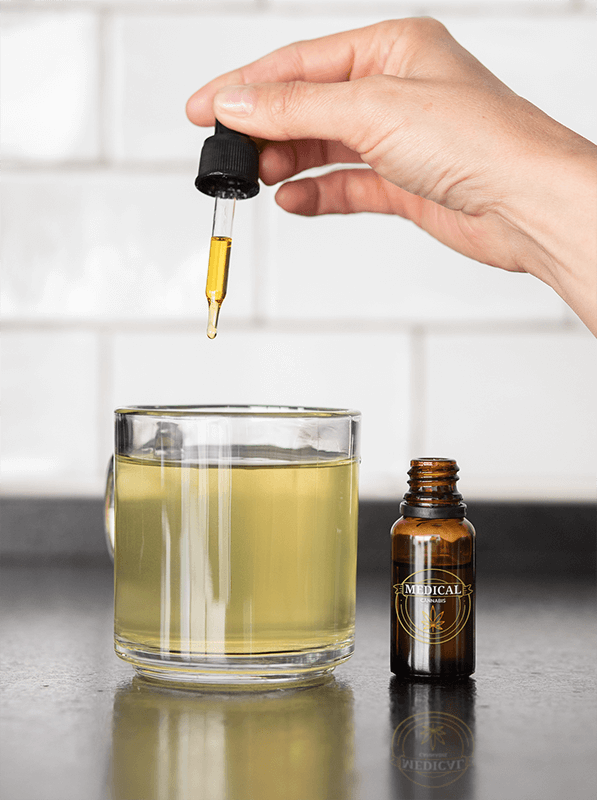 Dropper mockup featuring a woman adding CBD drops to her tea
Its anti-inflammatory effects work great for athletes' recovery and even injuries! There are existing products for athletes, such as ointments, oils, pills, tea, and creams; there is even a cannabis-based protein on the market! 
Dropper bottle mockup of a man taking CBD oil
There are tons of great uses for pet owners because it reduces pain in our pets and helps with many issues they might have while also helping with stress. (I've personally tried this one, and you can actually see the improvement).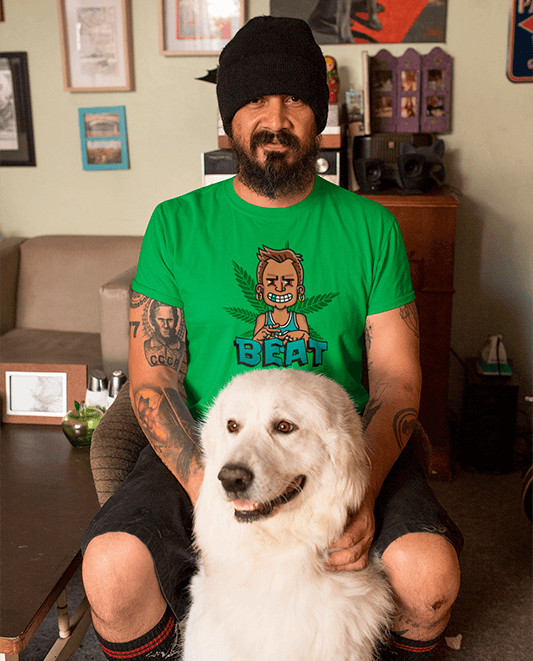 Cannabis t-shirt mockup featuring a man at home with his dog
Many beauty products now have cannabis because it has a very hydrating property for the skin.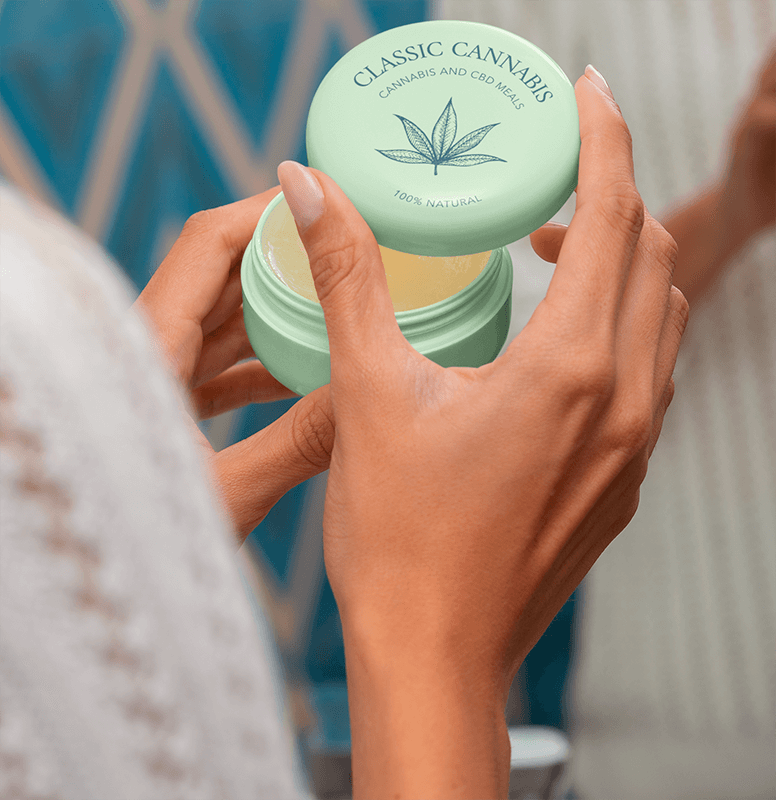 Mockup of a woman holding a cannabis cosmetic jar
So we know now there are many properties to cannabis products, so we might as well try it cooked! Yes, a few restaurants now use cannabis recipes such as cannabis pesto! There are even brands that focus on cannabis-infused beer! If this is a product your business is expanding into, check out Placeit's beer label maker to create unique beer labels in seconds!
But enough about this; without any further ado, let's go directly into your cannabis brand designs. We've gathered a few significant design trends from marketing your products just like a pro. 
10 Hot Cannabis Design Trends
Get ready to discover the latest cannabis design trends to stand out this year. Whether you're a referent in the industry or just launched your cannabis brand, these ten trends will undoubtedly be your holy grail to position yourself as a design guru who stays relevant and up-to-date. Let's jump ahead to discover together the 420 design trends that will make your stock run out in a snap.
1. A Psychedelic Style to Blow Your Mind
With its vibrant colors, this cannabis design trend is perfect for getting out of the conventional green. These shades are perfect for fonts and abstract illustrations that will take you to another world. So take a relaxing and wonderful trip with these psychedelic designs and let your brand connect with the universe.
🌈 Need a logo for your brand? Here are some mesmerizing, inspiring, and vibrant logos options that follow this style. 
2. A Quote to Inspire the Green Community
Some messages don't need images. Truth is a simple but powerful quote that can be all you need to speak up and make a statement that rocks. Get creative with fonts, choose bold and colorful styles, and combine them with bongs, grinders, and marijuana stickers or pick an elegant or deco frame that reflects your relaxed state of mind. At Placeit by Envato, find various sophisticated styles to deliver the right message. 
3. Bringing Back the Retro Style to the Cannabis Industry
It's no surprise seeing the cool retro style in our cannabis design trends since it's also part of the top design trends among designers worldwide. So get ready to travel back in time to get inspired by the amazing and muted colors, incredible textures, superb and bold illustrations, and vintage typographies of the 60s and 70s. It's time to charge your designs with only good vibes:
✨ Check out the design trends that will impact the graphic design world this year!
4. Cartoons Are Always a Fab Idea for 420 Designs
To convey a creative, humorous, playful, and relaxed style, weed cartoons are all you need to boost your brand. Luckily, with Placeit on your side, you'll never run out of options to upgrade your cannabis brand. Find hundreds of eye-catching visuals, from marijuana weed leaves, oils, vapes, and more cannabis products that will be a hit on any surface. 
5. Fur Real: The Green Jungle Market Loves Cute Smoking Animals
Let's go wild and make any animal the protagonist of your cannabis brand. All of our designs are inspired by fantastic animals getting excited by the 420 effects. Find from cutie doggies to relaxing frogs to a hurry fox on its way to take a dose of a good life. Let the animal inside of you take over your cannabis brand.
6. Leaf It Be the Main Character of Your Business
This cannabis design trend is all about a weed performing different activities. For some, it could be basic, but with Placeit as your design ally, you can give a twist to any conventional marijuana icon and make magic in seconds.
7. Minimalism: Less Is More in a World of Weed
This cannabis design trend will be perfect for those who don't like oversaturated designs. It conveys a clean, dapper, and minimalist style. This collection is inspired by soft lines and flat but beautiful illustrations, accompanied by a reduced color palette to avoid oversaturation and maintain a less-is-more look. So, if you want your cannabis brand to stand out, choose this look. 
8. Put All the Green Pieces Together
Looking for a sophisticated and unconventional cannabis design trend? Consider trying out the collage style! By incorporating various cannabis stickers and elements, you'll get a beautiful masterpiece that will wow your audience. So choose your favorite pieces and create a truly original design. 
9. Take a Bite Out of These Food-Inspired Cannabis Designs
What about creating a design that looks tasty? Well, now it's your chance to evoke this feeling, especially if you own a cannabis shop specializing in bakery, candies, or any other food prepared with cannabis. But hey, if you're not in this food world, you can still take advantage of these tasty illustrations that are sure to convey your cannabis style. So get yourself a slice and start delighting your customers with mouth-watering visuals.
10. Random Designs to Celebrate Diversity and Freedom
If none of these cannabis design trends suit you, no worries, buddy. Here are some other incredible illustrations that can be the main focus of your cannabis brand. Find a papa noel taking a break to smoke, choose outer space creatures, or go for stylish and clean designs to convey a more informative and professional look. After all, in the cannabis industry, everything is about worrying less!
And that's a wrap! We hope you can enjoy your cannabis trip with these outstanding cannabis design trends to keep amazing the 420 community. Find many illustrations to hit your brand, whether it's a t-shirt design, a logo, social media, or print material. Stick out to Placeit to look for trending designs and get the best and most versatile illustrations.
Be Aware of All Regulations
Lastly, keep making unique product designs while keeping an eye on your state's regulations on the subject. For example, if you are making cannabis packaging, make sure you are stating that the products inside are for adult use only. 
Wrapping Cannabis Designs Up
We hope you found your inspiration to start branding your cannabis merch right away. As we said, using Placeit's cannabis design templates, the work is basically done; all you have to do is make a few customizations, and you'll have everything you need to brand your business in a few clicks!
Keep up-to-date with more trends for this year: 2023 Web Design Trends: Elevate Your Website's Look, Google Trends: How To Use It In Your Content Marketing Strategy, and Instagram Trends to master your social media strategy.
---
---
Compilation: Cannabis Design Trends
Make some grooving cannabis designs using Placeit's templates. Brand your whole cannabis business and promote using our social media posts, logo maker, t-shirt designer, videos and more. Making cannabis lifestyle merch has never been easier!
Get Your Cannabis Designs Ready!
---