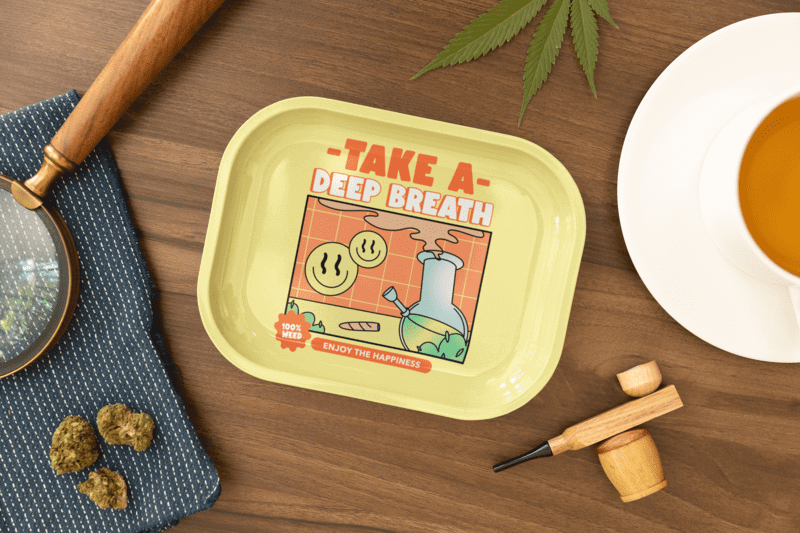 Cannabis is no longer associated with hippies or young skaters. Now many people use cannabis due to its beautiful properties! Recreational cannabis is just making its way into the market. However, medical marijuana and other common day-to-day uses are now widely accepted! 
🌿 Have a Nice Trip:
Cannabis lifestyles and enthusiasts have opened a huge market for all cannabis product owners. As cannabis products are legalized, the number of competitors skyrockets, but legal cannabis doesn't just sell itself despite what you might think. This is why it is super important to master your cannabis branding because the legal cannabis market is exploding! 
According to a Grand View Research report, in 2021, the global market for cannabidiol was worth USD 5.18 billion. However, it is anticipated to grow at a compound annual growth rate (CAGR) of 16.8% between 2022 and 2030.
Cannabis products can be used for medical purposes, stress relief, general pains, sports purposes, helping your pets, for your kids, on beauty products, to bake, and more!
"Branding will be the difference between success and failure in the emerging legal cannabis business." Evan Horowitz, CEO at WeedClub.com, told Forbes.
Let's Start With Your Cannabis Branding Journey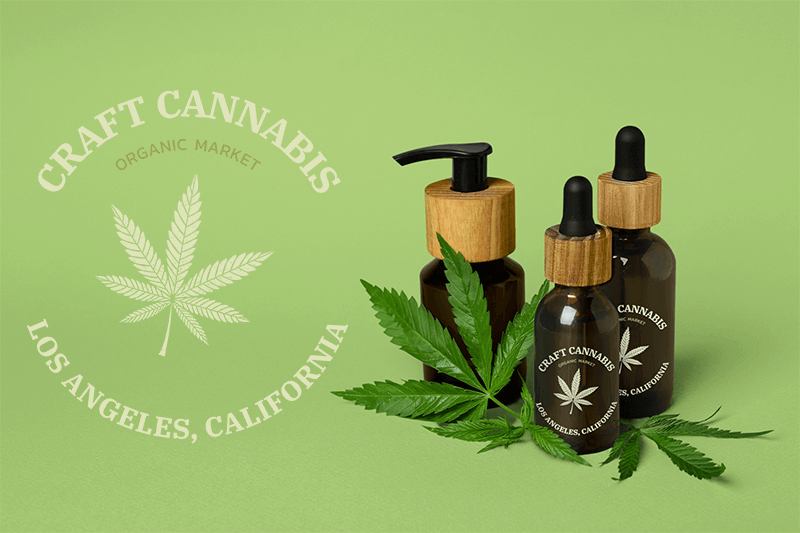 Don't make the mistake of thinking branding is a less important aspect of your business. Branding is key to moving your cannabis product to your desired audience. We want to give you the best tips to brand your products effectively.
CBD brands are becoming very popular because cannabis has proven to have many great properties for daily use! But now, remember your brand is not only your name or logo; these are simple representations of your brand. A brand is all of your brand identity reflected all over your brand's image. 
Ultimately, what great branding does for you is that it helps your customers recognize your products anywhere. Think about McDonald's –yes, we know this is very cliché– but there's no way you think about other brands while looking at their products, right? Even if you are looking at a cup or a paper bag, you know it's McDonald's; this is what efficient branding does for a business.  Your brand's personifications help customers feel identified, or not, with it. So think, what are your brand's best attributes? And build an image around it! 
Overall, it's essential that your branding reflects high quality and professionalism due to the industry we are dealing with. You need a great mix of a fantastic logo, great packaging, and flashy advertising to go with it. And Placeit is here to help! 
To Start Off, Create a CBD High Vibes Logo
Whether you are working on a CBD logo, cannabis logo, marijuana logo, or other brand variations, Placeit will help you with its creation! 
As more and more people are letting the prejudice behind them and trying cannabis products, a massive range of designs is becoming available for your business. There are edibles, vape pens, flower concentrates, topicals (lubricants & oils, balms & salves, lotions, baths), medical products, and so much more! When creating your cannabis logo, you might be designing for different products.  Try to go beyond the cliches and get creative with a refreshingly unique design! By using Placeit's cannabis logo templates, you get enough options to get creative and design something that truly represents your business. 
You can look at a few ideas to find your brand style and decide which goes best with your business intent and values. Here are some examples to help you choose the right 420 logo theme: 
Health and Wellness
For people who are focused on the benefits of cannabis for their well-being. All wellness lifestyle enthusiasts will love this style for your brand. Use minimal designs, calm colors, delicate details, and a clean image.
Luxury
This style is excellent for high-end products, with luxury packaging and design that shows it. Use golden and black colors, fancy-styled graphics, and elegant fonts. 
Medical
For every product that aims to enhance someone's health, you might want to go for a clean look, white colors, and high contrast. If that's your choice, then opt for a design that inspires safety and high quality.
Rough and Manly
This style is used for products like cannabis, craft beer, or man-used products. Use bold typefaces, dark colors, and masculine symbols to give it an outdoorsy look.
Other Styles 
For vintage-styled designs, use nostalgic designs to bring people back to their cultural roots with colorful palettes. To get a natural-inspired design, use eco-conscious packaging, a reconnection with nature. You can give your product a handcrafted look. Less business and more of a romantic look. Green and leafy are always a great way to go. To design a cartoonish logo, choose silly cartoonish graphics and fonts to represent your business. 
🍍 Pro Tip: Avoid using overused words; yes, you can add some keywords to your name on a second line, but make sure your primal name is only yours. Also, make sure your name has not been taken yet.
💡 How to Make Your Marijuana Logo
Placeit has tons of customizable templates; all you have to do is choose a template you like and make arrangements to fit your new brand! Add your brand's name, select your brand's colors, choose your main graphics, and voilá! It's all done and ready to be downloaded everywhere. 
Cannabis Packaging? Weed Can Do It Too!
As said before, business branding goes beyond a name or logo. Your brand should be reflected in everything you do, and every branding asset should be coherent with your brand. With that said, what cannabis packaging design you use to move your product around is essential too! 
If you need help designing the perfect packaging, Placeit has tons of templates you can use, from beer label designs to t-shirt labels and tags! Choose packaging that is appealing to your target user.
A Note on Marijuana Packaging Mockups
Packaging mockups for your cannabis products can help you post your products' images before you even craft them. You can use a beautiful image to make up your catalog, your Instagram shoppable posts, your Facebook marketplace images, anything! You can find basically any packaging you will use to make your images in just a few clicks. That's right! All you have to do is add your logo, and voila, your job is done.
Go Higher With the Coolest 420 T-Shirt Design Templates
For cannabis enthusiasts who want to make a statement and show their support for marijuana culture, there's nothing quite like a 420 t-shirt. Placeit has a wide selection of unique designs that will make you go from drab to fab in a snap! 
Our talented creative team has designed a range of 420 t-shirts perfect for celebrating April 20th, advocating for the legalization of cannabis, or simply expressing your love for this amazing plant. With various styles, colors, shapes, cartoons, and designs, there's sure to be a t-shirt that fits your brand's personality and supports the cannabis community. 
🍃 Pro Tip: You can design not only cannabis t-shirts for your brand but also hoodies, pouches, hats, tote bags, and so on! Get your business groove on print with these outstanding cannabis design trends!
Freshly Created Cannabis Designs for Social Media
Lastly, promote all over social media and post new content regularly using pre-made templates. Just a few tweaks here and there, and your designs are ready to be posted. Also, if you are making your posts, you might as well work on your social media covers, stories, ads, and more! Connect through social media with your happy community and gain more popularity for your brand! There are tons of templates to choose from; just take a look: 
Cannabis Post
To compliment your branding strategy, you might want to design some cooler social media posts. Whether it's to promote a funny or informative quote, a testimonial, a new podcast episode, a recipe, a new launch, or simply to talk about the perks and effects of cannabis, a static but aesthetic post is your best ally. Check out some 420 designs to get in the mood: 
Cannabis Videos
Use engaging videos to hook your audience to your brand! Just as using our design templates, Placeit's video maker is super easy to use, so easy, they are practically ready. Just add a few customizations here and there and post right away.
Cannabis Ad Templates
Make banner ads to promote your new products using an eye-catching call to action you can post everywhere. Find the perfect ad banner size for each social media platform.
Last Words
Branding is the foundation for long-term success. Get yourself ahead of your competition with a sick brand design that makes it irresistible to look at! 
Build a brand that is consistent in every product and consistent with your brand's vision too. To brand successfully, your cannabis business is important that you have a clear picture of who you want to deliver to and sympathy with them.  This can be the difference between choosing one marijuana brand or the other. 
Be careful not to infringe on any legal statements. Be aware of all the regulations to market your products, and ensure you are adding your packaging, all age restrictions, and precautions of your product, plus a clear fold-down of all of your product components. 
Once you have achieved, a solid brand is time to market your products everywhere. Work on strategies like your social media, videos, influencer marketing, email marketing, collaborating with fellow businesses, making an event, and more. Tell us how you are doing! Any questions? Leave a comment for us!
FAQ – Cannabis Branding
---
---
Cannabis Branding Tips to Get Your Product Out There
We give the best tools to build your own cannabis branding design to market your products successfully! Get your logo, your packaging, your images, and your advertisement ready to sell to your cannabis market!
Cannabis Designs for You
---