Give Your Team the Custom Basketball Jerseys They Deserve, We Tell You Where to Print 'Em!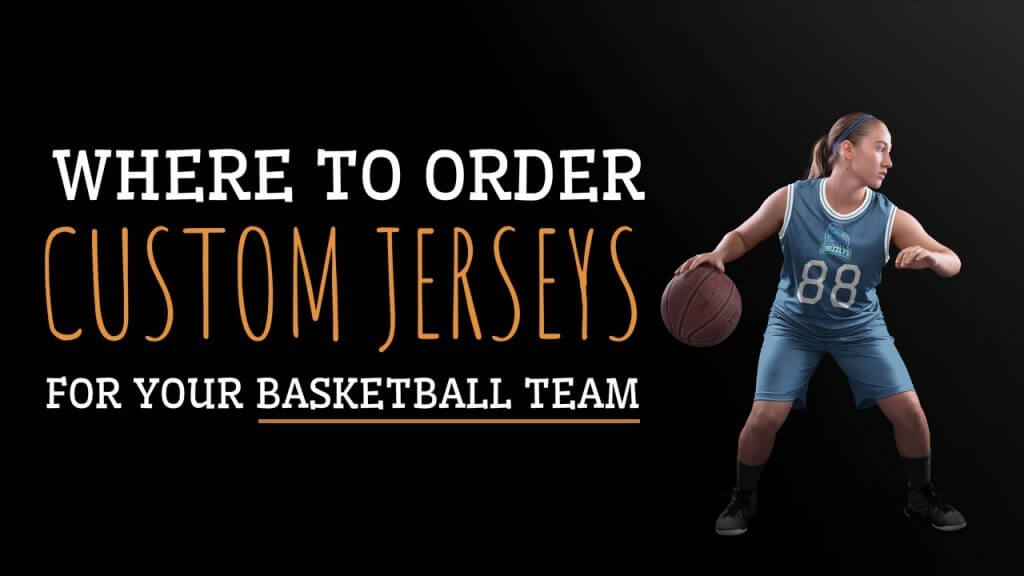 Having real-life basketball jerseys is super important when it comes to making your team feel represented. Think about it, entering the gym in the same old jerseys your players have been using since the past two seasons is not precisely the most motivational feeling, right? Go ahead and encourage your players to score like never before with custom basketball jerseys that represent who they are and what the team stands for.
Think making custom basketball uniforms is too complicated or expensive for you? Think again! There are tons of websites that allow you to print your team's logo into a wide variety of garments and accessories to create a full uniform. In this post, I will go over some of the best sites that offer this service and let you create beautiful and professional basketball jerseys with your team's logo, colors, and even numbers and names so your team can be ready for the next season just in time!
Do You Have a Basketball Logo for Your Team Already?
First things first. You will need a basketball team logo to add to your custom basketball jerseys. If you already have one, that's awesome. Go fetch it as you will need to upload it or email it to these custom uniform sites.
Don't have a basketball logo yet? No worries, head to Placeit > Sports Teams and choose a sports logo template that represents your team.
Have a look at some of the awesome logos you can create for your basketball team in seconds and without any design skills: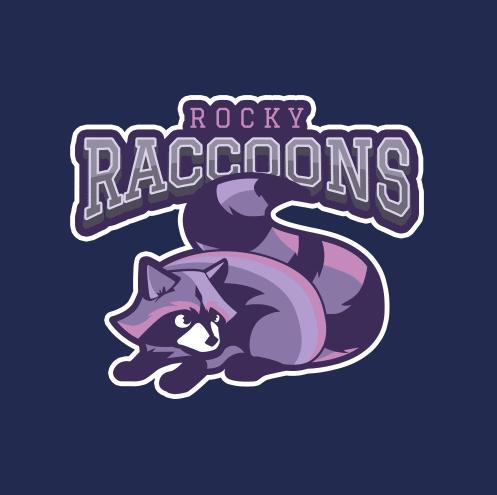 Make sure to check out the tutorial we wrote on how to make your own basketball logo (it has a step-by-step video!)
Does My Team Need Custom Basketball Uniforms?
YES! Having professional basketball uniforms for your team is not just about looking good on the court. Giving each and every player a custom basketball uniform is a great way to keep the team ready to smash the competition.
Making custom basketball uniforms for the team is great for:
✓ Motivation. Give them something to feel proud and excited about when game day arrives.
✓ Representation. It's proven that uniforms give players a sense of belonging, make a basketball uniform that will represent the team.
✓ Professionalism. Want your team to perform like the pros? Then give them custom uniforms that will make them look like the pros.
What Are the Best Sites to Order Custom Basketball Jerseys for My Team?
So, are you convinced that making custom jerseys for your team is a great move to make? Hope so! Now, let's get to the fun part, where on earth are you supposed to print your custom made basketball jerseys? There's probably a local custom uniform business near you, but if you want to explore online possibilities to get access to a wider set of garments and accessories, I'd recommend finding an online uniform printer you can work with.
I went ahead and reviewed some of the best custom uniform providers out there so you don't have to. Here are the best ones that allow you to upload your existing basketball logo and print it on tons of basketball gear and merchandise, have a look:
This site is one of the pioneers when it comes to customizing uniforms for college teams, little leagues, amateurs, etc. They offer not just your typical basketball jersey but tons of other products you can create to build team representation.
Want the entire team's entourage to dress up for the occasion? Make custom activewear, t-shirts, or hoodies with your team's logo for them to wear for every game!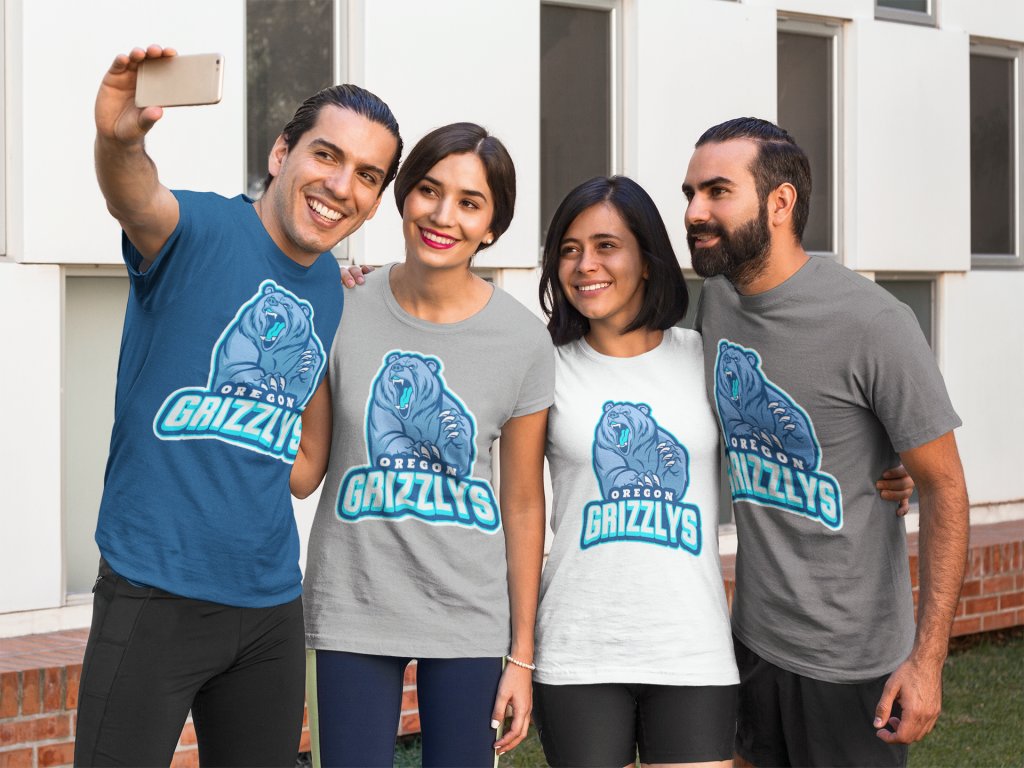 These guys are a great option to do that since they offer a wide set of apparel items for you to build a loyal fanbase.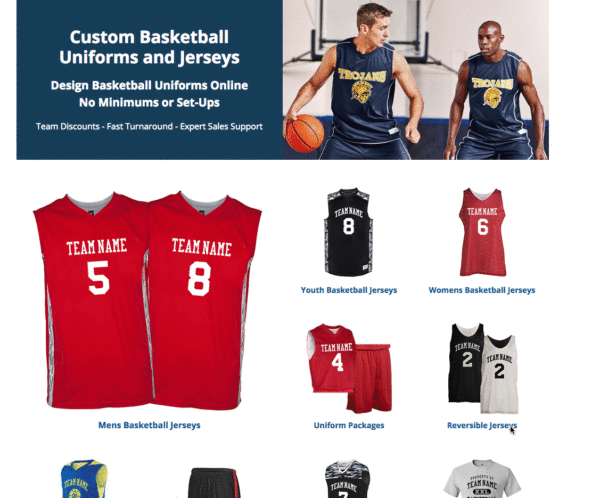 TIP: to find exactly what you need you can filter your search by product, style, brand, or garment color.
Team Sportswear makes it super easy for you to upload your existing basketball logo to the products, no hassle at all. Just click on "Add images" after choosing your jersey type (or any other product), this way you will be able to add your own image file to the template, reposition it and adjust its size.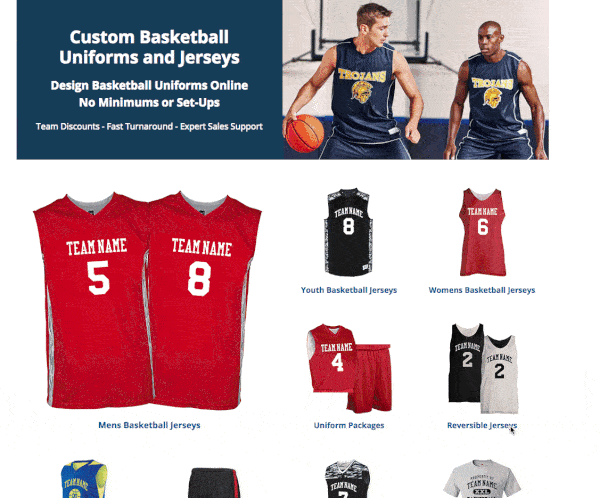 Shipping Details: US shipping will take around 2 weeks, while international delivery is 3 weeks depending on customs.
It's no secret that CustomInk is one of the main print-on-demand sites out there, and it's easy to understand why: top notch products and printing quality with a great customer care team. But besides being able to print custom t-shirts, phone cases, hats, artwork, and more, CustomInk also makes custom sports uniforms. Their basketball uniform garments are quite limited but they do offer the basics to get your team off the ground.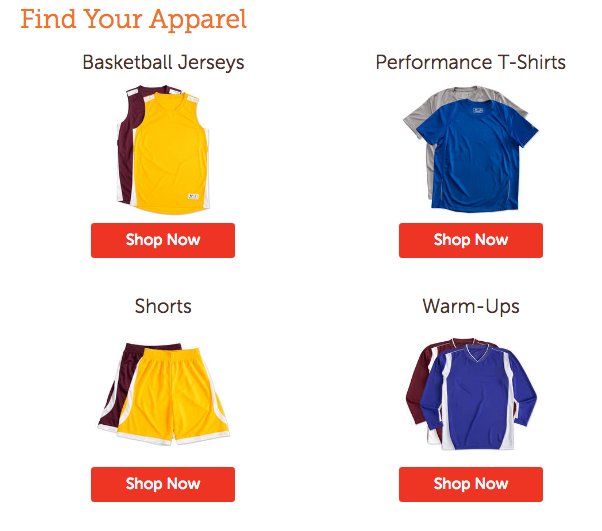 Customizing a jersey with your team's basketball logo is super easy with CustomInk. Once you select a garment simply click on "Add Art" and upload your own logo, it will be shown automatically on the template.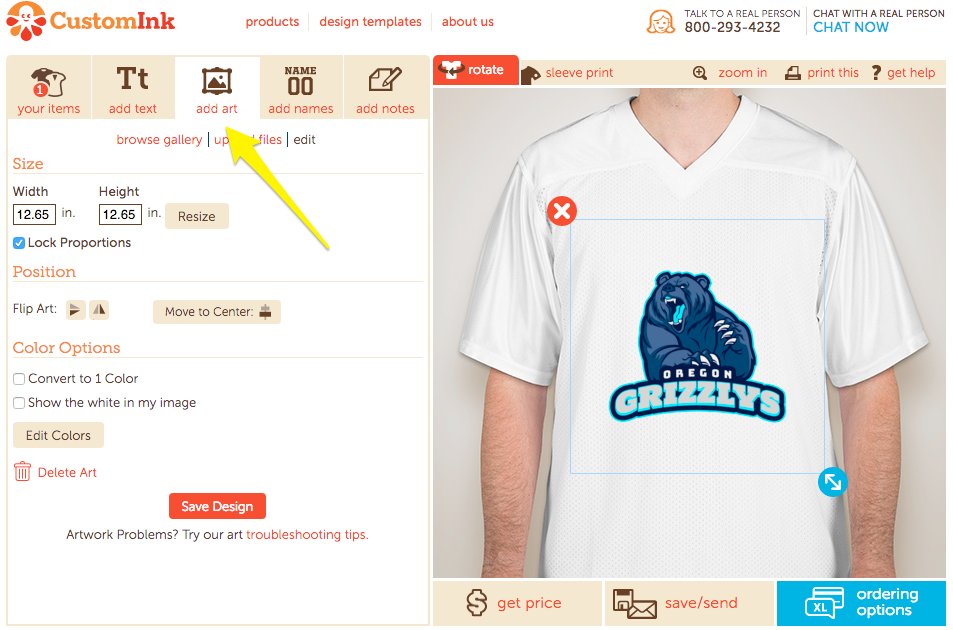 Shipping details: bad news is this site only ships inside the US. Good news is Standard shipping is 100% free (2 weeks). If you need your jerseys to arrive sooner than that you can go for Rush delivery which takes 6-8 days (cost is 10% of your order total). Playoffs are coming and you need your jerseys right away? You can go for Super Rush delivery, which guarantees the delivery within 5 days for an additional cost of 25% of your order total.
Looking for a place where you can build the entire uniform for your basketball team? The Graphic Edge may just be that site. Though they don't have an online builder, placing an order for your team's jerseys, shorts, shirts and hoodies is not a complex endeavour at all, just email them with your team's logo and they will take care of everything to deliver professional jerseys that will make your players stand out from their opponents.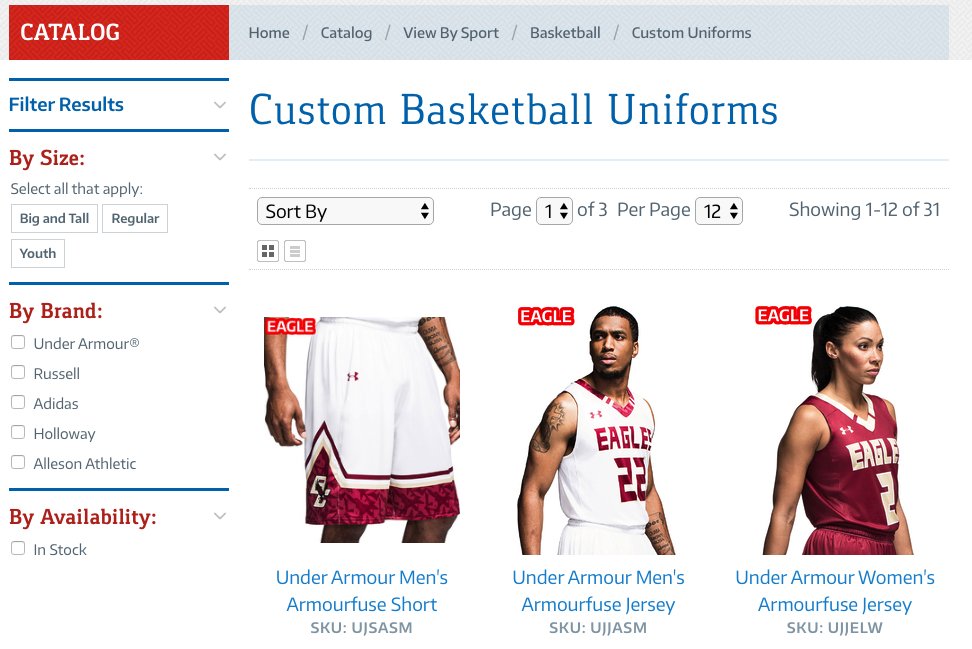 The Graphic Edge wants you to have the best of the best, that's why when choosing "Custom Uniforms" you are given a wide set of options, including products from the top sport uniforms brands, like: Adidas, Under Armour, Holloway, Russell and Alleson Athletic.
This site offers different customization methods to add your team's logo or emblem to the jerseys, check them out: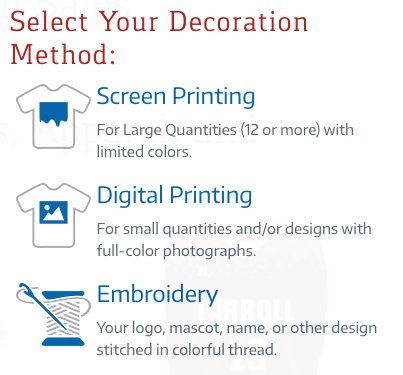 Shipping details: they only ship inside the US or to an APO US Military address. Their shipping times are impressive: between 1-5 business days! (they only deliver within the US or to an APO US Military address). The delivery pricing is based on package weight and volume.
How Can I Be Sure My Custom Jersey Will Look Like I Want It To?
Don't you hate it when you envision your designs a certain way only to receive a totally different outcome in the mail? I certainly do. And sometimes these tiny mistakes can actually be avoided if you and your print shop are on the same channel when it comes to how the jerseys will look like. You can achieve this level of clarity by using our basketball jersey builder to create pixel-perfect mockups of how you and your team envision the design. Share a mockup of where you want the logo to be positioned in the jersey, it's size proportions, what colors you want to use for each garment of the uniform, etc.
Making a jersey mockup of your design is super simple. Just head to Placeit > Apparel > Jersey Mockups and customize it with your logo, numbers, and colors.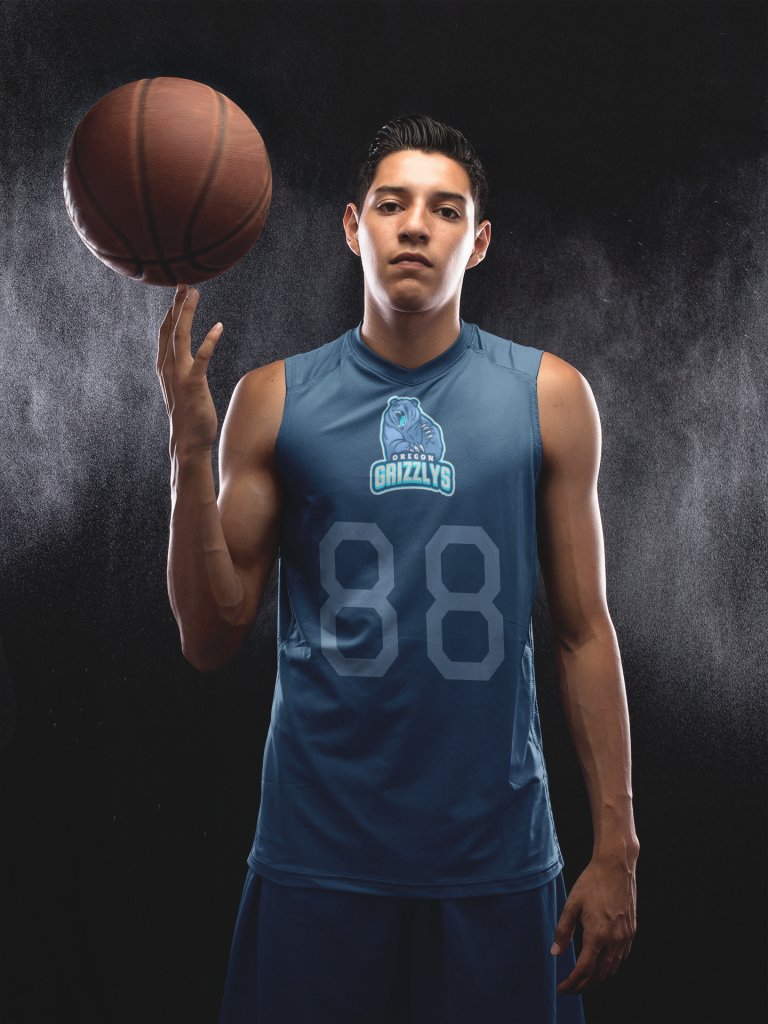 Yes, we also have a tutorial post on this process. Check it out so you can learn how to make a custom jersey template and be 100% sure that the output will look like what you and your team approved.
Being a coach, team captain, or leader of a little league team means you have to make the call; is your team gonna be playing in front of everyone they know using the same old jerseys they've been carrying around for over 3 seasons? If you are looking to make your players feel proud to wear a jersey not only with their names but with the team's colors and logo, then you oughta invest in quality custom-made jerseys and uniforms. We actually have a guide on how to promote your sports team using uniforms as the key element.
And as we've seen in this post, ordering custom uniforms for the team is not nearly as complex as one can imagine. Especially if you already went ahead and created a basketball logo to unify the team and give them something to think about when scoring!
Visit Placeit to create a basketball logo and to find tons of jersey templates you can edit to display it with real players in context.
---
---