Use this Soccer Logo Maker to Design Your Own Custom Logo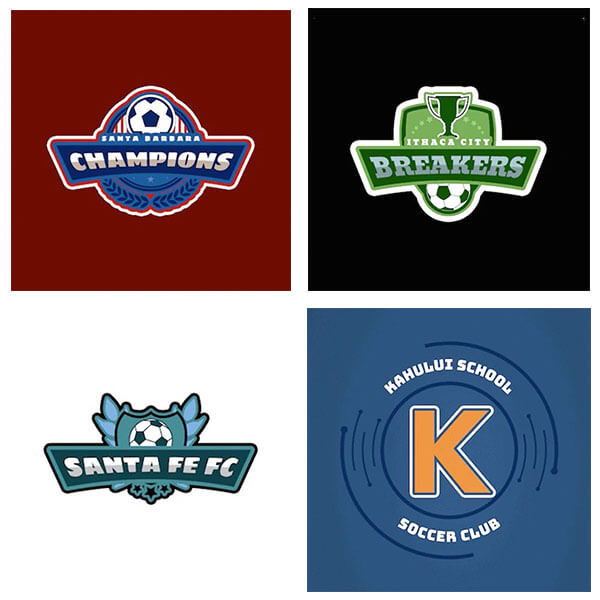 Creating a soccer logo for your team can be a long and difficult task. You can find a designer and go through endless meetings just to get your idea understood, or learn design software and tools to get it done yourself. This will take time and money that you could spend training instead!
Well, we at Placeit have decided to make it easier for you to design your own sports logo, no need to hire a designer or learn complex design, with our online Soccer Logo Maker you can now create logos for soccer teams straight from the browser. No designing skills are needed, just follow these steps and you should have your logo served and ready within minutes! Want to know how the sports logo maker works? In this post we show you how to design your own soccer logo from scratch, have a look:
How to Make a Logo with Placeit's Sports Logo Maker
First, decide which sports logo template are you going to use. Placeit has a collection of different sports logos, from animals to soccer-specific logos. Choose the kind that suits your team's spirit, click on it, and you'll find yourself in the logo maker screen: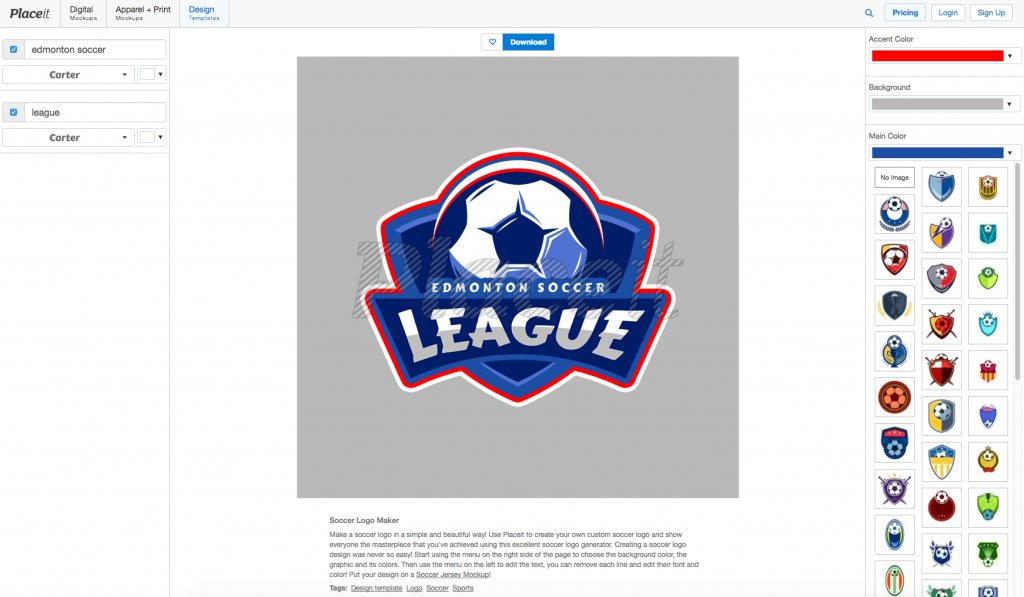 2. Once you have selected the template, find the icon that represents your team best. There are hundreds to scroll through:
3. Edit your team name and choose the font type. Go for one that fits with the name, and don't forget to set the colors of the text:
4. Select the main colors of the logo. These can be the colors of your team, and you just have to decide in which way are you going to combine them. Those can also be contrasting colors to make sure your logo stands out from afar:
5. Now you can set the background color depending on the use you have planned for your logo. We recommend a transparent background if the logo is going to be printed on jerseys, hats, t-shirts, or other equipment. If you want to use it on the internet, though, you may want to set a background color that highlights the logo:
6. Now your logo is ready to download! The file is a 4000 x 4000 pixels high-quality PNG file without a watermark. This resolution allows you to print it anywhere without it getting pixelated.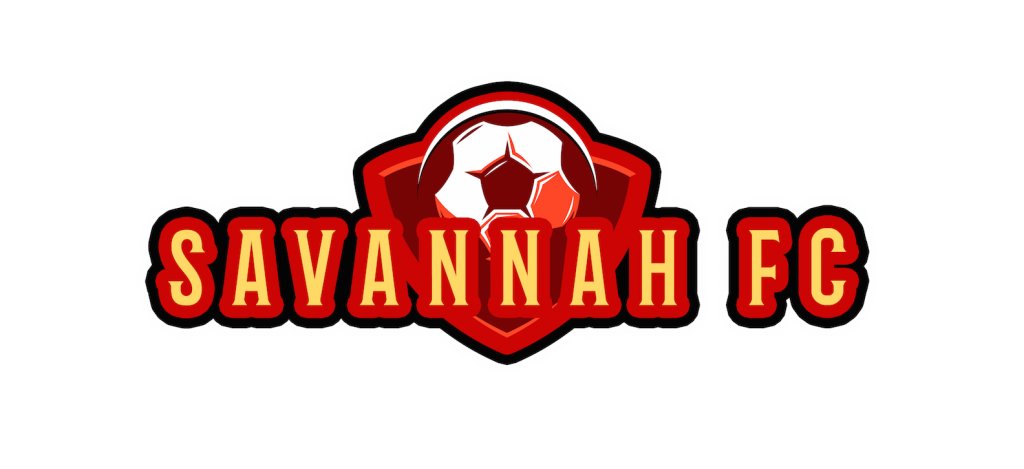 How will my custom soccer logo look on apparel?
Placeit also offers you the possibility of placing your logo on a jersey mockup template. It even allows designing your own custom soccer jerseys, selecting colors and layout. Check our soccer jersey mockups and choose your favorite!

You can also check it on hats, or other apparel. Our collection is huge!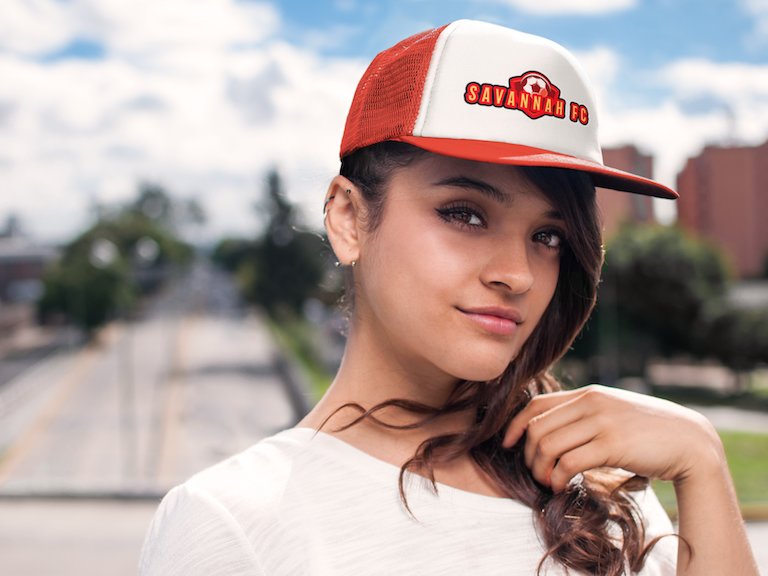 And you can even showcase it on t-shirt mockup videos: Apparel Video Mockup of a Man with a Beard Wearing a Round Neck Tee at a Stadium
Why should I use Placeit soccer logo maker?
You get a professionally designed soccer logo ready to print on your team equipment.
It's very easy to use and requires no designing experience.
You get your logo immediately.
It comes with an Unlimited Commercial License, which allows you to print the logo on jerseys or t-shirts and sell them for profit!
Are there alternatives for my soccer logo design?
Sure! Adobe Illustrator is the most widespread tool for professional soccer logo makers. You can find plenty of tutorials and resources on the internet about how to use it, and if you feel confident in your designing skills it will surely get you to the perfect logo.
You can also find a designer online that will get you a logo under $200 in about a week, depending on their workload. Upwork is a good place to look for them if you don't mind the price and have the time. Also, there is always the option of finding an offline designer.
And, of course, you can use Placeit's soccer logo maker. It will save time, money, and give you a professional result ready to print/use anywhere.
You can also check this video tutorial if you prefer:

So, are you ready to get your custom soccer logo?
Your logo design options don't stop there! Placeit has logo design templates for all sorts of sports, including wrestling logos, running logos, and much more!
"I found the perfect logo for my team thanks to Placeit"
Hayden Thomas 5/5
---
Design Your Own Custom Soccer Team Logo
Every great soccer team needs a great team logo. In this post we show you how to use Placeit's sports logo maker to design your own custom logo. Creating a great looking logo dfor your team doesn't have to be complicated or expensive. By using Placeit's soccer team logo maker you can create an incedible logo for your team in just a few moments. Get a professional image for your team and save yourself the hassle and expense, Placeit makes it easy.
Create Your Logo Now
---