"Advertising friends, Placeit will save a couple years of pitch life" Diego Zambrano
5/5
Using mockups is a great way to showcase your designs to clients and partners in a creative, yet professional manner. If you just launched your new clothing line and are looking for clever ways to promote it, go ahead and use apparel mockups to do that.
Whether it is an activewear or casual clothing line, Placeit will have the right tank top mockups for you to showcase your designs being used in context and by real-life characters. And the best part of these tank top mockups by Placeit is that you don't even need to open Photoshop or other editing software, all you need to do is add your image and it will be automatically adjusted for you, resulting in a compelling mockup template for you to share with your consumer demographic.
Take a look at these tank top mockups so you can get an idea on the quality and professionalism of these clothing templates:
This clothing mockup features a young man walking down the street on a sunny afternoon, he is wearing a fitted tank top paired with denim jeans and stylish shades. This tank top mockup is a great visual asset if you are looking for professional ways to showcase your fashion line and clothing designs. All you need to do is upload your image and Placeit will do all the adjustments to make it fit on the tank top mockup perfectly, try this right away! To see another
Tank Top Mockup
click here!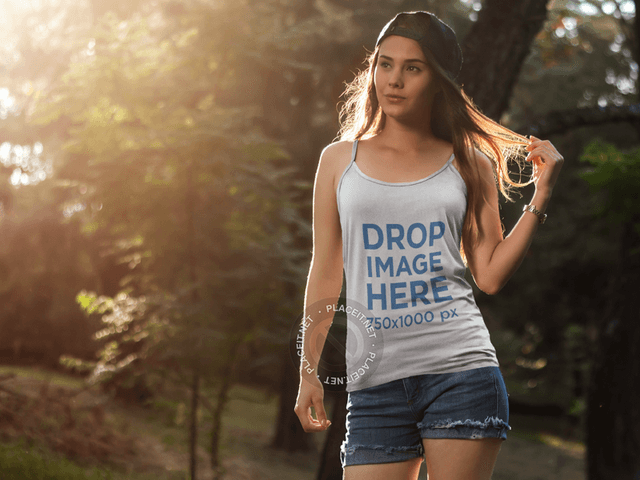 If you are looking for a clothing mockup to showcase your new design in a beautiful, yet professional manner, then this tank top mockup template is just what you need. The photograph features a young woman who seems to be out for a hike in the woods, she is wearing a tank top with denim shorts and an upside down hat on her head for that perfect teen look your brand needs. Go ahead and use this tank top mockup to display your designs to the world! The best part is you don't need to use Photoshop or any other editing software to create compelling images like this tank top mockup template. To see another
Tank Top Mockup
click here!
This tank top mockup features a young woman sitting outside at a cafe waiting for a waiter to bring her a cup of coffee. Use this clothing mockup within context to showcase your latest t-shirt design and catch your prospective clients attention in no time! Imagine how your designs will look being displayed on this tank top mockup? Pretty cool, don't you think? Make this t-shirt mockup part of your visual marketing campaign today by simply uploading an image featuring your design onto the template and let Placeit do the rest of the work for you. It's time to upgrade your visual marketing campaign and there's no better way for you to do this than by making clothing mockups from Placeit the latest addition to your marketing strategy starting now! To see another 
Tank Top Mockup
click here!
So now you know, Placeit has tons of tank top mockups for you to promote your new clothing line in style and context. Just choose a setting that matches your brand best, pick the color of the fabric, add your image and voilá! Instant tank top mockups for your advertising campaign.
---
---