"I don't know how I made product mockups before Placeit" – Antonio Garcia
5/5
You will want the world to see your amazing designs now that they are ready to hit the market, right? That's why it is important for you to promote your clothing line the best way. By using clothing mockups, you will be providing your new apparel line with the correct exposure and promotion, you will be able to showcase your new designs while being worn by real people engaging in real-life situations.
Placeit has tons of clothing mockups ready to save the day and increase your brand's exposure and impact on your consumer demographic. All you need to do is select the type of garment you need, drop your design, pick fabric color and… voilá! Instant clothing mockups to share with your potential clients and business partners.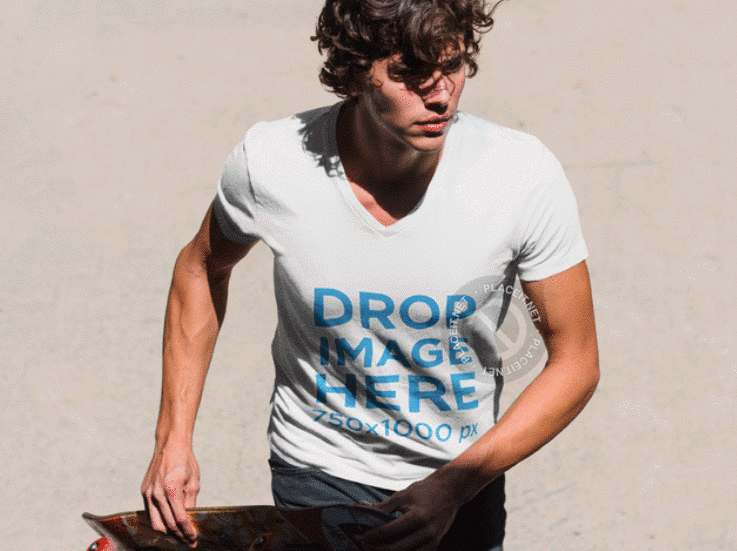 Don't spend hours on Photoshop trying to add your image to a psd file that won't seem realistic, use mockup templates from Placeit and create amazing imagery for your clothing line in seconds. You can choose from a wide variety of t-shirt mockups, tank top mockups, hoodies, shirts and other garments; you can also select the context of the mockup and gender of the model. Whether you need activewear mockups for your new fitness line or polo shirts for a corporate vibe, Placeit has the perfect clothing mockup for you to showcase your designs in a professional manner.
Take a look at these clothing mockups from Placeit so you can see for yourself: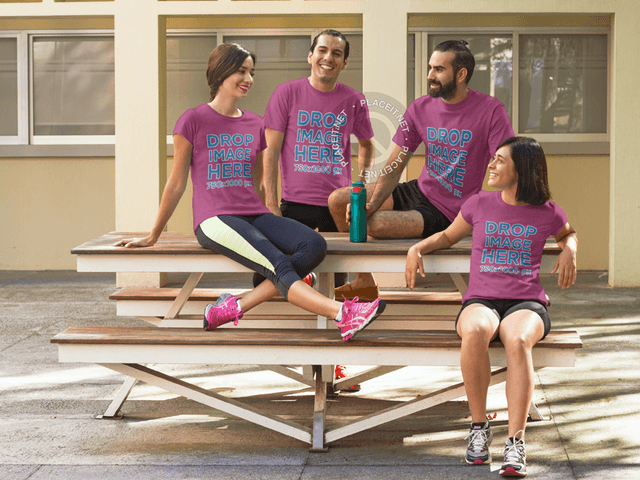 If you are looking to advertise a new t-shirt design in a relatable way to your potential consumers, then use this original, eye-catching clothing mockup from Placeit! This t-shirt mockup features a group of friends chatting at a patio after working out. Use this image today and catch your consumers attention in no time. To customize this image all that's necessary for you to do is choose an image featuring one of your designs, drag and drop it onto one of the t-shirts on the template and let Placeit resize it for you. In just a matter of minutes you will get an outstanding photo to add as part of your visual marketing campaign! So what are you waiting for? Start using clothing mockup right away! See another
T-Shirt Mockup
 or think outside the box and read about
tank top
and
hoodie mockups to promote your designs
.
This tshirt mockup is just what your clothing line needs to enhance its advertising campaign! Using apparel mockups is a great way to showcase your designs to the world, especially because Placeit makes it super easy for you, skip Photoshop and simply add your design to the image and Placeit will deliver a compelling mockup of a bearded man wearing a t-shirt carrying your design. Go ahead and try it out right away! To see another
T-Shirt Mockup
click here!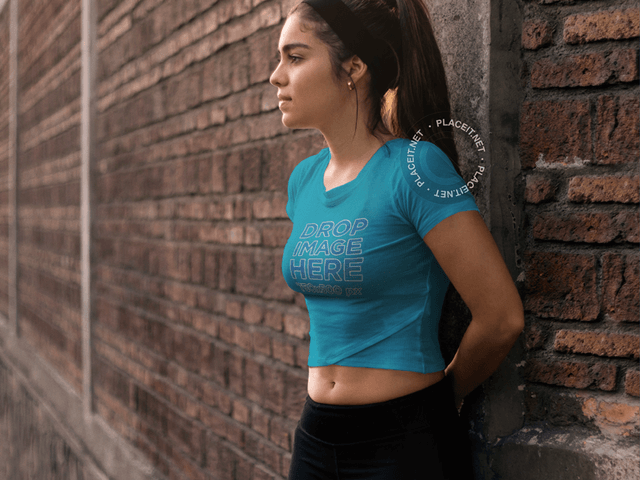 Don't waste any more time looking for great images to help you showcase your newest design ideas and check out some of Placeit's latest t-shirt mockups to help you achieve this in an original way! And if you want to focus on promoting your t-shirt designs on social media, be sure to check out our post on
how to create video ads that sell t-shirts
that covers Facebook ads. This beautiful t-shirt mockup features a young woman going for a run around town at sunset. Use this t-shirt mockup right away by simply dropping an image of your design onto the template and let Placeit resize it to fit the t-shirt being worn by this nice-looking lady. Keep in mind that when using t-shirt mockups you can choose the color of the shirt to find the one that best suits your designs. It's time for you to showcase your designs in an attractive way and thanks to Placeit's mockups this won't be an issue anymore! To see another
T-Shirt Mockup
click here!

While promoting your t-shirt brand with image mockups is a smart thing to do, promoting your brand with videos is the most creative possible way of marketing your t-shirt business! You don't need to download any kind of software to create a video for your brand, you only have to upload your t-shirt design, crop it, adjust it, and that's it! Ready to increase sales? Go and see the t-shirt video mockup gallery.
Selling tshirts online can be a tricky thing to do, good news is we made a 5 step guide to promoting your designs online.
---
---