"Advertising friends, Placeit will save a couple years of pitch life" Diego Zambrano
5/5
Placeit is a powerful iPhone mockup tool that will help you create countless mockups of your app being used, in seconds. Just drop your image and let our mockup tool do its magic. You'll receive a photorealistic mockup in seconds, ready for use in your website or marketing efforts. Placeit's mockup tool offers a giant variety of professionally shot mockups ready for use. New mockups are added every day, increasing our huge gallery of 1000+ mockups and videos. We also offer a variety of devices besides iPhones to use with our mockup tool.
Here are some examples of our mockups to use in our iPhone mockup tool.
This Placeit template really speaks to the young, hip and constantly connected generation. Here we have a young tattooed male at a fun venue checking out your cool new iOS app on a black iPhone 6 he holds in an angled portrait position. Placeit marketing tools are specially designed to catch the attention of your specific target demographic. Instantly put your product into their hands and get the attention you deserve with this Placeit marketing template. Your fun-loving audience will immediately identify with the cool dude in this Placeit iPhone 6 template. Connected is cool and so is your new iOS app. Do not miss out on this one, just drag and drop a screenshot of your app directly onto the iPhone screen in the template or click on the "Grab Screenshot From URL" button above the photo and type in the URL so Placeit can do it for you. Get a custom mockup from Placeit today and get the results you desire.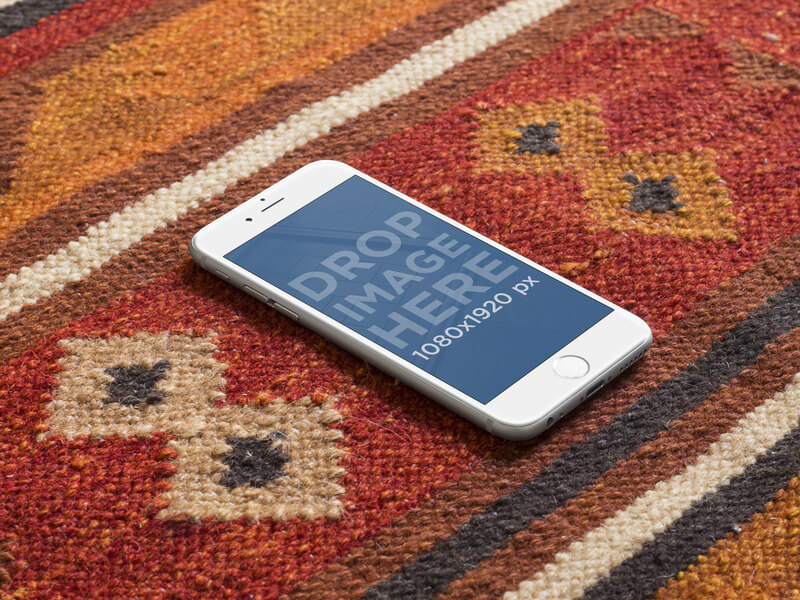 It's time that your iOS app gets the attention it deserves! But how do you do that? By using Placeit as a tool for your main app marketing campaign. Placeit uses real life scenarios that people identify with to help online businesses promote their products. Like with this scenario, it features a white iPhone 6, lying face up in portrait position over a colorful rug. The vague and simple nature of this scene means you can use it to promote any iOS app. Whether you have a new game, news app, shopping app, social media app, business app, etc. This iPhone 6 mockup template can work for you as a clever way to showcase your new app's features and design to potential clients and users; it's all about being creative! Go ahead and try it out real quick to display your new app or mobile responsive website within this colorful and ethnic setting.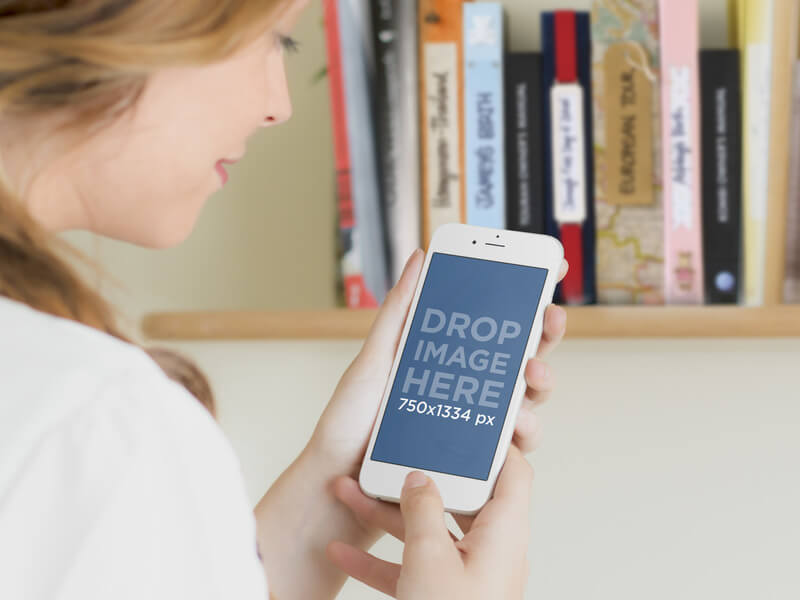 The teacher told her to pick an American novel for her next literature assignment, so she is using her iPhone to search for ideas as she just found a couple of books that might be of use. Do you see the smiling young lady in this scenario? She's deeply engaged with her iPhone 6 and is loving whatever she is browsing on its portrait screen. Plus, the classic background of the bookshelf provides this scene with a real-life feel. This scene has everything needed to create a fun iPhone 6 mockup that will do wonders for your iOS app marketing strategy. The only thing missing from this scenario with bright lights and books on the wall is your new iOS app or mobile responsive website. Well, It's time to change that! Go ahead and add your app's screenshot and let this Placeit mockup of an educational environment do its work!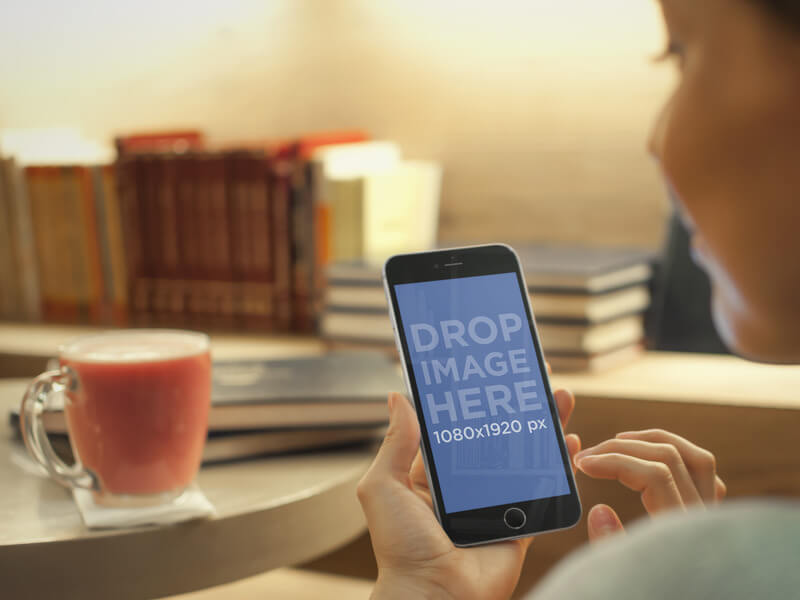 In this iPhone mockup, a young woman is enjoying a cup of tea, while browsing through her Black iPhone 6. The iPhone is held in portrait mode and is the main focus of this scene. You can tell she is deeply engaged with her phone. This mockup would work great for a social app but it's flexible enough, that it will work with just about any app. So go ahead and take this mockup for a spin. And check out what else Placeit has to offer!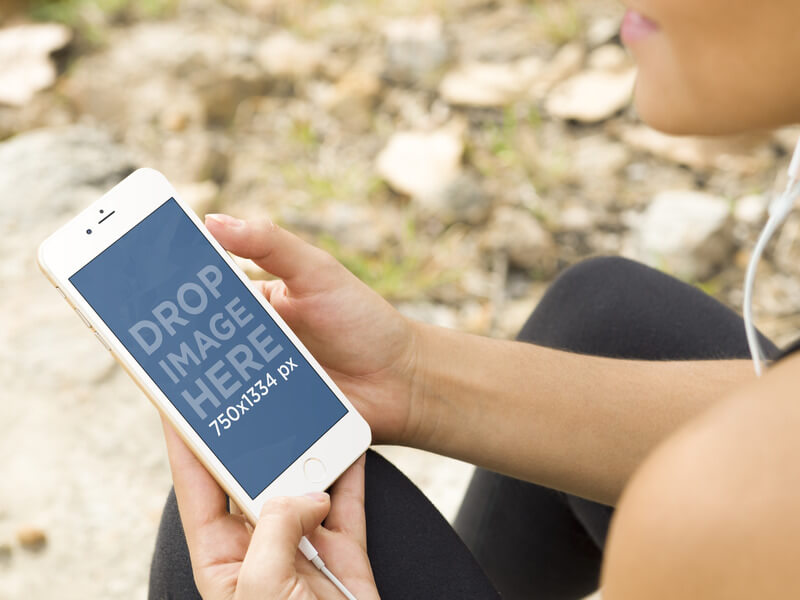 It's time to take your online marketing strategy for your iOS app to the next level! Let Placeit be that online marketing tool for you. If you have a video streaming, music playing, fitness or social media iOS app, you'll love this iPhone 6 mockup template. Here we see a young woman, holding her gold iPhone 6 in portrait position with her earbuds in place. This scene is perfect for any activity or on the go iOS app. You simply need to drag a screenshot from your app and suddenly it's your app that's putting that smile on this young woman's face. People will hop over to the App Store and download your app so they can be as happy as this woman!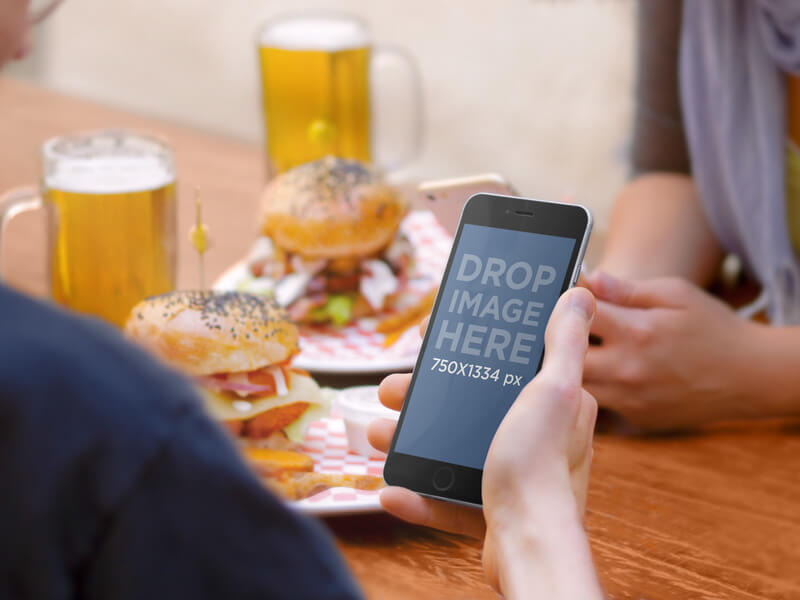 It has been a tough week at the office, but finally, these young professionals learned they were promoted due to their hard work and effort, that kind of news definitely deserves some celebration beers and even gourmet burgers! This is a delightful iPhone 6 mockup in which your new iOS app or mobile responsive website would really stand out from the background. You can choose to showcase your app within this iPhone 6 at Lunch Scene Mockup Generator for a great context that will allow you to display your app's new design and innovative features to potential users and clients, go ahead and try it out right away.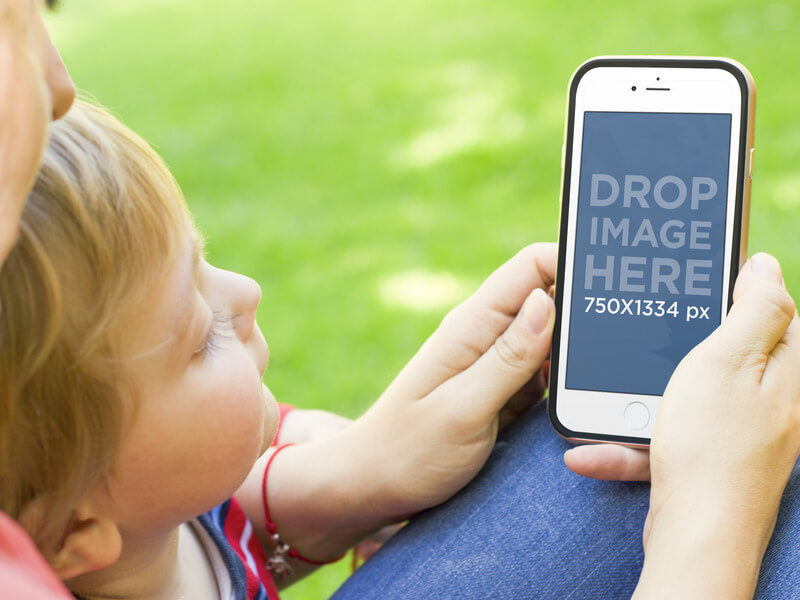 Are you looking for an amazing template to show off your app? Imagine how great your site would look, in a scene where a mother and child are enjoying your app, on a beautiful, sunny day in the park! If you like the sound of that, then this heartwarming template of a mother and son bonding over an iPhone 6, is perfect for you. You can use this template to showcase your family and kid-friendly app or mobile responsive website. The position of the iPhone 6 is perfectly angled, so you can upload your own image. You simply need to drag a screenshot or logo from your site and place over the iPhone 6 screen. Then suddenly, that adorable little boy is smiling up at your site. It's that easy! By using this mockup template from Placeit's mockups, you can demonstrate your product in a way that's both personal and professional.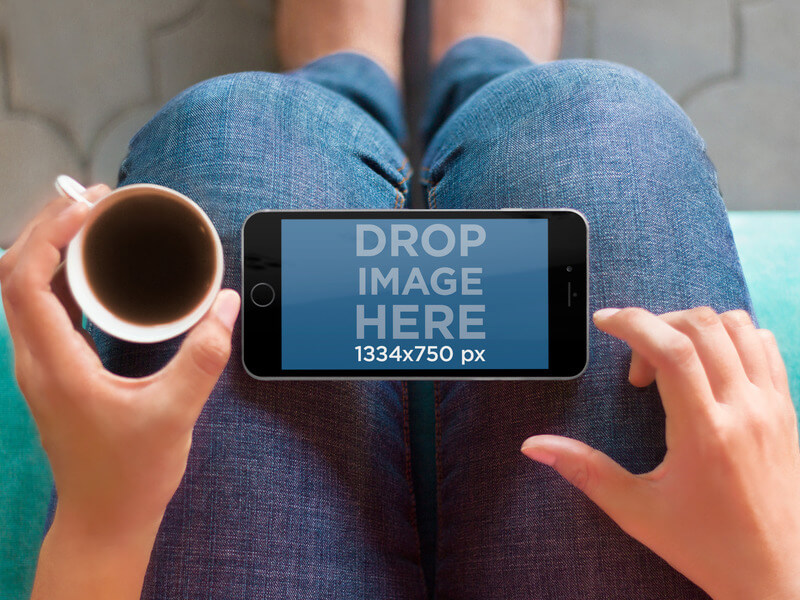 This is an amazing iPhone 6 mockup template in which you can display your own video streaming iOS app within context. Take a look at the scene. This young woman is enjoying a relaxing time, she has lots of work to complete before the end of the day so she decided to take a break and have a hot cup of coffee while streaming a video on her black iPhone 6 in landscape position; the device is laying over her lap as she sits on a blue bench outside the office. This is a great mockup template in which you can showcase your new iOS app or mobile responsive website in a clever and original way that will enhance your app marketing strategy. All you need to do is drag and drop an image straight into the iPhone's landscape screen or simply type your URL above and Placeit will automatically adjust it to deliver a beautiful image that will carry a screenshot of your own app so you will be able to share it with potential clients and users. Use this iPhone 6 Resting Over Woman's Lap Mockup Template as an app marketing tool right away and see the results for yourself!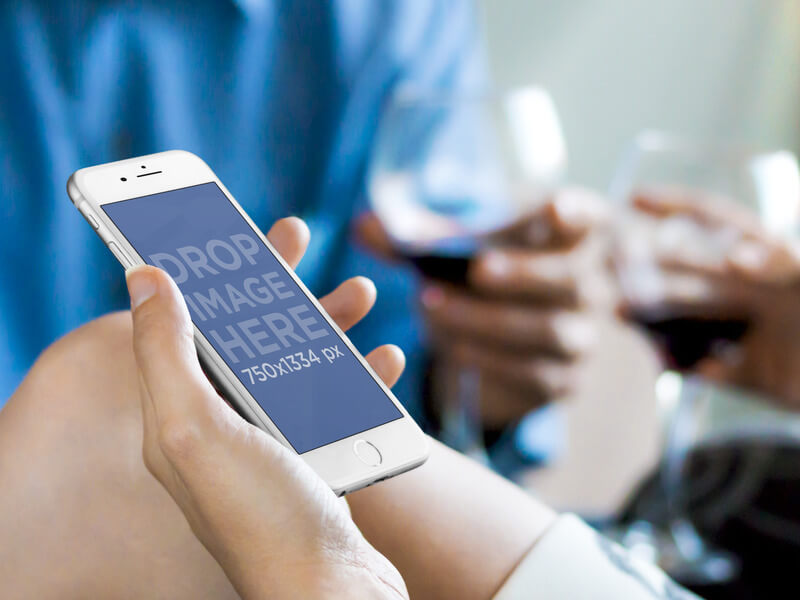 If you're in need of a casual template, in order to market your newest app, then look no further. This scenario showcases a couple enjoying some wine on a date. The young woman is casually flipping through her iPhone. Maybe she's checking out the latest social media app, looking up movies times or checking on their dinner reservations, etc. She could be doing anything, the options are endless. You only need to add a screenshot from your own site onto the screen of her phone and suddenly, the world sees her using your app!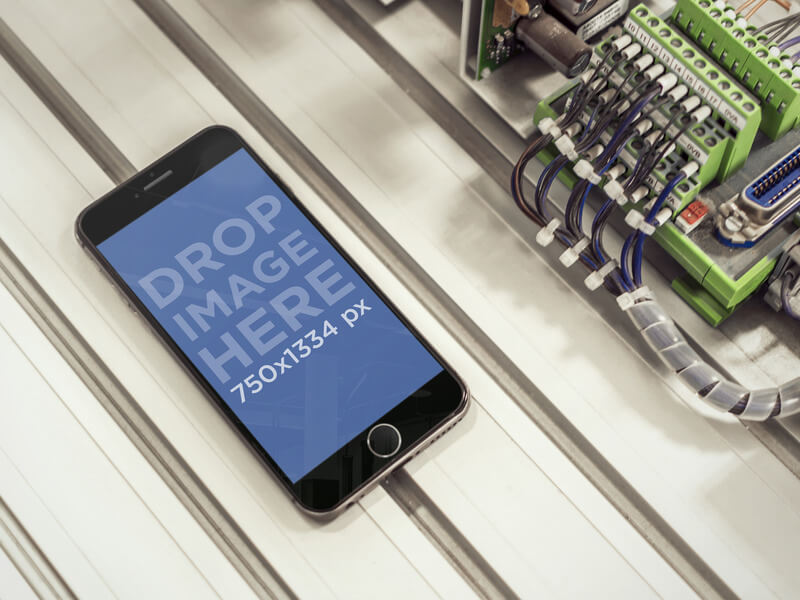 This iPhone 6 mockup presents an industrial scenario in which your new high tech app or mobile responsive website would really look within context. This iPhone 6 mockup features the black iPhone 6 laying in portrait position over a shiny metal table and next to some wires that seem to be part of a computer or other electronic device. This mockup would really work for your new web designing app or computer programming software or app. You can use iPhone mockups to enhance your app marketing strategy, and it is pretty simple, all you need to do is drag and drop a screenshot of your app over the smartphone, or simply type the URL of a mobile responsive website above and Placeit will deliver an amazing image that will carry your app so you can share it with potential clients and users to get an insight into your design and features.
---
---
---