A Real Easy Way To Create Your Own Fast Food Logo Without A Designer
You probably have that food truck ready, your ingredient suppliers and even that recipe that will make everyone drool over your menu… but what about your fast food restaurant 
logo?
Don't worry, you can
design it yourself
and really, really
fast
with PlaceIt.
You're Tackling Very Busy People, Your Logo Must Be Clear
Today's life is very hectic and busy for everyone, especially to those with a city lifestyle. Everybody is running and focused on their due dates, how to accomplish their dreams or learning new things and let's be honest, "the kitchen" takes time. So you may have this great idea of a
fast food restaurant
where people can just grab a bite and still keep it healthy and go on with their day. So don't waste time, you need to feed these people now!
Make your own fast food restaurant logo
in less than 5 minutes.
3 Steps You Need to Know to Create the Perfect Logo on Placeit
If your idea of a restaurant or food truck is about burgers, pizzas, and tacos, we have you covered! No need to be a designer, just know what you really want to express. Placeit is a very friendly platform and you only need to know 3 specific things:
The name of your restaurant and the perfect fast food fonts
What icon goes best with your concept
Impactful colors that go with your brand
You can learn more about what are your options for creating your very own Restaurant Logo in this Design the Perfect Logo for Your Restaurant.
Tips on Colors, Fonts, and Icons to Express the Right Idea
With Placeit you can create nice and clean
logos
with colorful contrasts that will draw people's attention to your restaurant or food truck. You can find graphics for any type of fast food. Check these examples out and tips that will help you out with
logo
design.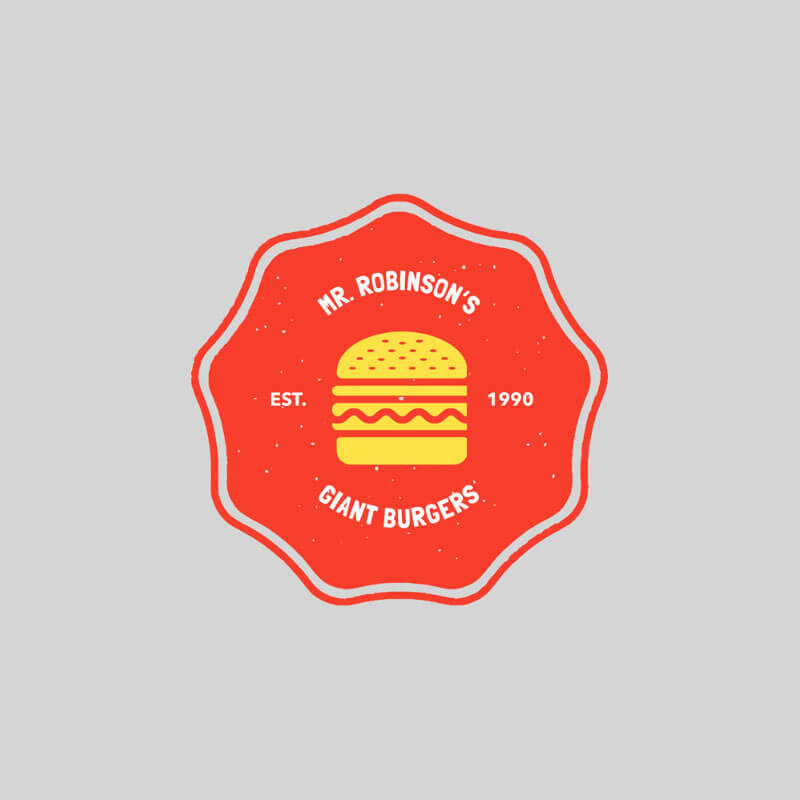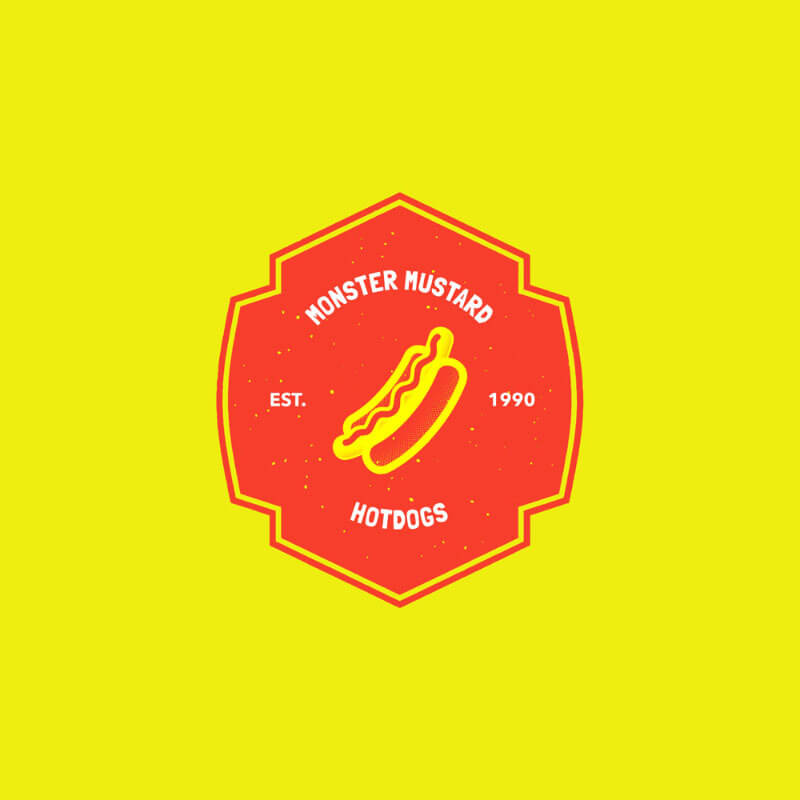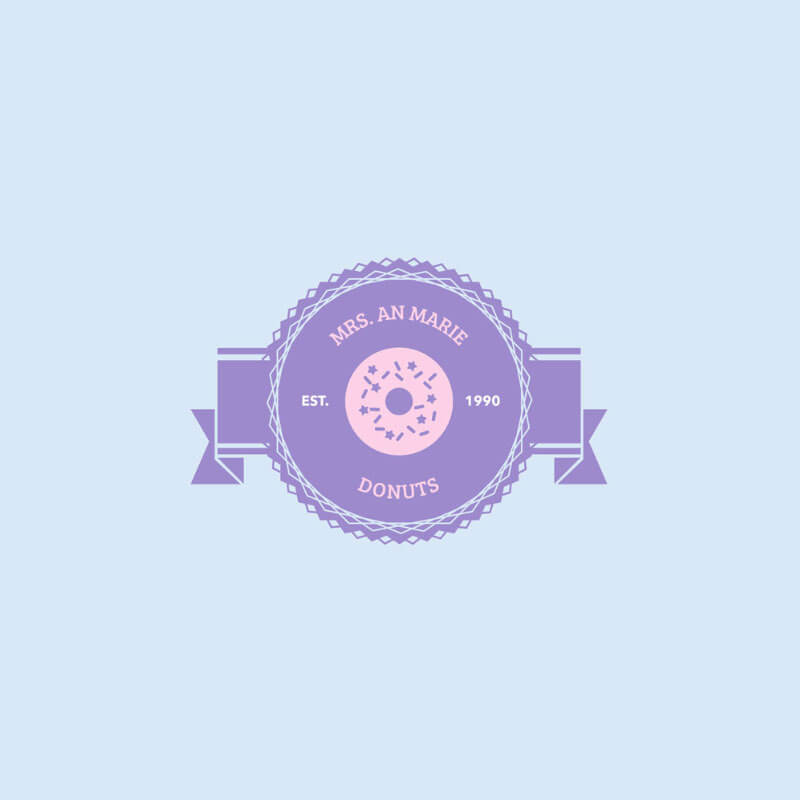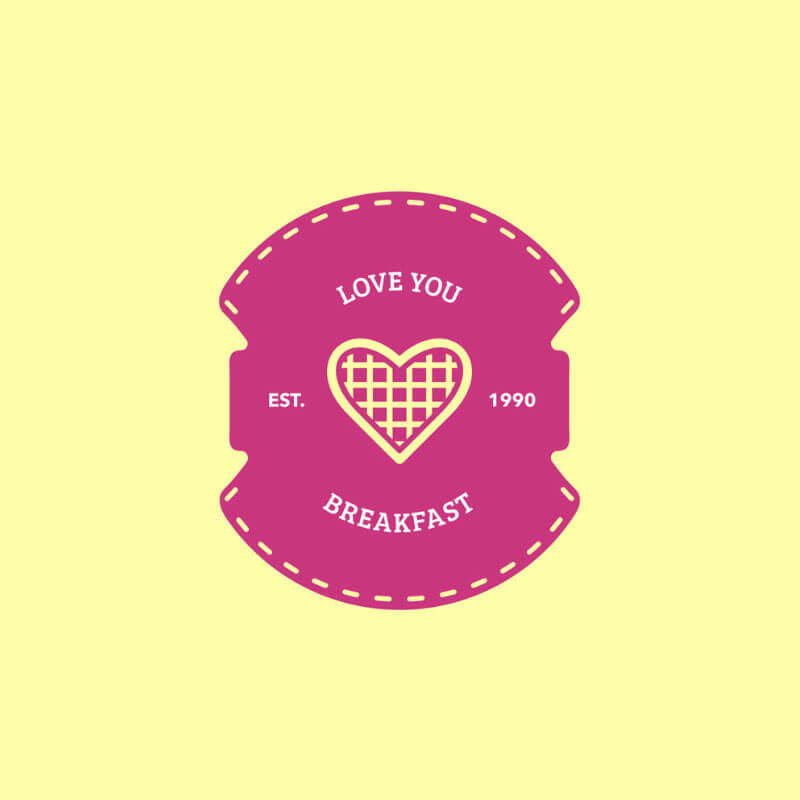 FIGURES & COLORS MAKE A GREAT COMBINATION
Try Out Different Color Combinations, Like Light Or High Contrasts
Light contrast
Usually, light colors are mellow and will help to express a light, peaceful and why not, sweet environment to be. That is why these tones are normally used by cake shops or dessert places. But remember, if this is what you want to express all the communication to your client must be the same. This means you and your team must also be sweet to your customers.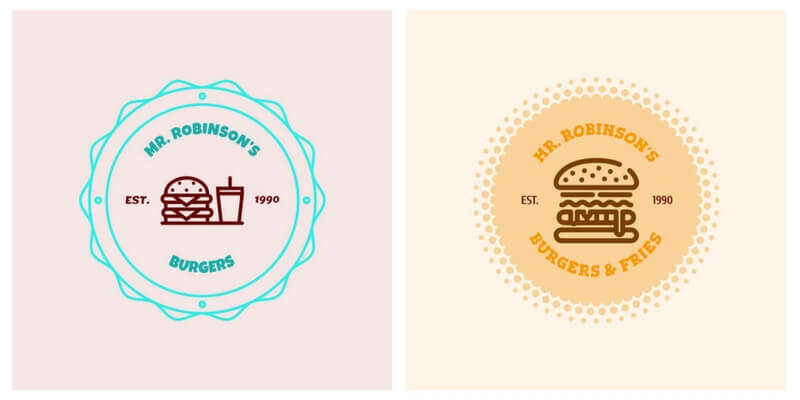 High contrasts
This kind of contrast is about energy, movement, speaking out loud. It's like you are making a statement about your idea that is why you are catching your customer's eye towards you. So the environment must run by the same rule and of course your menu. This doesn't mean you have to yell to your customers but you must pass on that good energy vibe to them.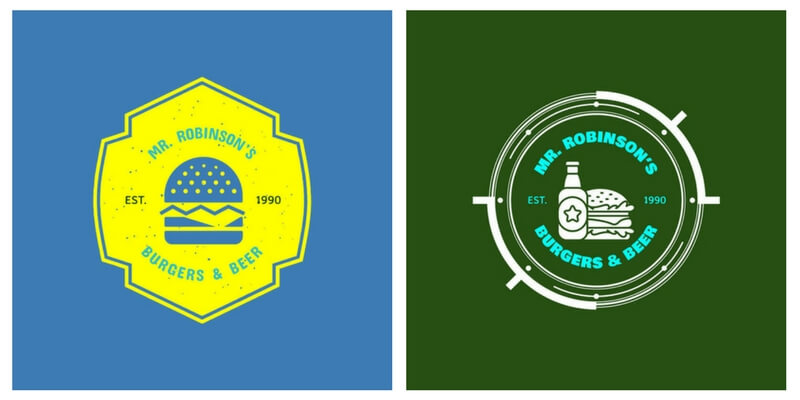 Extra Tips & Goodies For Your Fast Food Restaurant
We have something special for you, start talking about your new business on your social networks. Get this
free poster PSD
and create fantastic graphics to present your new logo, and start hyping up your restaurant.
designing your logo
, it took you like less than 5 minutes, right? Placeit makes all graphic communication super easy to all users, you only need to edit text, select your favorite icon, font, and colors. That's easy! Now you may want to check all the options you have available on
Social Media Graphics
. So start talking about your new Fast Food Restaurant on your Social Network, get those followers! We got you also covered with beautiful mockups!
Also, we recommend you take a look at our Make a Restaurant Logo that is Totally Sweet for more ideas on your restaurant's logo. What's the best color for it? What are the steps into creating your very own business logo using Placeit? Read the blog post for more information. Or learn all the styles of logos for restaurants we have to offer.
Also, for Organic Food Businesses
Is your food business going in another direction? You can also create fresh organic logos and vegan restaurant logos with Placeit's tool!
"My Fast Food Restaurant logo made with Placeit was so fast to make! Less than 5 minutes, I really loved the options of icons I had!"
Dee White
5/5
---
It's Really Fast To Make Your Own Logo
In less then 5 minutes you can create your Fast Food Restaurant Logo with Placeit, just pick your icon, font, and colors. The easiest platform to create your logo, branding mockups, and social media graphic communication. You can also find apparel mockups and videos to custom with your brand or graphics. Start creating your own images now.
Create your own Fast Food Restaurant Logo now!
---