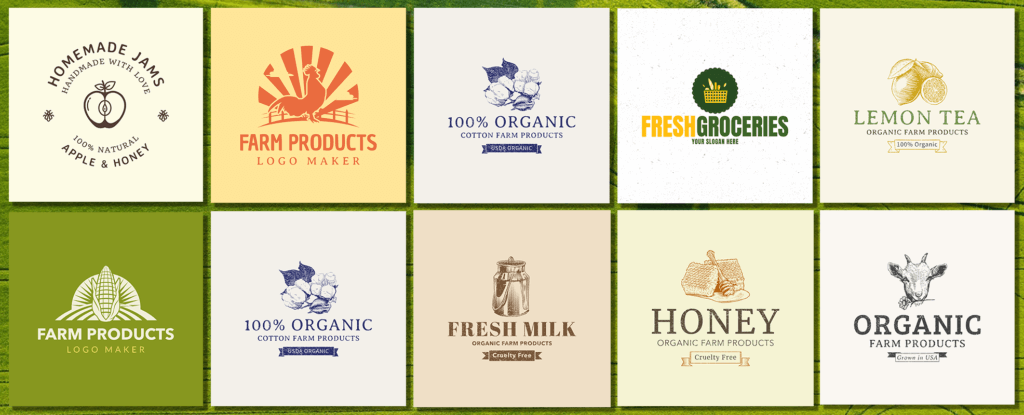 Organic Is the New Bread!
So Get Your Organic Logo On
You have probably noticed that organic has been growing on people for a while now. It all started with organic foods and has now spread to vegan towels! So organic is better than bread now. Customers are changing, they want to know what they are purchasing and where it comes from.
But what does organic even mean? An organically grown product, like veggies, fruits and more, has no pesticides, synthetic fertilizers, sewage sludge, genetically modified organisms, ionizing radiation, or other human altering processes. It also refers to animals that produce meat, poultry, eggs, and dairy products that do not take antibiotics or growth hormones.
Dealing with a higher consumer awareness means even your customers will be eating and consuming (consciously) healthy products since this has now become a big trend. This opens a new world of possibilities for business owners marketing new products and services to organic fans.
You should always start a new business by making your very own brand's image. Your organic logo will represent your product or service, your values, you focus. So let's keep going to learn more on how to start your organic business. 
Time to Shine Bright with Your
Organic Business
What's hot in the organic industry world?
Wellness Businesses: In general involving activities, events, food, etc.

Informative Apps: People like knowing the properties of each food, how it helps you physically, mentally, how it affects your system, how to diet, how to cleanse.

Detox Products: Stay clean, giving your body a little love for all the work it does for you.
DIY Organic Products: This is a great idea for bloggers, magazines, or any informative channels because this is what consumers like to read about organics. DIY beauty treatments with organic ingredients, DIY beauty products, healthy food recipes, etc.
Vegan Is the New Must for
Food Businesses
This has now become a way of living more than just a type of diet. Although there are different kinds of vegans according to their diets.
So now you know! Have a business idea in mind? Make a fresh brand for your new business and start promoting! You can easily design your own organic logo with Placeit's logo maker. 
This is what people are looking for in an organic logo: healthy, green, natural… You can choose from hundreds of templates, a logo that suits your need and customize it to get your own healthy business logo! 
How? It's as easy as clicking, typing and downloading!  
"I just loved my new logo that I made with Placeit's organic logo templates!"
Anaya Spooner
5/5
---
Make a Fresh Organic Logo for Your Business
Got a neat idea for an organic business? You can easily make all your branding assets with Placeit's subscription starting with your organic logo!
Create Your Own Organic Logo
---
Hundreds of High-Res Freebies Just for You!