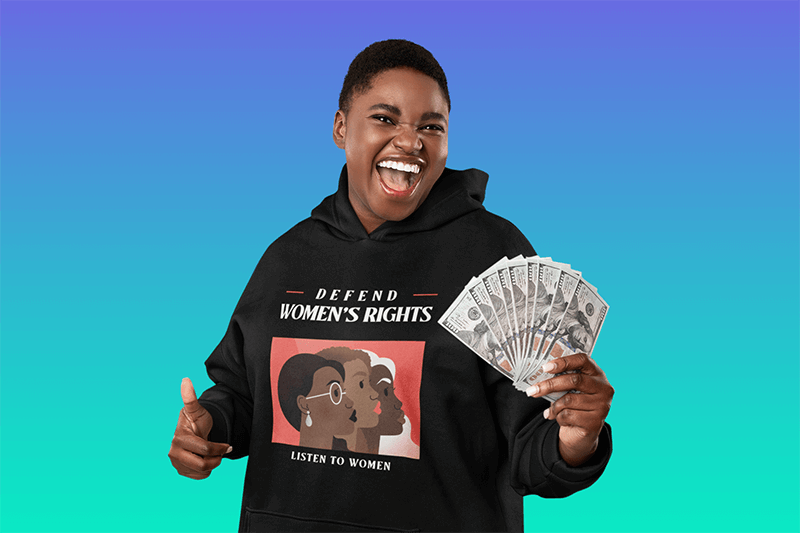 Wondering how much money you can make from selling custom t-shirts online? Stop wondering, we have the answer! Read ahead to get the best t-shirt pricing tips for your brand.
When you have a t-shirt selling a business there are two main factors to your pricing strategy: your prices and your expenses. Finding the perfect price is important for your business because if you set a high price, you're at risk of not finding any buyers and if you sell too low you are at risk of not making enough profit. 
What You'll Find:
You need to think about what's the perceived value of your brand. Think of qualities like celebrity endorsement, fabric quality, exclusivity, etc. After all, cool-looking t-shirts aren't exactly a basic human need.
Custom T-Shirt Printing Market Size Worldwide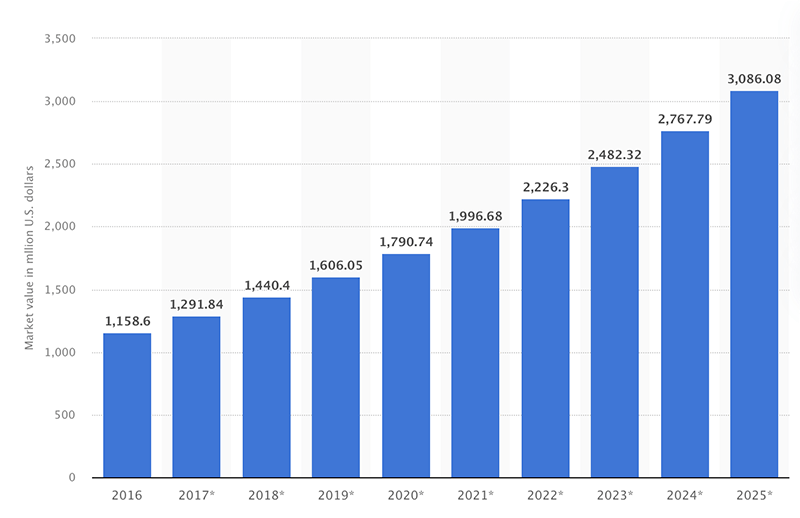 (in million U.S. dollars)
If you are asking yourself, is this a profitable market the answer basically is yea, however, competition is fierce! This is why choosing the right pricing strategy for you is everything in this business. If you want to read more on this please check out our 2022 predictions for POD sellers.
How Much Should I Charge for a T-Shirt?
Before you can even think about prices you need to lay down all your expenses. Take into account there are two basics to pricing your products 
Your costs: supplies, materials, labor, etc.

Determining what the marketplace will pay
Your costs may vary depending on What is the size of the design? Do you have employees? What type of shirt is used? Multiple colors vs single color?
Production Expenses
Production expenses are the most important aspect to determine your price. 
If you are using a print-on-demand site these costs are how much you will be spending for every product. 
By blanks, we mean t-shirts, hoodies, tank tops, hats, or whatever you are going to sell. A good standard cotton blank t-shirt will usually start at around $1 each and go up to $4. 
The price may vary according to the manufacturer, color, and cut. 
This is what you'll be adding to your garments, like the materials to add a design for example vinyl. 
Depending on what extras your t-shirt has, costs may vary, different companies charge differently for how many inks your use, how large the design is, custom embroidery, etc. 
This might be either you or an employee. You need to take into account how long it takes to make a t-shirt design. 
These are all those additional expenses you might not remember like electricity, office lease, website hosting, packaging, marketing, advertising, and so on. Basically every cost you cover when selling a product. For example, if you are setting paid campaign on Google or social media you should consider these expenses as well. 
Quality
The quality of your products will have a lot to do with what their cost is too. 
What is the quality your customers expect? Keep in mind that even when you'll be able to save a few bucks, offering low-quality cheap products will speak a lot for your brand too.
Shipping Expenses
Depending on which service you are using to sell your products: print on demand, dropshipping, using an external company, marketplace with shipping, these costs may vary a lot. 
🔥​Take your time to dive into the main difference between POD and Dropshipping. This will be the easiest way to understand dropshipping costs vs POD.
Design Expenses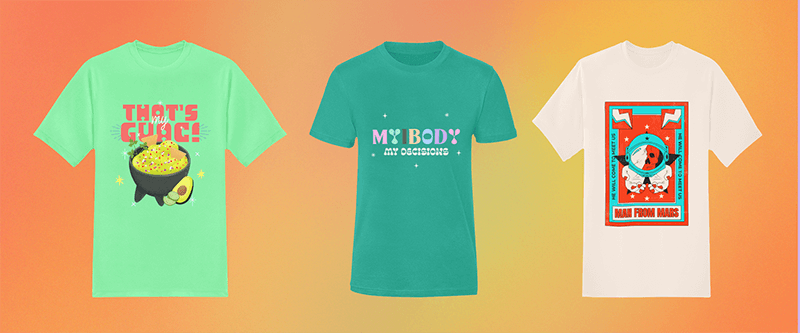 These are the tools, software, or outsourcing costs to create your product's designs. You can calculate this with this formula:
Design expenses/number of designs = design cost per shirt
Marketplace or Platform Expenses
Some platforms like Etsy or Shopify will charge a fee for every sold item.  Take a look at the best eCommerce platforms to sell your products. 
🔥​If you want to use a print-on-demand site, check out this best print-on-demand directory to compare prices and fees between these. Every POD has its own prices if you are using their services then check prices directly on their pages, some even offer a profit margin calculator with which you can add all base costs and your desired profit margin to take a look at what you should charge your products for.
Some popular profit calculators:
Tips to Price Your Products
"You should always remember that your markup is not a 100% profit"
Skip the "Perfect Formulas"
Some sites will say the average recommended price for a t-shirt, for example, is between $24.99 to $30.99 per shirt but really it all depends on what pricing strategy you want to go for. 
Research Your Market
You must research your market in order to understand what is the perceived value of a designed t-shirt. Gather intelligence on other sites, competitors' stores, and so on. Check out similar websites or marketplaces and see what are the regular average prices for the products you want to sell. Basically, make an evaluation of your target audience. 
🔥​If you are not sure yet what your market is check out this "How to find a profitable niche guide" to get to the best target! 
Ordering in Bulk
The more samples you order in bulk the cheaper your products will be. 
Also, People Love Free Shipping!
Pricing Strategies
Market-Oriented Pricing
This type of pricing will give an average price for your product not cheap or expensive. This means you will be in direct competition with other similar sellers. For this strategy, you must definitely have to look at the competitive pricing. 
Are you selling t-shirts online, or on a storefront? In both cases, you must scout your competitor's prices to understand what you are up against.
Cost-Based Strategy
You take into account all your expenses, add them, add your desired profit, and voila.
Above/Below Pricing Average
Above
This doesn't necessarily mean pricier, you add a bonus for your sale like a coupon for your next purchase, a free gift, etc 
Below
This DOES NOT mean you get to lower your quality, it is a great strategy if you are focusing on selling large volumes rather than the average price of products. 
Discount Pricing
With this strategy, you will be setting an elevated price for your products and then adding a discount to them. This strategy will be great for holiday seasons or special sales.
Penetration Pricing
You start out with below-average pricing and then gradually raise your prices as you gain more customers.
Bundle Pricing
This basically means the more, the merrier. If you manage to reduce your product costs you can increase your profit margin.
Wholesale Pricing vs Retail Pricing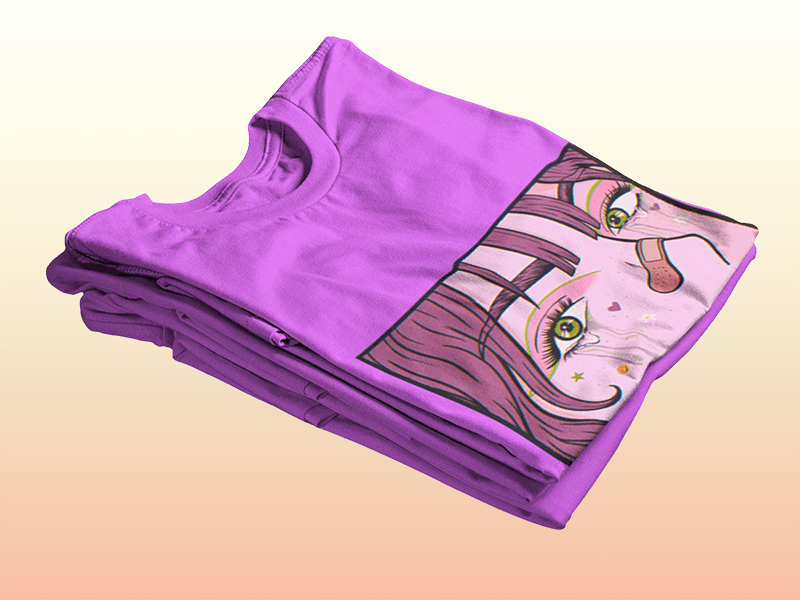 First, is super important you understand the difference between markup percentage and profit margin percentage. 
Profit margin percentage: take your profit divided by the selling price, then multiply by 100 to get the percentage.
Markup percentage: take your selling price minus your cost, and divide that by the cost. Then multiply by 100 to get the percentage.
Wholesale T-Shirt Price
You are selling to a group. You have one buyer from many products. For example a school, a sports team, an office, a store, etc. When selling wholesale, to get your wholesale selling price, multiply your costs x 2.
Retail
You are selling to an individual. To price your t-shirts for retail, multiply your wholesale selling price x 2. This would be a 50% profit margin or a 100% markup. This is a good place to start, but you may need to adjust it to fit your own strategy.
Production cost x 2 = Wholesale price
Wholesale price x 2 = Retail price
Average T-Shirt Pricing Costs in US Market
Cheap T-Shirt Price Range: $5 – $15. Wholesale: $2.50 – $7.50
Average Range Price Range: $16 – $27, Wholesale: $8 – $13.50
Streetwear Brand Price Range: $28 – $40, Wholesale: $14 – $20
Luxury T-Shirt Price Range: $41 – $80+, Wholesale: $20.50 – $40+
Last Words
Evaluate each strategy, your target, and the market you will be selling on to choose the best t-shirt pricing strategy for your brand. You should repeat this process for every product your offer since you won't have the same markups. With Placeit by Envato, you can create your own t-shirt designs and promote them on easy-to-use mockups featuring real scenarios, garments, models, and more. Ready? Start selling! 
If you have any comments or questions please drop us a line below!
FAQ
---
---