Back-to-school sales and promotions start earlier and earlier every year, meaning, that as a retailer, you have to prepare your personalized school supplies way before summer is near its end.
If you fall behind and miss it, you'll definitely regret it. That is because back to school is one of the most important retail dates in the United States, Canada, and Europe coming in second to the holiday period.
Parents and students start looking for back-to-school items in July, but the typical sales period will stretch into September. This means you still have time to get your catalog of back-to-school items ready and prepare your marketing strategy.
✨  Check out these super cute daycare logos! 
Get Everything You'll Need for Your Back-to-School Shop:
Back-to-School Season Basics
The back-to-school retail season is a long one, which means you have plenty of time to participate and get noticed. While most students in the United States, Canada, and Europe return to school in late August or early September, sales and promotions start months before that.
 🔥 Check out these 9 back-to-school marketing ideas to start your campaign. 
A Breakdown of the Back-to-School Sales Period
June: Start Preparing
Although summer is just starting, this is when you need to get the prep work done. Do niche research to finalize your designs and to pick the products your customers will be interested in purchasing. This is also when you need to plan out any sales, giveaways, or promos you will be holding throughout the season.
July: Take Action
A lot of parents and students start looking for school materials in mid-July. This means you should already have your catalog ready as well as your back-to-school marketing campaign.

August: Offer a Seamless Shopping Experience
This is the month when most back-to-school shopping will be done. Stay on top of inventory and your website. You don't want to lose sales because of slow loading speeds or other issues. Offer some promos, use social media to get your products seen, and offer great customer service all the way through.

September: Last-Minute Deals
Although August is the busiest month for back-to-school shopping, there will still be some last-minute shoppers looking for a deal in September. Don't ease up on your marketing just yet and work on enticing those last-minute shoppers.
Most Popular Back-to-School Items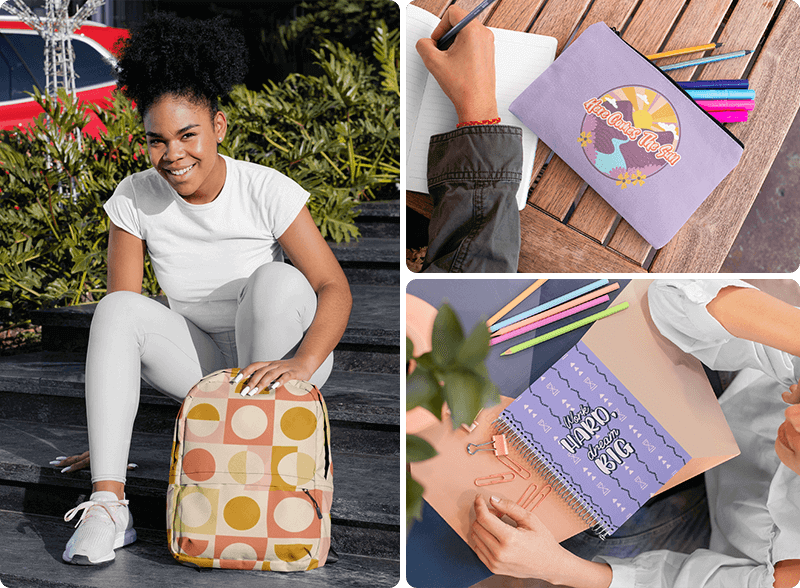 The products you offer in your shop will depend on your niche, so be sure to do plenty of research in that department. There are a wide array of products you can offer, but do stick to the ones that make the most sense.
Some of the most popular products during this period include:
Backpacks
Lunch Bags
Apparel
Shoes
Electronics
Students want to stand out for their unique style, so it makes sense that apparel and accessories are so popular. Check out popular designs and trends within your niche to create items that will be covered by your audience.
Back-to-School Products for Students
Students and parents will be on the hunt for fun and functional items before the first day of school arrives. Include all kinds of personalized school supplies in your shop that will impress the whole school!
Custom Backpacks for School
Every student, no matter their age, will likely be sporting a backpack on their way to class. Not only are backpacks functional items needed for carrying around books and other gadgets, but they also let students show off their personality.
Younger students may pick a backpack that features characters from their favorite movie, while older students may opt for designs related to their aesthetic. Use your niche research to create designs that cater to your audiences' likes.
Take this one step further and offer personalized backpacks that will make their backpack truly unique. You can offer to let them choose the colors included in a design, the placement of the design, or even add the student's name or initials to their backpack.
Unique Stationery With Tons of Personality
The items that go in a student's backpack are just as important as the backpack itself. Having  personalized school supplies like notebooks, a planner, and even bookmarks with a fun design on them can make students excited to get to work.
Create unique designs for these items that shoppers won't find anywhere else. Know the age group of the students you're targeting to stay on trend and really get their attention. You can even create bundles of matching items so that students can get all their stationery in one go.
School Accessories Students Love
School accessories may not be a necessity for students, but they are very popular. These extras can be useful in a students day to day life while also showing off their personality and style.
Pencil pouches are ideal for students who love pens, pencils, highlighters, and all those other writing utensils that allow them to have fun while taking notes.
Reusable water bottles are a must for students. These allow them to stay hydrated all day without the need to buy one-time-use plastic water bottles.
Tote bags are also popular for carrying around electronic devices and other items needed for extracurricular activities.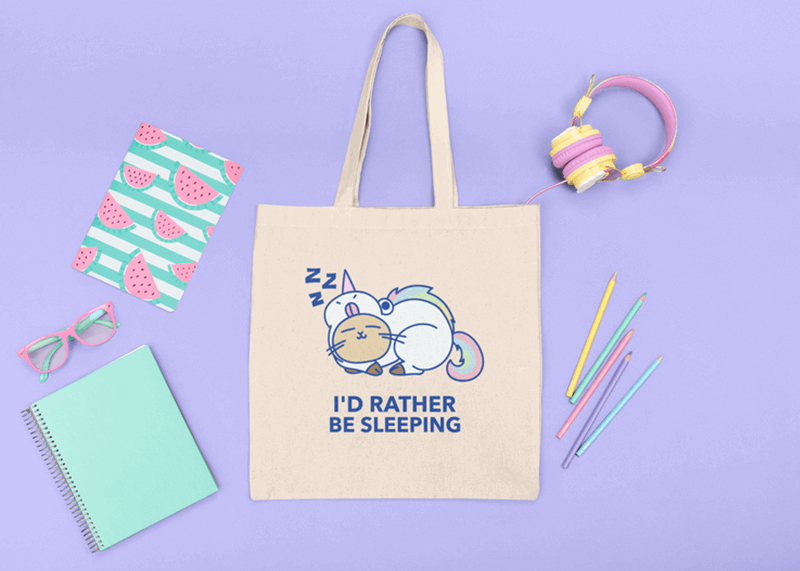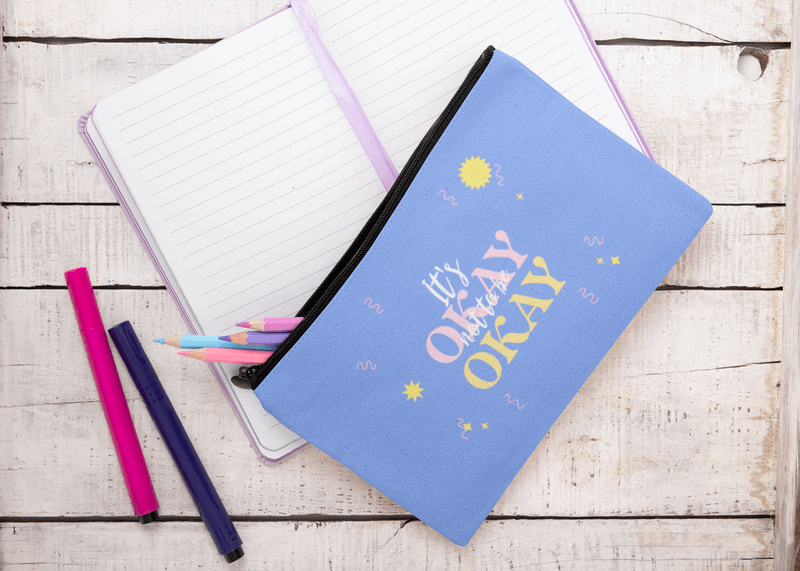 Finally, for the older students who are getting ready to move into a dorm, this can be a very exciting time. Not only will they need the usual school items like a backpack and stationery, but they will also be on the hunt for unique items to turn their dorm room into a cozy home.
Consider adding basic bedroom items to your shop aimed at recent grads. Most students will be looking for cozy blankets, bold pillows, and comfy duvets to dress their beds. They may even be interested in home decor items like tapestries, art prints, and rugs.
It's a great idea to create a specific dorm shop to attract attention from this specific set of shoppers.
Speaking of recent grads, check out these graduation templates you can customize for graduation season!
Back-to-School Products for Schools
Students aren't the only ones on the hunt for personalized school supplies. Schools also invest in apparel, stationery, and other accessories personalized with their monogram, school name, and mascot. Check out some great products you can offer academic institutions:
Custom School Apparel to Increase School Spirit
During the first month's of the new school year, the school spirit tends to be at a high. With students eager to be back in class and participating in extracurricular activities, they'll be more excited than ever to show their spirit.
Schools can push this school spirit further by selling custom school apparel featuring the school's logo or even the mascot. If this is something you're looking to offer in your shop, be sure schools can customize not only the logo or mascot but also the colors so that they match the school's official colors.
Some custom products that are popular with students include hats, t-shirts, sweatshirts, drawstring bags, water bottles, and lanyards. They can wear these to show their school spirit at sport's games, during spirit week, or whenever they want to rep their school.
You can also stock your shop with items that are popular for teachers, such as coffee mugs, travel mugs, and back to school shirts they can wear during the first week of the school year.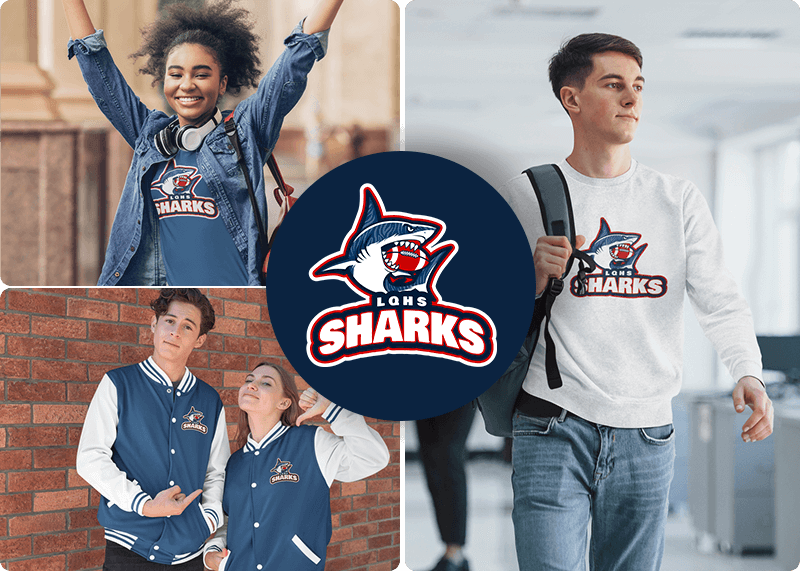 Branded School Accessories
Apparel isn't your only option when it comes to selling custom school items. Personalized school supplies like branded stationery and other accessories are also major for schools.
Some schools sell or gift custom school supplies like notebooks, planners, pens, pencils, pencil pouches, stickers, and more as part of back-to-school activities. These can also be customized with a school's monogram, mascot, colors, and school name.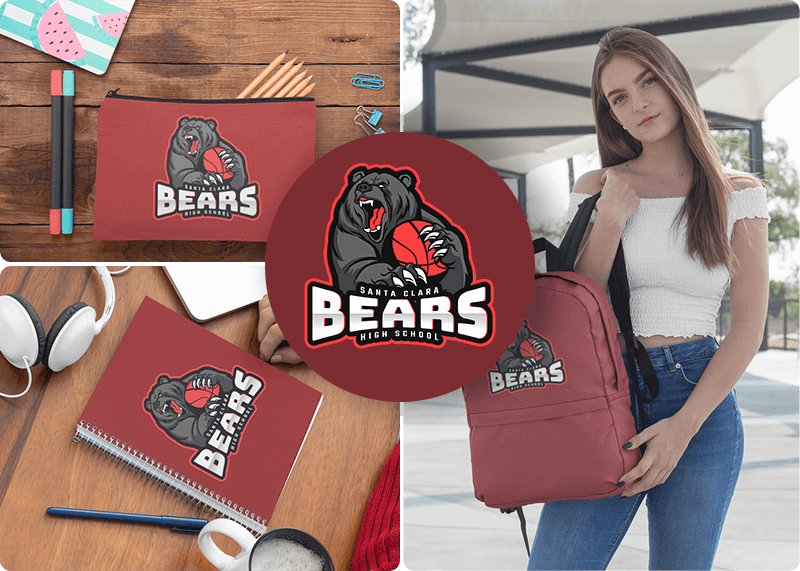 Promote Your Back-to-School Collection and Watch Your Sales Grow
Simply offering custom school apparel or school supplies in your shop won't be enough to bring in major traffic. You also have to do a bit of marketing work to get your designs and products noticed.
If you already have a loyal customer base, this can be a great start, but why not grow your base further?
You may already do some marketing for your shop, but it's a good idea to ramp up these efforts during this back-to-school shopping period. You can send out a dedicated back-to-school email to your email list, create social media content that shows off your new products, host a contest or giveaway online, and don't be afraid to reach out to influencers.
You want your products to be seen and your brand to be recognized in order to really increase your sales, and now is the perfect time to do just that.
📌 Promote your back-to-school products, a sale, a giveaway, or anything in between with Placeit's social media templates!
Get Ready for Back-to-School Season and Beyond
Although the first day of school may still seem far off in the distance, it's never too early to start your back-to-school prep!
Use the timeline included in this post to lay out a clear back-to-school plan for your shop so that you're sure you're ready when parents and students start their shopping.
Since this is one of the busiest shopping times of the year, it's worth the investment. It is an extremely long shopping period, but the rewards you will reap from your hard work will be worth it.
What other items are you including in your plans this back-to-school season? Let us know in the comments below ⤵️
FAQ Personalized School Supplies
---
---