Great Branding for Musicians & Bands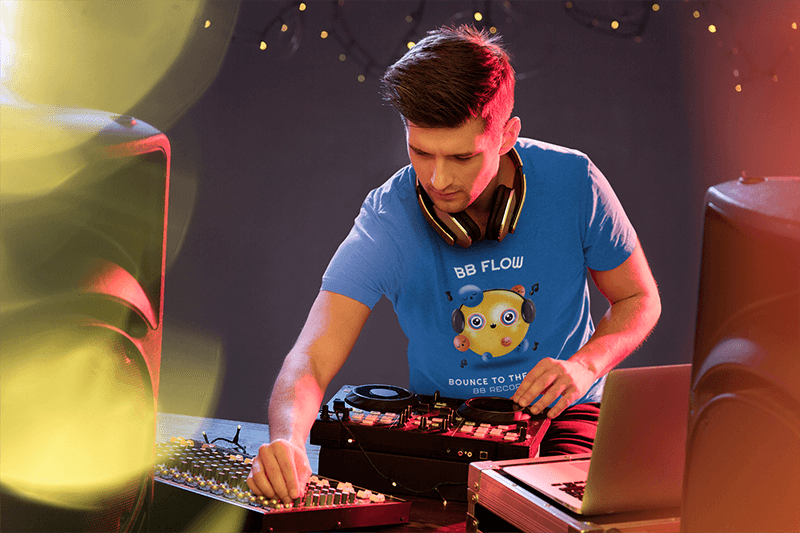 T-Shirt Mockup of a Male DJ on Stage
What is a Brand?
Your brand is the visual image and feel that your audience will match your music to. That connection brings a brand into place when thinking about you and your music! Think about the best musicians in history, they are all clearly identified by their brands forever in the minds of their audiences and their music of course!
Music Brands are Different from a Commercial Brands
Most commercial brands think about their branding from the outside in, meaning they research for an audience and build a brand to target that needs and that audience. Music branding works the other way around.
Getting to the point where you feel you've branded yourself and your music takes time. It requires commitment and care and energy. It's about pushing yourself forward a little bit every single day to turn one person onto your music, to score a couple extra streams, to get five new followers on Instagram, on and on and on, but the key is to do it naturally. No one should pummel their way into building a brand — honestly, it's not for everybody. For many musicians, it's purely about the music, and that's amazing. For others, it's about becoming a household name one day. If that's the goal, then effort is the key to getting there

Savannah Davanzo from The Music Mermaid
Brand first inside out and then bother to brand outside in. Let me explain, think deeply about who you are and what your music represents, and based on that, make designs that represent the core piece of your brand: YOU. When you brand this way, you will have found a purpose and a vision that is coherent with your brand. Never brand your music as a reflection of what people want to reach.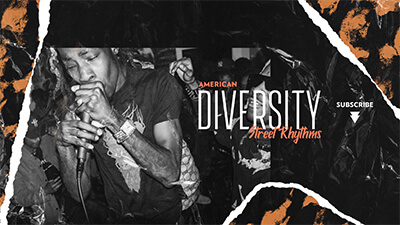 How is a Music Brand Created Nowadays?
Depending on your budget you can hire professionals to build up your music brand, get sponsored, collaborate with other bands, and more. However, must emerging artists decide to build their own brands independently from others. This means going solo on a journey to get your music out the public. Not the craziest idea, in fact, there are plenty of well-known musicians that got very popular on their own and then decided to join forces with an external business. 
What Process do Indie Musicians Go Through to Create a Brand?
There are different processes different musicians decide to go through when building their brands. Some artists choose to collaborate with brands that support emerging artists like Boilerroom Budweiser,  Levis Music Project, Redbull Music Academy, and more, look out for these! 
But first things first, the very basic step to start a musician brand is to start out with a single. Every music platform will request at least one single in order to set up your account. This is your first hook you are to release into the world, so it better be your very best! 
Focus on that one single and get the press talking. Help yourself promote your work using your social media to build hype for it. Make your single available for your audiences on every platform they commonly use or link back to your track! Collaborate on relevant playlists to get your single viewable for even a larger community. 
A Few Independent Musicians & Their Process
Chance the Rapper
Chance the Rapper is a well-known rapper for his Acid Rap. He collaborated with his friend's band Social Experiment. He took a step back from all digital rap formula and make club appearances, ghostwriting (and boy has he stand out for his writing), open mics at highschool, and so on. Chance started making music with Save Money Collective a hip-hop collective in Chicago. 
Dev Hynes
Also known for his Blood Orange Project, and formerly Lightspeed Champion. He released two solo studio albums and then one more as Orange Blood.  Hynes is a writer, director, and producer and he has remained independent although he does collaborate sometimes with record labels. 
Trash Talks
This punk band grew up with their community in Sacramento and that is how they became famous. Eventually, they signed with Odd Future, however, since their beginning they have stayed true to their origins. 
5 Actionable Steps to Create a Music Brand that Resonates with Your Audience
1. Create a Music Logo
Create your own music brand logo to best represent your music and yourself using an easy online logo generator. Find all kinds of music logos styles to match your own. What about making an illustrated representation of yourself with an awesome avatar! Give your brand a cartoon-like vibe showing yourself as an animated avatar you can actually design on your own using pre-designed templates you can easily customize to look like you. Take a look at a few music logo ideas:
2. Create Music Branding Assets
Album Covers
Your Album Art is an essential piece of your brand regardless of which platform you are using. Design your own covers using this easy album cover generator. Don't worry about how to make an album cover, this tool is completely user friendly. The hardest part is to choose one! They are all great!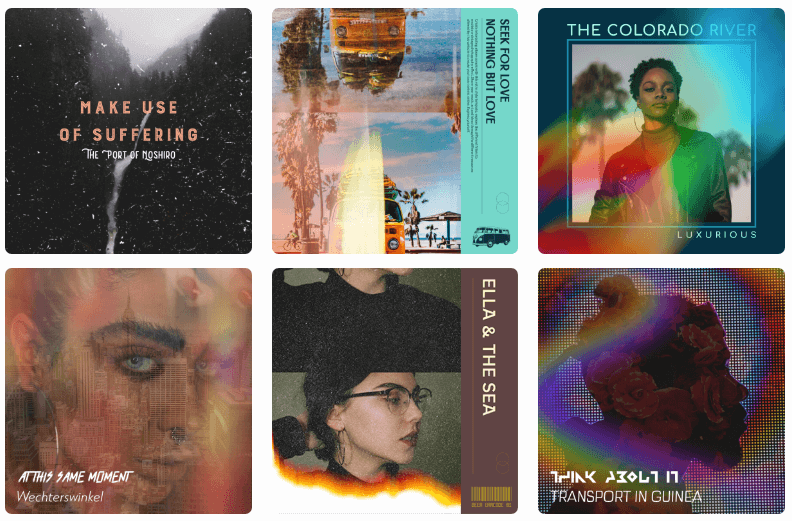 Social Media Templates
Posting and promoting on social media is a huge deal to share your brand and engage with more listeners. Choose a tool that can really make it easier for you to make designs fast and easy. This way you get to post stunning content every day and it won't take more than 2 minutes!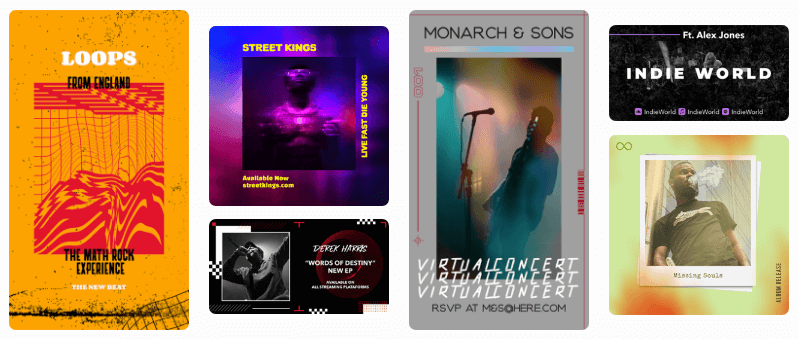 Platform Banners
Branding all your platforms is an essential part of your brand-building. Design your Soundcloud banners, your Bandcamp header, Facebook Cover, YouTube banner, and much more. Let every single piece of your platforms reflect your brand.

Music Flyers
Traditional posters are still a great branding asset to promote local events in public places where your target is! Design as many posters as you need using the very same tool each time because there are hundreds of different styles! You will never run out of designs to use.

3. Promote
Ok so let's say you have your brand ready to go! It definitely represents yourself and your music and you have decided which will be your graphic style for all your branding assets. To self promote your music, identify the main marketing channels by which other artists are promoting their music. Successful musicians normally use social media like Instagram, Facebook, Twitter, Tik Tok, and more to engage with their fans in a more intimate way.
"For me, promotion is most successful when it's authentic. Is there a story behind the song? Is it clear that the artist is excited to release it? Can we feel the connection between the person pushing the release and the release itself or is there an obvious disconnect? These are the things that are going to either make or break whatever your end goal is (which can be either an album review or an interview or a quick press release upload, etc)"

Savannah Davanzo from The Music Mermaid
4. Use Social Media
Social media is a fast communication channel anyone can use to inform their followers, engage with them, and promote new pieces of work!
One of the best ways to promote your music is to reach out to your fans on the social media platforms they prefer and ask for feedback. Take your time to engage with your audience, to answer their questions. In doing so, remember to keep your own unique voice which is part of your brand too! Everything you post on social media should stay consistent and be compelling.
Overall, people will love to know the artist behind the music. Don't be afraid of talking to your audience and telling them about yourself, your musical process, making music is a deeply personal process, don't be afraid to let them into it. This will eventually lead to an effective emotional connection, which is ultimately what you're looking for in your followers. Your brand should create a sense of community for your audience.
5. Embrace your community
Even when you are promoting digitally, you still need to think locally. As said before, connect with your local press, your local influencers, spread the word through the community, and design branding pieces to make the information more digestible, tools like Music Gateway can help with this. Make relationships with business owners that can help you spread the word with their customers. Talk to your local coffee shop owner, night bar, your favorite eating spot, and more to build a relationship.
"Every genre of music is constantly battling both itself and its fellow genres. If we were to look at music with a strictly business lens, we'd be considering that each genre has a different value proposition — perhaps for metal it's that big-band, stadium energy. Maybe for rap it's the poetry and the flow. In this sense, then, yeah, promotion is going to look a little different for each genre. Pitching a release with a sob-story attached will work for sweet folksy stuff but it's likely not going to have the same effect for a thrash metal band. Every approach to music promotion should be tailored to the individual release — if you're an independent artist managing your own PR, take a look at the marketing campaigns for artists in your same genre. Explore the ways in which they're promoted and, especially, the way people are responding to the release, and you'll begin to recognize what works and what doesn't for your own music"

Savannah Davanzo from The Music Mermaid
Use platforms like social media or local listings that can help your community get to know you so that whenever you want to make an event you have the mediums to spread the word.
Also, a great way to build a name for yourself in any industry is to connect with other people in it. Collabs are how many musicians expand their audiences so don't be afraid to reach out to others that might help you break into a new scene.
You can collaborate with relevant influencers in your field too. A few mentions on social media or YouTube can drive similar audiences to your channels.
Conclusions
A musician brand helps your audience connect your music with a mental image. It is built differently than other product brands since your brand from the inside out. 
When creating your brand there are a few ways you can go about it. Consider your budget and your style. There are many well-known artists that made it first on their own. 
To create your own brand you start with a logo, branding assets. Then you promote, use social media, and get acquainted with your community. Check out our post on Marketing your Music Brand for more on this!
---
If you liked this, you might also like to read more on how to promote on SoundCloud.
---
A DIY of an Independent Musician Brand
Learn all the steps you need to take to create a successful online musician brand. From the moment to create your logo all the way into making promoting assets to share your brand with your fans! Get your beat in place with the best tips to build a great brand.
Make Stunning Assets to Build Your Musician Brand
---