Find Out Which are the Best Music Streaming Platforms to Share Your Music!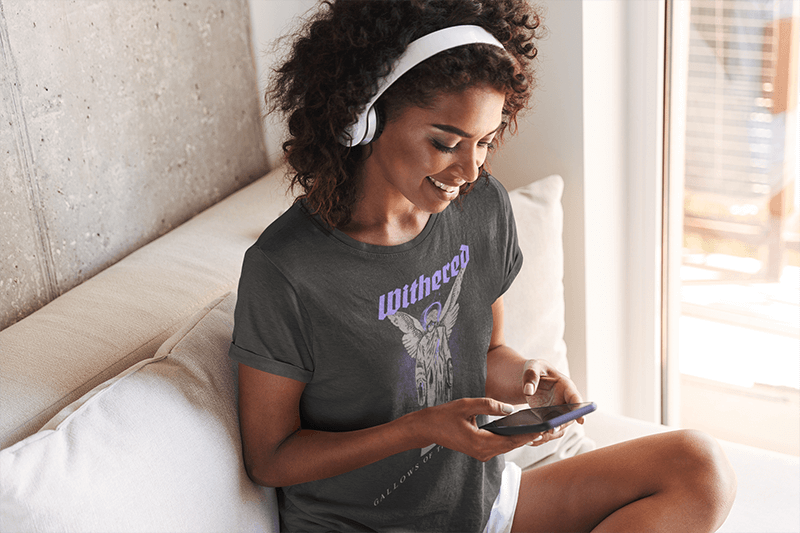 Tee Mockup of a Woman Listening to Music
Due to unstable music moods, special occasions, constantly changing big new hits in music, and more, people are switching from digital music downloads to on-demand music streaming where they can get huge libraries of music from these music platforms. Some artists prefer to sell their music while others want to release it into the world using free online music streaming sites.
You have probably heard about a few platforms where you can share your music, websites like Soundcloud and others, we've taken the time to scout all the best music platforms to tell you what's so great about them and what's not. 
If you are trying to make it as an independent artist. Choosing where to share your music is a big decision so let's get over the best streaming music platforms for you. Take your time to scout these platforms and decide which is better for you based on A) the benefits of each platform and B) if your potential audience is there! 
Index
1. Spotify

For: musician newcomers, podcast junkies, music explorers.
Platforms: iOS and Android apps, desktop apps, web players, smart TV apps, connected speaker support, and cars.
The most popular on-demand streaming service! Spotify offers a massive library of music that keeps the offer interesting. A huge variety of musical styles for everyone, plus podcast and video content which should be more than enough for any listener. Compatible with all devices and a user-friendly interface. 
A great feature of Spotify is that it builds discovery playlists to add new music like Monday's Discover Weekly and New Music Fridays to match up with listeners' tastes. Which gives you an opportunity to be featured. 
You can see what your friends are into by looking at their profiles (you can link to social media to find your friends).  
Your Musician Homepage
So for starters, you can't simply set up your own account, a third party has to do it. If you are not with a label or a distributor, you have to make a deal with a company to deliver your music and collect royalties for you, and deal with all your licensing, for all this, they will require a fee. If you don't have a distributor you can research for Spotify distributors. However each commission may vary, so you may want to research this.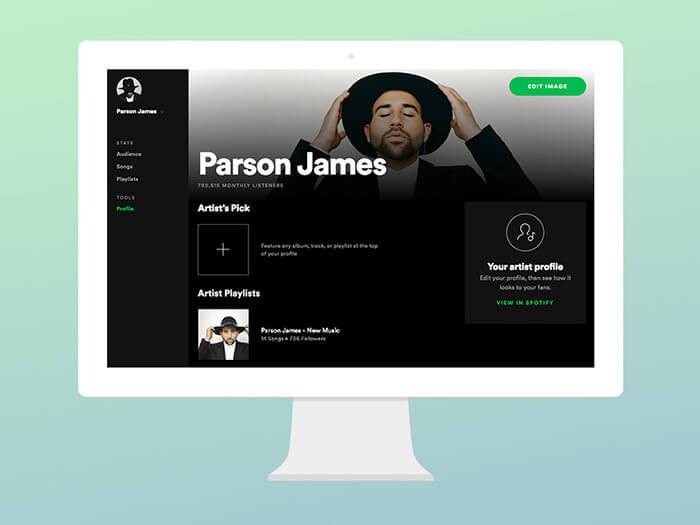 In your artist profile homepage, fans can find your music, discover new releases and even buy your latest merch. Once you have a Spotify for Artists Profile you automatically get the blue check on your homepage for verified artists. Your profile allows you to:
Update your bio, playlists, music, and control how listeners see you on Spotify.

Get live updates on your new release, whether you're on the road or in the studio.

Learn about your listeners, understand who's listening and where.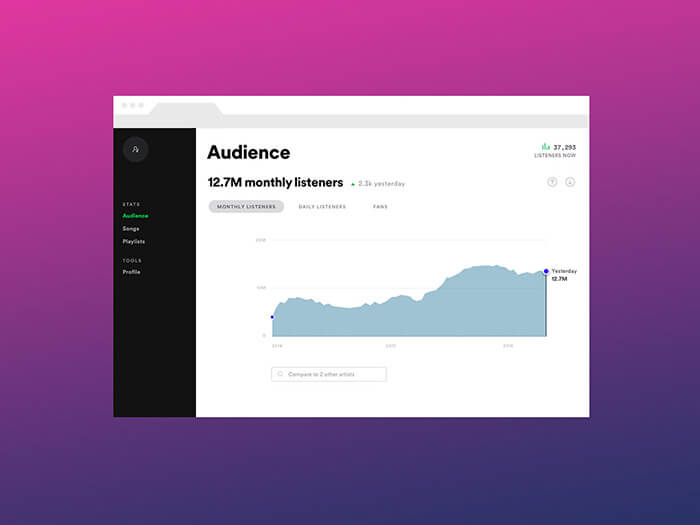 If you want to go independent here you will need to become your own distributor. 
Spotify Allows You to Promote Your Next Event
They work with Ticketmaster, Songkick, Eventbrite, AXS to feature your event date on your profile. Spotify can recommend your frequent listeners whenever there is an event nearby.
Selling Merch
Fans will love to see you offer branded merch on your Spotify homepage! They allow you to sell merch through their Merchbar. 
Cons: No live content. You need a label or distributor to get your music to Spotify. 
2. Pandora

For: Lovers for intuitive playlists
Platforms: iOS and Android apps, Web UX, smart device integration.
Pandora has a 30 million tracks library! To start at Pandora, you can submit albums or singles that will be carefully curated by pandora's musicologists to be approved. Your music should be submitted by one of Pandora's licensing partners, and it will be analyzed and by their team. Some distributors for Pandora are: A-Train, AWAL, Believe, CDBaby, Distrokid, Ditto, IDOL, Ingrooves, One RPM, State51, Symphonic, Repost Network, and Tunecore. The recommended low-cost options for DIY artists are Tunecore, CDBaby, and Distrokid. 
Your Musician Station
You can edit your musician station and add your tracks. You can also submit your music using the Independent Artist Submission Tool.
All tracks can be rated by their audience. This affects directly on the algorithm when listening to something new. Pandora's algorithm gives listeners more music that they may like. 
Pandora is compatible with all devices.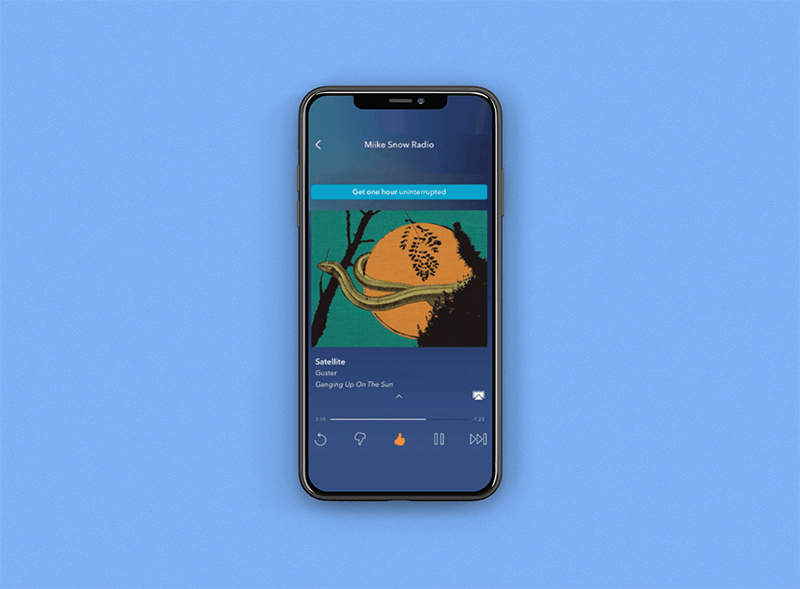 On the amp version, you can check out your stats and analytics to work for a better performance on the platform.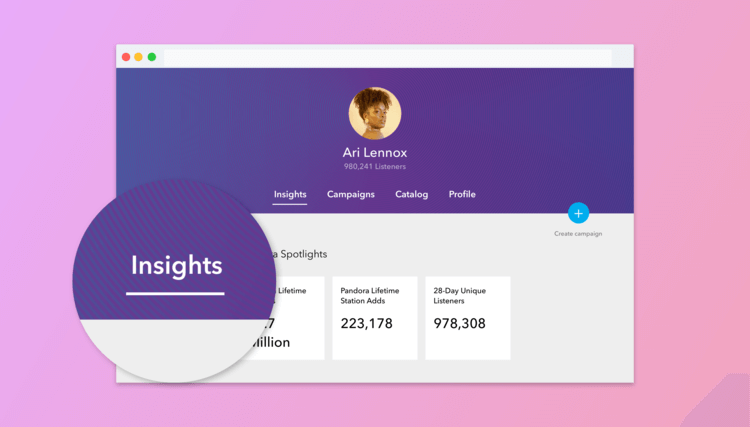 Cons: You will need a distributor to get your music on Pandora.
3. Soundcloud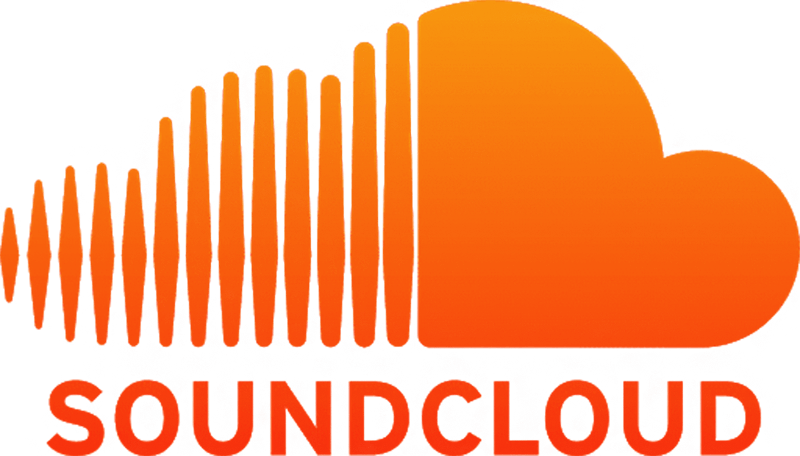 For: indie music fans
Platforms: iOS, Android
With 100 million user-generated tracks, Soundcloud is the biggest indie music library! It has 200 million active users per month ready to discover new music. 
Set Up Your Profile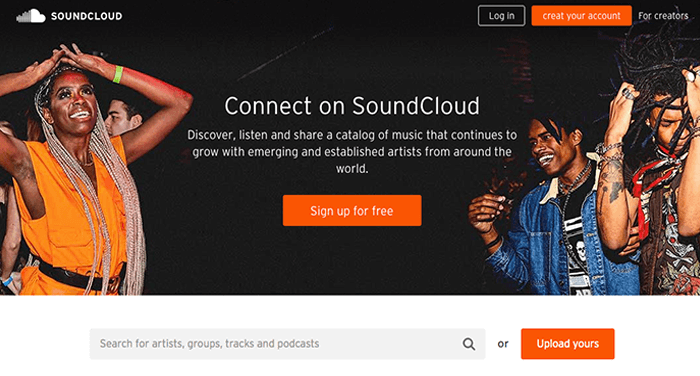 Select a visible username and URL, upload your images, write a descriptive bio, and link to your social media. Depending on your objectives you can choose a plan that adapts best for you: 
Basic – free, 3 hours of uploads, basic statistics, and integrated controls. 

Pro – 6 hours of uploads, expanded stats, and advanced controls. You can highlight up to five tracks. You can monetize! 

Unlimited – all the advantages of a Pro, plus greater upload space and schedule your launches. 

Go – Soundcloud Go lest you listen to Soundcloud anywhere offline. 120,000,000 tracks from emerging and established artists. 

Go+ – Earn exclusive DJ integrations and all of Soundcloud Go benefits. 
It allows social media comments on tracks. SoundCloud is great for sociability and shareability features. 
Keep Track of Your Tracks
You can look at your stats: plays, likes, comments, and downloads. Track your performance, especially when making a promotion or a release!
Cons: Music discovery here depends completely on the user, there is no discovery algorithm.
4. Apple Music

For: iTunes lovers
Platforms: Every Apple device
Apple Music is the best option for every Apple, Siri, and Apple watch owner. It offers a 24-hour live radio with great music and their exclusive artists. Apple regularly premieres music of their exclusive artists like DJ Zane Lowe, Ryan Adams, Pharrell Williams, Mike D, Drake, Taylor Swift, and Frank Ocean.
It allows artists to engage with their followers by sharing content, plus real-time communication between artists and fans. 
Your Apple Music Account
Upload your artist's image to show yourself to the world. To submit your music you need to be linked to a label or use a distributor. Every distributor offers different plans for you so take a moment to look at them.  Then, content providers work on a digital package for your release to be on time, discoverable, and high quality.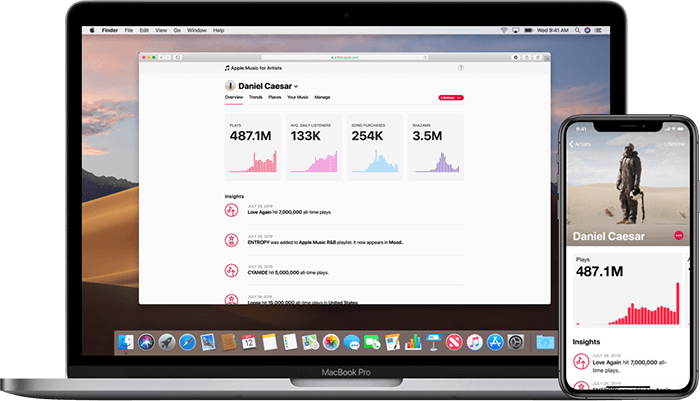 You can look at your music performance stats so that you can check your milestones and understand your audience better. You can also find out where your listeners are finding you by learning which playlists are driving more traffic to your songs. See the demographics for your top listeners.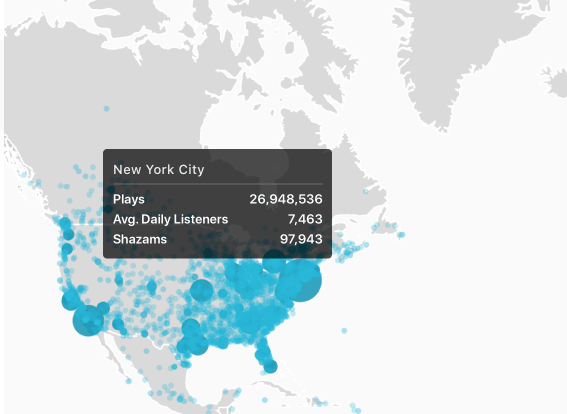 Cons: no free version for anyone, you need a distributor.
5. Mixcloud

For: DJs, radio hosts, playlisters, artists and podcasters
Platforms: iOS and Android apps, smart device integration, Web UX Mixcloud is a platform for creators. It is available for everyone worldwide except for Japan, China, and North Korea due to licensing restrictions.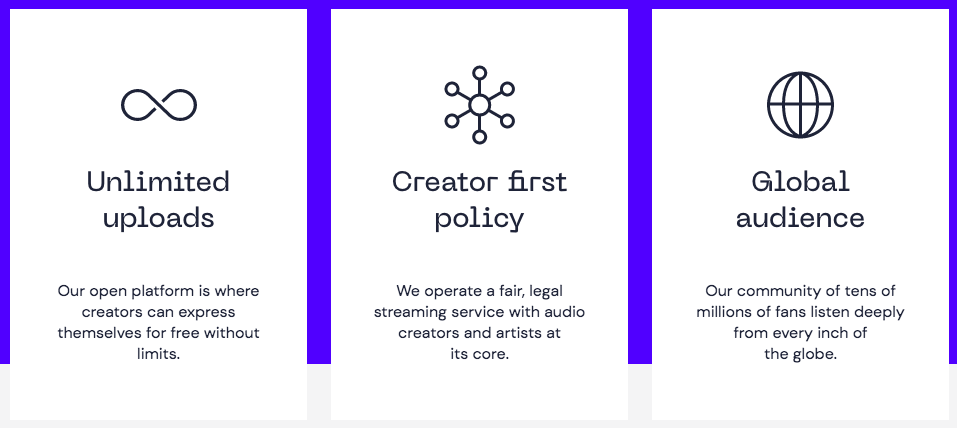 When you become a Mixcloud creator you can make your inner fan circle so that they can support you directly! You take control of your own channel, you can reward your fans with exclusive content, and earn from your shows. Apply to become a Mixcloud creator here.

It provides its creators with access to services such as audio, personalized content, social features, and targeted advertising messages. Mixcloud does not allow the upload of single tracks or albums, and has a limit of tracks you can use by a single artist.
You can publish extra content for your followers such as guest mixes, interviews, exclusive playlists, and more. 
Mixcloud has blanket radio licensing deals with various collecting societies around the world. Royalties are paid to societies that distribute the music to labels and publishers.
When you use a Pro account you can track the number of people listening to your mixes, where this traffic is coming from, and their location. "Engagement graphs" let you know at which point listeners stop listening to your mix, which is quite helpful when evaluating your content.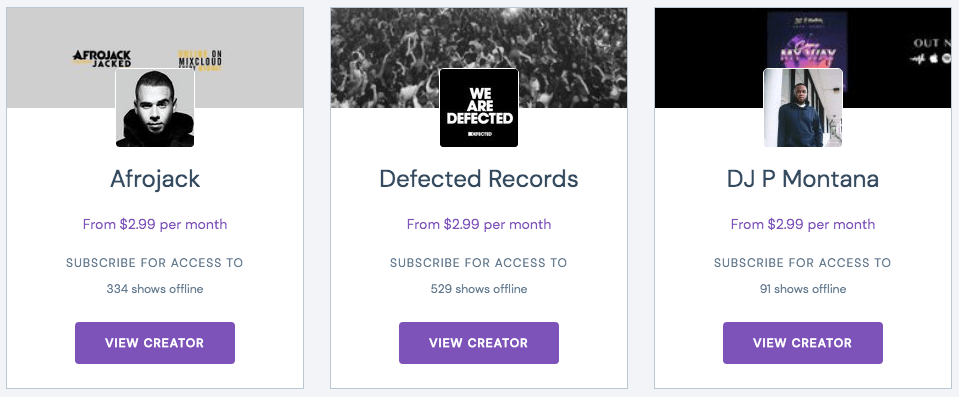 Cons: Mixcloud does not offer analytics for free users.
6. Tidal

For: music lovers that love the highest quality possible, Jay Z fans (owner)
Platforms: iOS, Android, Roku devices, Apple TV.
Tidal has a great feature called Tidal rising that selects one emerging artist each week for exposure. You can get pitched for Tidal playlists. So great exposure here! Listeners get exclusive content and exclusive releases from top artists like Beyoncé. Tidal includes music videos too.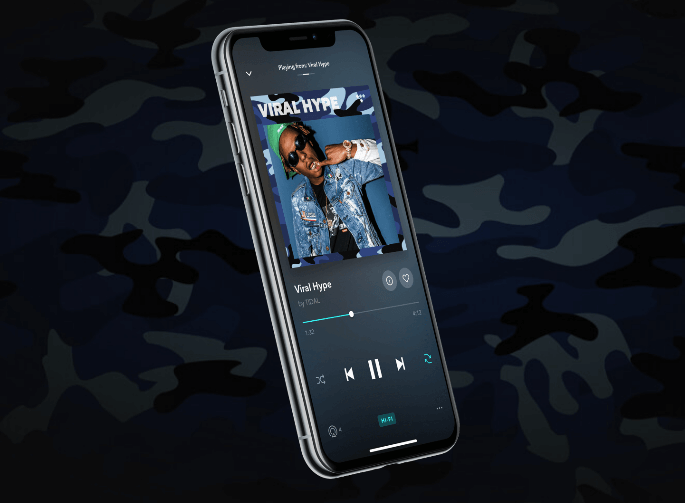 This is the best high-resolution streaming service for audiophiles. It offers higher artist royalties. You can connect to your social media to keep your fans posted. 
To upload your music without a label you need to do it through Indigoboom, Record Union, DistroKid, or Tunecore.
Highest Resolution Out There
Tidal's HiFi plan is a little more expensive than most streaming services. It includes 3D audio which uses spacial technologies to create an expanded sense of dimension. 24bit audio resolution. Which is a similar quality to Amazon HD Music (much cheaper)
Cons: no free version, HiFi plan is expensive.
7. Amazon Music

For: Amazon's subscribers
Platforms: iOS and Android apps, desktop app, web player, connected speaker support, cars.
With over 50 million songs and a reach for 80 million people, Amazon music is a great opportunity for blossoming artists. Like other platforms, playlists can be curated, downloaded, and saved. Your music will be available for all Amazon Prime users 90 days after its release. Eventually, you can give your listeners the option to buy your cd directly from amazon. Plus, it's integrated with Alexa!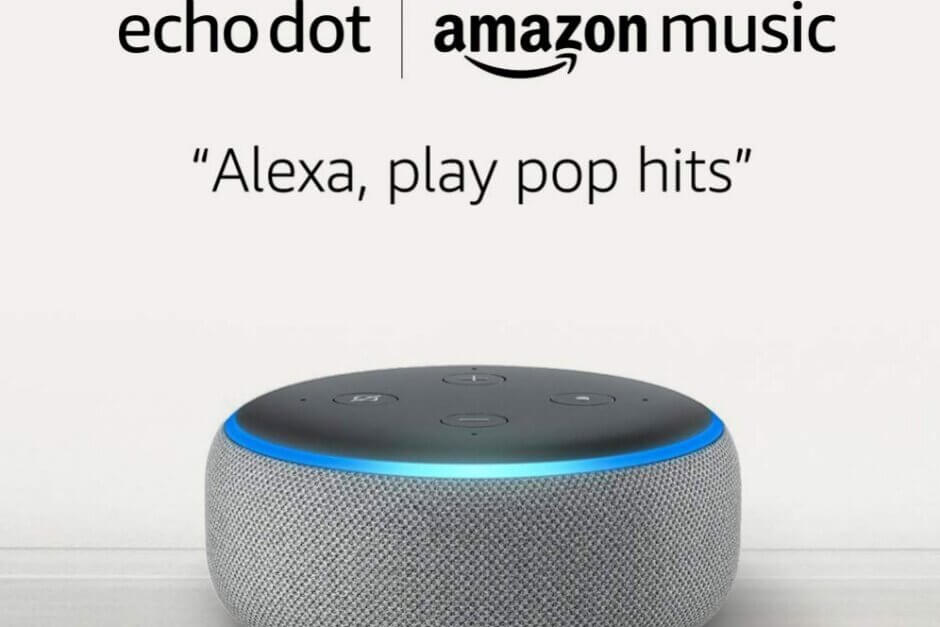 Submitting Your Music
All music should be submitted through a label or a distributor: The Orchard, CD Baby, TuneCore, DistroKid, STEM, AWAL, and Ditto. Once your music is submitted it will take about 24 hours to be live! 
Amazon Music also offers Amazon HD music for better sound quality.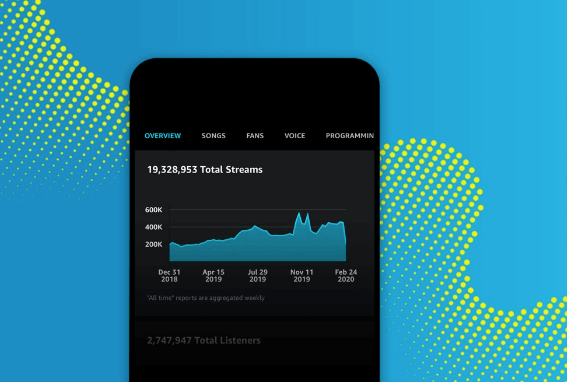 Amazon Music allows you to dig into your stats to understand better your listeners' trends and interests. You can use your data to improve your users' experience.
Sell Your Merch
You can set up a merch table using three different ways:
Fulfill with Amazon: you ship items to Amazon and Amazon manages all post-sale operations.
Amazon Self-Fulfilled: you manage post-sale operations including inventory, shipping, customer services, and returns.
Print On Demand: all items are printed on-demand and Amazon manages all post-sale operations.
Cons: Just music, you need a distributor.
8. Deezer

For: independent artists
Platforms: iOS and Android apps, Web UX
Deezer is a well-known platform for independent artists with a 56 million tracks library. To distribute your music on Deezer you don't necessarily need a label but you do need a third party. They will handle the distribution, licensing, and administration of your music. These are Deezer distributor partners: 

You can customize your artist page with your own designs.
Also, you can see your progress through their analytics view. Track the impact of your activities and your engagement over time. 
Cons: You need a distributor.
9. 8tracks

For: lazy music searchers
Platforms: iOS and Android apps, Web UX, smart device integration, connected cars.
8tracks is a music platform centered in discovery playlists so this is a great platform to find new music! You can find all kinds of online mixes with your music on it. Find music around moods and themes. Feeling sleepy? Angry? All playlists are carefully curated by experts. With a 13 million tracks library and 6 million young listeners, this might be your option.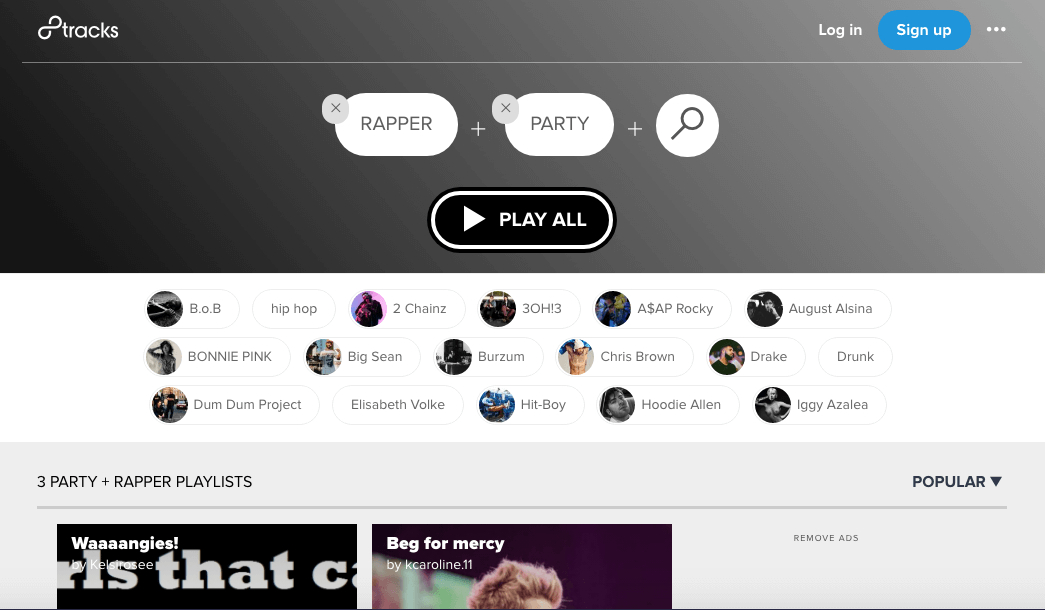 Contacting 8tracks
You can create your artist profile by contacting the 8Tracks team giving them a few links to your music. You can connect your account with other musical platforms and social media. 
Listeners can choose between the free version or 8tracks Plus which supports upcoming creators.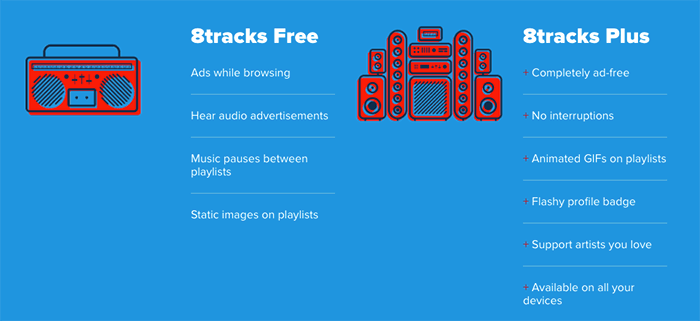 8tracks Pro gives you access to your analytics to analyze your performance on :
# of plays your uploaded shows have gathered
# of minutes listeners have listened to your shows
# of times your uploaded shows have been favorited
# of comments you've received on shows you've uploaded
# of times your uploaded shows have been reposted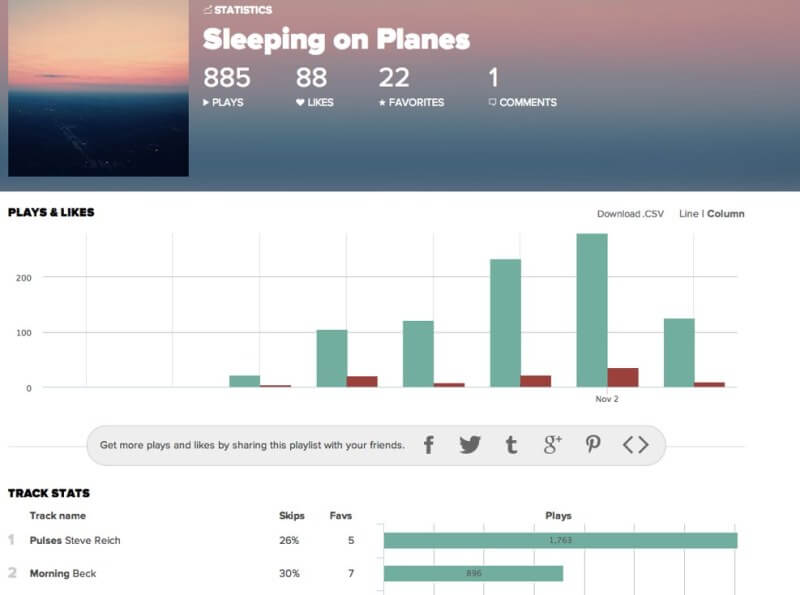 Cons: Not for offline use. You can't overlook the whole playlist content, you will have to wait and see what's on it.
10. Hyppedit

For: any artist who is already on several music platforms.
Platforms: iOS, Android, Web UX
Hype Your Music
Hypeddit is a fan gating platform to help you convert your downloads on your Soundcloud, YouTube, Mixcloud, Spotify, and so on, into fan engagement! So you get way more likes, comments, streams, and downloads from your existing and new followers. Basically, your music gets promoted to allow your fans to react to it.
You can give special incentives to your fans like free downloads of your high-quality tracks in exchange for likes on your page. In other words, Hypeddit helps you grow your fan base and boost your streams online.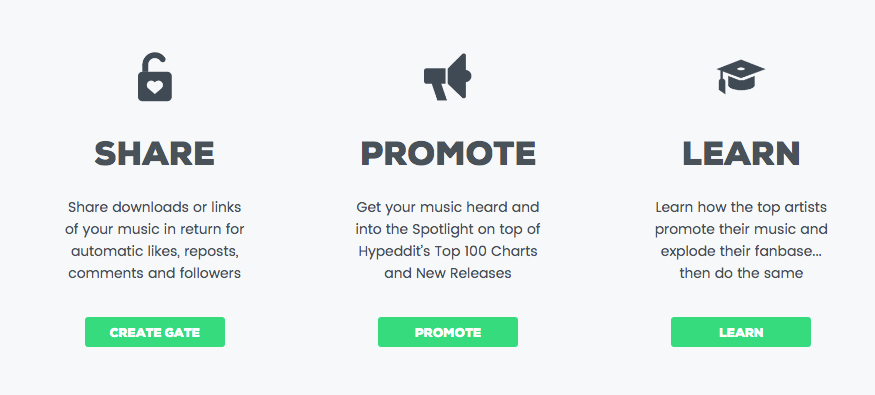 Set You Fan Gate
Uploading music to Hyppedit is super easy, simply submit your work here. At the same time, you have to send your videos, artwork, and email to get confirmation when your music is up! 
Link your fan gate to your Soundcloud page and your social media. Hyppedit basic features are completely free. Plus, its algorithms are super effective to get more reach to your music. 
Great Features
You can share your music on Facebook using the Facebook Music Tab. With this tool, they can listen to your music and even download it directly from your Facebook. 

The Blog promotion Toll shares your music tracks on Spotify, Apple Music, SoundCloud, Amazon, Deezer, Pandora, Beatport, and any other music store or platform that features your music! You get feedback on how your music is performing.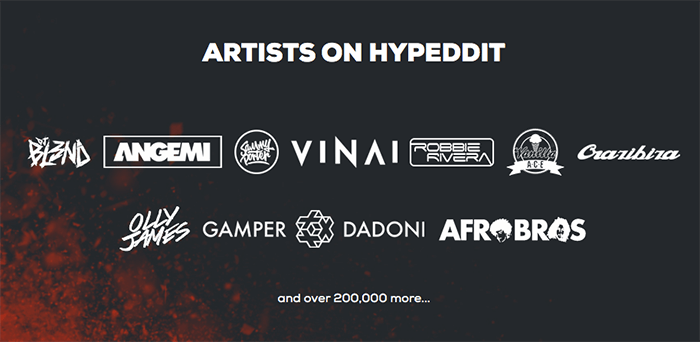 Cons: You can't customize your homepage with your brand. 
11. Twitch

For: songwriters, musicians, and other artists with experience on Twitch.
Platforms: Android, iOS, Twitch App on Google Store, Web
Share Your Music on Twitch
You can share your music in Twitch broadcasts or VoDs (past broadcasts, paste releases, highlights, clips, uploads). Your subscription grants you a personal license to access the content and reproduce it in a personal and private way only. You can share your original music recorded or played live. 
Rich Medija, the famous DJ, uses Twitch to stream his music and live shows. In fact, lots of artists today are using Twitch to perform in front of their audience online during quarantine days. 

You can completely customize your Twitch channel to show your indie brand. You can monetize your artist channel. Twitch has partnerships with SoundCloud and Bandsintown so you can use multiple musical platforms. 
You can show your process! Show your audience how you create your bits. You can also link to your social media.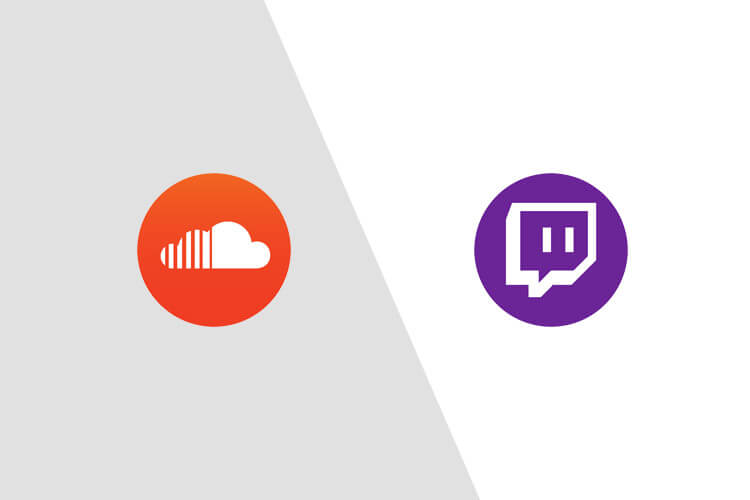 Cons: It is mainly a gaming platform, not a music one.
12. Bandcamp

For: Independent Artists
Platforms: Bandcamp app for Android, iOS, and Sonos.
Bandcamp a platform completely designed for emerging and artists as a way to support them with free streaming. It's a marketplace and community to support thousands of independent artists. 
Fans can download or stream your music and artist are allowed to price their music however they want. Bandcamp takes 10% of your merch sales and 15% of downloads.
There are discovery areas where you can filter by genre to find new music. Your fans can follow you, add you to their wishlists, comment on your tracks, and more interactions. 
Getting Your Music on Bandcamp
To start sharing your music on Bandcamp you can follow their artist introductory guide. But in general terms, simply remember to:
Tag your music correctly to be found easily

Reciprocal recommendations between Bandcamp artists boost their sales

Customize your Bandcamp site design to make it feel like YOU and like your music style

Add and artist image

Write your artist bio, give you special style

Add links to your other sites. 

Add your lyrics

Add liner notes

Bandcamp notifies your followers anytime you release new content or merch. There is a new Bandcamp app tool for artists to message directly your fans by locations and levels of support.
You can connect with your social media.
Sell Your Merch
Just as we stated before, Bandcamp is a marketplace so your fans can be listening to your music at the same time they are choosing your merch to be delivered at their homes! 
To date, fans have purchased 11.7 million merch items through Bandcamp, totaling $187 million USD. Bandcamp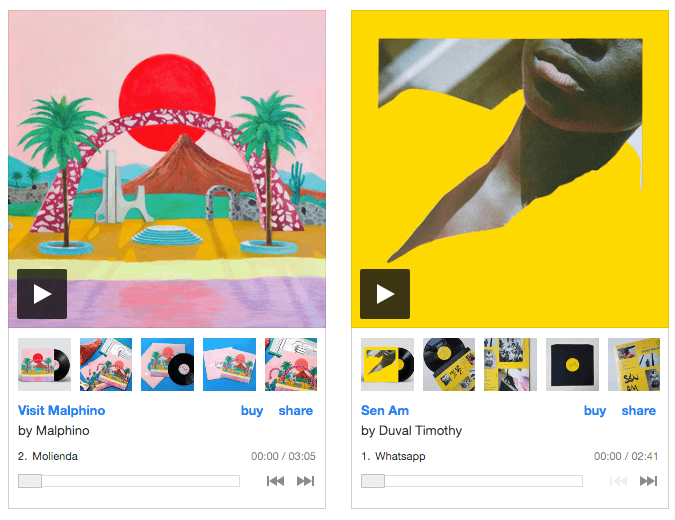 Remember to upload high-quality images and use mockups to portray your merch with attractive images.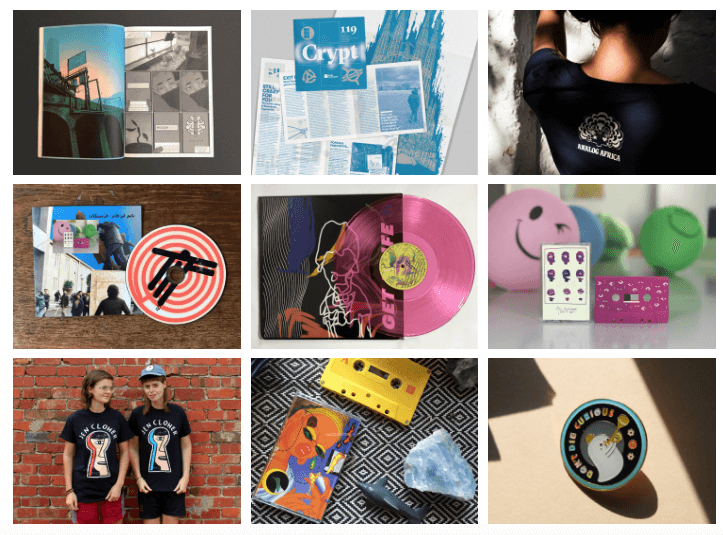 Contact Bandcamp 8 weeks before a release so they can help you promote your music! Remember to include links, a short story "about your album". Email for indie rock, soul, hip-hop, or jazz, send your pitch to diamond@bandcamp.com. For metal, punk, hardcore, or video game soundtracks, email jzcamp@bandcamp.com. For everything else, flip a coin for either jes@bandcamp.com or jedward@bandcamp.com to send your pitches.

Real-Time Stats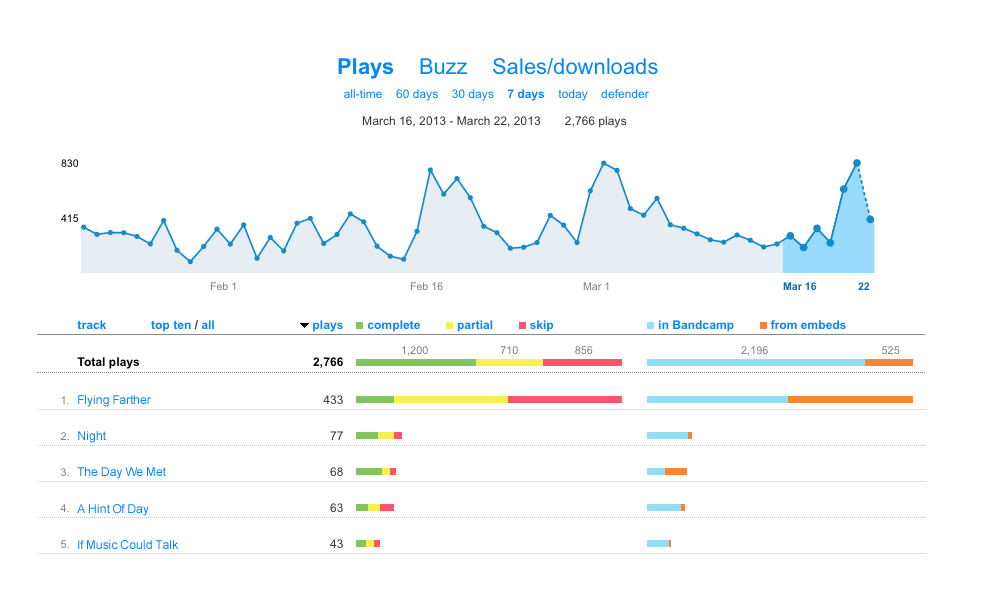 Find out which are your most popular tracks, what is being purchased and when. Use your own data to understand what your audience is looking for.
Cons: There is no money in streaming your music.
13. YouTube Music

For: label artists & independent artists
Platforms: iOS and Android apps
How to Upload Your Music
There are a few requirements to get an official artist channel on YouTube Music that you get to actually share your music with the world: 
You have to own and operate your YouTube channel and have at least 3 releases distributed by a company or a label

Not have any policy violation on your channel

Work with a

YouTube Partner Manager
Connect with Your Fans
Thanks to a Community Tab you can distribute your music while interacting with your fans. You can answers comments, direct messages, send videos, images, gifs, make live videos, and more. 
You can see your performance through YouTube analytics. Another thing to keep in mind, YouTube integrates well with all Google Apps.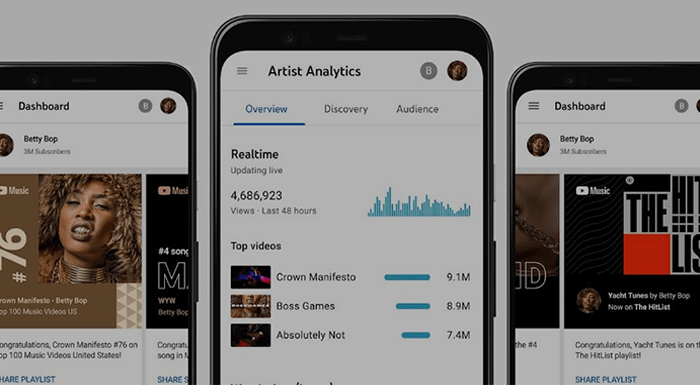 Cons: no content besides music. It doesn't integrate with voice assistants. You need to be working with a YouTube partner. 
14. Vevo

For: YouTube artists
Platforms: Apple TV, YouTube platform

Vevo is the largest music channel on YouTube. In addition, Vevo also has a partnership with Apple TV, Pluto TV, Samsung TV.
To get your music on Vevo you need to contact your YouTube for Artists distributor as asked your accounts to be merged (yes, you need a YouTube Artist Channel). Vevo's experts will take care of your musical promotion. You can also contact the team here.

Cons: You need a distributor from YouTube partners, you don't actually get to manage your account.
15. iHeartRadio

For: classic radio nostalgics
Platforms: iOS and Android apps, smart device integration, Web UX
iHeartRadio is a hybrid between live radio and a streaming platform with a 20 million tracks library. It also includes podcasts, news articles, lyrics, and listings. 
To submit your music to iHeartRadio you have to do it through its aggregators: CD Baby, DistroKid, Empire Distribution, RouteNote, and TuneCore.
Cons: Unable to rewind live radio, lacks high-resolution tracks. You need a distributor. 
16. Gigmit

For: Musicians, promoters, venues, event organizers
Platforms: Web UX
Gigmit is the data-driven matchmaking platform representing easy booking for both live acts and promoters. It changes the way concerts are organised, gives the live industry a digital tech update and opens the booking business, which was previously reserved for only a few, to everyone. Since the founding of Gigmit in 2012, over 120,000 artists have used the platform to apply for gigs of all genres. More than 8,500 promoters have registered with Gigmit.
Signup for free and Get 30% off gigmit PRO: envato30
Cons: Only web version, don't have an app yet. 
Get All Your Music Platforms Art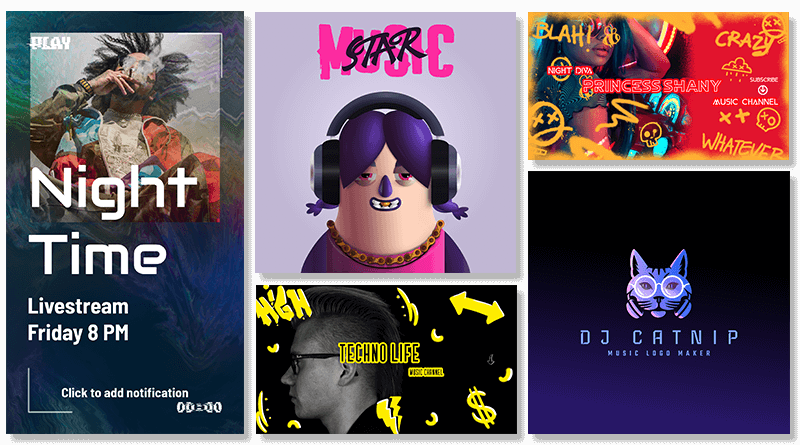 Once you've made a decision on which platforms to try to release your music, you should dress up your pages to look like you. Give your homepages, channels, and stations a custom design that represents your music. You can design banners, artists' images, headers, covers, and more using music platforms design templates.
Now, a Few Tips on How to Promote Your Music
Musicians are represented not only by their music but by the brand they stand for. Creating a thrilling brand for your listeners to experience just doesn't happen overnight. There is a lot to think about! You probably already have a name you go by, that being an artistic name or your own name, but what about a logo, brand colors, fonts you use, etc. All of these simple, yet important aspects are what make a brand recognizable and what will let your audience connect easily with you or identify your band logo in a crowded event poster. Even more, it makes your job easier when you want to promote!
Make a Music Logo
If you haven't done this yet, don't put it off anymore! This is a very important step when releasing a music brand into the world! Design a professional music logo that represents your music spirits!
Get Awesome Custom Designs
Share stylish posts and videos on social media to keep your fans posted on your latest releases using a designs template tool to make your time worth. 
Design stunning album covers to upload your tracks, remember these do have a lot to do with whether your music seems appealing or not to new visitors on your pages.
Need More Tips on Music Marketing Strategies?
Learn a little more about how to create a musician brand from scratch or how to market your musician brand. Find useful tips and get your music out there! 
A Few Last Words on Music Platforms
Find out which music platforms work best for you considering you are an independent musician. This means in some cases you get to do everything on your own but in most platforms, you may need a distributor to help you get your music where you want. Some platforms work great together so you might want to use more than one and get even more streams on your tracks by widening you audiences! So tell us what do you think? Please if you have any doubts about the subject leaves us a comment below and we'll get to you!
You can also try our quick quiz to choose the right music streaming platform for you.
---
The Music Platforms All Musicians Should Know
We've gathered all the top music platforms for independent musicians to upload their music on streaming services. Read an overview of each of them and choose the ones that seem more compatible with your needs!
Make Stunning Assets for Your Music Brand
---