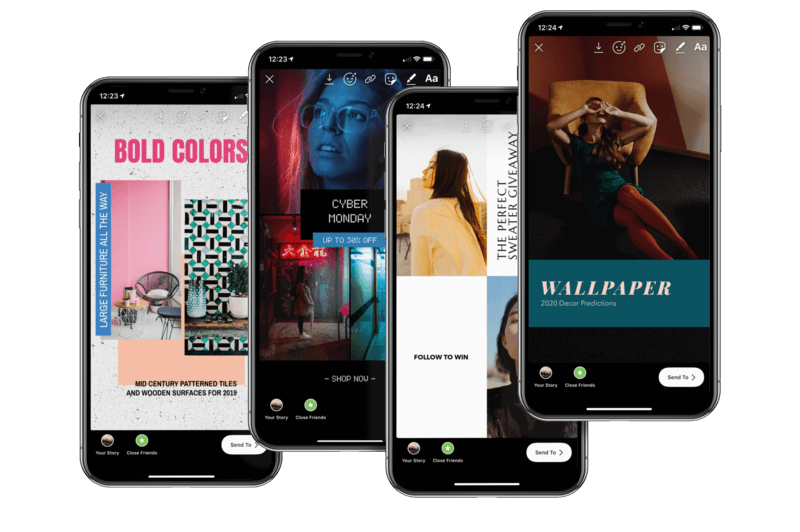 The means of content discovery have constantly evolved. Over time, it has become less typing search terms in Google, and more of scrolling through Facebook, Instagram, and Twitter feeds. Due to this change in search patterns, we've done this blog post to help you! We will focus on social media marketing with interactive content types like quizzes and calculators in order to ace the game.
What You'll Find:
Just to set a little context, 30 billion content pieces on average are shared on Facebook every month. Now when the volume surges, engagement rates tend to dip. Ain't nobody got time to read every piece appearing on their timeline. Right?
How do we deal with this? Two words- Quizzes & Calculators! But why should you use these content types to boost your engagement? And how should you even use them? Well, to answer these questions, keep reading!
Why Use Quizzes & Calculators?
1. Interactive Content & Value Addition
The importance of content has never been more prominent. But what you may need to re-think is the type of content you're creating. Essentially, we have to keep two things in mind – people spend less time per content and they seek value addition in the time spent. 
If you ask for a solution in one word, it's interactive content. Okay, that's two words. But, this is why quizzes and calculators are changing the way marketers create content.
They attract, engage, and provide some sort of value to the users without having them read long texts?
Sisu is a mortgage and real estate sales dashboard that helps simplify sales tracking. They created an interactive calculator that would suggest a plan of action to real estate agents based on the size of their firms. Now, a calculator like this provided real value to the potential lead. Naturally, it led to a lot of engagement. In fact, they had a 200% increase in their engagement rate! Safe to say, their social media campaign was a hit!
🔥​ Check out our top social media strategies to try out this year and elevate your business!
2. Engagement & Conversions
Interactivity plays a major role in getting the audience's attention. You can engage people while still bringing them into your sales funnel. How? Well, have a look at the following product recommendation quiz. 
This "What Is The Best Smartphone That You Can Afford?" quiz is sure to catch the attention of people wanting to upgrade their phones. Moreover, look at the result page. The recommended phones are not only personalized but also linked to an e-commerce website with the "Buy Now" button. Isn't it an excellent tool to generate leads and conversions? 
All of this while engaging your customers in the best way possible! Quizzes like this can be easily shared on social channels as posts or used as social media ads.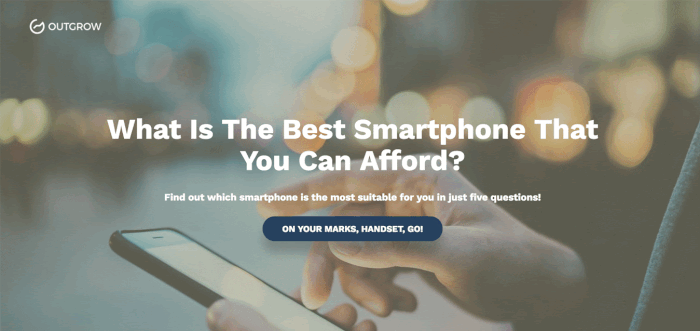 3. Virality & Brand Exposure
Ok, let's be honest. Most of us have taken a "What kind of ____ are you?" quiz on Facebook or Twitter at least once in our lives. Indeed, these quizzes are fun to make and easy to share.
In fact, these are so viral in nature that the average quiz gets shared 1900 times on social media. Clearly, their popularity shows no signs of fading anytime soon.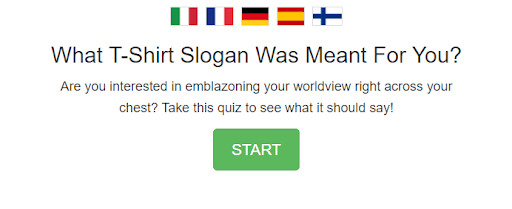 This "What T-Shirt Slogan Was Meant For You?" quiz went quite viral (we took it too😛). This can be a great opportunity for t-shirt printing or designing companies to increase their brand exposure.
Moreover, you can get more people to like your social media pages. Just add a link to your Facebook/Instagram page or a like button on the results page. Besides, you can also add a Call to Action to boost your social media marketing.
4. Better Insights Into Social Behavior
Quizzes and calculators come in handy as an effective tool to appeal to the core psychology of your target audience. They can be used to understand the social behavior and patterns of your audience. They are also very useful in getting feedback to improve your social media strategy. 
For example, a simple quiz like 'Which Social Media Channel Do You Use the Most?' can help you analyze where your target audiences hang out the most. This can be crucial to planning your upcoming campaigns.
Furthermore, through interactive content analysis, you can figure out additional information regarding your prospect's social behavior. Which topics do best on social? What are the top sources of your quiz traffic? What device are they using? What geographies do they belong to? All of this information can help you further personalize your content to suit the needs of your prospects.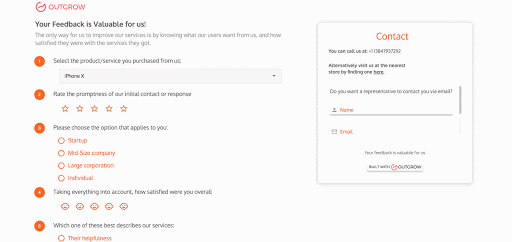 This feedback calculator helped marketers analyze their audience's preferences in a detailed way. At the same time, it also fetched users' details to power social media marketing efforts. 
5. Lead Generation & Segmentation
By now, there is no doubt that quizzes and calculators are one of the quickest and best ways to generate leads. They provide value to the audience in exchange for their contact information. Have a look at this interactive quiz case study:
Bolt iOt is a complete platform that includes hardware and a cloud dashboard to monitor devices remotely over the Internet. They needed a cost-effective and simple way to generate qualified leads. Hence, they used interactive content for increased lead generation and conversion optimization. The results? They generated 52,454 leads, 79,309 visits, and a 66% conversion rate!
Moreover, quizzes and calculators can be used to segment leads. In the example above, Bolt iOt used a quiz to determine which students they could offer scholarships to. Now, they can segment these potential students according to their marks. A student scoring  70-80% (Group A) can be segmented differently than a student scoring 50-70% (Group B). 
Thereafter, they can retarget these potential students with lead nurturing emails and retargeting ads. Moreover, students belonging to group A can be targeted with different ads than students belonging to group B. This kind of personalized customer communication can lead to higher conversions. 
You can also look at this BuzzFeed Quiz. These types of quizzes are fun and valuable to the audience who want to explore their best options.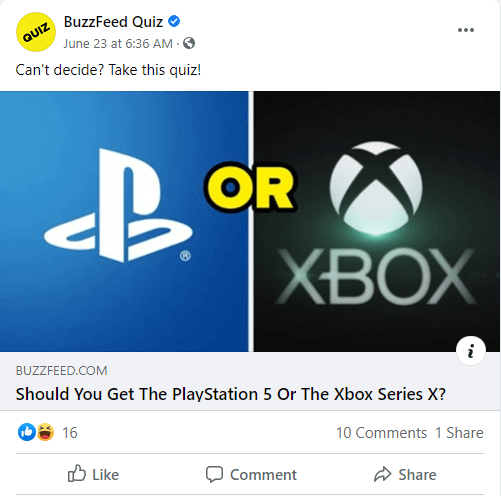 An eCommerce shop that sells video games can benefit greatly from quizzes like these. People who get Playstation 5 as their result can be targeted with the ads for the same!
How to Use Quizzes & Calculators for Social Media Marketing
Top of the Funnel
This is basically the Awareness stage in the buyer's journey. Here, consumers are not aware that they have a problem or a need which demands a solution. Hence, their research is mostly educational in nature. They also might not know much about you. That's a good opportunity to interest and educate them.
Show them you care about what they think. At the same time, collect data about their needs, desires, pain points, struggles, and goals.
For instance, Rush Order Tees generated interest in users by posting a quiz on social channels titled "How much do you actually know about t-shirts?"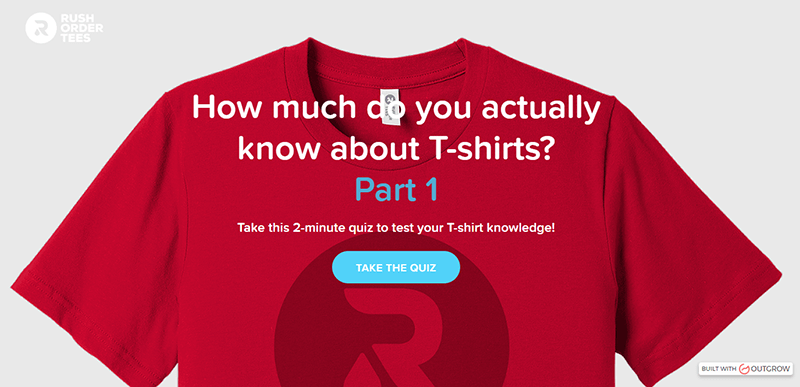 For any t-shirt lover, this can be a really fun quiz to take, isn't it? This effectively engaged potential audiences; even those who weren't thinking of getting a T-shirt.
Another quiz "Do You Know Which Style Suits You Best?" targeted fashion-savvy users to engage in a fun quiz.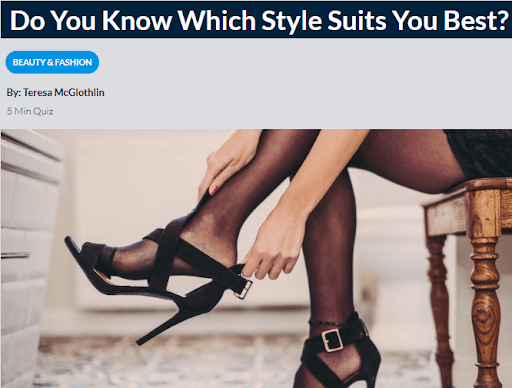 This can be a self-discovery step for many making them more confident in their style. These elements can also lead to brand recall and attract new leads.
What's more, you can create quizzes like these with a simple quiz maker online within a matter of minutes!
Middle of the Funnel
The middle of the funnel is called the Consideration stage in the buyer's journey. Here, consumers realize their needs and are now considering their options. You're on their radar, but so are your competitors. However, interactive content like quizzes can give you an advantage over competitors.
Have a look at this quiz on "What game console should you buy?" designed for people looking for a next-gen console.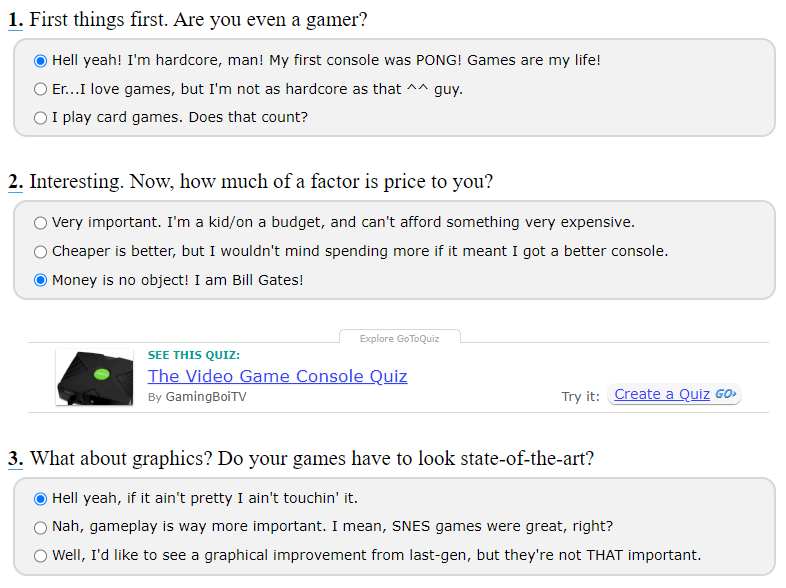 Through a detailed quiz, it assesses all the options (including yours) and recommends what suits them the best.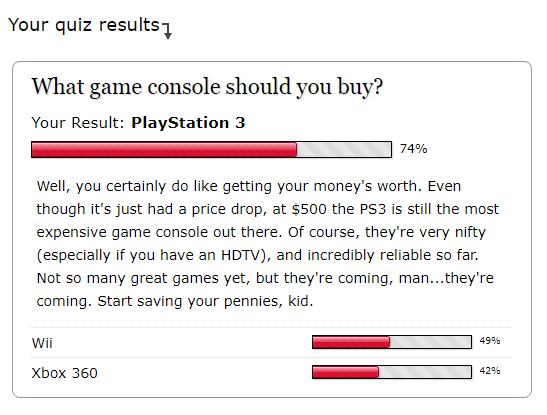 Bottom of the Funnel
Finally, we are at the bottom – the Decision stage of the buyers' journey. Your target customer is ready to buy. What now? 
Here, all you need is to make your customers realize that your product is the best. Now that they are aware of your brand, you can create product recommendation quizzes on your social media to help them choose the best products from your brand. 
KettlewellColours did exactly the same and designed the "What Is Your Kettlewell Style Personality?" quiz to help its audience discover the styles that most likely suit them.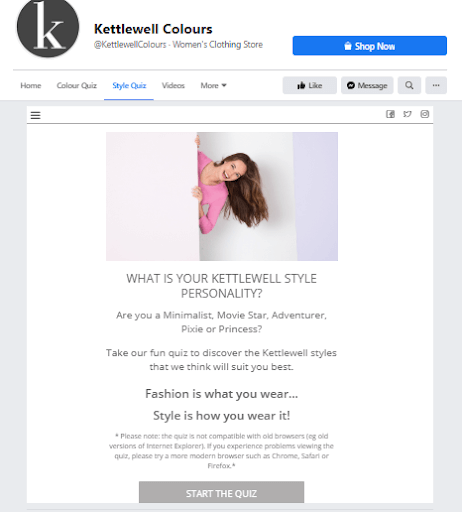 Through fun and relevant questions, KettlewellColours received massive engagement on their Facebook page for this quiz.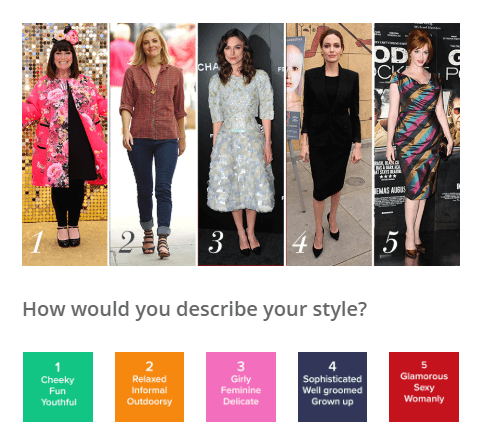 Putting a lead gen form right before results was another great strategy to boost social media marketing efforts.
Conclusion
Who knew these fun quizzes and calculators can cater to audiences at all stages of the buyer's journey? Implementing these in social media marketing is really simple and could go a long way. 
While interactive content may look like the result of lots of creative and technical hard work, it is actually not. Creating quizzes and calculators can be really simple. Moreover, don't forget to promote and analyze the results of your quizzes and calculators to get the strategy right. 
---
About the Author
Shreya Sinha is a full-time content marketer at Outgrow, an interactive content marketing platform. When not writing, she can be seen rocking a road trip or the beachside with her beloved ukulele.
---
Share Interactive Content to Increase Your Engagement
Interactive content like quizzes and calculators can help us engage with way more users on social media than using classic posts. You can find out way more about your audience while they have fun!
Design Social Media Posts
---