Whether you just designed brand new uniforms for your team and want to give the players a preview of how they will look like when printed, you are a sports logo designer, or you run a custom uniform business and want to offer your different products to potential clients, using Placeit's basketball jersey maker is a great way to display a team's logo on real life jerseys worn by real players.
These basketball jersey templates allow you to present any logo on a wide variety of scenarios, without having to actually print out the jerseys, hiring models and arranging a photoshoot – which can be a hassle.
To use these basketball jersey templates all you need to do is upload your logo and select a color for each garment, this way you will be able to customize a full basketball uniform, straight from your browser! Check out some of our best basketball jersey makers below: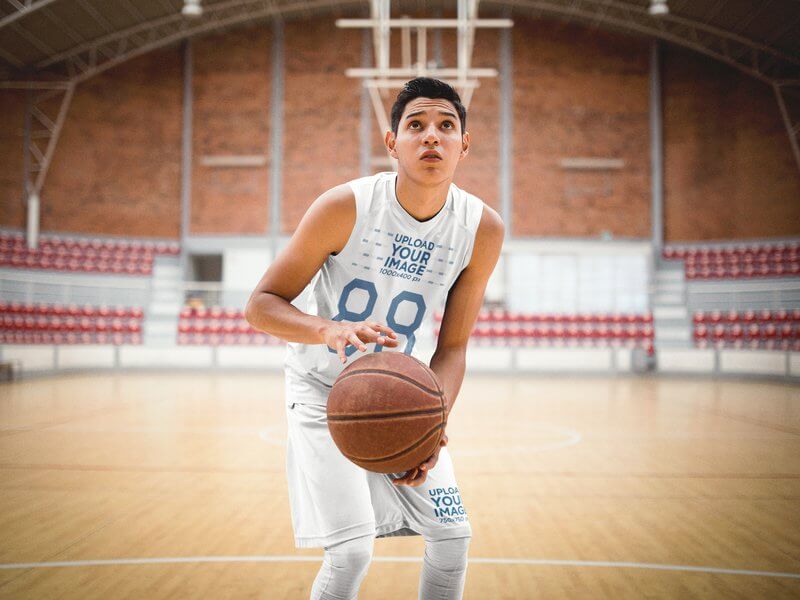 Focused and ready to shoot. This basketball jersey maker lets you showcase your team's logo in action! Look at how beautiful the court looks like, isn't it inspiring? Go ahead and customize it to display your team's colors and logo for a professional visual you can use to fundraise your uniforms or even promote the next big game!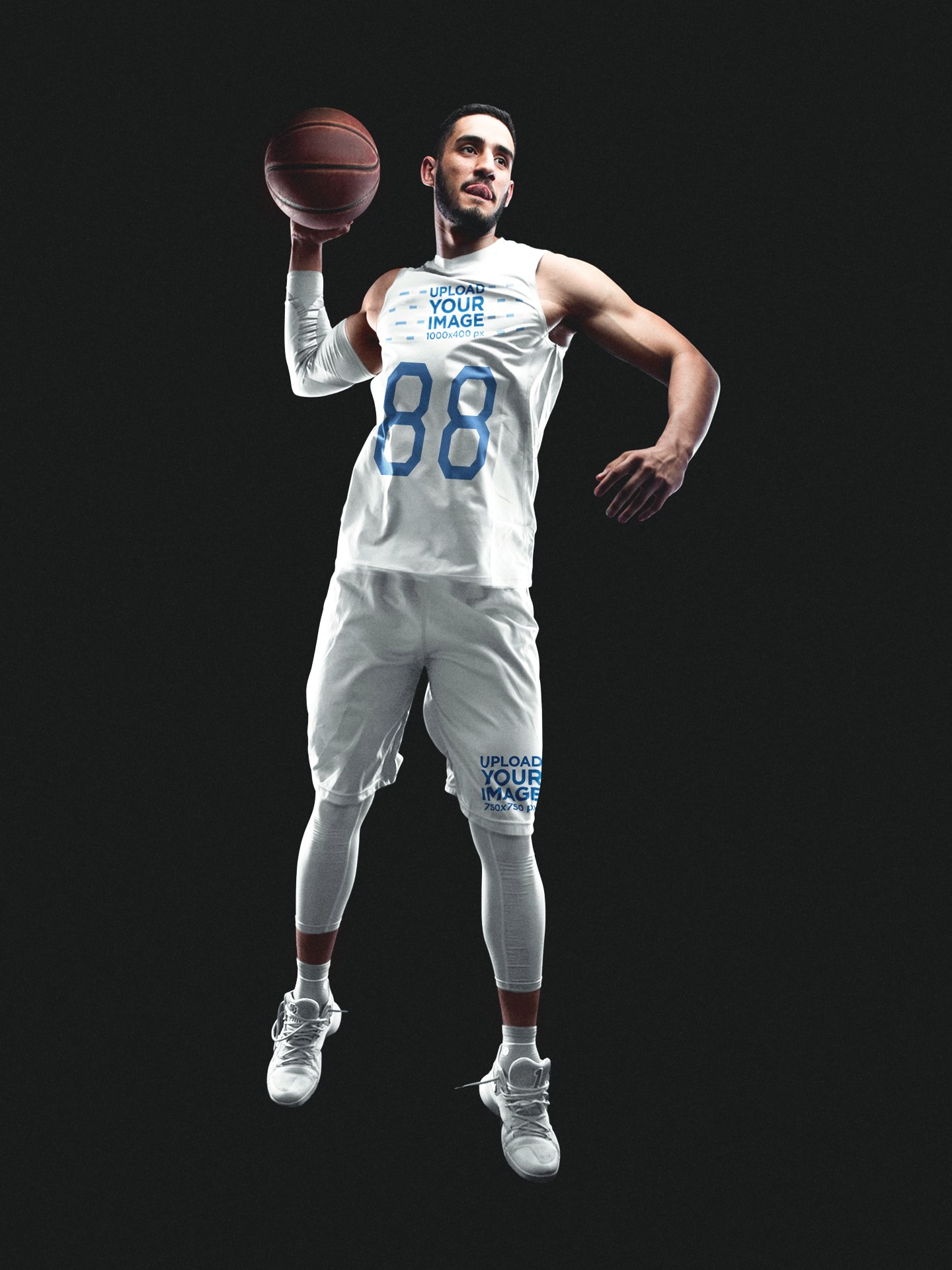 Talk about motivation! This professional basketball player ready to hoop can be sporting your own basketball uniform right away, just add your own logo, customize the numbers on the jersey, choose your team's colors and download, that's it.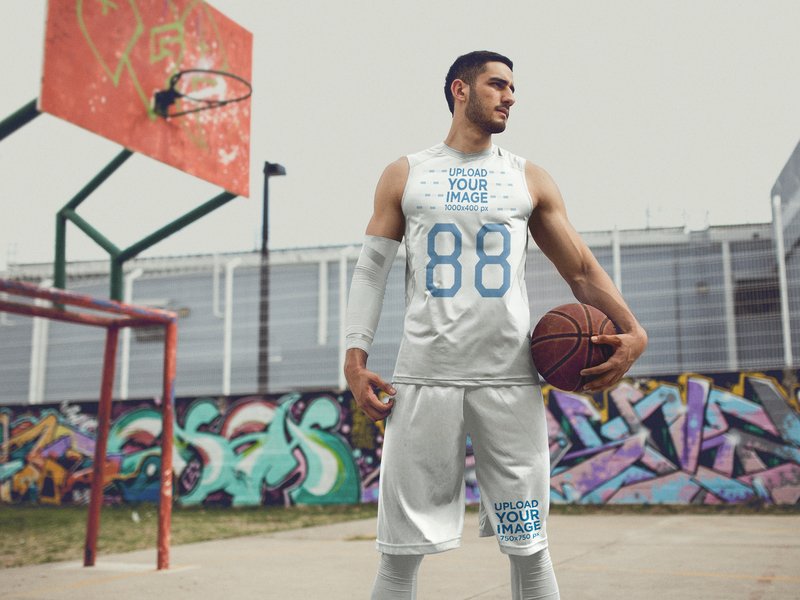 Showcasing your basketball logo in context is key when it comes to finding sponsors and investors. Let's say you want new uniforms for the team, then displaying the design and colors with real photos makes it easier for potential investors to visualize the final output. And you can do that with a professional basketball jersey mockup like this one.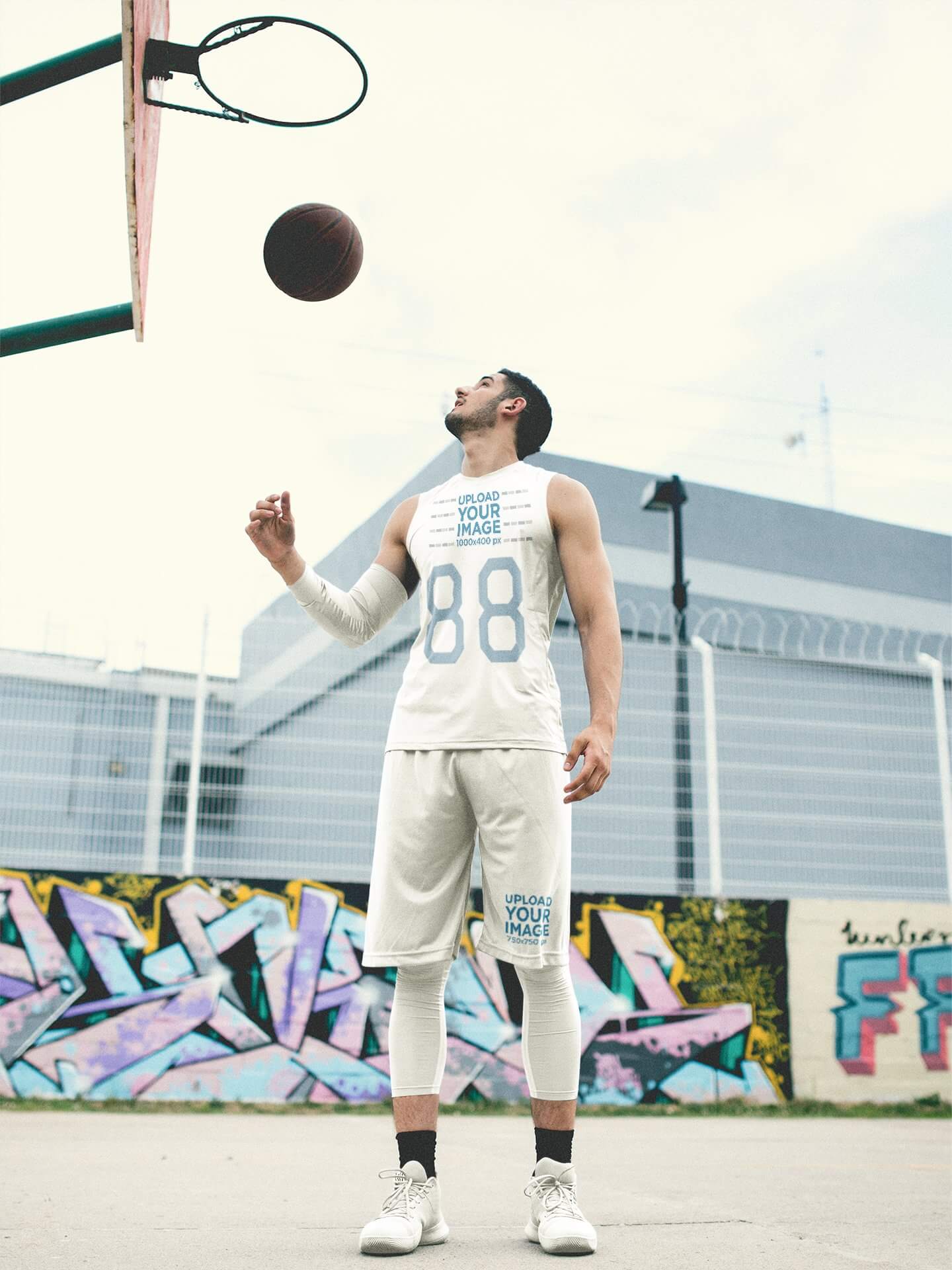 Placeit's basketball jersey maker is about to make the process of displaying and visualizing uniforms way easier. It's a matter of uploading your logo, choosing colors for the jersey, shorts, socks and sneakers. No need to hire a designer to create these beautiful photos of real players wearing your uniforms, you can customize them yourself!
Showcase your latest design for youth basketball uniforms, this basketball jersey maker is a great choice for doing just that! Start using it now and promote your own custom basketball jerseys with compelling photos of real players, like this one of a defying teen ready to win the game.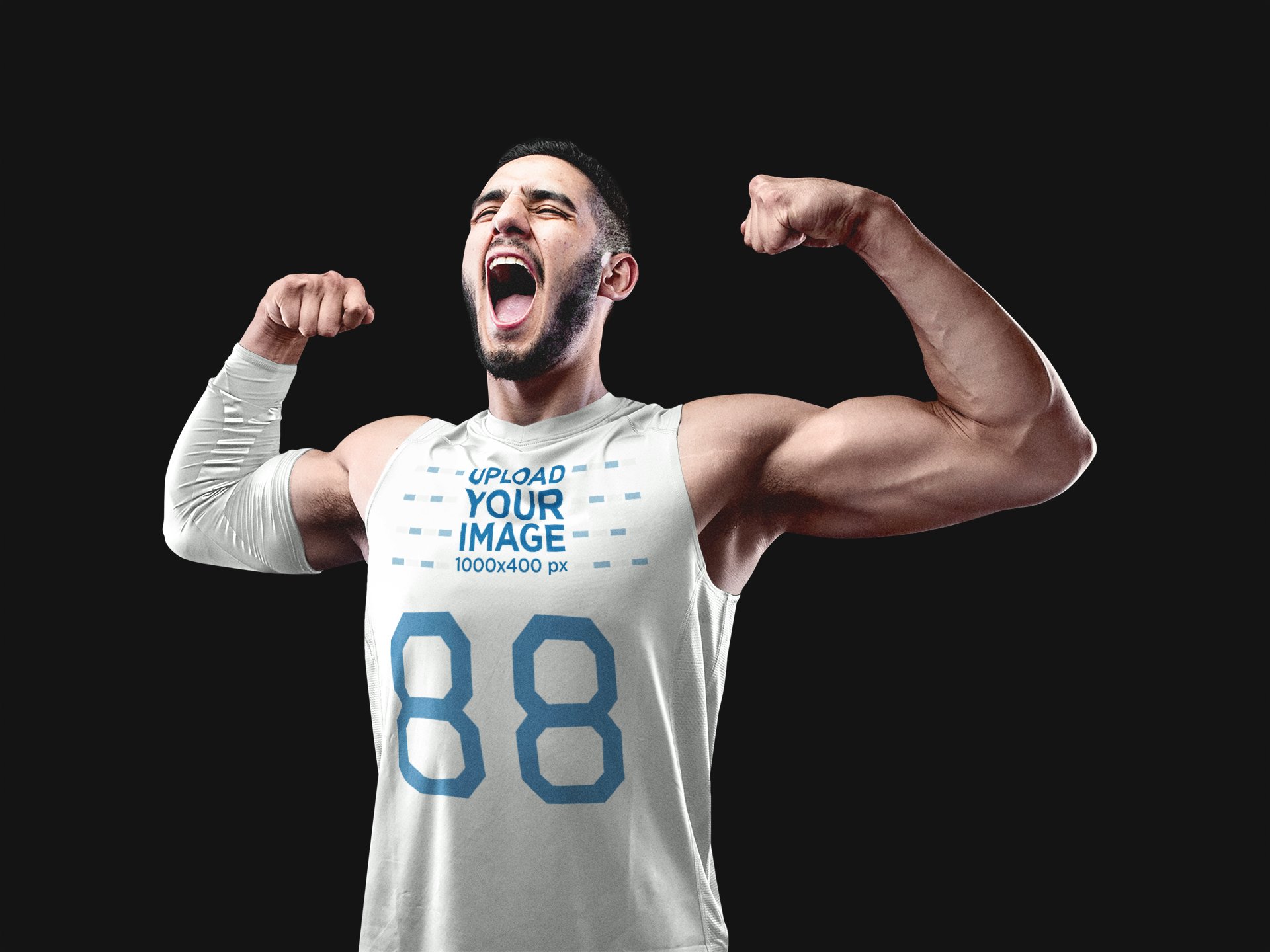 Doesn't he look like the team just won the nationals? Use our basketball jersey maker to promote your custom jerseys like the pros! This awesome basketball jersey template is a great choice if you are looking to promote your latest design for a basketball jersey in an awesome and versatile way.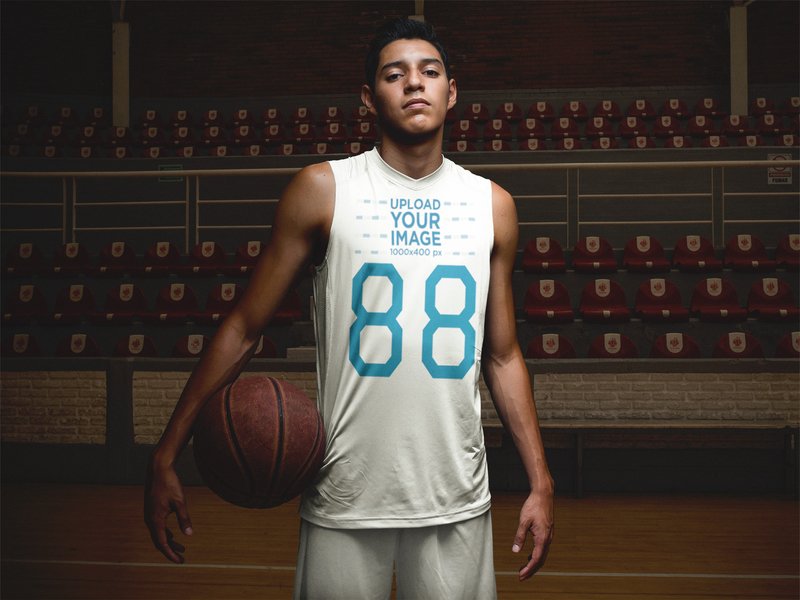 Need better photos to promote your team's uniforms? Start using this awesome basketball uniform builder. It's an easy and professional way to promote your latest logo and uniform designs in a better way. No one wants to see those plain white photos of jerseys simply lying around, people – and players! Like seeing the uniforms in action!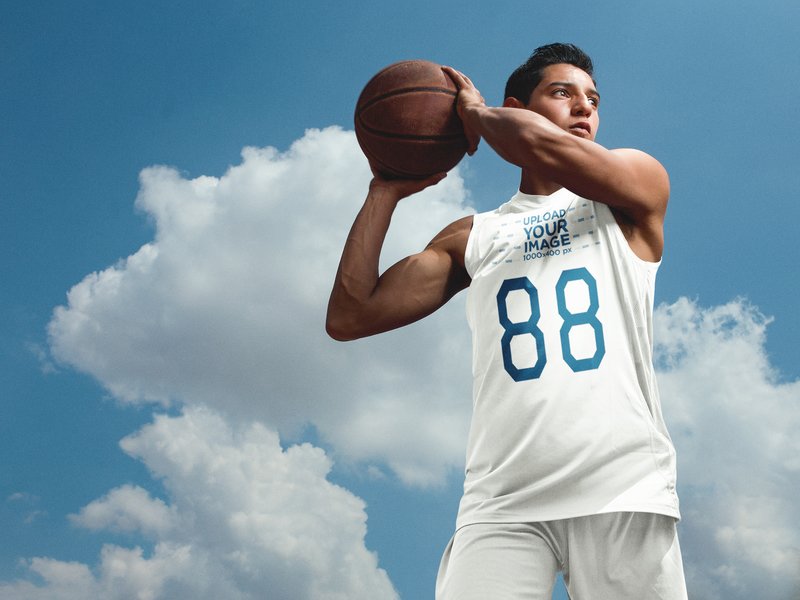 Have a look at this awesome basketball jersey maker by Placeit! You can now promote your own youth basketball uniforms in a photorealistic and compelling way that will give your customers a real insight on how the final uniforms will look like when printed out.
Promoting your uniform designs with our basketball jersey maker is a great way to ensure players, coaches and buyers will understand exactly what they will receive once they order their custom jerseys and uniforms. There's no need to settle for a simple image of the logo or a low quality visualization of the finished product when you can showcase your work like the pros with stunning photographs of real basketball players wearing uniforms with your team's colors and logo in real life scenarios like the basketball court at the gym or an outdoors urban court.
New detailed information on how to customize jersey and uniform templates? We have that covered too, with descriptions of each part and what are the customary uses and styles.
Use our new basketball jersey maker now to create beautiful promotion materials that will catch the eye of potential buyers or business partners.
---
---