Alright so you just designed a baseball logo from scratch, it looks amazing and it's everything your team needed to feel represented and motivated, this is great! Now is the time to show off that stunning baseball logo of yours in a professional way that will get your team the much needed support from sponsors and donations. If you are looking to make custom baseball jerseys for your team, you will want to create a preview of how you want the design to look like on the actual uniform before making your order. This way you will get the team's approval and you will make sure the output looks just like what you had in mind when designing it.
Using Placeit's baseball uniform builder is the way to go when creating professional jersey templates of your team's logo and colors to attract new investors and supporters, and the best part is you don't need Photoshop, design skills or a huge budget to hire a designer to create beautiful photographs of real ball players wearing their baseball gear with your logo and colors.
Check out some of our baseball uniform builder templates so you can get a sneak peek at these models and scenarios in which your logo could be displayed: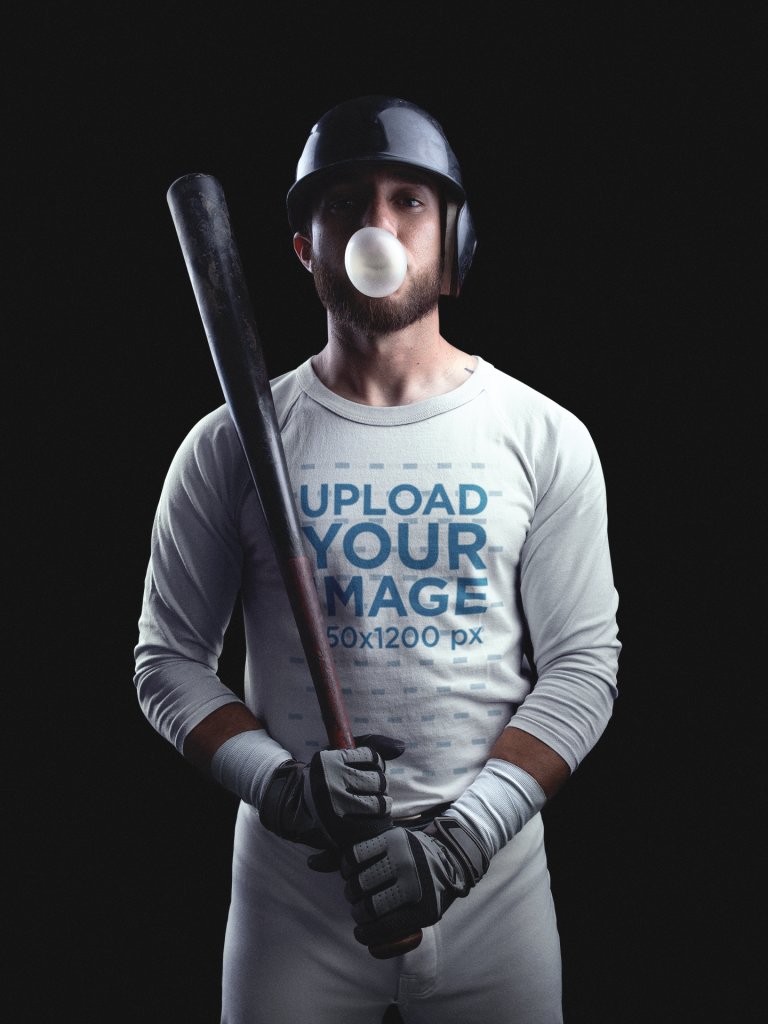 Check out this awesome mockup featuring a man chewing a bubblegum with baseball equipment, he has a bat and a one ear baseball helmet too. This photo is the perfect scenario in which you could display your baseball team's logo to showcase it in a professional environment.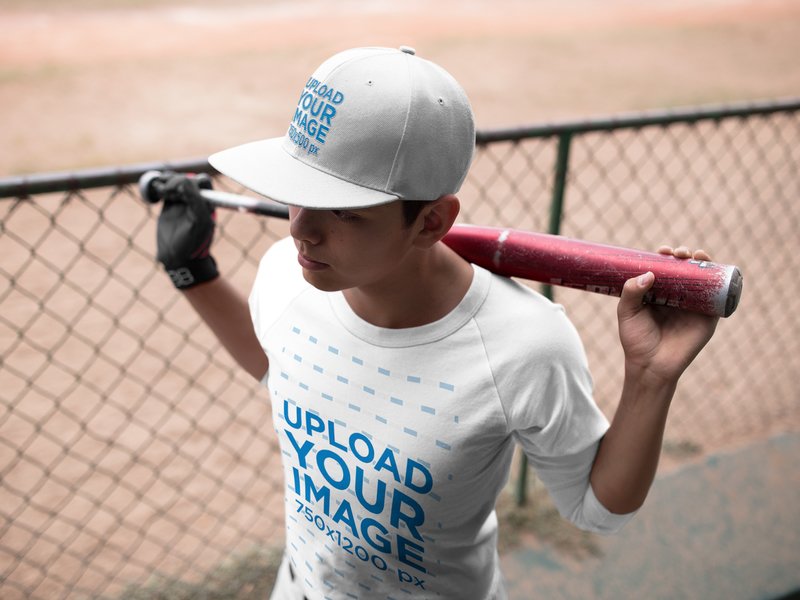 Have a look at this beautiful mockup featuring a teenager baseball player chilling right before the game, at the field. You can use this image to promote your latest youth baseball jerseys in a beautiful and photorealistic way. Start by choosing his uniform's colors, you can change the color on the sleeves of his raglan shirt, on the body of the shirt and even on the hat for a full look that relates to your team!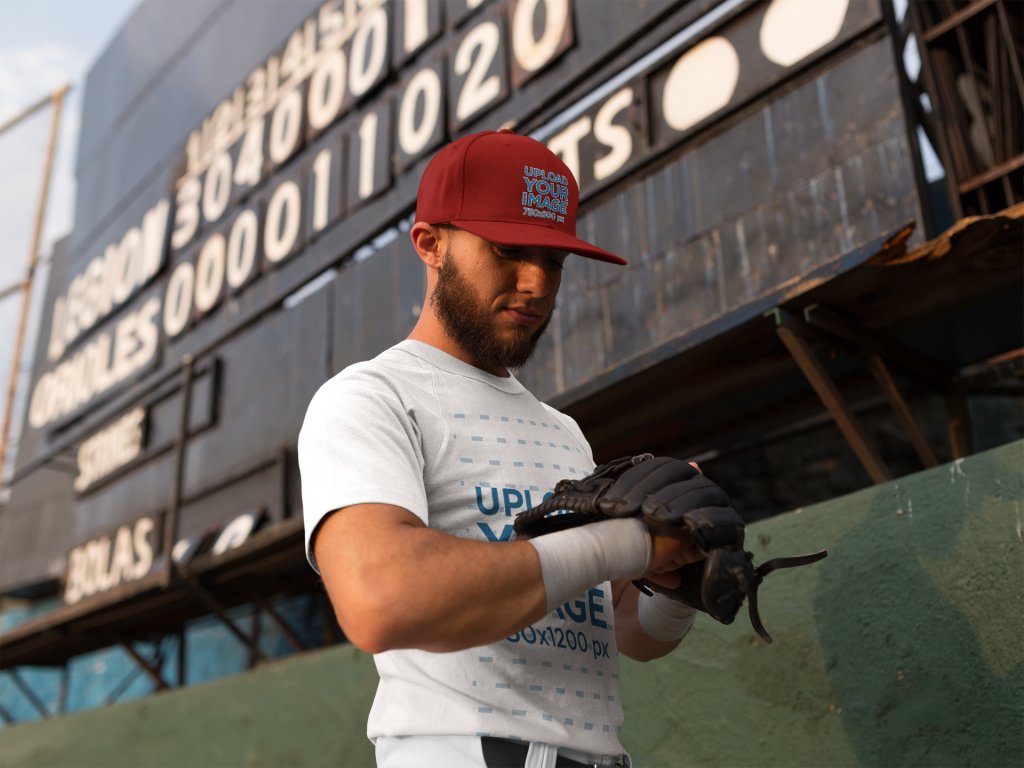 Showcase your latest logo design for a baseball hat and for a raglan shirt with Placeit! This baseball uniform builder features a man wearing a baseball hat and a raglan t-shirt while looking at his glove against a board, he is getting ready to score! This baseball jersey maker will let you choose a shirt color, then drag-and-drop a jpeg or png image file over each upload button to merge them with the hat and with the tee.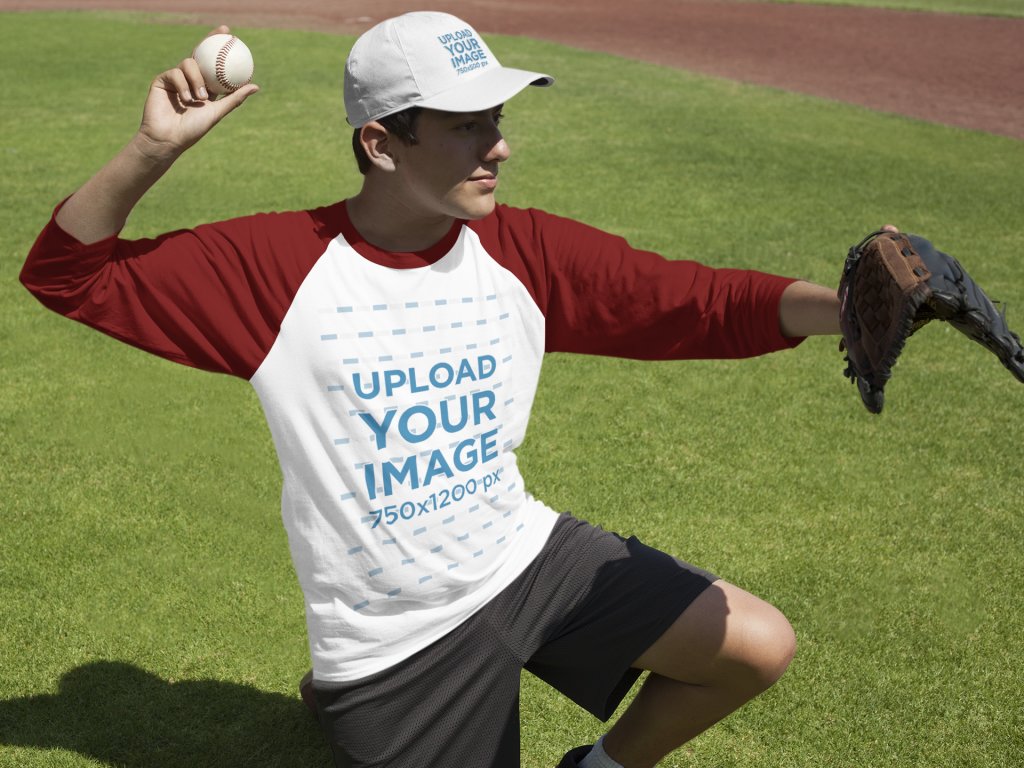 Use this baseball uniform builder to promote your youth baseball jerseys in context, this way you will be providing a real insight on how the final product will look like to potential buyers (if you are into the custom uniforms business), sponsors or investors who are looking to support your team. Adding your baseball team logo to the mockup is super easy, just upload it or drag it and drop it.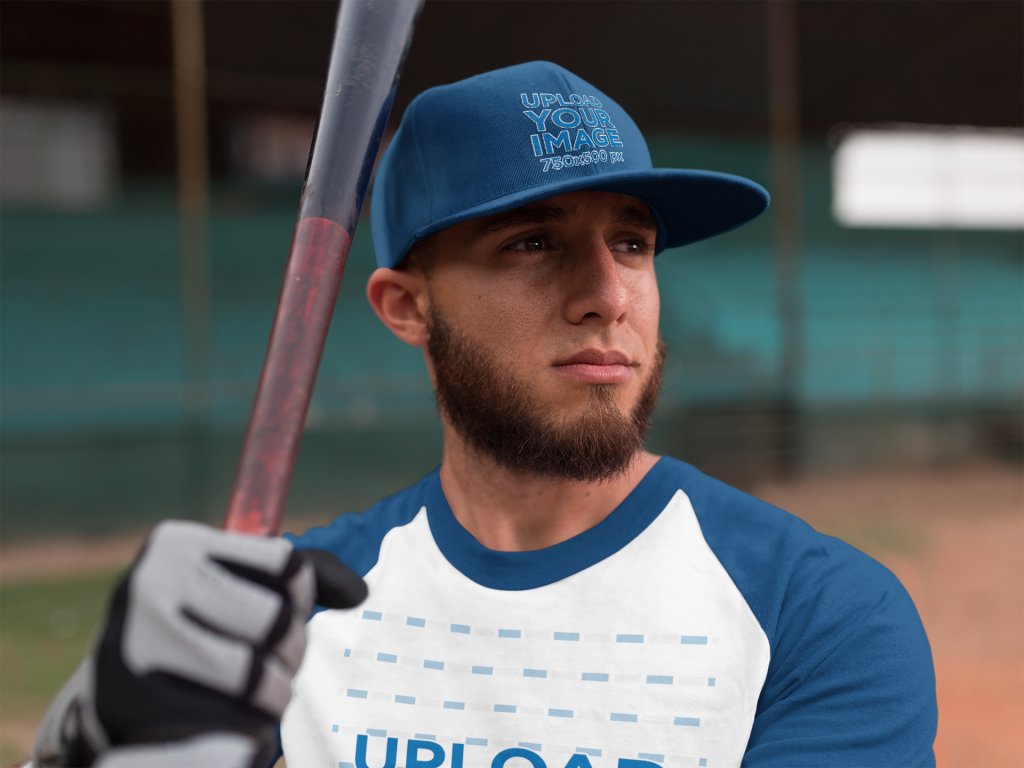 Showcase your latest design for a baseball hat and a raglan t-shirt with Placeit! Do it in a beautiful and photorealistic way using this awesome baseball uniform builder. All you have to do is choose this batter's clothes colors with the menu on the right, then drag-and-drop your team's baseball logo for a fully customized look that will really represent your team and everything it stands for.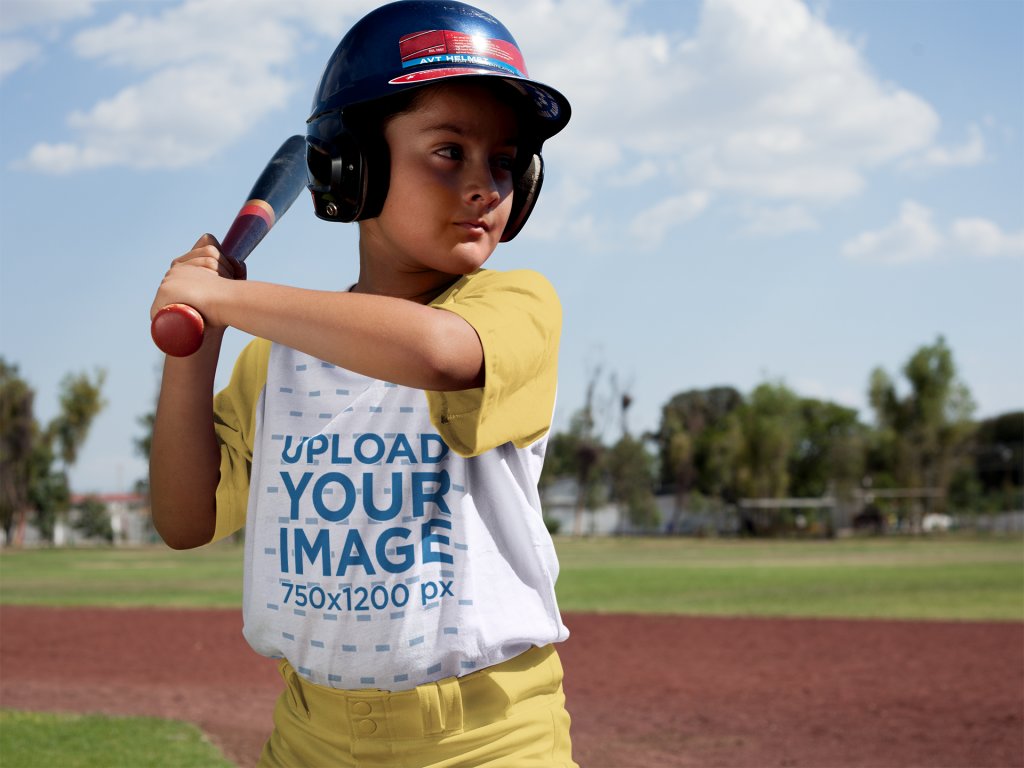 Need professional photos of little league players wearing your logo design? Looking to showcase the wide variety of custom uniforms your business offers? Want to create an appealing photo preview of how your baseball uniforms will look like to run a fundraiser? If you answered yes to any of these questions, this little league baseball uniform builder is for you.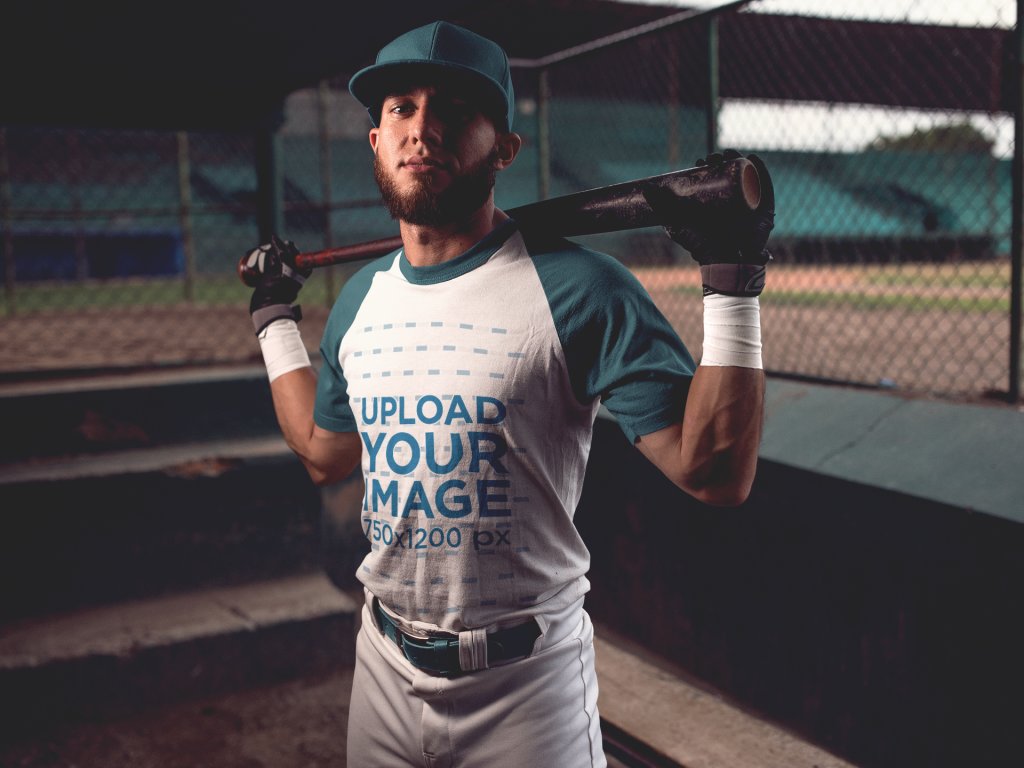 Use this baseball uniform maker to create an eye catching photo of a real ball player wearing baseball gear while inside the dugout. To customize this template all you need to do is choose the colors for the jersey, pants, hat and belt to match your team's colors, then simply upload your baseball logo and hit download! Yes, that's it.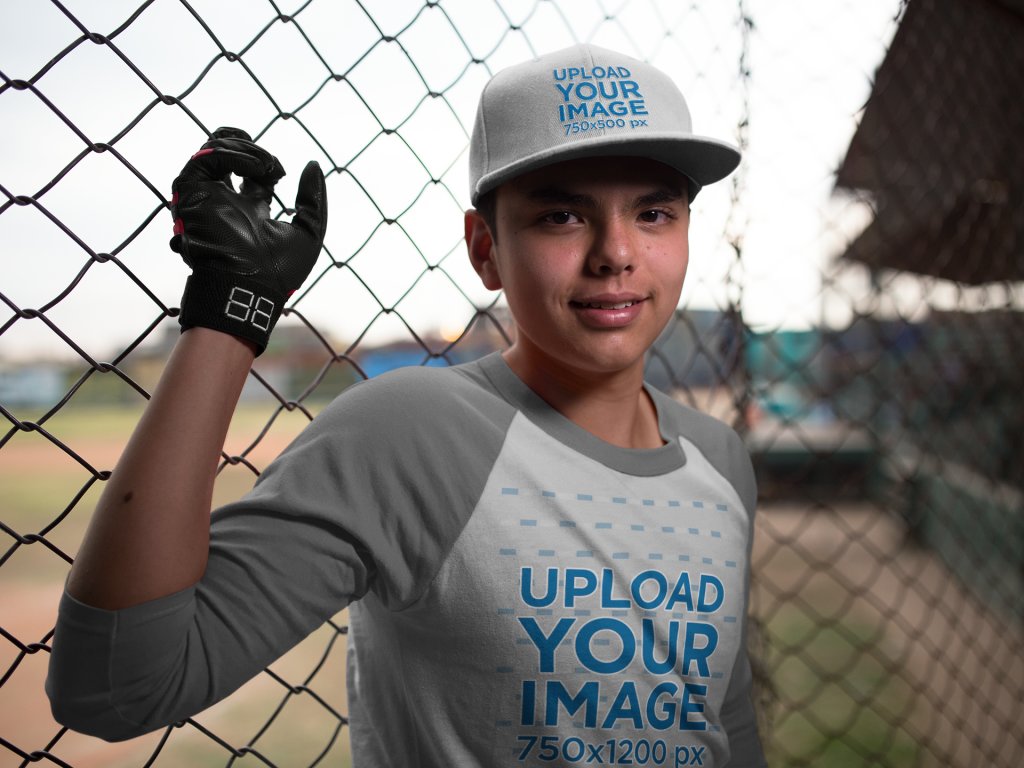 Take a look at this awesome baseball uniform builder by Placeit, it's featuring a teenager wearing a raglan t-shirt and a baseball hat while at the baseball field. You can use this awesome youth baseball jersey maker to promote your latest designs to your audience in a beautiful and photorealistic way that will catch the eye of both competitors and investors.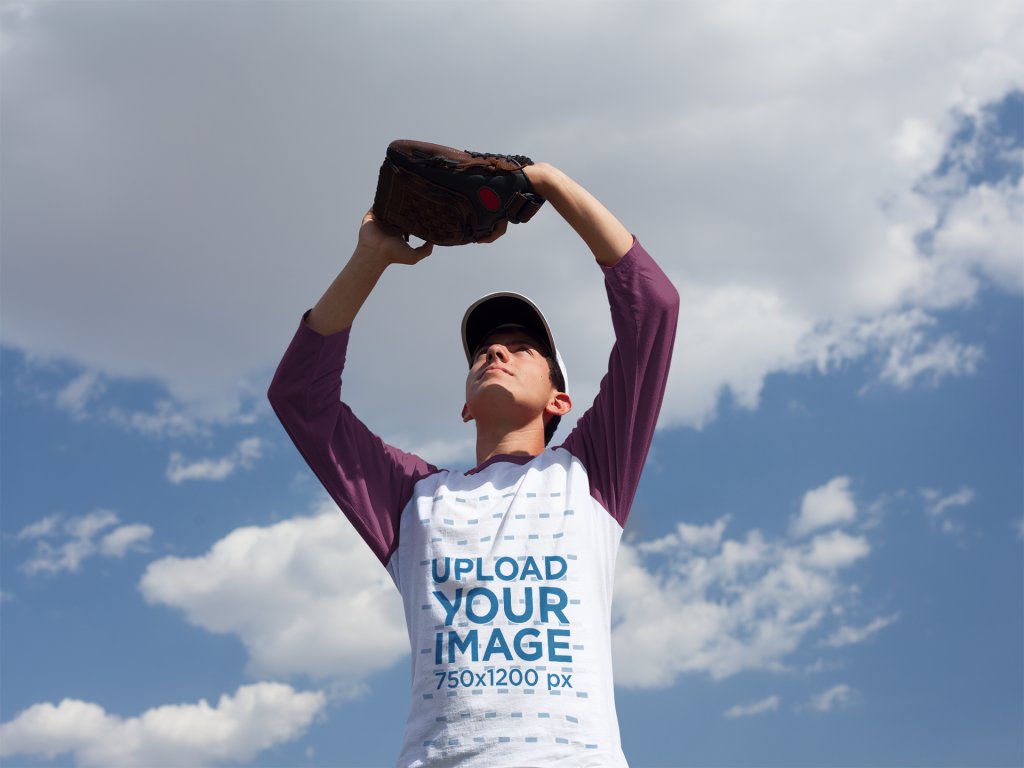 Start promoting your youth baseball uniforms with Placeit! This baseball uniform builder is a great option if you are looking to promote your latest sports logo design in a photorealistic and awesome way. Start now, the menu on the right will let you choose the colors on this young man's baseball uniform.
See? Customizing a professional baseball uniform template is super easy if you use the right tools, and Placeit's new uniform builder comes in real handy when looking to create previews of how your baseball logo will look like in real garments worn by real players.
Visit Placeit Apparel to use the baseball uniform builder and create tons of custom baseball jerseys to promote your team's logo and colors!
Since we know you enjoy baseball so much, we created a fantasy baseball guide for you to make it all more interesting, check it out!
---
---