Marketing Apps Entrepreneurs Should Know About
Did you know that 90% of brands now use social media to increase brand awareness?
Social media can be an excellent tool for marketing your business and closing more sales.
If you are a small business owner juggling many priorities, it can be a challenge to find the time to manage all of your social media accounts. This is where social media marketing apps can help you streamline and automate the process.
In this post, we're sharing eight apps that can help you market your business on social media.
Buffer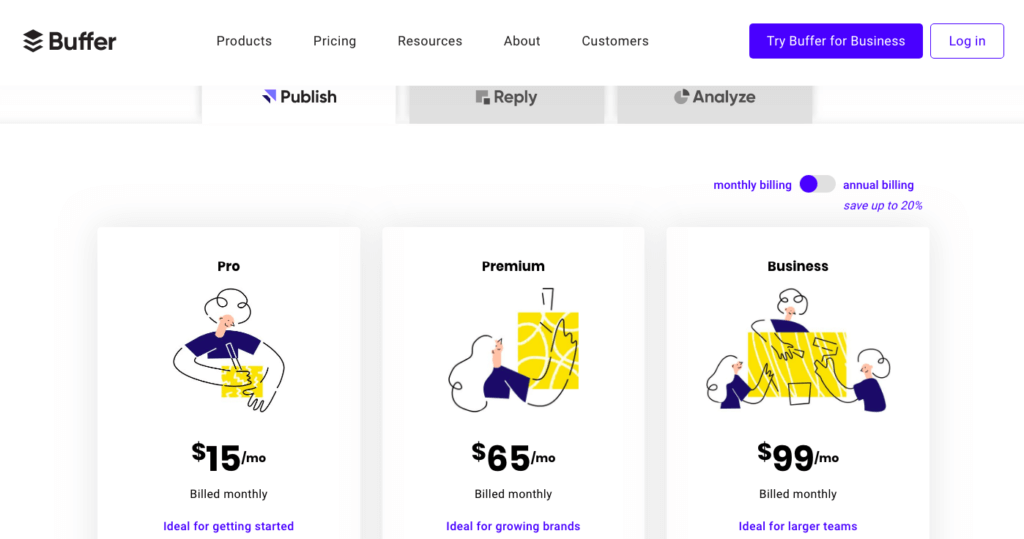 Buffer is best known as a social media publishing and scheduling tool. In recent years, they've built out two additional products – Reply and Analyze. Reply is a tool that helps companies prioritize, respond, and track messages across social media channels. And, Analyze is their newest product that allows you to optimize content and reach on Instagram and Facebook.
With more than 75,000 customers, three strong products and tons of helpful training guides, resources and blog posts, it is easy to see why this company was selected by Entrepreneur as one of the "Best Entrepreneurial Companies in America" in 2018.
While they have a limited free version, their paid plans start at $15 per month.
Later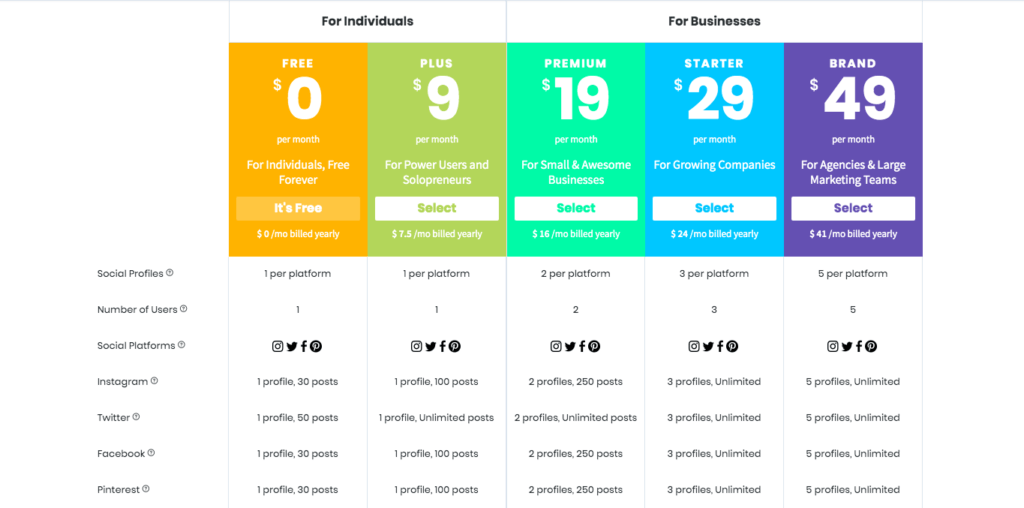 If your business relies heavily on Instagram, Later is a tool that you may want to check out. As a certified Instagram partner with more than 1 million customers, they specialize in making it easy to plan out and schedule Instagram content. Some popular features include the ability to quickly monitor and track hashtags, auto-schedule content, visual content planner, easy team collaboration, and powerful analytics.
In addition, they have a free plan. If you need more features such as additional analytics, posts, and team collaboration, their paid plans start at $9 per month.
Hootsuite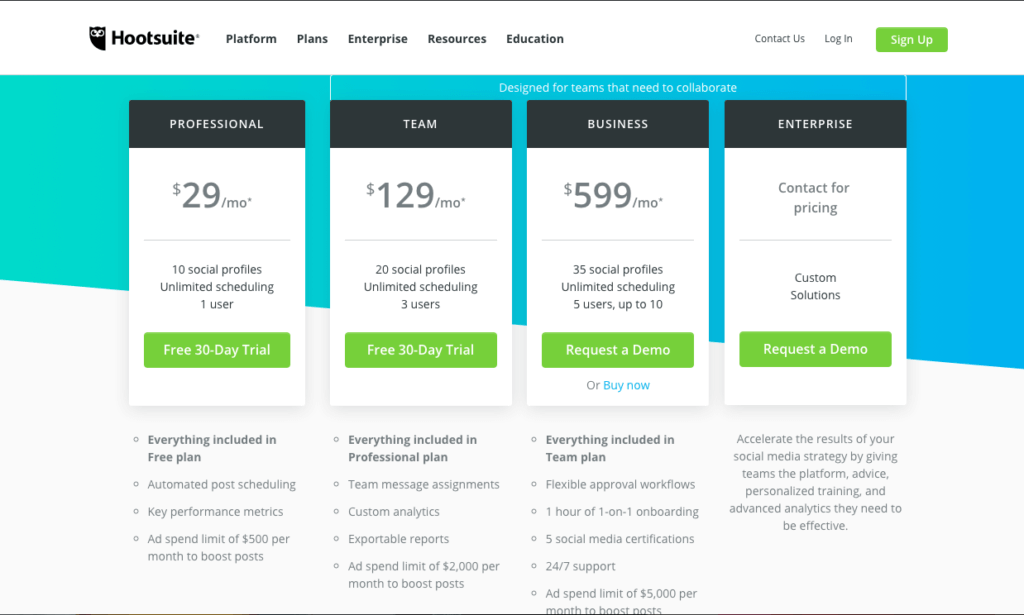 Hootsuite is a social media management tool that allows you to schedule posts, reply to comments, and monitor hashtags or keywords from one easy-to-use dashboard. They work with all of the major social media platforms and have built-in project and task management features, which make it easy to collaborate with team members. In fact, 80% of Fortune 1000 companies use Hootsuite.
They have a limited free plan. Their paid plans start at $29 per month for one user and ten social profiles.
Placeit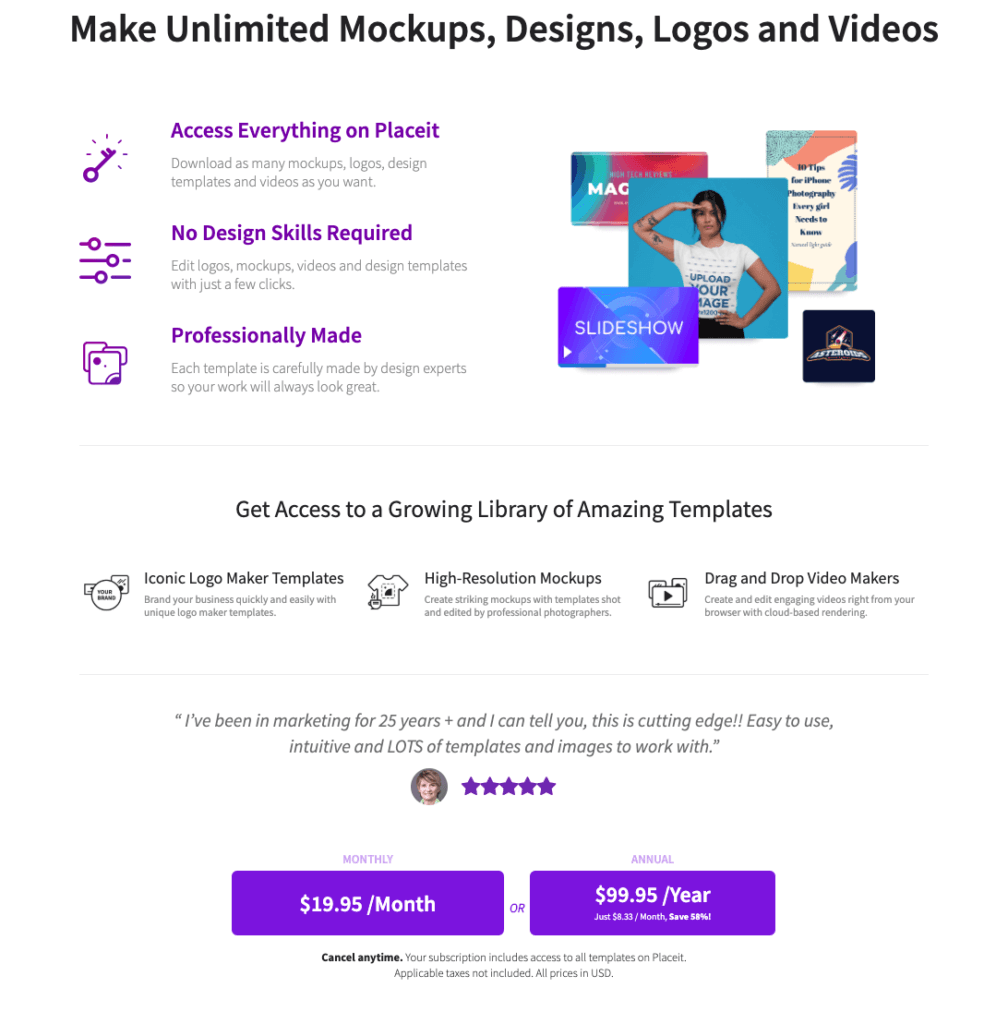 Looking for some impressive design work that'll liven up your social media? You can create mockups, logos & videos using Placeit. They also offer many templates for you to select from if you need a little creativity boost. You don't have to worry if you do not have any previous design experience since the templates are made by design experts. They also have social media dedicated services like;
Twitch Templates to Brand Your Streaming,
YouTube Profile Picture Maker,
Instagram Post Creator, and more.
Their service is $19.95 monthly or $99.95 yearly.
CoSchedule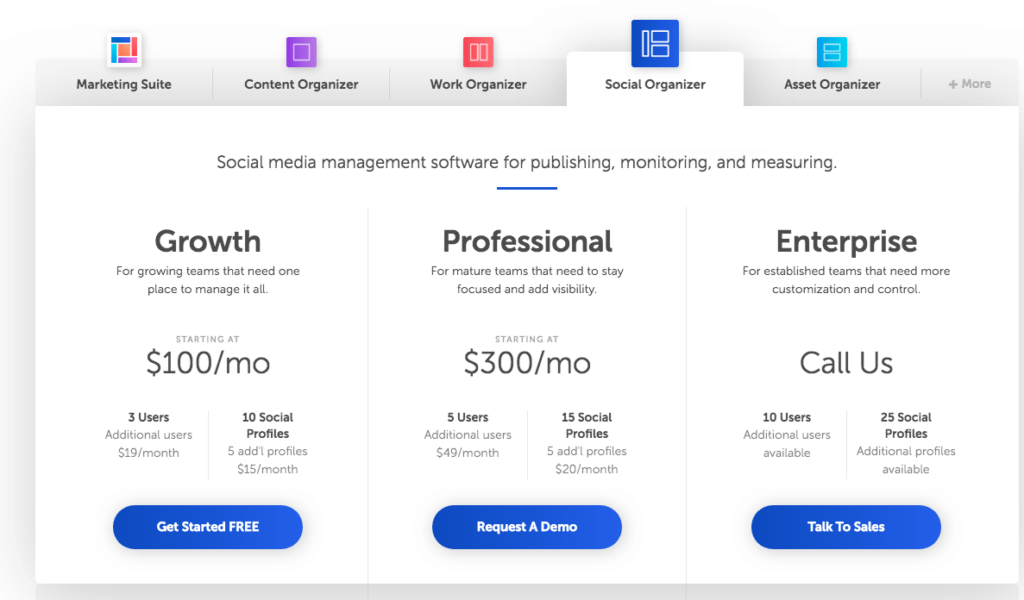 CoSchedule has a suite of five marketing, project management, and social media products, including marketing suite, content organizer, and social organizer. Their social organizer product allows you to auto-publish, manage, and track all of your social media content. This can be a great option if you are looking to aggregate your content marketing and social media efforts.
While they have a free trial, their plans start at $100 per month for three users and ten social profiles.
Planoly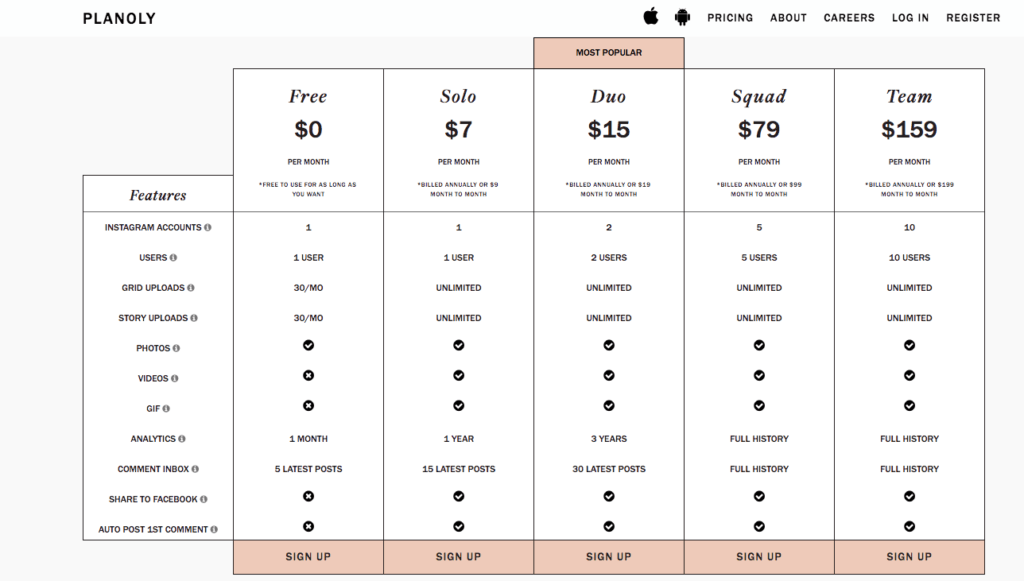 Similar to Later, Planoly is another tool specifically designed for scheduling and optimizing Instagram posts. They allow you to visually plan out your Instagram feed content, optimize Instagram stories (including adding captions), schedule content in advance and view detailed audience analytics.
They offer a limited free plan, and their paid plans start at $7 per month.
Sprout Social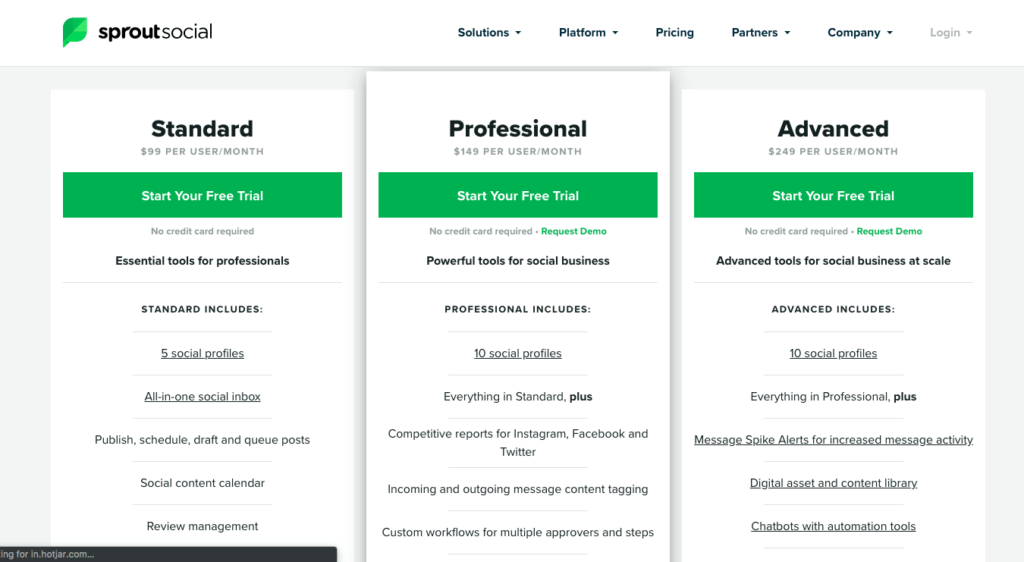 Just like Hootsuite, Sprout Social is an all-in-one social media management tool. They make it easy to collaborate with team members, schedule content, and monitor conversations across all of the major social media channels. Sprout Social also has impressive social media listening and reporting features allowing you to make better data-driven decisions.
They have more than 20,000 customers, including Trello, Make-A-Wish Foundation, and GymShark.
They offer a 30-day free trial, and then their plans start at $99 per month.
SocialPilot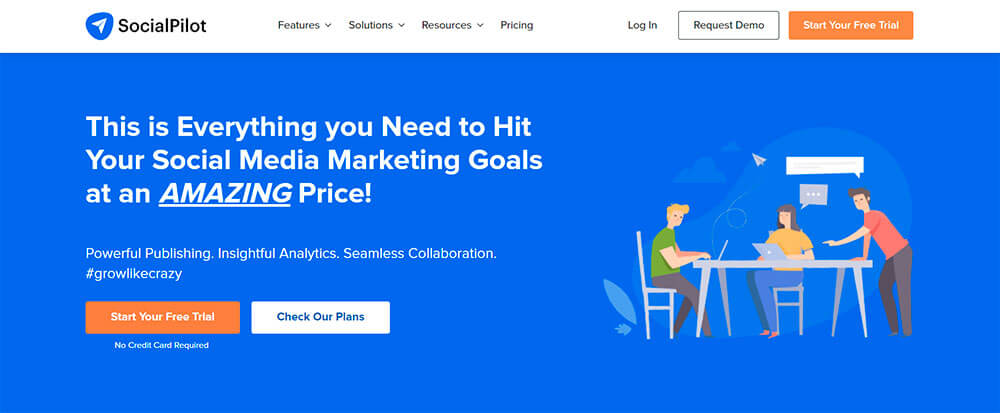 SocialPilot is a simple & cost-effective social media management tool for small teams and agencies that help them to strengthen their brand presence across all major social media platforms. It assists you in creating, planning, scheduling, and publishing posts quickly.
With SocialPilot, you can publish content on LinkedIn, Twitter, Instagram, TikTok, Facebook, Pinterest, Google My Business, Vk, and Tumblr. It is popular among small businesses because of its cost-effectiveness, intuitive UI, and exceptional customer support. This tool can be your all-in-one solution whenever you are in need of a Facebook tool, Instagram tool, etc. for in-depth analytics and valuable insights.
MeetEdgar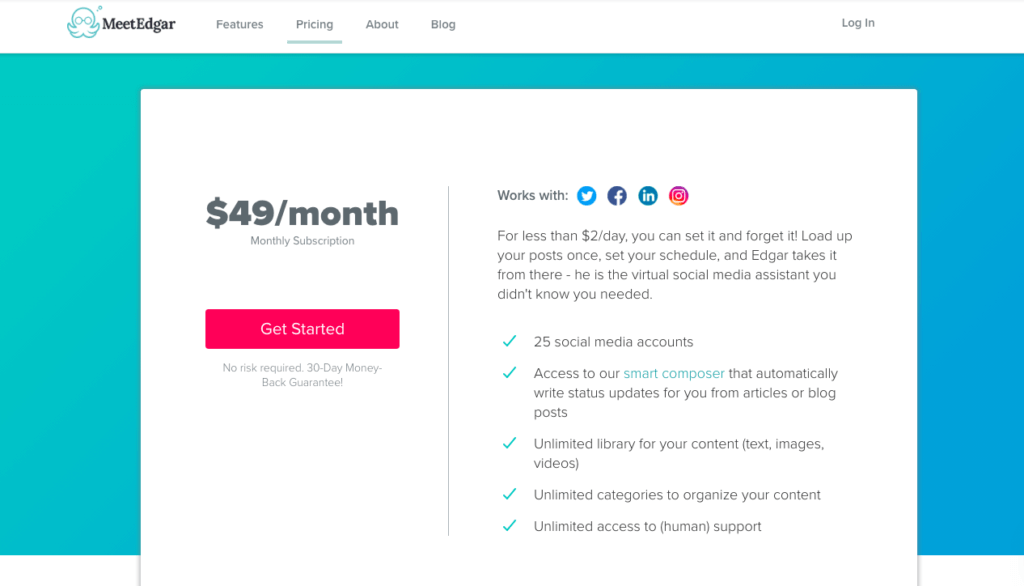 MeetEdgar helps you automate and manage your social media content. When you set up your account, you can use their Smart Composer which will help you write and auto-publish status updates as well as reshare old, evergreen posts. You can also add up to 25 social media accounts, shorten links, and view post analytics. They also provide unlimited, fast customer support.
They have a 30-day free trial, and then their plans start at $49 per month.
Whether you are looking to save time, schedule posts, create design templates or track the ROI of your social media campaigns, these eight social media marketing apps can help you do that.
Also, to tailor your future social media campaigns, it would be better to collect the data you acquired during the campaign and tailor your next one according to your customers' needs. This will help you target your audience better, thus generating even more sales. You can use, a mobile form or a contact form depending on your needs to collect the necessary data and analyze your audience.
It is always great trying out these different options and selecting the best one for your business needs before tying your business to a single option. This will undoubtedly help your business to step up to the next level.
---
Erman Ergun
Just a guy who loves to play basketball, watch as many movies as he possibly can and try to be a successful engineer who loves marketing. You can reach him via his email erman@jotform.com
"Using Placeit for my business has taken the guesswork out of promoting it!"
Theresa Stone 5/5
---
Everything You Need to Promote Your Business
Placeit is your perfect companion to promote your business like the pros! With everything from social media templates, to digital and apparel mockups, promoting your business is hassle-free and takes only minutes. Start promoting today!
Use Placeit Today!
---