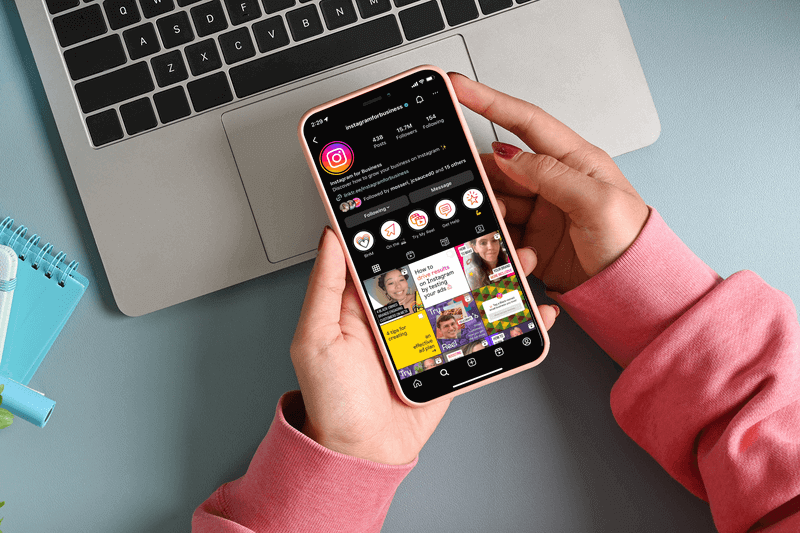 You know you need to be on social media, but with so many platforms, it can be hard to select the ones that are right for your brand.
According to the latest data, approximately 4.9 billion people use social media networks worldwide in 2023, which is almost 60% of the globe's population.
This guide will share six social media platforms your brand should use in 2023 to reach the target audience. By the end, you'll have a more profound understanding of social media promotion and how to use it to benefit your business.
Explore This Post
Why You Should Use Social Media Promotion for Your Brand
As the world continues to shift more and more towards digital technology, it becomes increasingly important for businesses to utilize all the resources available to them to promote their brand.
Social media promotion allows businesses to create a presence on multiple platforms, share content and advertorials, engage customers, and create relationships. Your account, posts, and communication with other users contribute to a persona your audience can get to know, connect with, and trust.
Moreover, the cost efficiency of social media marketing cannot be overlooked. It is much cheaper than traditional advertising, and even a single share or retweet can reach hundreds or thousands of people for free.
Showing passion for your brand and projects on social media is a great way to build a loyal following. Twitter is an excellent example of this. According to MediaBistro, 67% of Twitter users are more likely to buy from companies they follow.
💡 Get tips straight from a social media expert to see your brand succeed on whatever platform you choose!
6 Best Social Media Platforms to Boost Your Brand
1. YouTube
YouTube is a popular platform with more than 2.6 billion monthly active users and a wide demographic of users ages 15-55 and older. Its main advantage is its ubiquity since it's the second-largest search engine in the world after Google.
YouTube allows businesses to reach their target market with videos that educate and entertain. The platform is well suited for product reviews, tutorials, how-tos, and product explainer videos, which can be optimized with SEO best practices. Additionally, YouTube Live Streams can help you to showcase shoppable products. Advertising options are available as well, with video ads and display ads.
The key to successful social media marketing on YouTube is to provide value, not go viral. Businesses should balance educational and entertaining content to appeal to their audience.
💡 Learn how to edit YouTube videos like a pro!
Tips for Posting on YouTube
When creating content for YouTube, consider both long-form and short-form video content. Long-form content can help to establish authority around your brand, while short-form content is great for engaging viewers quickly. To capitalize on this trend, YouTube has launched its version of short video content called YouTube Shorts.
Popular YouTube Trends:
Product reviews
How-tos and tutorials
Explainer videos
Q&A sessions
Interviews with experts or industry leaders
Live streams of products or events
If you're not ready to start a channel, consider partnering with influencers who are excited about your mission, brand, or products. You can get brand deals to have them feature your product or service on their channels. This can help you test the waters before you dive in head first.
2. Instagram
Instagram is one of the most popular social media platforms with over 2 billion monthly active users. You can use various content formats: from Feed posts and Stories to Reels and Instagram Live, – which give users a wide array of options for expressing themselves.
The platform is especially known for its strong presence among millennials and its ability to connect with Facebook. Users can share content between Facebook and Instagram with a simple tap.
Instagram offers massive opportunities for brands to quickly create a place of their own, with interactions and exchange of thoughts. They can use video content, photos, and hashtags to popularize their products. Social shopping features also allow users to buy items directly from the platform, making it easy for businesses to make money.
Furthermore, Instagram Ads can enhance brand promotion and sales. With Google Analytics and Instagram Insights, businesses can track the performance of their campaigns and optimize them for maximum success.
Tips for Posting on Instagram
When posting on Instagram, consider the style of photos and the color scheme, keep your message genuine, and avoid jargon. Make sure your posts have 'shareability' at the forefront and ask yourself if you would watch or share the content. Try to encourage people to tag their friends in the comments of your posts and share them on their profiles.
💡 Check out these Instagram tools all social media managers should know!
Popular Instagram Niches:
Beauty and fashion
Food
Sports
Tech tutorials
User-generated content
3. TikTok
Social media trends have evolved a lot thanks to the rise of TikTok. It's especially popular with younger generations, with an average user age of 18–29, but it also appeals to users of all ages. TikTok can be summarized as fun and easy-to-produce trends that use sounds and filters, as well as a sense of connection between business and customer.
The platform is a perfect place for creating short-form videos. Brands can use TikTok to creatively engage with their customers while also providing helpful information.
TikTok has been so successful that other social media platforms have tried to emulate its video success, introducing features such as YouTube's Shorts and Meta's Reels. The platform also continues to add new features to keep up with its competitors and optimize for organic search. As a result, brands are increasingly turning to TikTok and short video creation to promote their products and capitalize on this trend.
💡 Learn everything you need to know about TikTok for business!
Tips for Posting on TikTok
When creating content for TikTok, it's important to distill the elements of your brand or message into bite-sized pieces that can be laced with musical, comedic, or informative elements to bring users in and keep them entertained. Short-form video content is the only kind of content on TikTok, so it helps to follow the trends of what's most watched and engaged with and stick to those formats until you can develop your platform-specific voice.
TikTok Content Ideas:
Hashtag challenges
Funny skits
Lip-sync videos
Explainers and tutorials
Helpful tips
4. Facebook
Facebook is the largest social media platform worldwide with 2.91 billion monthly users and is one of the most popular local business directories. It also allows companies to create pages that serve as virtual storefronts where customers can find out about their business, products, services, and more.
The platform also allows businesses to create custom Facebook Groups, which target people with similar interests or demographics. Companies can use this feature to tailor their messaging to specific segments of their customer base and gain the best insights into who is engaging with them.
With Facebook's powerful analytics tools, businesses can track the performance of their campaigns to understand what works and what doesn't. This helps them make informed decisions about their strategies and activities. Additionally, they can use features such as chatbots and messenger ads to engage with customers in real-time.
💡 Check out these customizable Facebook templates from Placeit by Envato!
Tips for Posting on Facebook
When planning content for Facebook, you should focus on creating shareable and engaging content that will spark conversation and encourage tagging. You should also strive to create visually appealing content, as this will draw more attention and help your messages stand out in the crowd. Don't forget to include a call-to-action in your posts to increase engagement.
Favored Content on Facebook:
Interactive polls
Live streams
Highlighted customer stories
Product demonstrations
Industry-related news and events
5. Twitter
Twitter is a popular social media platform with 450 million monthly users. An advantage of the platform is its ability to access a wide range of users in a short message format. This makes it a perfect option for businesses looking to reach their target audience quickly and efficiently.
The brevity of messages and posts makes Twitter an ideal platform for quick and concise communication to promote products and services, share news and updates, engage with customers, and much more.
Moreover, businesses can use advanced search features to find people talking about their products or services and engage with them directly. The platform also allows companies to set up sponsored tweets and campaigns, which can help boost engagement and reach.
Tips for Posting on Twitter
You can post various media, including photos, videos, graphics, articles, live streams, and stories on Twitter. Photos and videos are great for familiarizing people with your brand, while opinion polls, discussion threads, and bite-sized content help get the news out quickly. To make the most of Twitter, experiment with a range of content types to see what resonates best with your target audience.
Content Ideas for Twitter:
Live Q&A sessions
Infographics and GIFs
Polling/voting
Behind-the-scenes visuals
Industry updates and news
6. LinkedIn
LinkedIn is a professional networking site with a thriving community of workers and entrepreneurs. With over 134.5 million users globally, it's an excellent platform for B2B lead generation and offers the opportunity to connect and grow with other professionals.
Users can post images and videos, create groups and company pages, search for job openings, join relevant industry-specific conversations, comment on posts, and keep their connections up-to-date on the latest news or events.
It is a great way to showcase your skills, services, and experience. LinkedIn offers the ability to endorse people for their work or talents, which can boost visibility and even open the door for potential new opportunities.
💡 Check out this ultimate LinkedIn marketing guide to get your brand noticed!
Tips for Posting on LinkedIn
Creating informative and educational content is a great way to show your expertise and increase your visibility on LinkedIn. You can share blog posts, videos, podcasts, and other types of content demonstrating your knowledge about your industry. Include relevant hashtags and tags so your content can reach the right audience.
Content Ideas for LinkedIn:
Company updates
Interviews with industry experts or colleagues
Industry trends and news
How-to guides for relevant topics
Professional accomplishments
Links to articles or other helpful resources
Job postings
💡 You might like reading: How to Create a Social Media Report That Shows Your Growth
Wrap Up
No matter what platforms you choose, creating engaging content is the key to success. Following social media trends and understanding the needs of your target audience can help you create content that resonates with them and increases engagement.
Experiment with different kinds of content and take the time to understand each platform's features to maximize the impact of your campaigns. Once you have a consistent strategy, you can see results from your social media platforms.
---
Author Bio: Vlad is a partnership manager at Movavi. He has four years of experience in the e-commerce and marketing industries, having written articles on these topics for various publications. Vlad is passionate about helping businesses grow and reach their full potential. When he's not working, he enjoys spending time with his family and friends.
---
FAQ – 6 Social Media Platforms Your Brand Should Use This Year