"Can't mention this enough: For web/UI designers, Placeit is a great online tool" Six Revisions
5/5
There are lots of new apps being uploaded to the App Store and Google Play everyday, that's why it's important to stand out from the competition, and you can do that by displaying your new app in a unique manner. Device mockups are a great way to show off your app's design and functionality. We've compiled a list of 10 amazing mockups for shopping apps, take a look at these great images that provide context to your iOS or android app.
Shopping for Home Decor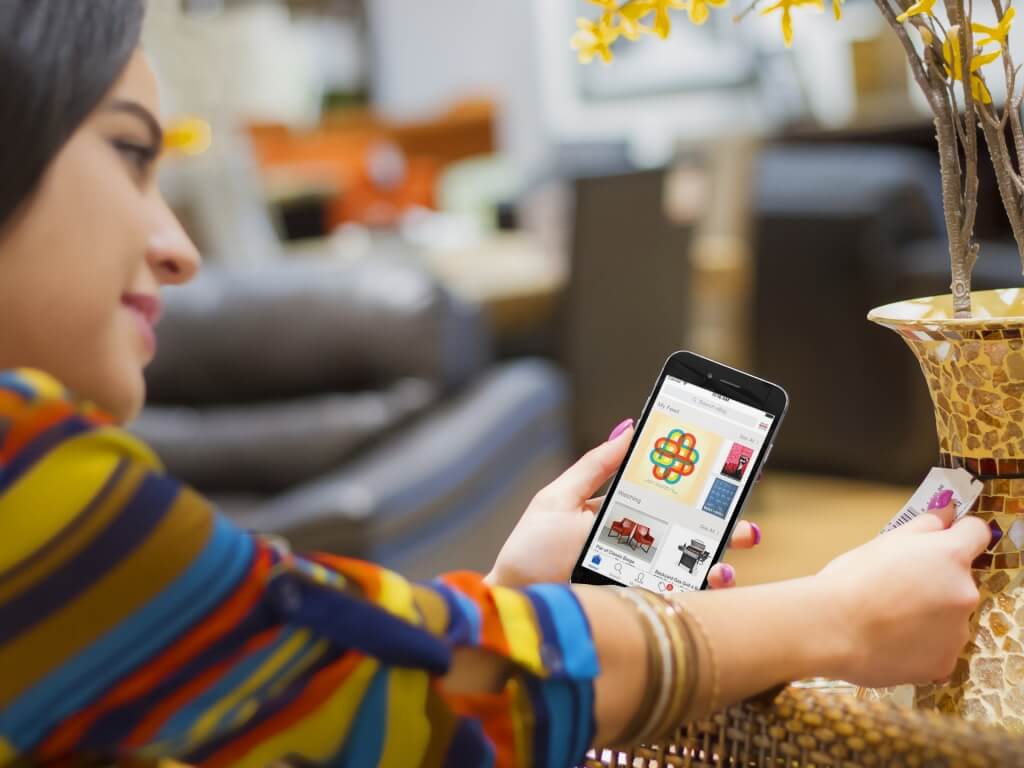 Take a look at this scene, this is a colorful iPhone 6 mockup that features a young woman that went out shopping for home decor items. She finally decided to remodel the living room at home and her iPhone 6 is definitely the best sidekick for this task, she is using an app on the device to browse ideas and trends and to compare online prices to the ones at the store. You can display your new app within this black iPhone 6 mockup to enhance your app marketing, the iPhone is being held in portrait position and it provides the perfect context for your iOS app's screenshots.
The Perfect Suit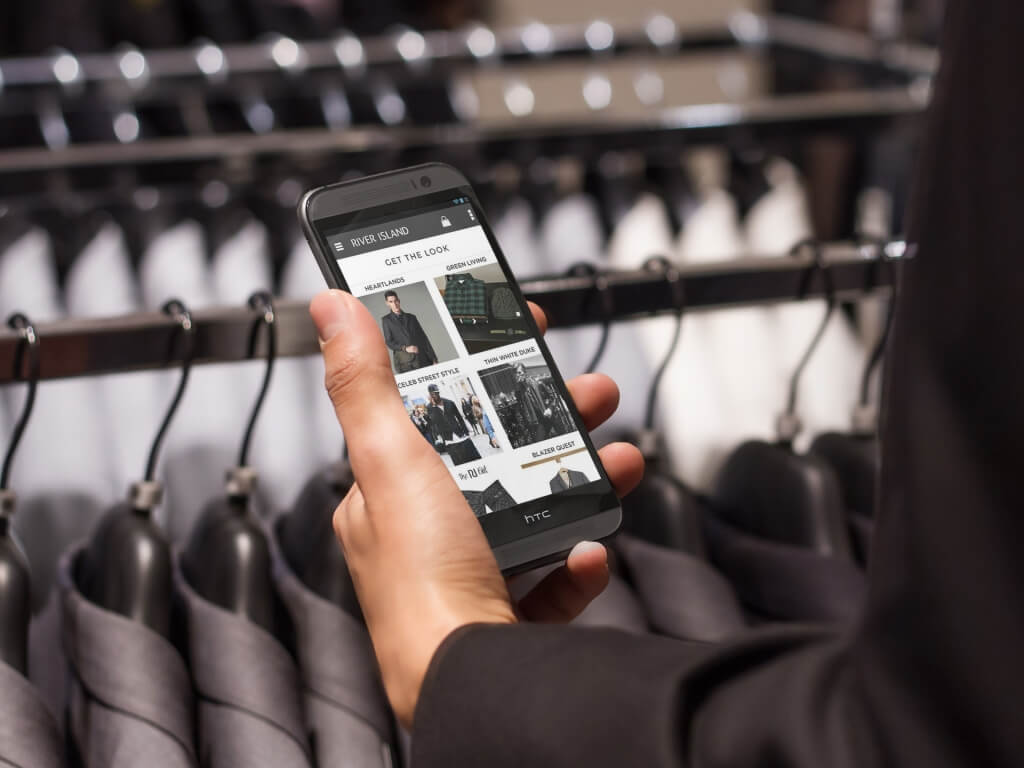 Finding the perfect clothing item is no easy thing, especially when you are looking for a suit to wear to your best friend's wedding, and you have a deadline! Luckily, this man has his HTC One to help on that. This Android mockup presents a man shopping for a suit at a high end store at the shopping mall. Instead of asking fashion advice from a friend or someone at the store, he uses his HTC phone to search for trends and looks as inspiration. You can display your new shopping app in style with this great Android mockup! Show off your app being used in great context with this HTC device mockup.
At the Supermarket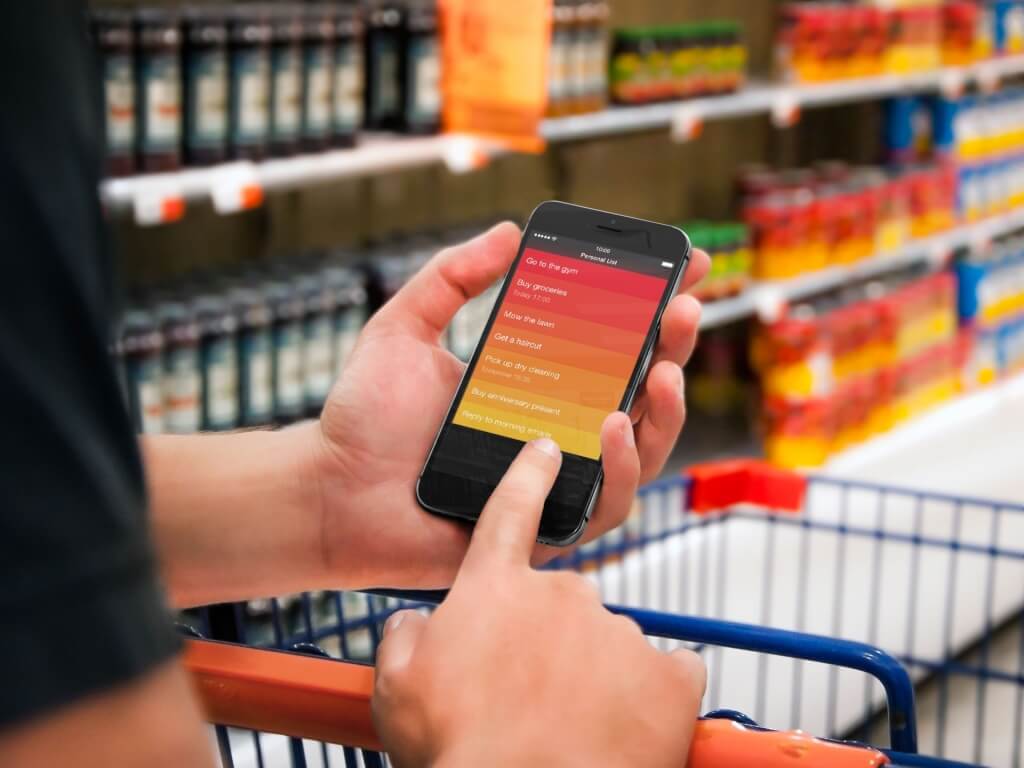 If someone says that they don't need a grocery list when shopping, they are lying. Going to the supermarket can sometimes be an overwhelming task to complete, we tend to forget the important stuff and end up getting a whole bunch of useless things. At least we have technology to help with that, as we can see in this iPhone 6 mockup, which shows a scene we can all relate to, a man is driving a shopping cart while using his iPhone 6 to mark progress on his to-do list. Display your shopping app within this great iPhone 6 mockup to provide a real insight to your design and features.
Shoe Shopping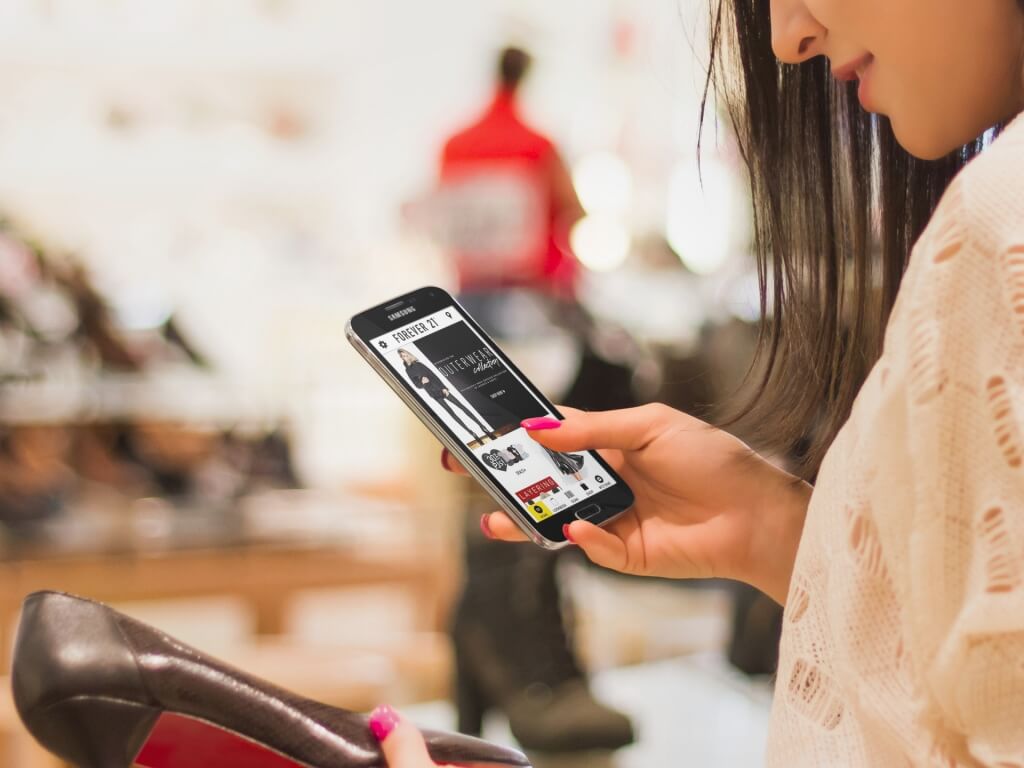 Just as technology, fashion trends are constantly changing and renewing themselves, that's why it's important to remain up to date with the latest fashion items. This Samsung S5 mockup shows a girl that went out shopping for new shoes and is using her Android phone to browse a shopping app, she wants to get the exact pair of shoes featured on the online store. This is a great Samsung mockup to showcase your new app, it has bright lightning and the black Samsung is being held in portrait position for a best display of the app. Increase your app's downloads by displaying it in this beautiful Android mockup.
Friends at the Mall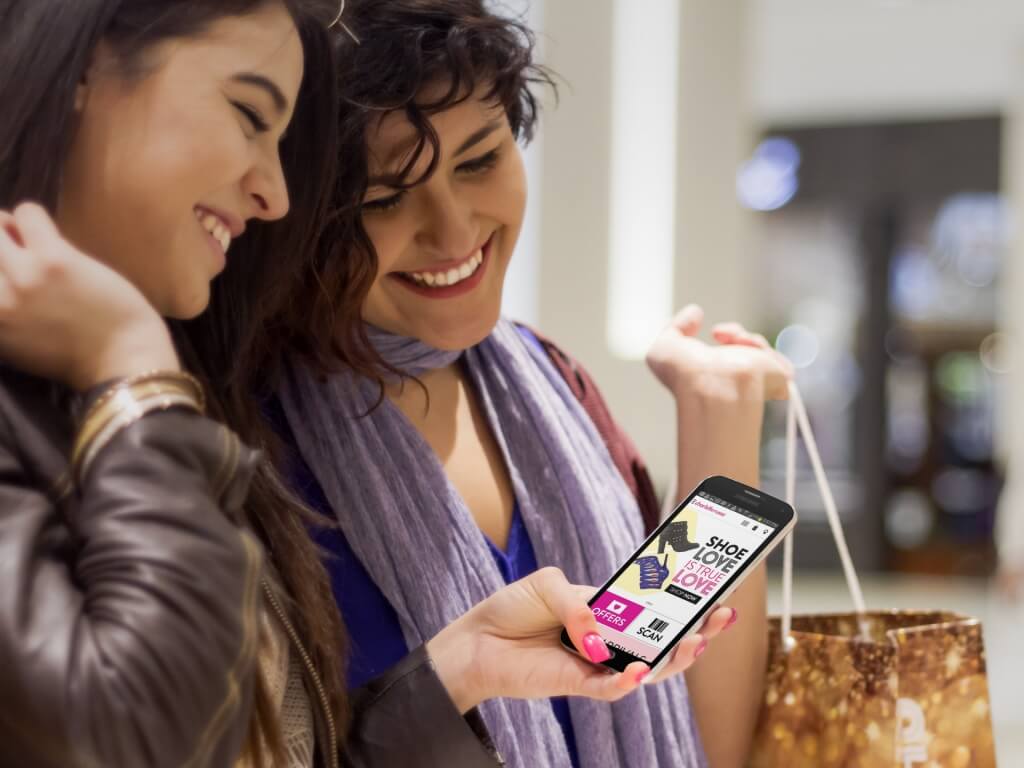 This Samsung S5 mockup features two best friends that went out on a shopping spree. We can see they sure look excited about all those offers and promotions they are about to take advantage of, and they wouldn't even know about these great prices if it weren't for that Android shopping app! The Samsung S5 is showing a beautiful shopping app in portrait position as these gals rush to get the best deals available. You can display your new shopping app within this Samsung mockup to provide an original context to it and to improve your app marketing.
Searching for the Right Outfit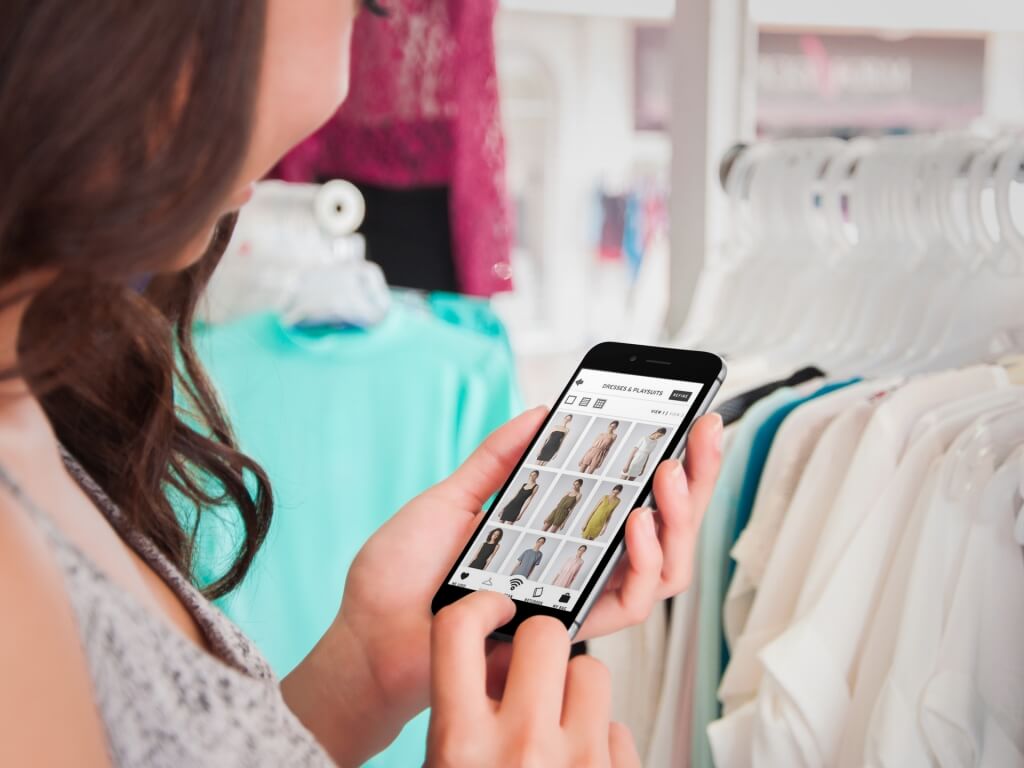 This iPhone 6 mockup shows a very bright image in which a young woman is using her black iPhone 6 in portrait position to browse a shopping app. She is at a clothing store and is looking out for advise on the latest fashion trends of the season because she desperately needs to renew her wardrobe. There are lots of shopping apps out there, you can make yours stand out from the crowd with this iPhone 6 mockup; the image allows you to display a screenshot of your new app within context and being used right from a black iPhone 6 being held in portrait by this young lady.
Fruits and Veggies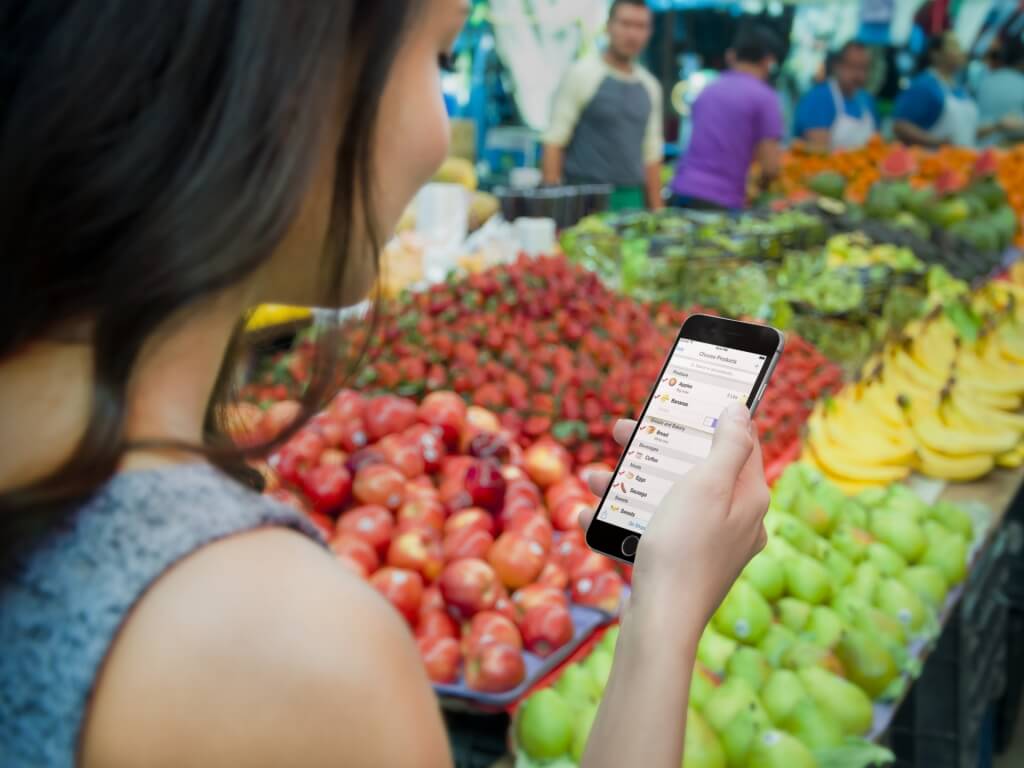 The girl in this iPhone 6 mockup is making sure she has everything she needs from the organic market, that's why she is using a shopping app that reminds her exactly how much of each fruit or vegetable she will need for the week. She is holding her black iPhone 6 in portrait position and is making the most of that new app she just downloaded, and guess what? That app could be yours! Use this iPhone 6 mockup to display your brand new app in a clever way that will improve your iOS app marketing and will give you leverage in comparison to other apps that don't use device mockups to promote themselves.
Suit up!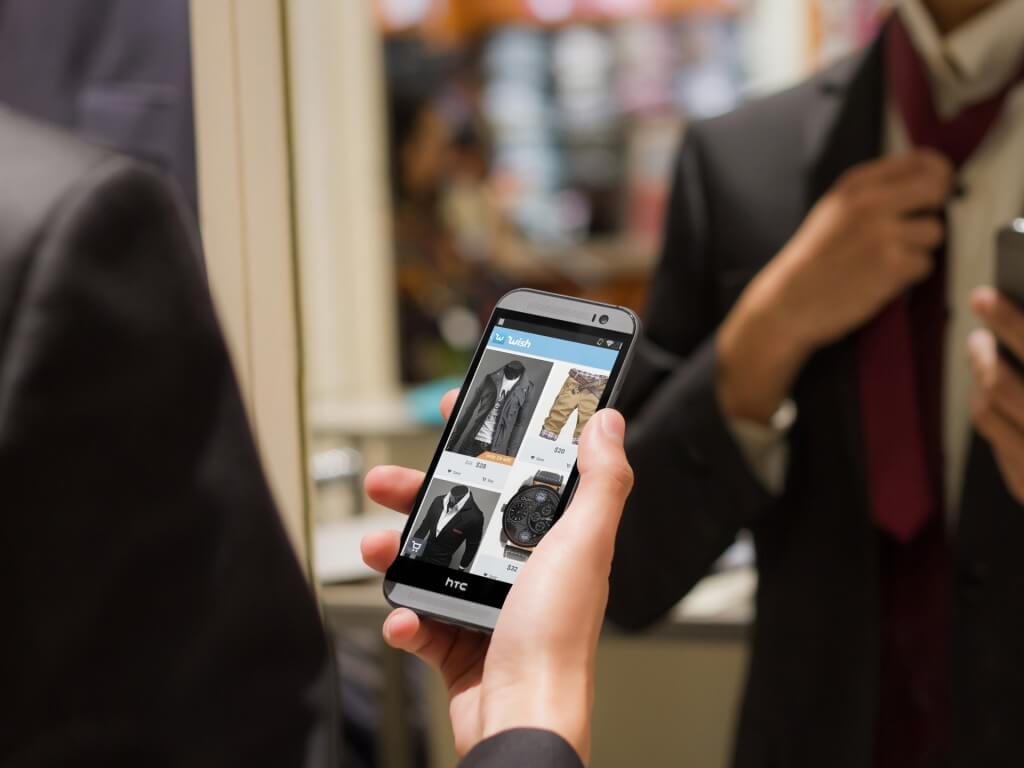 While trying a fantastic suit on, this young man is using his HTC phone to open a shopping app that will give him an idea on what items he must buy to complement his look. He just got promoted to senior manager and definitely needs to have his outfit on point for the next big meeting. The black HTC phone is being held in portrait position and is displaying an Android shopping app on that beautiful large screen, this is a sleek and elegant Android mockup that can be used to showcase your new shopping app to increase its visibility and potential users.
Mom Goes Shopping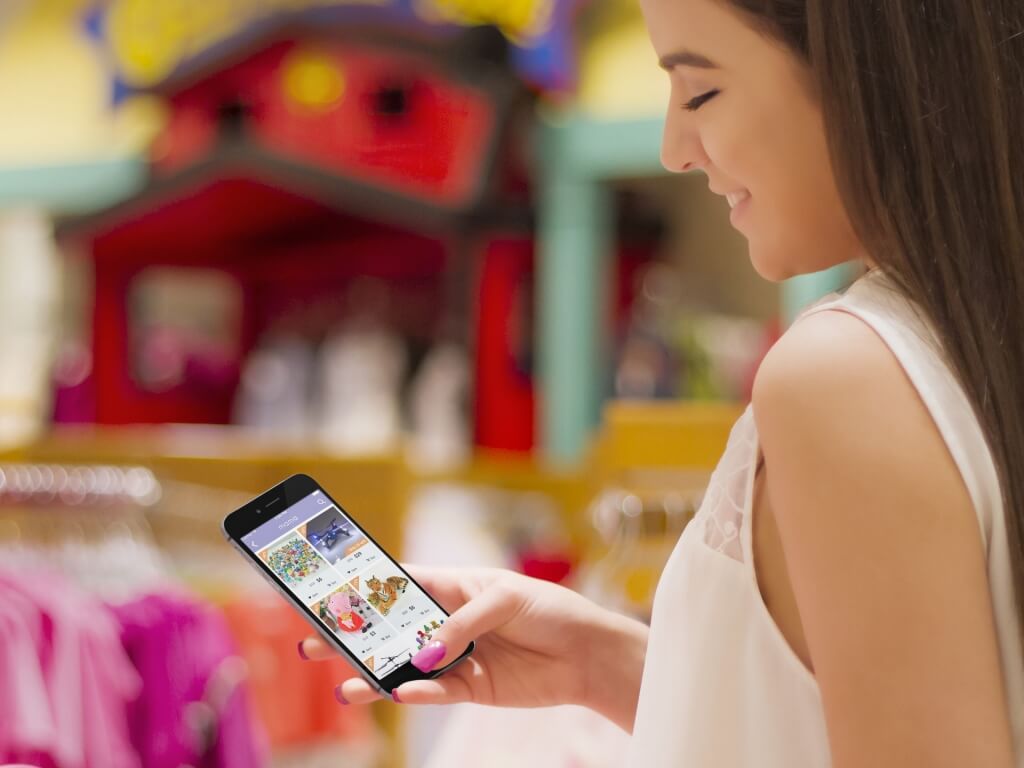 This iPhone 6 mockup shows a young mom that went out to the toy store to buy some presents for her little daughter, who is turning 3 years old next week. There are lots of options at the store, fortunately, she just downloaded this great new shopping app to assist her on picking just the right gift! This is a beautiful iPhone 6 mockup that provides a warm context to display your new shopping app, she is smiling at the screen of her black iPhone 6 while she holds it in portrait position. Use this iPhone 6 mockup to showcase your new shopping app in a tender context.
A New Pair of Boots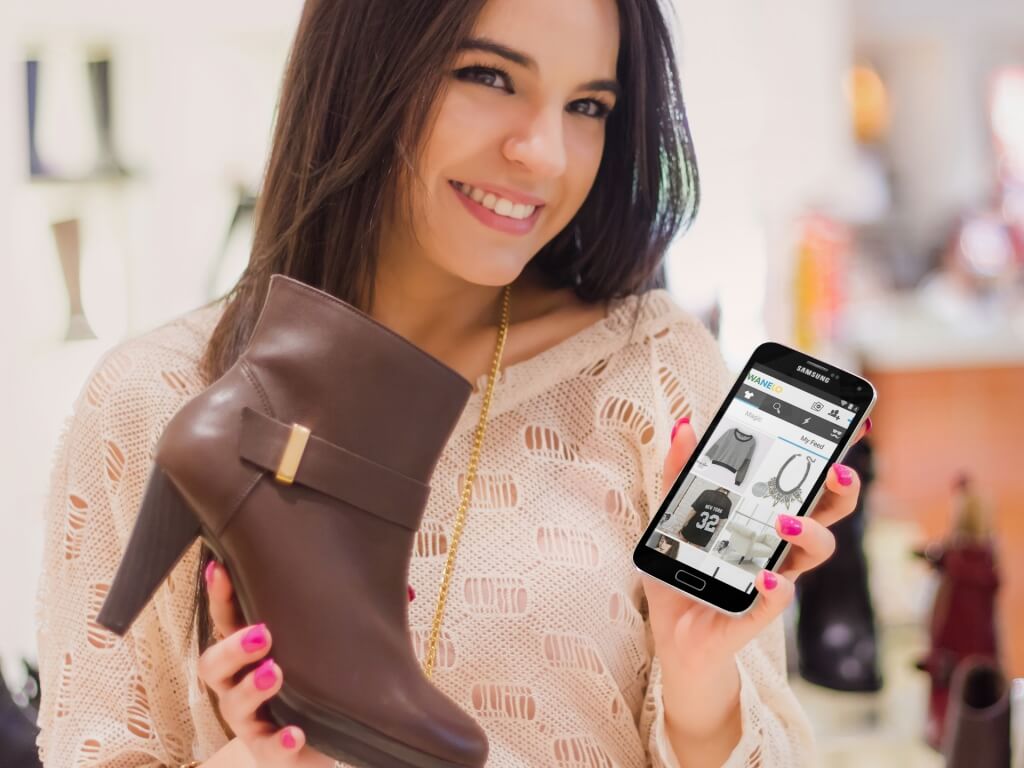 This Samsung S5 mockup makes you want to grab your wallet and go shopping! Just look at this girl's smile as she grabs that perfect pair of boots and finds out they are the right size. She couldn't have done it without her Android shopping app, that's for sure. This Samsung S5 mockup is the perfect place to display your new shopping app, it provides an amazing context and the device is beautifully shown in its full splendor, facing right at you in portrait position. By adding your app's screenshot to this mockup, you will create a piece of work that will definitely improve your app's marketing.
Display designs in our shopping bag mockups here!
Looking for amazing ways to display your new shopping app? 
All the hard work you put into creating your app from scratch won't mean a thing unless you display it neatly. Explore Placeit's mockups for the best way to promote your new iOS or Android app.
---