10 Tablet Mockups in Creative Offices
Imagine being able to display your new iOS app or website using these eye-catching, modern tablet mockups from Placeit app marketing tools? Your consumers will love it! Upgrade your visual marketing strategy today and start using these iPad stock photo templates right away.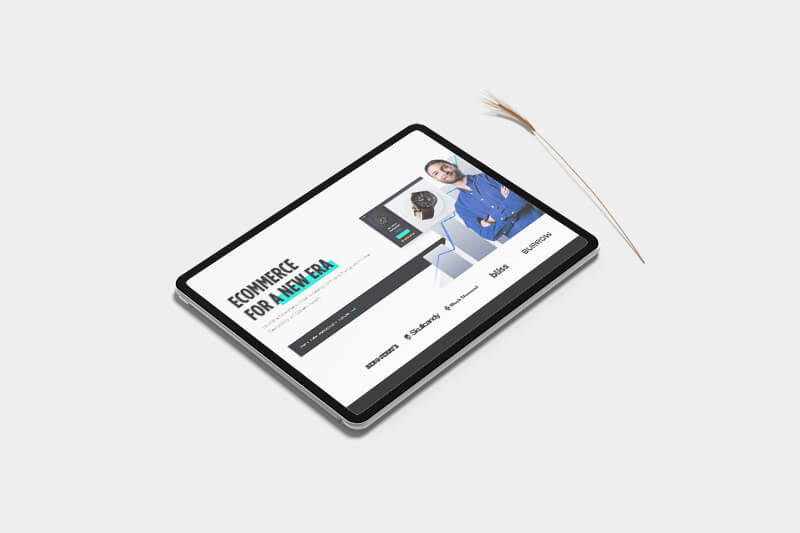 Create an original story to display your products with the help of our real-life scenario mockups, and see how your ideas come to life. With images like this, the possibilities are endless. Outshine your competition and make a lasting impression on your consumers with the help of Placeit marketing tools! Here are some of our iPad mockups for you to check out. See more
iPad mockups
here!
1. Mockup Template of Graphic Designer Sketching With White iPad
This Placeit iPad iOS app template truly speaks to the talented designers you want to market your new product to. This stylish scene features a man sketching on a contemporary lime green work desk with the help of your iOS app on a white iPad in landscape position. To set the stage, there are matching potted plants as well as fabric and wood samples cleverly placed in the background.
All the elements flow together perfectly and showcase your iOS app or website in this Placeit marketing template. Create a custom mockup by simply dragging and dropping a screenshot of your app or website directly onto the screen in the template or click on the "Grab Screenshot From URL" button above the photo and type in the URL so Placeit can do it for you. Use Placeit marketing tools today and make your marketing plan a successful reality.
Try it here 
Product Mockup: iPad being used at a Construction Site
Showcase a new app for the handyman on this iPad mockup being used at a construction site. The iPad lays on a wooden table with tools and blueprints around it. The iPad is being touched by a man who is holding the blueprint. The iPad is in landscape view and holds an image of 1024x768px. Try it here
Young Lady Using a Black iPad at a Creative Office
This energetic stock photo mockup is so relatable you won't want to miss the chance to make it your own. Your target market will love the cool vibe and bright colors in this scene. It features a young lady using a black iPad in portrait position to access your new iOS app while hanging out in a school, hotel, or work cafeteria lounge.
The multi-colored floor and white table and chair sets seen in the background really make this attractive, true-to-life scene come together, and this young lady loves filling her downtime with all the awesome things your new iOS app has to offer. Whether it's a gaming, social media, or shopping app you've created, show it off with this polished and contemporary stock photo mockup. Get started today with a custom mockup and get your marketing strategy to a professional level.
Try it here
iPad Mockup Device Being Used in Conference
Are you looking for a great iPad mockup template in a business setting? Well, you found it! This template features a female user at a meeting using her black iPad (landscape). In the stage, we see two female colleagues and two male colleagues. They are all sitting at a brown conference table and having a nice conversation.
This mockup template would be great for focusing on business users. Your app could be anything from video conferencing to note-taking to todos to email! Try it here
Mockup of iPad at Interior Design Studio
Your new iOS app brings this Placeit iPad marketing template to life. Featuring a bright green background and an assortment of interior design tools, including a bright color wheel, this scene is the perfect concept to reach your target market. Appeal to the artist, designer, and innovator that needs your new iOS app.
This Placeit iOS app template is inspired by artists and speaks to their curiosity for beautiful colors, shapes, and angles. Grab their attention instantly and showcase your app on the white iPad in an angled position. Creating a custom mockup is quick and easy. Simply drag and drop a screenshot of your app or website directly onto the screen or type a URL above, and Placeit will automatically adjust it for you. The elements here are perfect to create a fabulous marketing template today. Try it here
Mockup of a Woman Using a Black iPad Mini While Drinking Coffee
Choose this attractive stock photo mockup to market your new iOS app, and you won't be disappointed. It's a beautiful scene starring your new iOS app on a woman's black iPad she uses in portrait position. A cup of coffee sits on a wood table in front of her to create a simple and elegant frame for your new app. Classic charm meets modern sophistication, blending seamlessly and expertly appealing to a wide variety of consumer markets.
This scene offers no gimmicks or distractions, only your iOS app playing out front and center in a realistically classic scenario, relatable to almost every demographic and suitable for a multitude of iOS apps. So go ahead and try it on for size with a custom mockup featuring your app as the star. All you have to do is upload a screenshot of your new iOS app onto the template or input the URL so Placeit can do it for you.
Try it here
Screenshot Generator! iPad Art Creative Space
His art class begins in half an hour, and he is browsing some inspiring ideas and quick painting projects. This is a very cool, artsy tablet mockup in which we can see a black iPad being held by this young man with his both hands; he is holding it in a landscape position for a larger view. The setting is over a wooden desk, and we can notice some watercolors next to the iPad; there is also a small painting and a glass with water and paintbrushes.
This is a beautiful scenario in which you can display your new art or design an iOS app, maybe even a portfolio or a mobile responsive website. This iPad Mockup Generator at an Art Studio offers lots of possibilities for you to showcase an app with a creative feeling to enhance your app marketing strategy. Try it out right now!
Try it here
iPad On a Pile of Graphs. Realistic Tablet Mockups!
This iPad mockup template features an iPad on a stand and a business user typing on the keyboard. On the table, the business user has all kinds of financial papers laid out, along with a pair of glasses. The table has a silver color, and the user is using an Apple Bluetooth keyboard. This iPad mockup template is perfect for any kind of business app. Try it here
iPad Meeting Sharing, Tablets Mockups Tools!
This iPad mockup template showcases a Latino male working on his white iPad during a meeting. This is a great template for an app with a business use case. This template will work well for any financial, business, taking, or productivity apps. In the background, we have a male colleague who's also working on his tablet and a notepad. Try it here
Mockups Online! Black iPad Mini Notebooks
This iPad mockup template features a black iPad mini laid out on top of a work table and three notebooks. The user is not on the screen, but she's written some notes in her notebook. This stage could work great for any business or productivity apps focusing on consumer or business users. Try it here
Don't be afraid of taking risks and make Placeit stock photo mockups part of your visual marketing strategy. All that's missing on this template is a photo of your new iOS app or website, and you'll be ready to start using it right away! And if creative offices aren't quite what you're looking for, don't worry; we also have some fantastic transparent background mockups and a wide variety of digital mockups that are super versatile for all your app-promoting needs! If you wanna access our webpage and check out our gallery, click here.  Read more about boosting your sales with iPad mockups. 
---
Make Awesome Tablet Mockups
---