All You Need to Know About How to Sell T-Shirts Online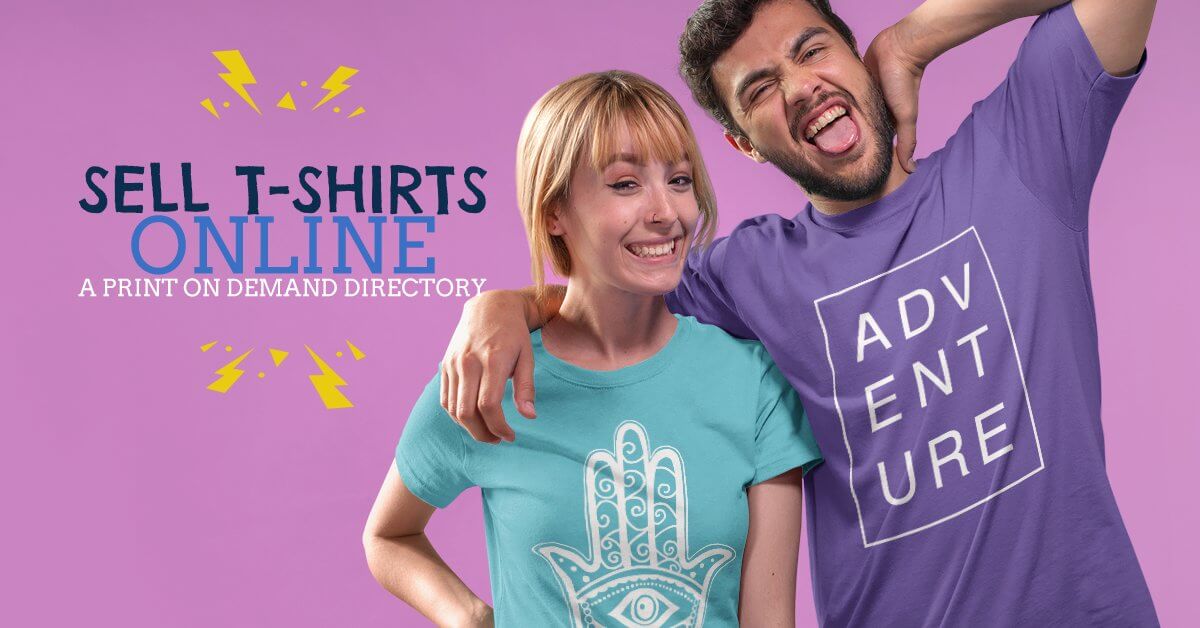 Selling on Print on Demand Websites Is the Way to Go
Not sure about how to sell t-shirts online? Or still, hesitating on opening up a shop on a website and offering your designs to total strangers? Worried about the quality of the print or the garment itself? Stop overthinking it! Making an online shop to sell your designs to the world wide web is a great move for your brand. In fact, it's not even hard to start your own t-shirt shop. Here are just a few of the benefits you can get from signing up to a POD site and offering your t-shirt designs online:
✓ No Inventory Needed. Let's say you have 15 great designs and you want to offer different products with them, sounds great! But there's a problem, you need to keep an inventory of the same product in different sizes, models, styles, and other specifics. Selling online through a print-on-demand shop gets rid of that problem because you don't have to produce stock, they will take care of making and delivering the exact item your customer ordered for you.
✓ Get Passive Income Without the Time Investment. We all want to get rid of our day jobs one day, don't we? Well in the meantime, selling your designs online is a way to expand our sources of income without actually spending 8 hours a day on it. Once you set up your shop all you need to do is keep it up to date and promote like the pros (we'll get to that).
✓ Reach a Larger Audience. Ok, so you have your t-shirt brand which sells locally or nationally, but have you thought about all the other markets you could be reaching if you decide to sell t-shirts online? Most print-on-demand websites offer international shipping which is a great way to reach potential buyers from different countries all around the globe. Worried about how would you get paid? No need to, most of these guys handle PayPal or Payoneer for paying out their designers' commissions.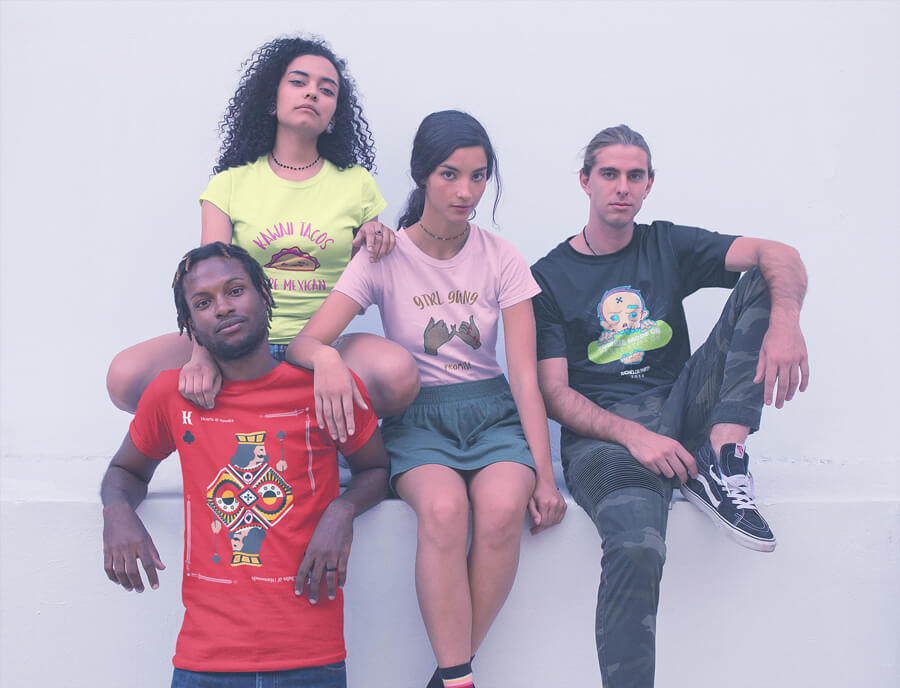 Making Your Own T-Shirt Designs Shouldn't Be a Hassle
Alright so now you are convinced about selling your t-shirt designs online, you may want to explore an easy way to upscale your designs and start getting more and more sales, after all, this is a business, and believe it or not, your t-shirt business can take you places, pretty places.
You may have started off with a handful of t-shirt designs made by you, by a friend, or using online assets, but due to the large demand for graphic tees, you may want to get your hands on some tools that will help you make your t-shirt designs in an easy and simple way that can allow you to spend more time promoting them!
Luckily, Placeit has really cool t-shirt templates you can use to make your own t-shirt design in seconds – for real! Just visit Placeit > Design Templates > T-Shirt Templates.
Here's a full in-depth video tutorial on how to use the tool and all its features to make t-shirt designs you can sell online, check it out:
If you want to read a tutorial on how to make your t-shirt design I recommend this post I wrote a while back, in it I explore two different paths: making the design yourself with Photoshop and online resources or using Placeit's t-shirt templates.
Where Should You Sell Your Designs?
Now that you have your t-shirt designs ready, it's time for you to decide where you will be selling these. There are tons of different marketplaces out there, but don't let yourself feel overwhelmed, we've got your back.
First of all, you need to decide a few things, to do this, ask yourself the following questions: Do you want to sell t-shirts worldwide? Do you want to sell other products and not just t-shirts? Do you care about the payment method for your commission? Once you have a clear idea of what you are looking for in a marketplace, you can head out to our Print on Demand Sites Directory, this is what it looks like: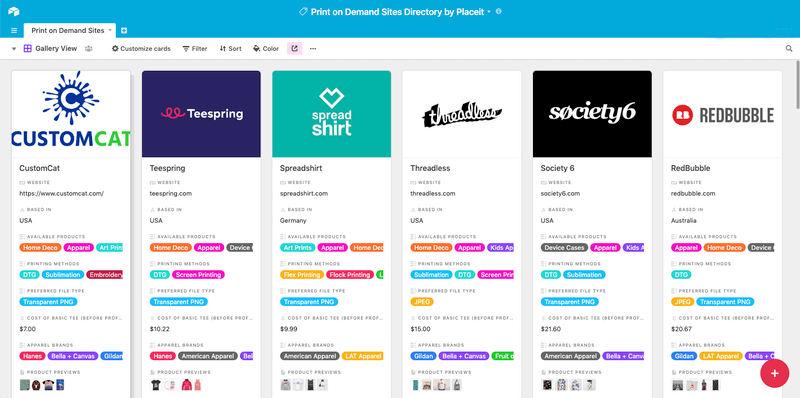 All you need to do to access this database is subscribe to our email list, we won't spam you, ever.

Once you are there you will get three options:
Copy the base to your Airtable account
Export all data as a CSV
Print out the base
This database provides a lot of information about each print-on-demand shop, like where they are based, where they ship, their shipping times, the average cost of the most basic tee, and even preview photos of their products. If you are looking to answer some of the questions we suggested earlier to decide where you should be selling your designs, go ahead and use the filters on the top to sort out what you need. You can narrow down your options by choosing to filter out let's say only sites that pay through PayPal, and then you can apply a secondary filter to that search so it shows sites that ship worldwide. Once you get that view, you can further filter down using the data parameters we provided for you so you can find the perfect marketplace based on your needs.
You will also want to know about our experience in creating and ordering t-shirts from print-on-demand shops, how t-shirts ordered from print-on-demand shops felt and fitted, and about the t-shirts' print quality!
If you decide Spring is the right print-on-demand platform for you, learn how you can use Placeit to make your shop stand out!
How to Promote the Designs on Your Shop with Social Media
Found the marketplace of your dreams? Your beautiful designs are now selling on a print-on-demand site that meets your requirements? Then sales are just around the corner if you take the time to advertise your products and designs like the pros!
Do you own a Facebook page? The great news is you can make your own Facebook ads in seconds using Placeit's templates! We also prepared a guide for you to track your advertising efforts using a Facebook Pixel.
To make your ad designs, just visit Placeit > Apparel > T-Shirt Facebook Ads
There are dozens of different templates to choose from, check them out: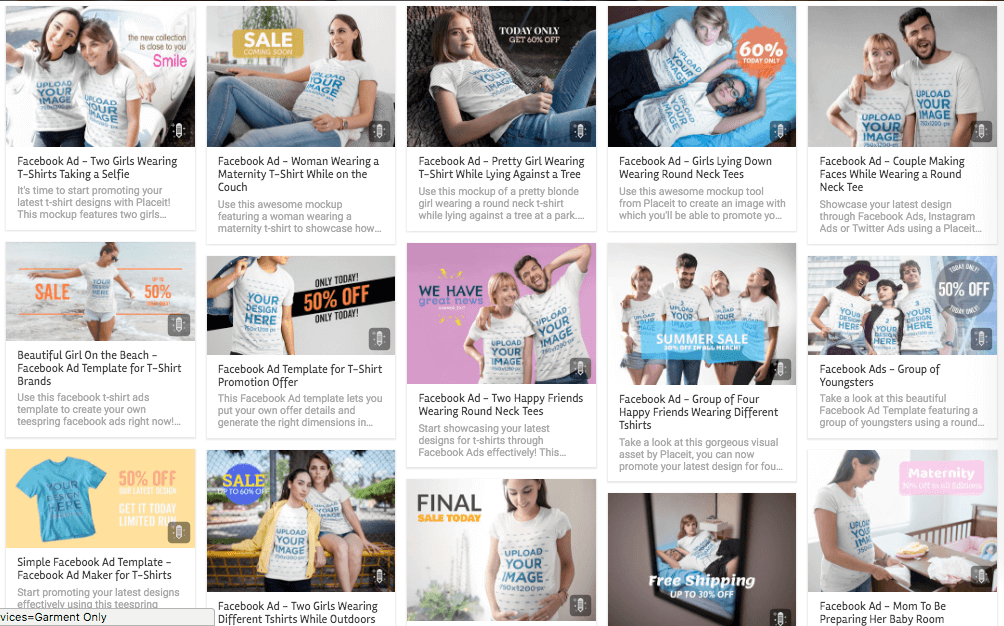 To customize your own Facebook ad all you need to do is follow these simple steps:
Pick an ad template. Choose a photo that relates to your product and your audience.
Upload your t-shirt design. It will be automatically added to the image!
Choose the color of the garment. You can use a HEX code or the color picker.
TIP: If the template you chose has multiple t-shirts, you will be able to choose a specific color for each one!
Type the text that will show on the ad. It can be a promo, sale or giveaway.
Choose a font style and color for your text.
Spice it up with a background color and a badge. Add some color to your Facebook ad to make it more attractive
HINT: Badges will make your text more visible
Download your image! For just $8 USD you will get a beautiful Facebook ad to promote your t-shirts on social media.
Here's how the final template looks like once you customize it: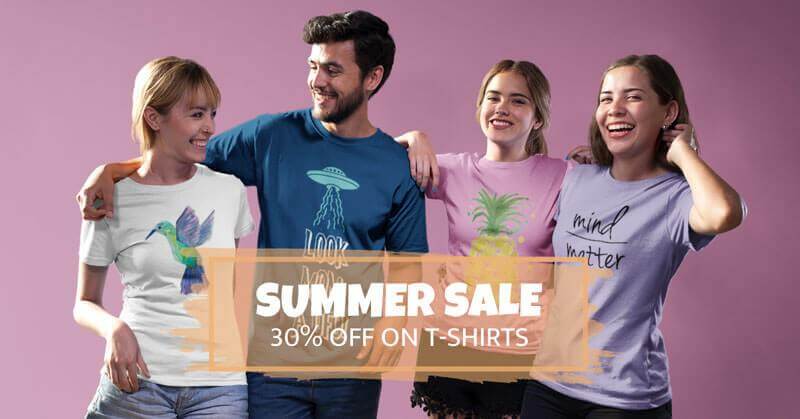 Pretty neat, huh? Go ahead and make the most of your new online store by sending traffic over from your very own social media channels. Making your own ads has never been easier!
If you are looking to learn all the technicalities that come with Facebook advertising, I recommend you read this post on how you can make great Facebook ads to promote your t-shirt business, it will answer a lot of your questions and guide you every step of the way, from creating an audience to making your first paid ad through Facebook. Get more t-shirt marketing tips and tricks in this guide and learn how to increase your sales on Black Friday.
To Wrap it Up…
There you have it, making your very own t-shirt designs, choosing where to sell online, and promoting the products on your shop doesn't have to be complex tasks, not if you have the right tools!
We hope you found this post useful to choose the perfect marketplace to sell your designs online. Let us know what are your thoughts in the comments and if you have any feedback for our Print on Demand Directory!
Visit Placeit and make your very own t-shirt designs to sell online!
---
---