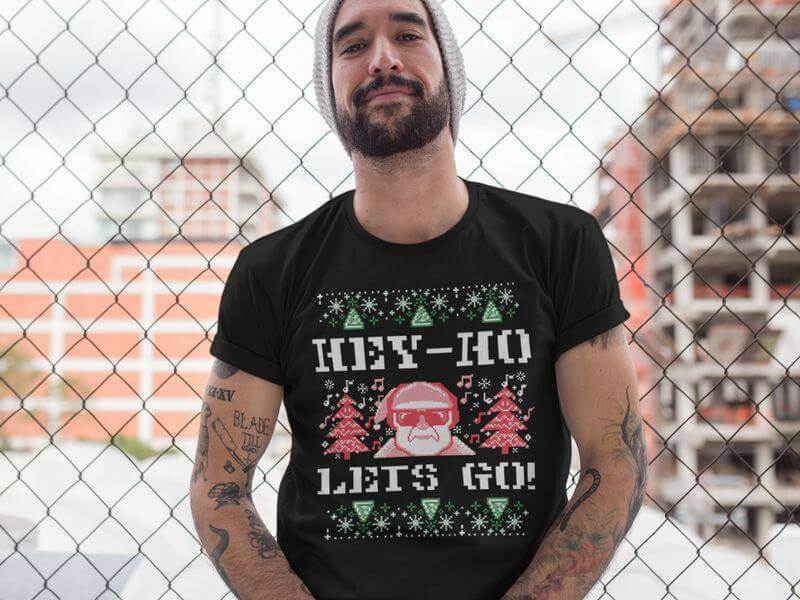 WHAT'S THE BEST PRINT ON DEMAND SITE FOR MY T-SHIRT BUSINESS?
ROUND 1: ORDERING AND SHIPPING
From Uploading the Design to Waiting for the Package to Arrive



What's the Deal with Print-On-Demand?
Since the 2000s when the first Print on Demand sites popped up online, we've seen a variety of sites dedicated to bringing together artists and consumers. Artists who have decided to sell tshirts online have discovered that going through this route is way easier than printing their own designs and trying to sell them in the ever growing online t shirt market.
Now one of the obvious questions people ask themselves (and online) before starting their tshirt business is:
You don't want your customers to buy low quality and itchy shirts as much as you don't want your artwork peeling off from a brand new one. We were curious too, and even though we've done a ton of research into Print On Demand sites (e.g. our database on Where to Sell T-Shirts Online and our guide on How to Start a T-shirt Business on a Shoestring Budget) we decided to do some sleuthing and figure out which one is the best. Just for you 😀
We went through the process of ordering t-shirts from five major Print on Demand sites (Teespring, Society6, Threadless, Spreadshirt and Redbubble) and throughout a series of posts we're going to review and test these shirts to the max.
To figure out who has the best custom tshirts we ordered the exact same design on an adult unisex medium shirt and we selected the one each site listed as basic in black. The design we used was created using Placeit's Ugly Christmas Sweater Template and the tshirts where ordered to look as similar as possible to the one below. 
Reviewed Print on Demand Sites
Why Did We Choose These POD Sites?
We decided to review the largest companies and the ones we had heard more buzz about. We also wanted to include a selection of POD sites that included a variety of audiences. E.g Threadless, Redbubble and Society6's marketplace falls under more of an artsy category, while Teespring and Spreadshirt have a wider consumer base. 

After deciding what print on demand sites to review, we created the design in each of the sites. In all of them, except Teespring Direct (which will get to in a minute) you have to create an account before purchasing your tshirt. Two things to keep in mind:1
1. Redbubble has to verify your account before uploading your designs, so keep that in mind before using it.
2. Teespring has two routes you can go through: Create a campaign and wait for it to be funded or use Teespring Direct (the one we used), which lets you upload and buy your design without going through a campaign first. 
Once we made our accounts, we proceded to create our design. For most of them, it was quite easy, with two exceptions:
With Spreadshirt we had an issue with the positioning of the design on the garment. The uploader wouldn't recognize that our design was a transparent PNG file, hence having area without design. The automatic positioning was too small, but when we tried to make it bigger it showed an error saying that we had gone over the printing area.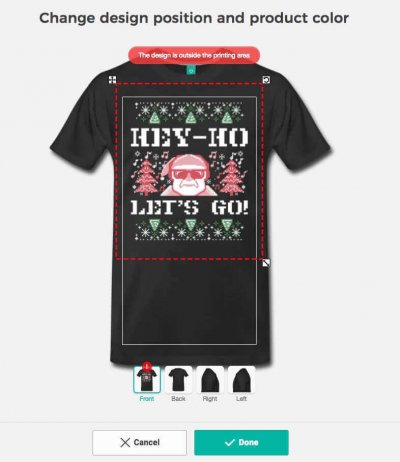 Over on Threadless we had some problems placing our design as well. The t-shirt sample shown to help you place your design correctly is a white tee which made it almost impossible to place our design that had white elements on it. We ended up just ordering it with the automatic placing.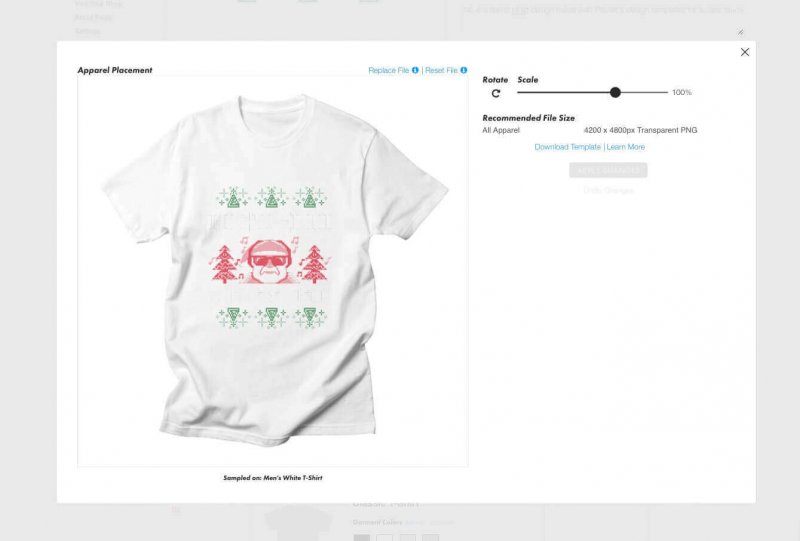 Other than those two hitches, the experiences is all of the platforms were seamless and in most of them hassle free. Remember that before uploading you'll have to have custom t-shirt design (one with a transparent background works best). All of them will ask you for a title for your artwork, so make sure to name it something catchy and descriptive. 

We ordered our tees on November 8th around noon. We wanted to record how long tshirts would take to get to us in Oregon. Print on demand sites ship from all over the country: Threadless ships from Michigan, Teespring from Rhode Island, Spreadshirt from Nevada and Society6 and Redbubble from California. 
Shipping Distances from POD Sites to Our Offices in Oregon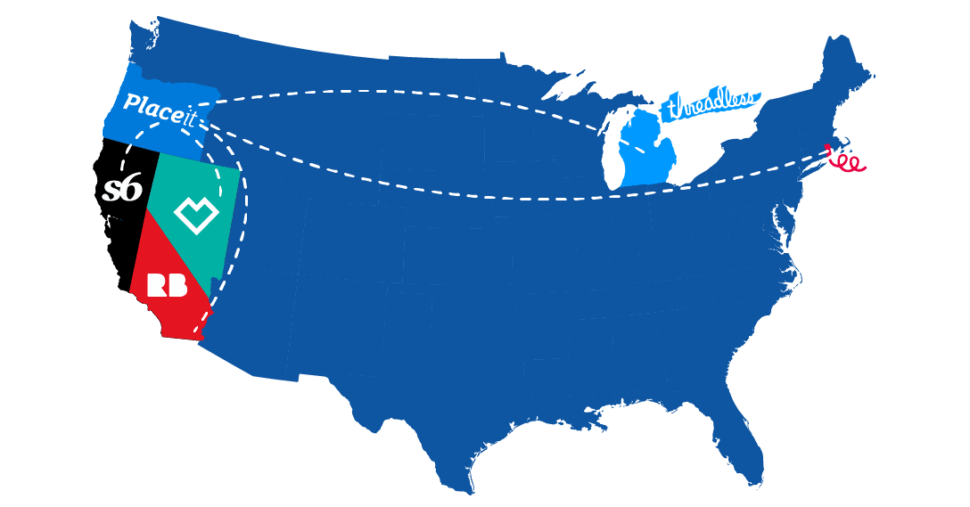 Shipping varied grately from POD to POD. The quickest ones were Threadless and Society6 who took only a day to produce and ship our design. Then came Redbubble and Threadless who both took two days. Finally, Teespring took a whooping seven days to produce and ship. 
Now, arrival dates varied a ton too. USPS took two days to deliver for Teespring, and three for Spreadshirt even though it's closer to us. Both Threadless and Redbubble used UPS. They took five days to deliver from Threadless and seven days from Redbubble (even though we're practically neighbors!). Finally, Society6 used DHL who took five days to deliver.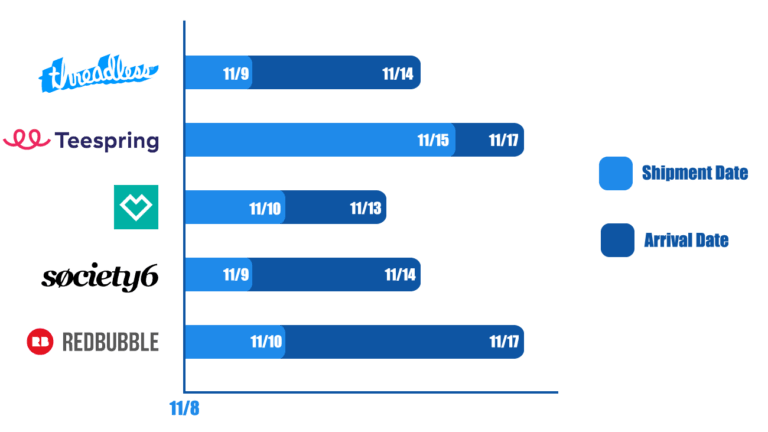 We can't really dock points off for shipping times, as all of them were well within the estimated times they post on their sites, but it was curious that the closer we were to the shipping site, the longer it seemed to take to get to us. About production times, it was interesting to see how long it took to produce the same shirt, with the same design. When deciding where to print custom tshirts, choose a site where people are happy with the whole process, from ordering to recieving the final product. 


Package State and Quality
Another one of the aspects we were interested in checking out was the quality of the package and the state we got it in. All packages came in garment bags made with sturdy plastic. They were all water and tear resistant and looked pretty good when they arrived. Redbubble and Society6 stood out from the rest because their bags were branded. 
Dying to see what the best print on demand site was? Check our next post in this series, in which we go over the t-shirt unboxing and fit review in our quest to find out what print on demand site has the best custom t-shirts online! Also try our Make a Pillow Mockup with Placeit for inspiration on more products you can sell on your POD business. If you're planning something for Black Friday, check out this guide to help you get more sales.
My revenue from tshirts has gone way up since using Placeit's mockups.
Sarah Williams
5/5