Make Mom Proud, Sell Mother's Day T-Shirts by the Dozen
Whether you're just starting to grow your t-shirt business or are a seasoned veteran, you probably know that holidays offer great opportunities to reach out to new niches you might otherwise not have a chance to market to. Mother's Day is one such opportunity. With your creativity and a little help from your friends at Placeit, you can quickly whip up some unique, custom Mother's Day t-shirts and then promote them online with some professional mockups that take your t-shirt designs and put them in another category altogether. Say goodbye to amateur looking ads and hello to the sounds of sales from all the t-shirts you'll be selling. Let's get started.
A Mother's Day T-Shirt Design for Every Mom
Below are some of the templates we think you'll find are perfect depending on what unique spin you want to bring to your Mother's Day t-shirt designs. Whether you want to target moms that like more traditionally feminine designs or are interested in reaching more progressive moms, Placeit has a t-shirt design maker that makes it easy to create amazing designs. Pick one of the designs below as a starting point and tweak it until you're satisfied. You're literally seconds away from a finished Mother's Day shirt design!
How to Make Unique Mother's Day Shirt Designs in Seconds
Making custom Mother's Day t-shirts is ridiculously easy. You simply need to choose a t-shirt template, edit text, colors, and graphics, and finally download. Here's a quick video tutorial that shows you how to use Placeit to make a custom t-shirt design in less time than it takes to check your Facebook feed.
*PRO TIP: If you subscribe to Placeit you get unlimited access to all t-shirt design templates! Mother's Day is only once a year, but with a Placeit's t-shirt designer, you can create custom t-shirts for other holidays and niches all for the same price.
Use Mother's Day T-Shirt Mockups to Promote Your Designs
Once you have several Mother's Day t-shirt designs ready to upload to your print on demand account, you're going to want to create some professional-looking mockups you can use to promote your fantastic designs. Why not make it a business and create your own clothing line? Great looking mockups are what's going to set your Mother's Day designs apart from the competition, and once again, Placeit makes things super easy for us by providing an extensive catalog of heartwarming scenes of mothers with their kids that you can use to instantly engage your audience and make them pay attention to your designs. Below are just some examples of Mother's Day mockups you can use to quickly create compelling imagery that's perfect for promoting your latest t-shirt designs.
*PRO TIP: 2X1 Mother's Day Special! One super simple way to increase your Mother's Day sales is to create mother-daughter matching shirts, or mother-son matching shirts. Placeit has several delightful mockups you can use to make these mother-daughter shirt designs that are sure to be big hits with your audience. You can either have the t-shirt designs match or complement each other, there are tons of possibilities!
Use Mother's Day T-Shirt Mockups to Promote Your Designs
Promote your new Mother's Day t-shirt design easily using our banner maker, create beautiful flyers, and share your design all with awesome Instagram stories and other social media post templates!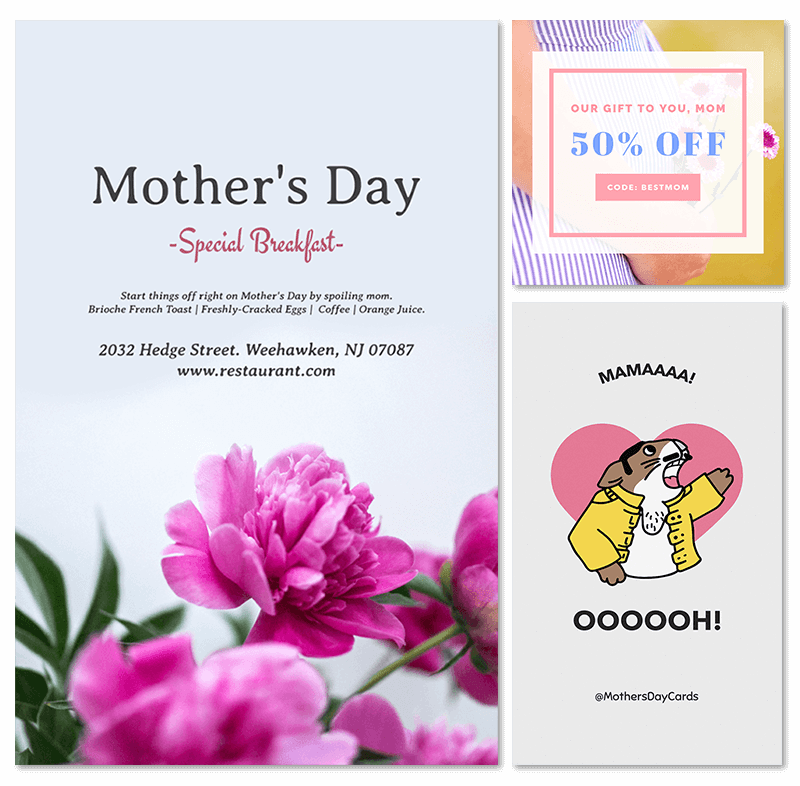 Make Unlimited Mother's Day Designs with Your Placeit Subscription
This Mother's Day, you don't need to hire designers or be a creative genius to create spectacular Mother's Day t-shirt designs. With just a little spark of creativity and a Placeit subscription, you can give your audience tons of options to give buy their mom's unique and professional-looking Mother's Day t-shirts they'll treasure for years to come.
---
---
Hundreds of High-Res Freebies Just for You!