Top 5 iPad Mockups for Travel Apps
An iPad seemed like a ridiculous concept at first. Many disregarded it as just "a bigger iPod". Many memes and jokes were created. But fast-forward a couple of years and it is now one of the most useful tools anyone can have. It has even replaced laptops for some households. Regardless of what you think of it, having an iPad mockup for your travel app is something that you should definitely consider. Showcasing your app in context can bring your marketing miles ahead of everyone else's. Nowadays, a screenshot isn't enough. People want to see the real deal.
Because of this, we've gathered 5 iPad mockups to choose from, so you can start testing your app's look in context.
The Planner
To start a trip, you have to plan it. An where do you plan it? From the comfort of your own living room. This iPad mockup is great for showcasing any part of your app that allows your users to plan a trip ahead. They could be looking at prices, hotel rooms, planning routes or choosing airlines. Regardless, this portrait mode iPad mockup will be great to showcase your travel app. The glimpses we get at this user's living room are just elegant enough to depict a modern person who loves to travel. Don't forget you can also use an iPhone mockup and serve the same purpose.
Versatility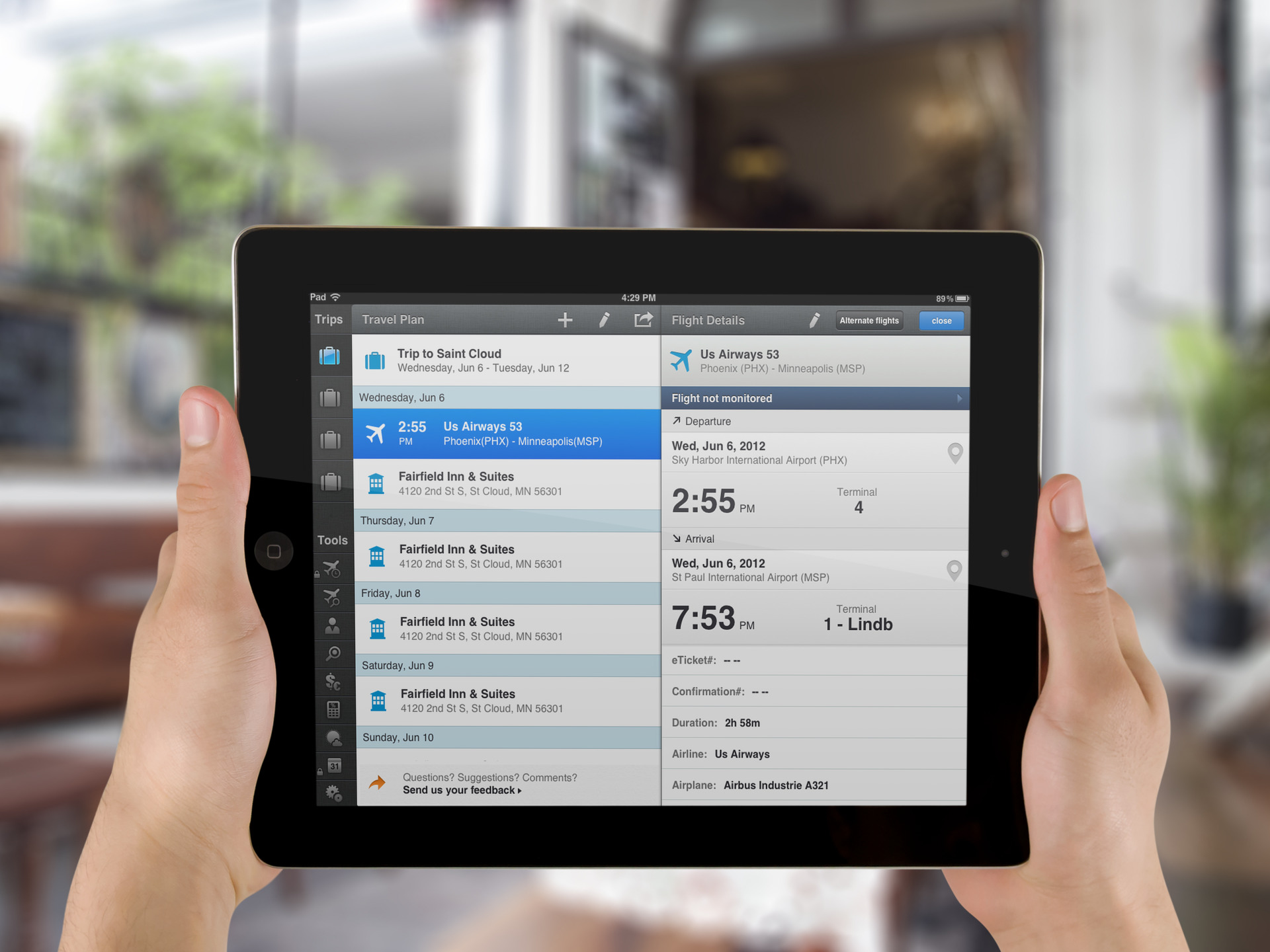 Try ithere.
This beautiful image is designed for any travel app designers who are looking for a versatile iPad mockup. Why? Because with this, what we call a "Blender stage", you can switch from our very large selection of backgrounds to design your own iPad mockup! You upload your image to the photograph of the person holding the black iPad in landscape mode and then you can select from several backgrounds (some animated, some still). You can even select a transparent background if you are planning to use this mockup on top of something you created. Perfect for any type of travel app. While you are at it, why not checking the laptop mockups and the MacBook mockups too. Laptop mockups are also great for convincing users of visiting your website.
Active and Fun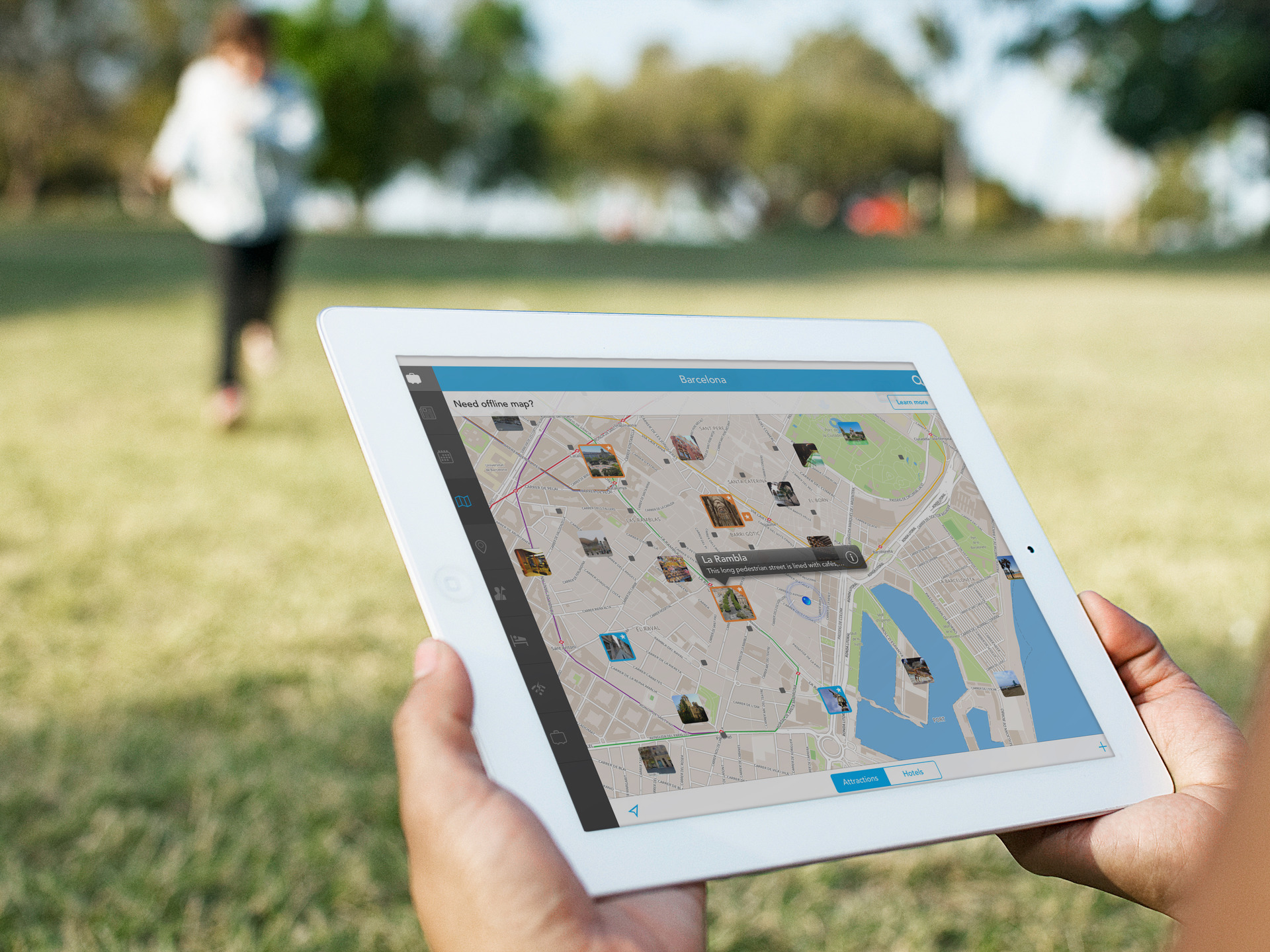 Try it here.
Sometimes, because of the nature of your travel app, you might find yourself in the need for a more active mockup. This means, you want to portray extreme travel, or sports in general. With this white iPad mockup, you can get just that. It features a person looking at an app while, in the background, another person runs at a park. It is better used if you choose a feature in your app that conveys movement or physical activity. In this case, we chose a map that shows the best spots nearby, perfect for an after-run relax.
Widescreen / Banner

Try it here.
This is another of our swappable background iPad mockups. In all of the different choices we offer, you'll be able to find widescreen versions. You can use these for a banner or maybe the middle of a section. In this case, we chose a beautiful hotel lobby to compliment any travel app that you drop in (landscape mode). Another great feature for this stage is the ability to move the right hand around, and even choose from different types of hands, to create your very own customized iPad mockup.
Widescreen / Banner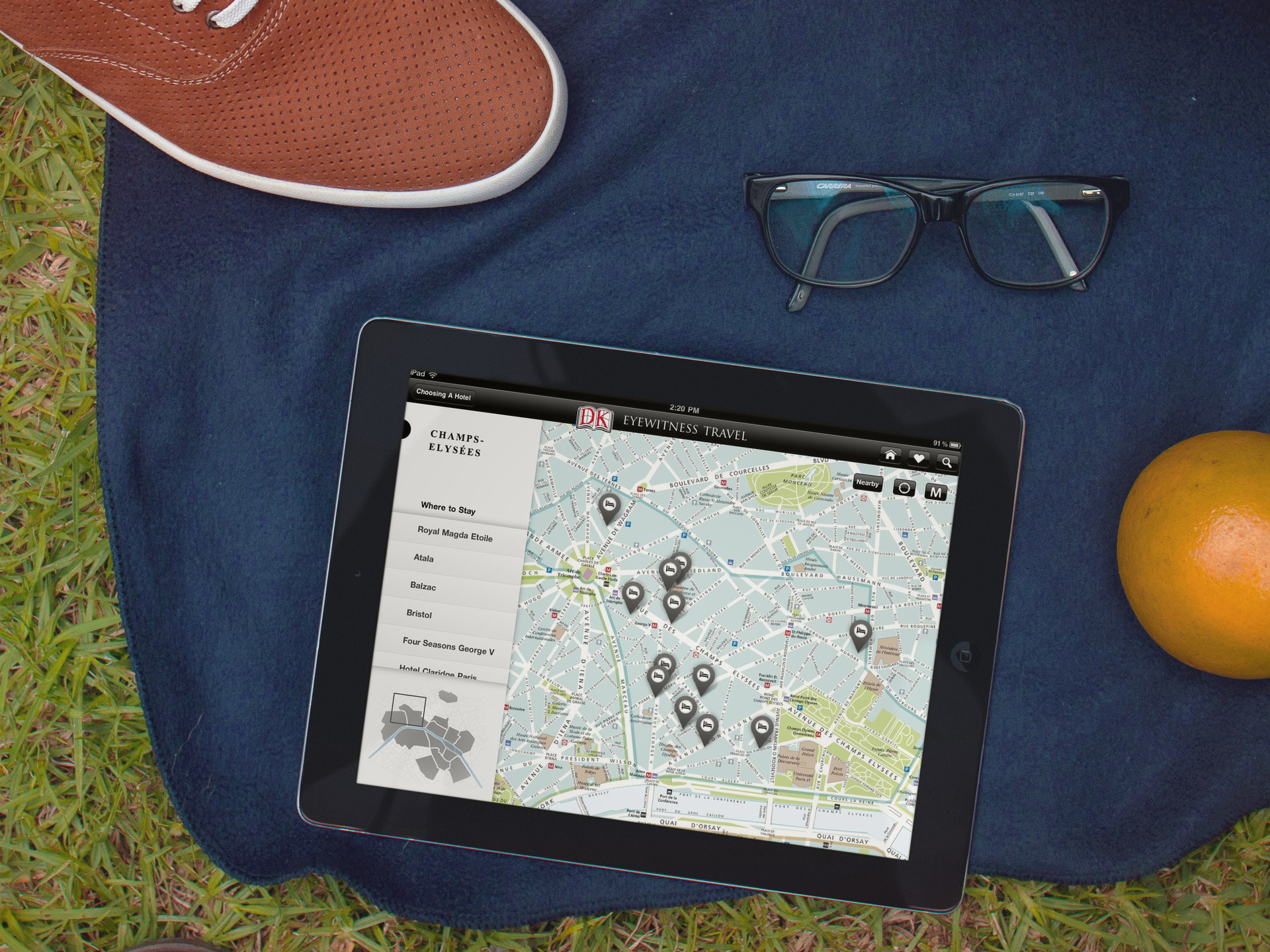 Try it here.
Finally, we have chosen this relaxed, almost picnic-like black iPad mockup. The tablet lays on a blanket on beautiful green grass. Next to it, an orange, some glasses and a shoe. We chose to show the DK Eyewitness app, because it is a good example of something that looks more enticing when in context. In the image, the person is looking for different hospitality options around the area. Why? He is a backpack traveler, currently sitting at Champs-Elysées and looking for his next adventure. He should be using your travel app, don't you think?
As you can see, the way you show your design to the world can really make a difference. If you like what you see, head over to our main site at Placeit.net to get started, you can also read more about using iPad mockups for app marketing and dive into how to Become a Travel Content Creator
Sea ya in the next blog!
---
---