Best Mockups for Cozy Crewneck Sweatshirts
Promote Your Designs with Our Inspiring Crewneck Sweatshirt Mockups
Autumn is here and winter is coming, which means it's time to dress a little warmer. We have updated our mockups, featuring cozy sweatshirts for cooler days. You are thinking about designing warm sweatshirts? Save money, you don't need to do an expensive photoshoot, use our crewneck sweatshirt mockups to inspire your customers with new designs.
Try out our sweatshirt mockups to show your customers how your products look in real life. Placeit's crewneck mockups show a colorful mix of different crewneck mockups, featuring models of different ages, gender and origin. Wouldn't you love to show your crewnecks on a pretty girl, a handsome man, a group of friends or a lovely couple?
Handsome Guy with Beard Wearing Crewneck and Glasses Waiting for Friends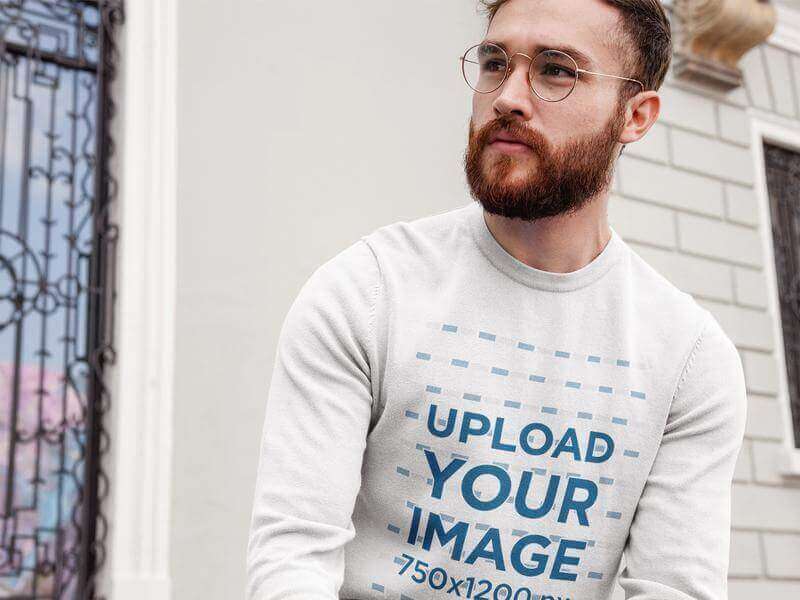 Upload your brand new design to the sweatshirt mockup of this handsome man. Using this closeup picture has the advantage of showing every bit of your design in detail. Create your crewneck sweatshirt showcasing your products in an urban environment.
Sporty couple having a good time wearing warm sweaters at the ice rink
Winter activities ahead! Place your unique designs on the sweatshirt mockup of this happy man, having a good time with his girlfriend at the ice rink. The couple is enjoying the winter season, wearing cozy sweatshirts with your newest design while ice skating on a Sunday morning.
Strong Man with Tattoos Wearing Warm Crewneck at Work
No matter if you would like to design for work applications or casual occasions: We have the right crewneck mockup for you. Showcase your latest designs on the crewneck of this middle aged attractive man with amazing tattoos, sitting on steel bars in a construction environment waiting for this colleagues.
Handsome Man Sitting on Bench with His Smartphone in Hands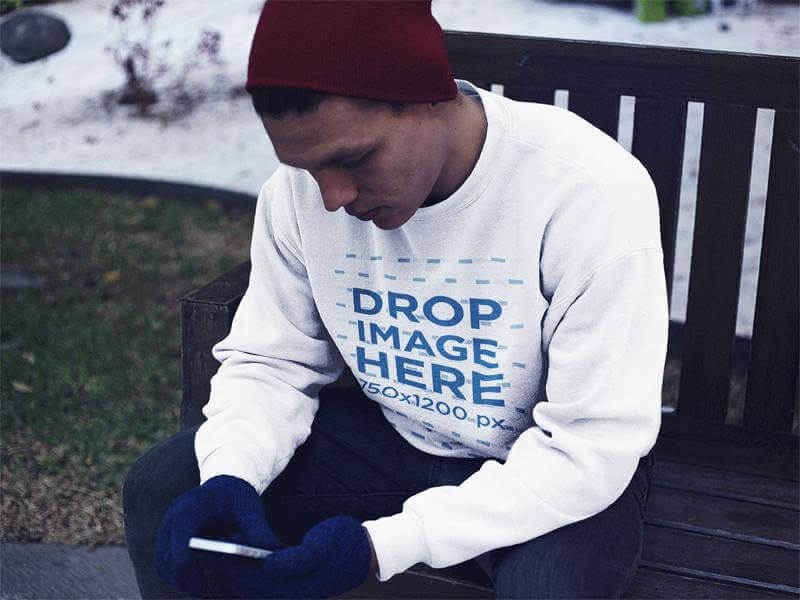 Don't let him freeze! Try out your brand new designs for crewnecks on this young man in an authentic wintery scenery. He is sitting on a bench dressed in a crewneck of your latest collection, jeans, gloves and a beanie, checking new messages on his iPhone.
Trends for Friends: Two Young Women Wearing Crewnecks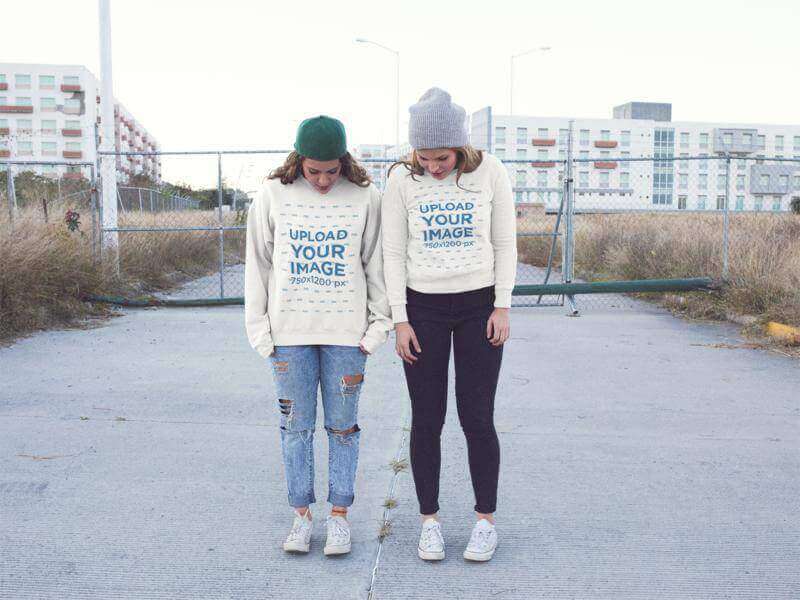 Showcase your beautiful designs with these the young women who are dressed casually and in an urban environment. The two showcase their friendship by wearing the same (or a different?) sweater while strolling around the city. This crewneck mockup has the advantage of showing more than one of your designs.
Smiling Young Guy with Dreadlocks Leaning on Brick Wall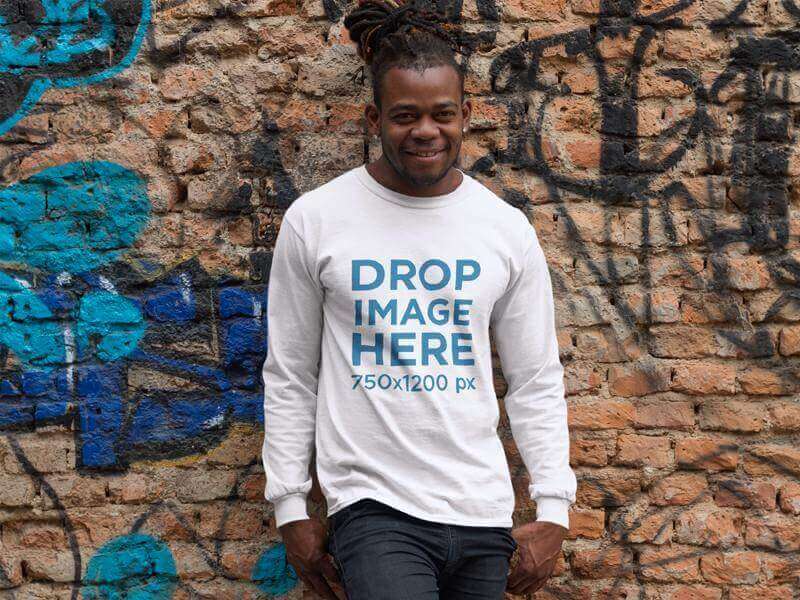 Hands in his pockets, this cool young man leans on a brick wall, cherishing the art of graffiti. Upload your design to Placeit's mockup generator to create authentic crewneck sweatshirt mockups to promote your designs like the pros.
Young Man in Crewneck, Chinos and Suspenders with Transparent Background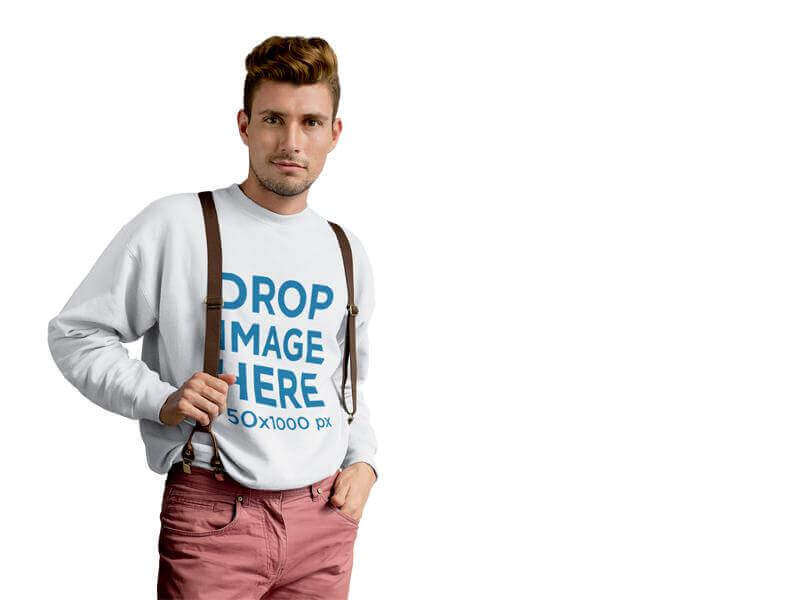 Using the mockup of this young man with transparent background brings you the advantage of being able to place him in whatever background suits you best. Maybe he is on a hiking trip with nature panorama in the background, stands in front of a shop-window or is rooftop with city lights behind him, it's up to you!
Girls Night Out: Young Asian Woman in Front of a Diner at Night Time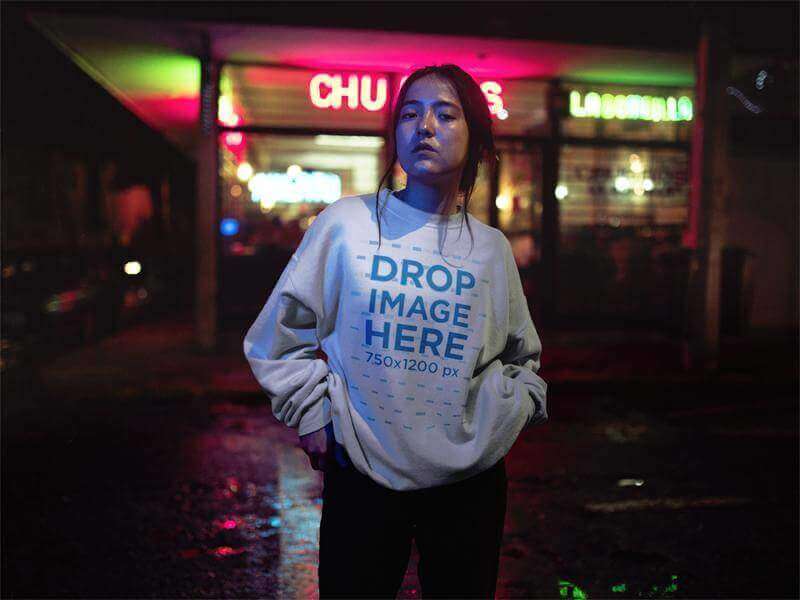 Drop your image on the crewneck mockup of this cool asian girl, meeting some friends in a diner at night time, to show that your product is wearable to various occasions. No need to use Photoshop, our mockup generator works straight from the browser!
Folded Crewneck on Neutral Background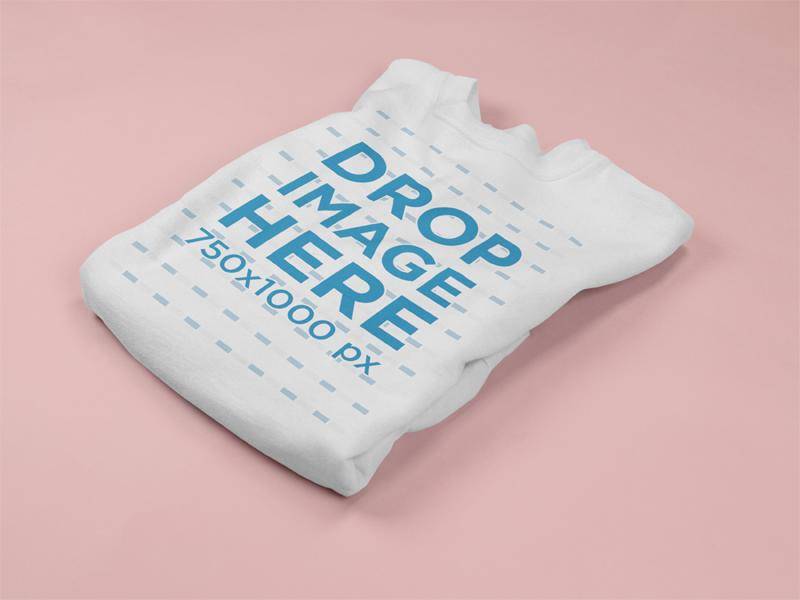 Show how your crewneck looks folded in the customers closet. Using this sweatshirt mockup to promote your designs has the advantage of sending a clear message. The focus lies solely on your product and the design without the distraction of a background or model. For more movement, you can try displaying your work with a crewneck mockup video.
Love our models and photos? Find many more crewneck mockups and videos where these came from. You do not need Photoshop! Simply pick a picture you like, upload your design, change the color of the garment to match your products, and have your new sweatshirt mockups ready within minutes!

---
---