Promote your products with our amazing iMac mockups
In search for pictures to promote your latest product on an iMac? We have the solution for you: showcase your new website, amazing blog, social media page, newly released software or latest product using Placeit's iMac mockups. We've got endless possibilities for you. You can place your pictures on an iMac in a creative environment, a cozy home office, a professional traditional office, with a transparent background or with people in the picture who admire your work.
There is nothing more easy and fast than using our self-explanatory iMac mockup generator. You do not need any knowledge of Photoshop! Just upload your images and download your mockup to promote your product with flawless pictures.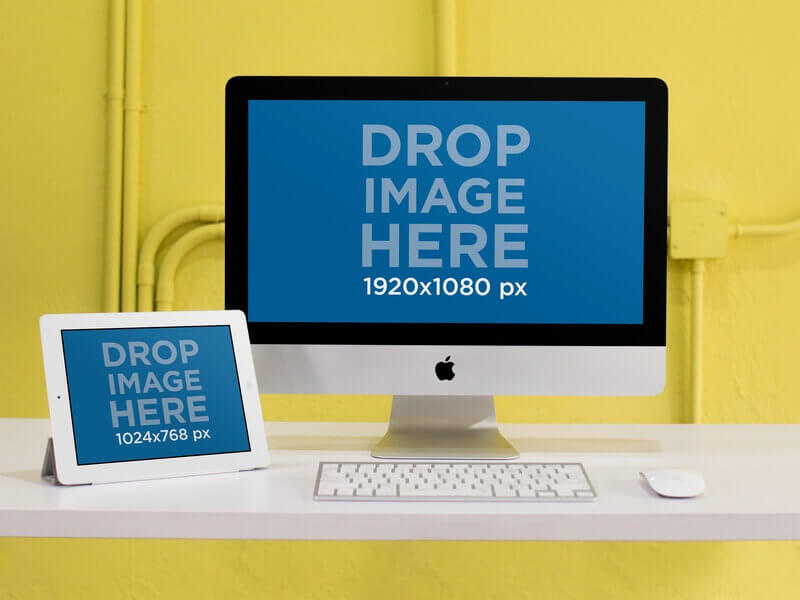 Let´s get inspired! This eye-catching yellow wall will draw the attention you're searching for! Place your images on two different screens, an iMac and the version to go: an iPad. Show your customers that your page is available wherever they are, and offers a responsive design for any device.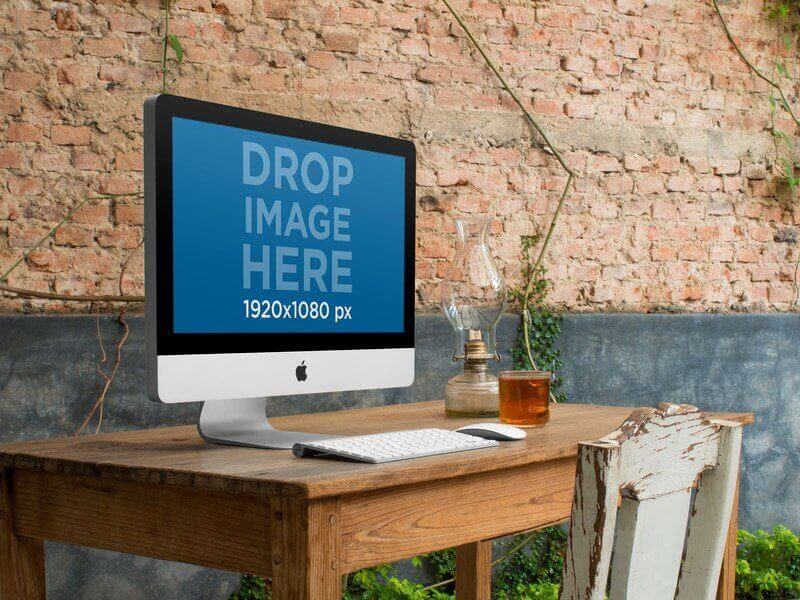 The perfect mix: new equipment in an old-school environment: iMac, keyboard, mouse and a glass of green tea standing on a wooden table in front of a brick wall surrounded by plants. Use this iMac mockup to communicate positive vibes. With the Placeit iMac mockup generator, you can upload your pictures very easily and showcase them on this template within seconds.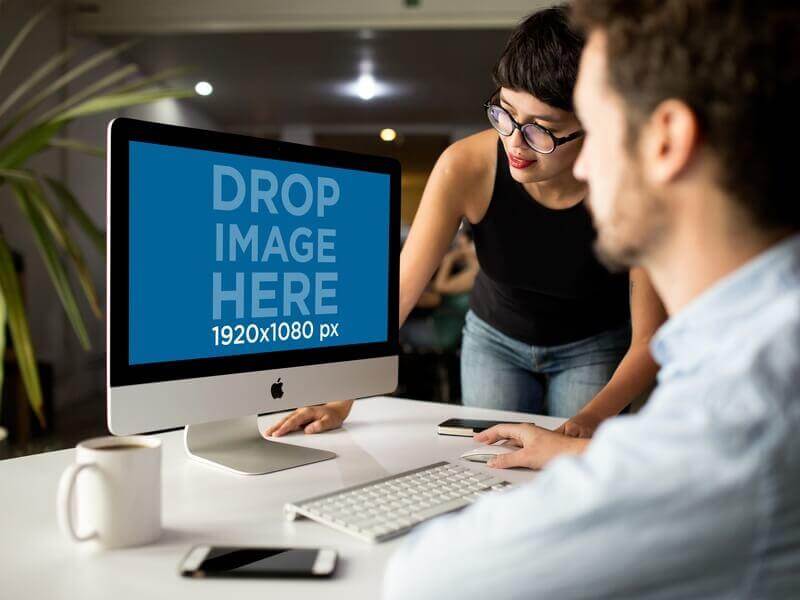 They love your work! Two colleagues admire your latest blog post on the iMac in their office. These authentic office workers will inspire others to view, like and love your work too! Use Placeit's easy and fast iMac mockup generator to create amazing pictures for your next marketing campaign.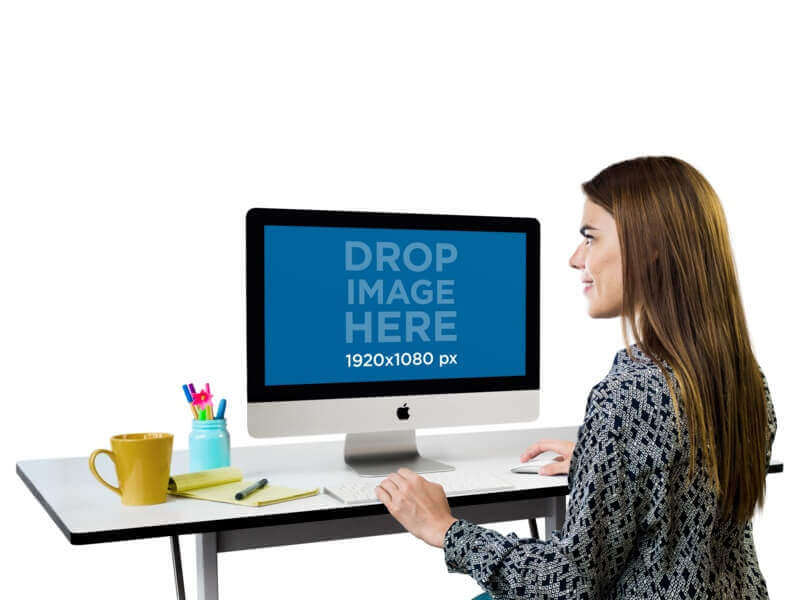 Use this iMac mockup and enjoy the freedom to place this young lady's desk wherever you like! Maybe she works in a home office while watching her kid, or she works on the 71st floor of a skyscraper and overviews New York City. You decide what and where she's working.

Who doesn't love to work in an inspiring, cozy environment? This girl is sitting in front of her iMac, next to her are her camera lenses and favorite books, a red brick wall in the background. She feels comfy while editing your pictures, surfing on your website or reading the latest post on your blog. With the iMac mockup generator, you can place your image now. Make sure to check our laptop mockups too!

Break time! The creative web designer is gone but your website is still on! Use our iMac mockup generator to place your image on this iMac mockup in a creative but clean environment. We are sure, he will stop and stare when he comes back and sees your latest web design!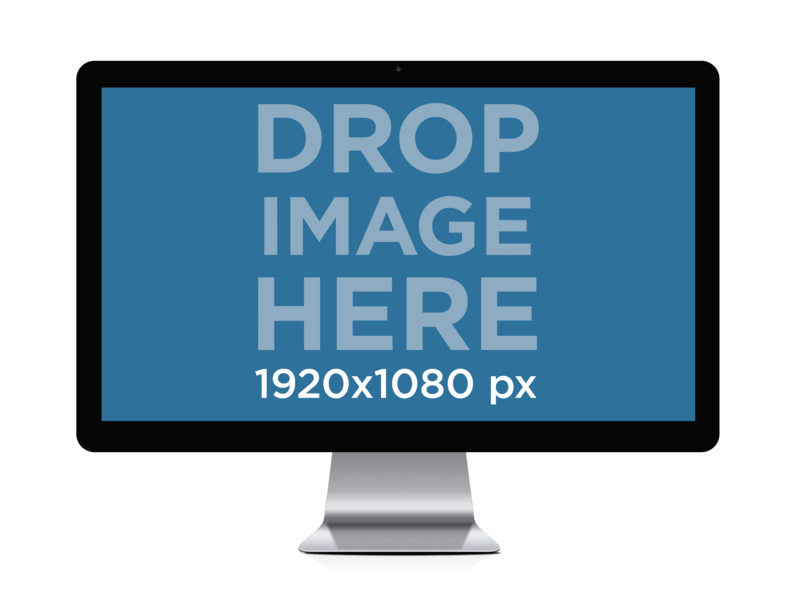 It's up to you! This iMac screen is ready to feature your projects in whatever environment you like. You are a developer of programs for kids, a passionate fashion blogger or a software developer? Place this screen in a traditional classroom, a desk in a modern home or an office desk surrounded by managers. The whole placement is up to you! Let your creativity flow to showcase your product the way that suits you best.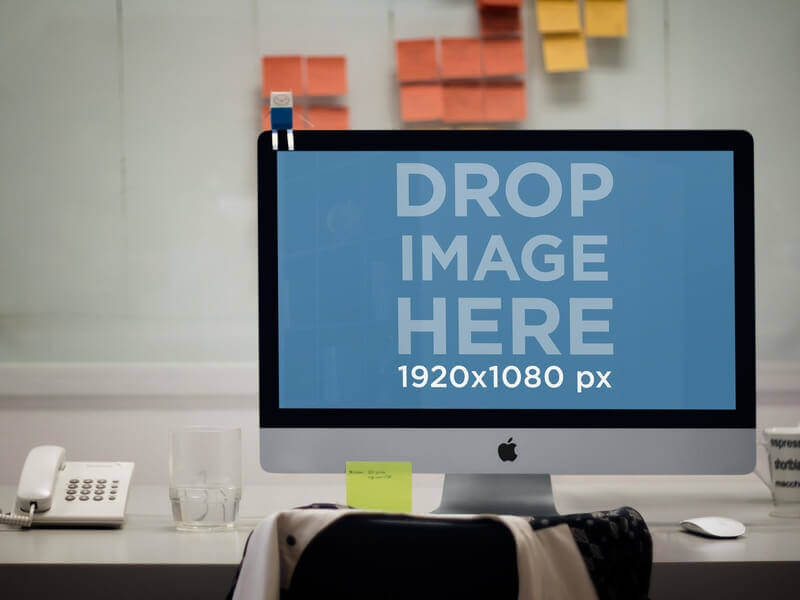 Send a straight forward message and feature your latest web design project on this iMac in an traditional, yet creative office to promote your work to potential clients, this is a beautiful shot that could make your portfolio stand out.
Got inspired by the variety of the possibilities to show your website on an iMac? Visit Placeit and find many more mockups to showcase your website, web app or design project. You'll see how its very easy to use our iMac mockup generator to achieve amazing results.
---
---