to Display Your Designs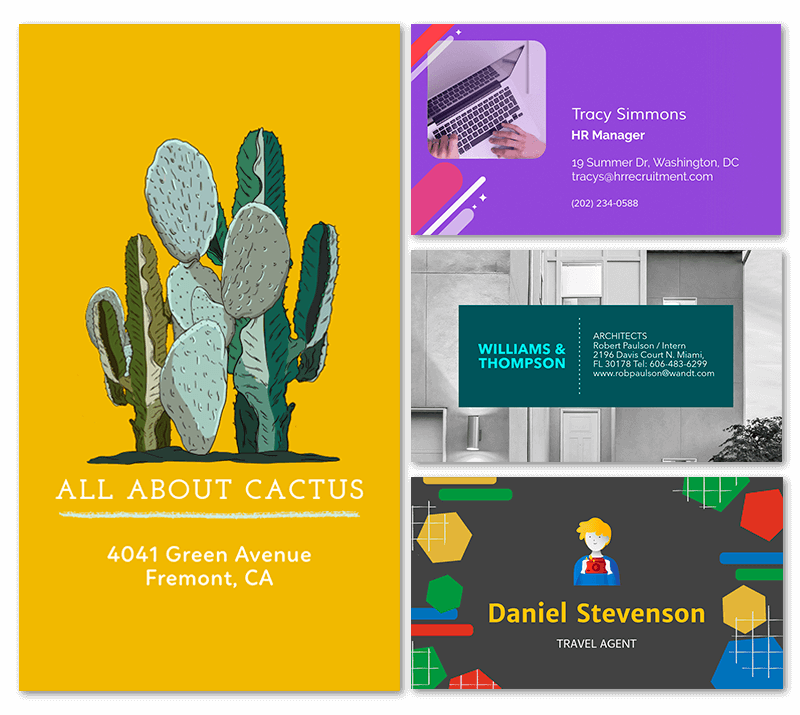 Check out all the styles of business card mockups you can use below, horizontal and vertical business card mockup templates!
One of the things many designers struggle with when looking to display their designs is having cool, modern, and realistic mockups to use that haven't been used by everyone else. That's why when you find a place that has the right mockups (and that are constantly updating their library) it's like finding water in the desert. Using business card mockups is a great way to have your clients see a proof of concept for their business cards before even printing them out.
Business Card Mockup with a Colorful Background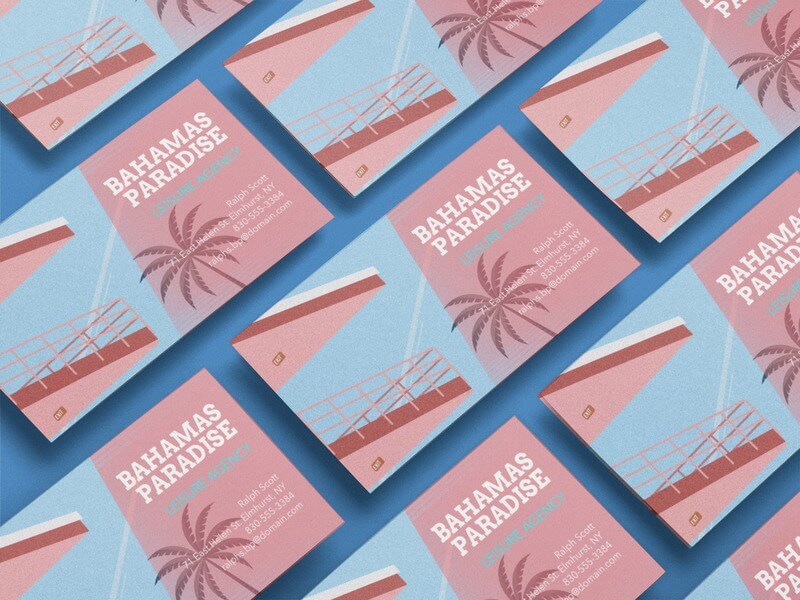 Look at these perfectly aligned business cards, displaying your design on them gives the impression of cleanliness and order, and the repetition of the design lets you look at it from many angles. The coolest part about this mockup is that you can edit the background color and have it complement or highlight your cards, perfect for any portfolio or business presentation, no?
Vertical Business Card Held Over a Coffee Table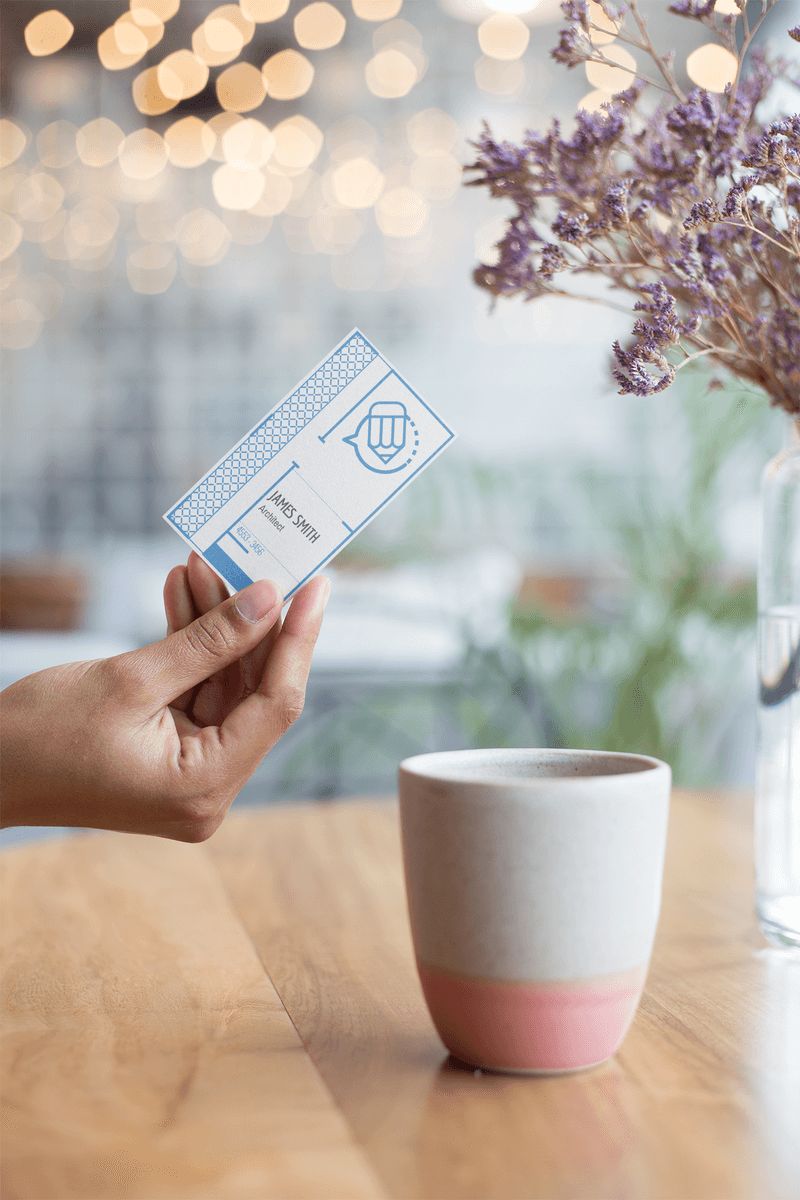 A designer's best friend is anything that will let them spend less time promoting their work and more time actually designing, that's why a business card mockup like this one is perfect for showing your design in a real-life setting.
Business Card Template of Stacked Cards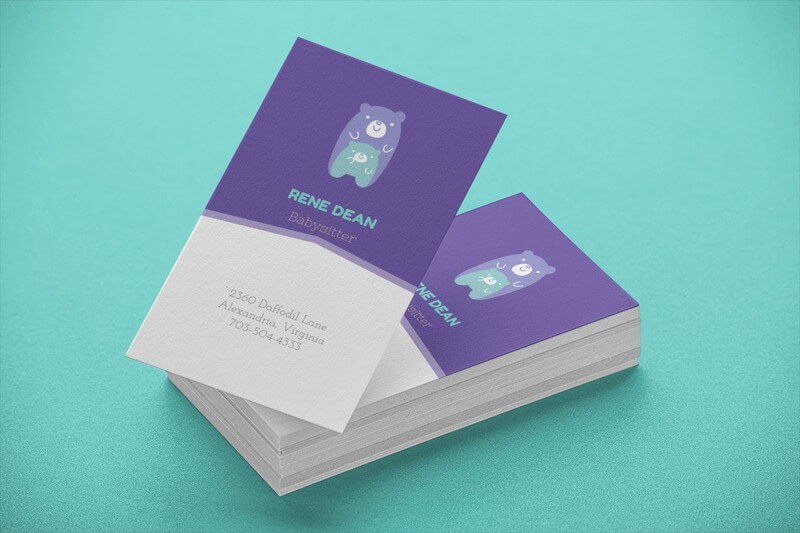 Play around with this colorful yet minimalistic business card mockup which will let your design be the center of attention. Some perks of this mockup are the colorful background which can be changed to compliment your business card design, as well as the color of your cardstock, so it looks like it's the real deal.
Business Card Template on a Concrete Table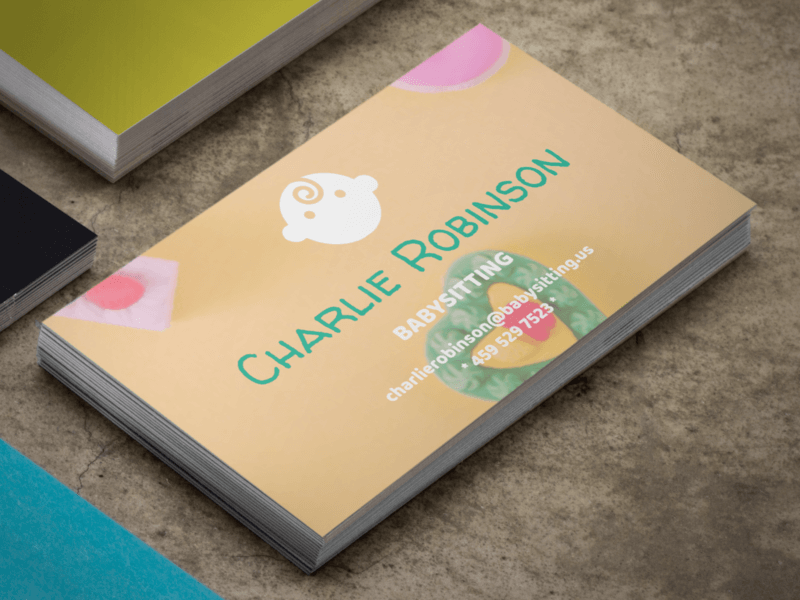 Looking for a business card mockup on a surface? You've found it! This business card is perfect for displaying your designs. Using such a realistic mockup is really easy, just upload your design to Placeit and download it, in minutes you'll have a mockup worthy of your portfolio, with very little effort!
Business Card Mockup Being Held in a Coffee Shop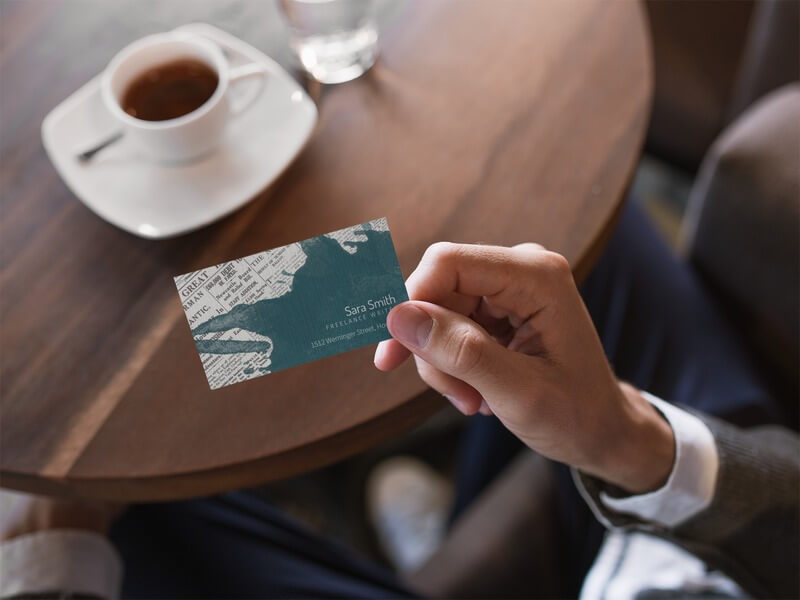 For a professional look, frame your design in a business card mockup held over a coffee table. The person holding the card is wearing a blazer which gives it more of a professional look. Using Placeit's mockups is as easy as uploading your design and downloading your mockup to be used in your portfolio, your presentations to clients, or your ads.
Business Cards Placed in a Metal Cardholder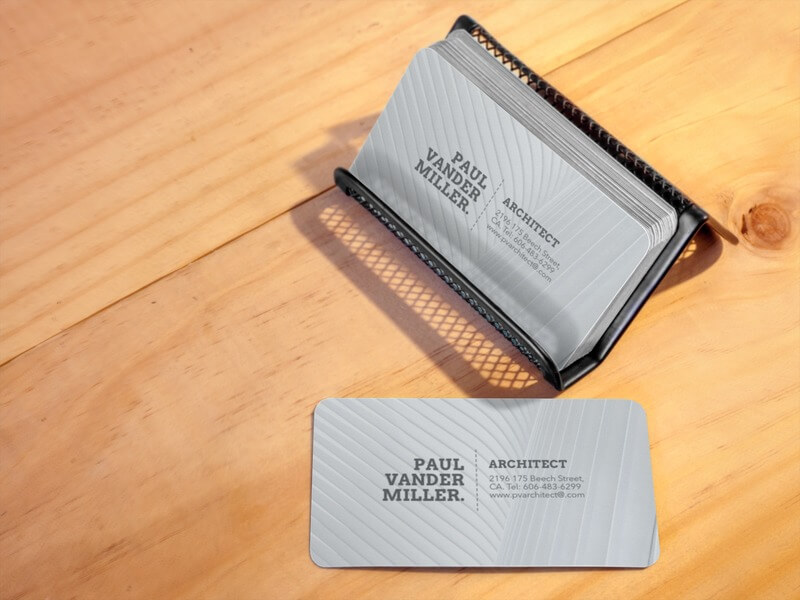 If you're looking for a more formal business card mockup, this is the one for you. Featuring a cardholder and some round corner business cards, this is the perfect mockup if you're going for something more formal and classic. Just upload your design to Placeit and that's it!
Happy Girl Holding a Business Card Mockup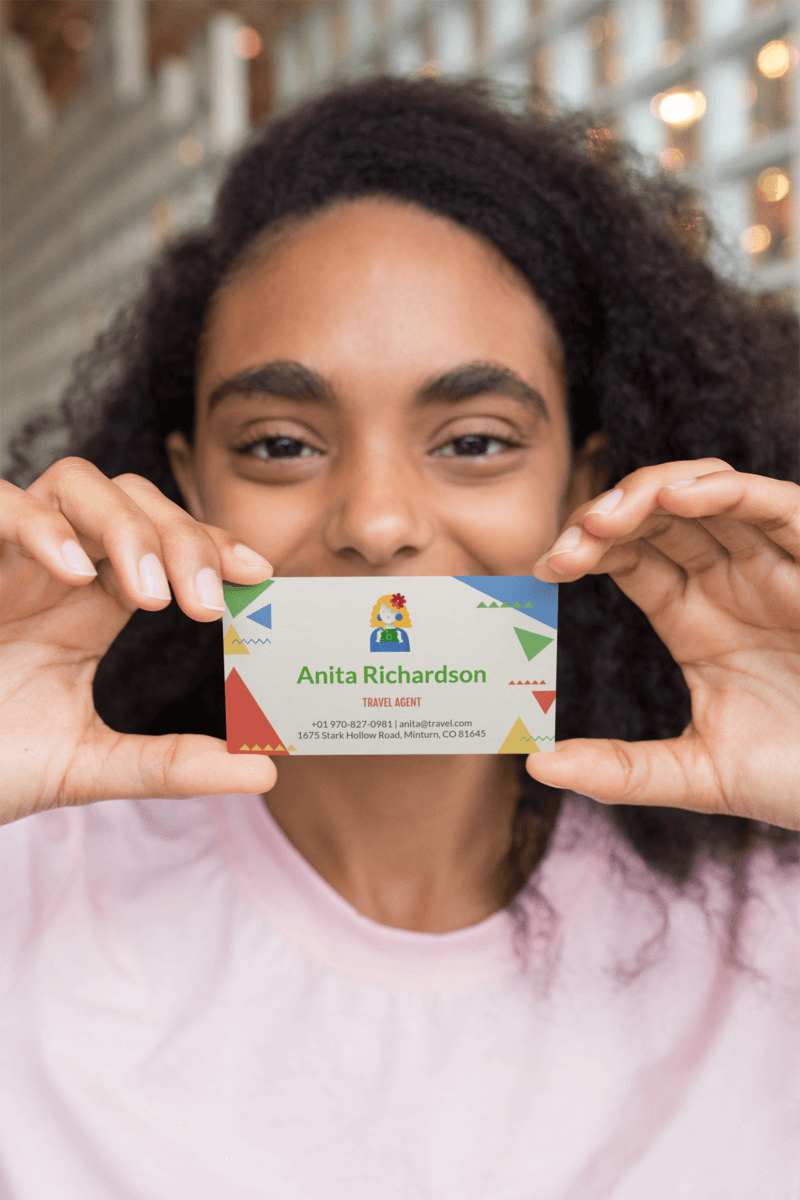 Tired of business card mockups of your card on a surface? This is the mockup for you. Featuring a happy woman holding up the business card, this mockup can be great if you're trying to communicate how approachable and friendly your brand is.
Woman Placing a Business Card Mockup in her Jacket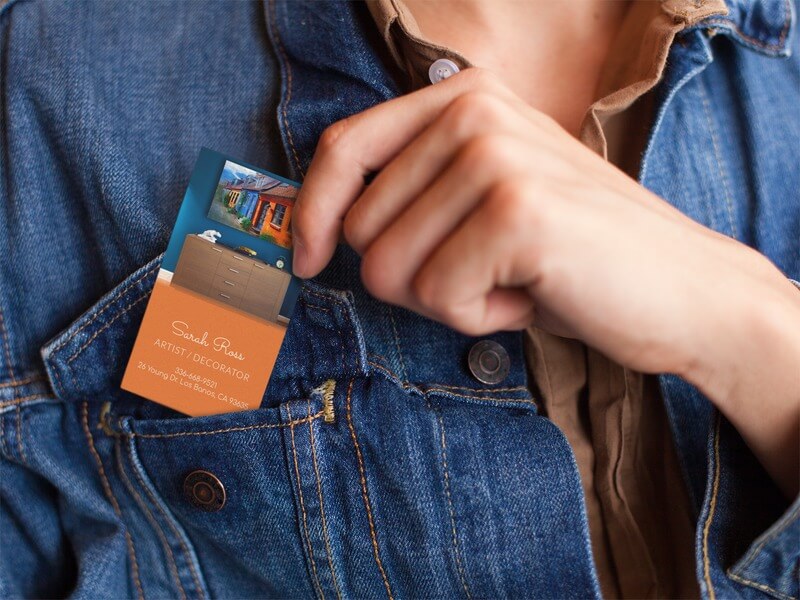 This vertical business card mockup of a woman putting a business card in her jacket gives you a more casual feel to it, but still professional. It sets the business card design in a real-life setting, with a real-life model, and lets you keep on designing while your business card is displayed in a professional yet casual way.
Business Card Template on a Three Color Background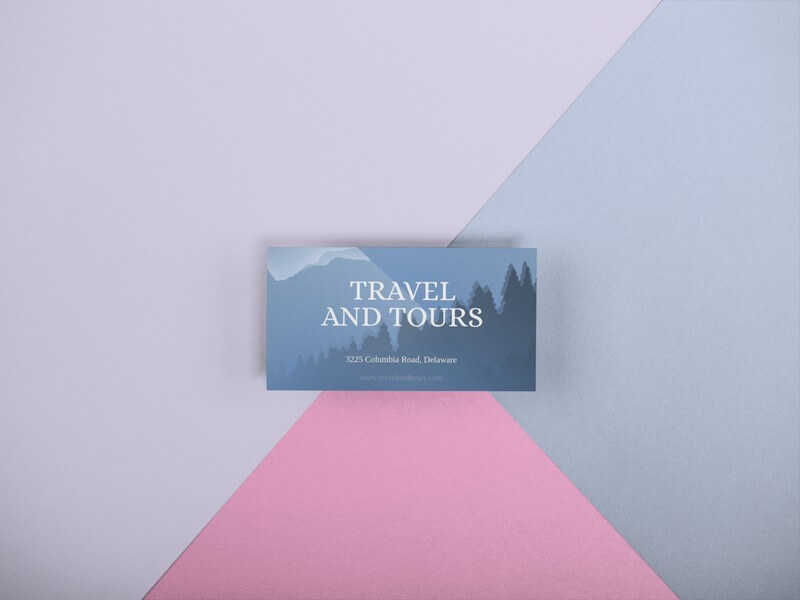 Use this business card mockup if you want your card design to really stand out. The lines on the background draw the eye in towards the business card and are perfect for displaying your design on your portfolio or sending it as proof of concept to your clients, without having to spend money at the printers.
Looking for a business card design? Get to our hairstylist business card maker or our handyman business card maker, to read all about how you can create your very own designs.
---
Business Card Mockups That Are Easy to Use
Making a Business Card Mockup with Placeit is a breeze! Don't have a business card design yet? Check out Placeit's Business Card Maker, there are many to choose from in different business niches and you can make as many as you'd like with a Placeit's Subscription, which includes mockups, design templates, and videos. Check it out today!
Make a Business Card Mockup
---