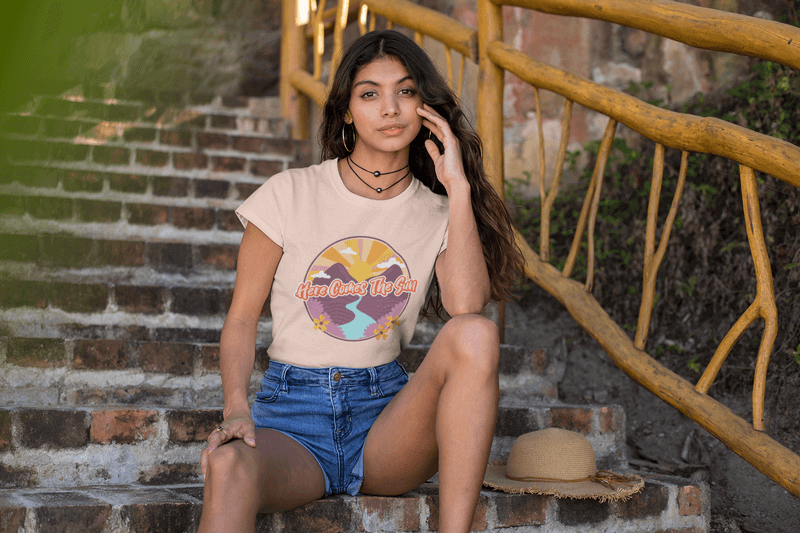 Placeit's collection of summer templates has everything you need to increase your sales this season! Whether you need some beachy t-shirt designs or are looking for an eye-catching way to promote a summer sale, we've got you covered!
Design Summer T-Shirts for Every Niche
With the weather getting hotter and hotter with each passing day, it only makes sense that your customers are going to be looking to buy some fresh summer apparel. Since summer is notorious for beach days, swimming at the lake, backyard barbecues, and just generally trying to stay cool, you have plenty of options when it comes to apparel designs.
Think of all the items your customers want to wear this summer, and then get to designing! With Placeit's t-shirt design templates, you can create all kinds of summer designs that your audience will love.
Check out the different types of summer t-shirts you can make with Placeit by Envato:
Sell Your Summer Collection With Sunny Mockups
Your summer designs are looking great, but how can you make them look even more appealing to shoppers?
With professionally shot mockups!
Placeit has a whole collection of summer-themed mockups you can use to sell everything from t-shirts and tank tops to summer accessories. Customizing these mockups is as easy as can be. All you have to do is upload your design, resize it, and place it exactly where you want it. Choose a background color for the item and hit download. That's it, your mockup is ready to be uploaded into your shop!
Check out some of the best-selling summer mockups you can use to spruce up your shop this summer:
Transform Your Social Channels With Trendy Social Media Templates
In order to make major sales this season, you'll need to make sure your brand new summer collection gets noticed. This means advertising your new designs and promoting them on all your social channels.
With Placeit's summer-themed social media templates, this couldn't be any easier to accomplish! Find everything you need to make sure your audience sees what you're selling, from Instagram Stories templates to all sorts of social media posts.
You can use these to promote a summer sale, hold a fun contest, or even just show off that new collection your audience will be excited to grab. Customize each template with your own images, and text, and even add music to the video templates!
Check out the different summer-themed social media templates you'll find:
🏄‍♂️  Don't fall behind on this year's social media trends! Check out these social media strategies to keep you on top of your game all year long. 
Advertise Your Summer Sale With Banner Ads
There's no better way to drive traffic to your shop than with online banner ads. If you've already experimented with banner ads and love them, then you're going to love our customizable templates! They take all the work out of designing eye-catching and effective banners.
You can customize the text, colors, images, and the call to action to create a banner design that matches your brand perfectly. Hook your audience with a quick and effective message and inspire them to click with an exciting call to action.
Check out some of the summer-themed banner ads you can use this season:
Create a Summer Flyer Design That Attracts Attention
Summer is the perfect time to have a pool party, a barbeque, or even host a summer camp. Whatever event you're planning, be sure to get the word out with a fun and eye-catching flyer design.
Whether you're hosting an event or want to promote your services, a flyer is a great way to get the information out there. Gather the most crucial information that needs to go on your flyer, such as the location of the event, your contact information, and other important details.
Use this information to customize one of Placeit's many flyer templates, and once you're satisfied with the look of it, hit download. You can use this flyer design online or you can print it out and post it around town.
Browse some of the many flyer designs available:
🌴✨ Make a splash into our summer sales guide to discover all the relevant holidays, trendy designs, and some of the best design and marketing tips to rock this second quarter!
Promote a Sale This Summer With Customizable Video Templates
Promote everything under the sun, from a summer sale to your new collection, with video! Take your ads one step further by turning them into fun and enticing video content.
You don't need any special programs or any video editing experience to get the videos you want. Placeit's video templates make it easy to create stunning videos with music in no time.
Customize your video with your own text and images, choose your color palette, and pick some transitions. We have a whole library of royalty-free music you can use to really bring your videos to life.
Explore some of the summery video templates you can customize:
Summer is a huge season for small business owners and presents tons of opportunities when it comes to sales or even just hosting branded events.
Whatever your plans are for this season, whether it's a new collection, a major sale, or some fun events, be sure you get the word out so that no one misses out.
With Placeit's summer templates, you can cut out some of the heavy work that can slow you down. Check out the summer t-shirt designs and mockups to design and promote your summer apparel. Customize some social media templates to promote everything you have going on this season. And, don't miss out on any potential sales with customizable banner ads, flyers, and video templates.
Are there any templates we're missing? Let us know in the comments below
If you want to get a headstart on your fall planning, check out these popular September designs to gear up for the new season!
---
---