What Is a Custom Crop Top & How to Sell Online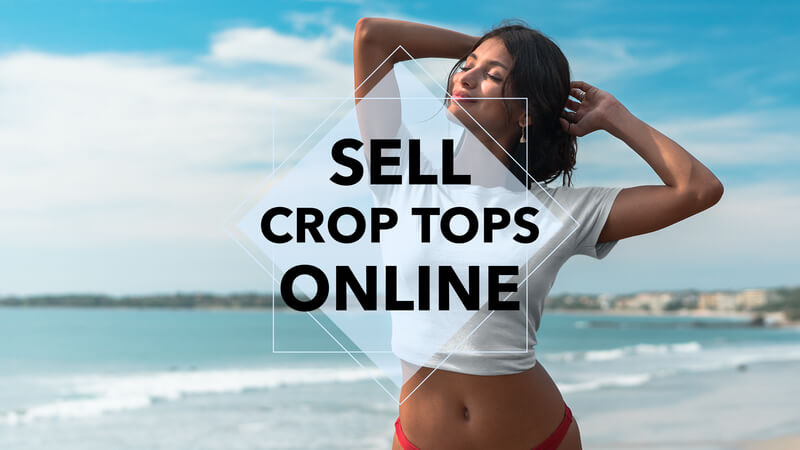 If you're not familiar with crop tops, they're basically cropped shirts available in a number of styles, including cropped t-shirts, halter tops, and tank tops, among many other styles. They're a great addition to any apparel line and are a great seasonal item to sell online. If you're considering adding custom crop tops to your apparel line, this can be as easy as grabbing your designs and placing them on a crop top mockup!
What You'll Find: 
🌴✨ Make a splash into our summer sales guide to discover all the relevant holidays, trendy designs, and some of the best design and marketing tips to rock this second quarter!
Sell Your Crop Top Designs Online
If you already sell apparel online, adding crop tops to your apparel line is a great idea! While crop tops are used year-round, they are especially popular during the warmer summer months. You can either create exclusive designs meant for crop tops or use the t-shirt designs you already have. By using a print-on-demand site, you can save yourself the trouble of having to print your crop tops. Once you have a great design ready, all you're missing is the perfect crop top mockup!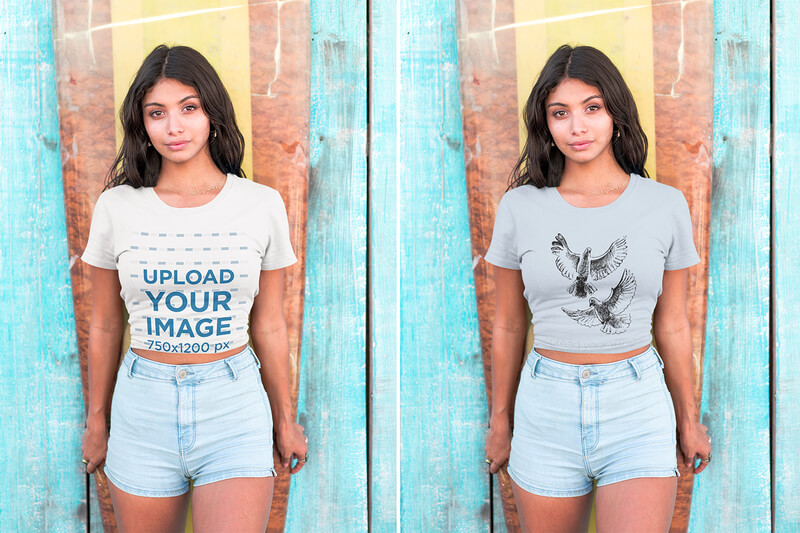 Use Crop Top Mockups
Don't sell your designs online using flat, boring images. Instead, use high-quality images that display the designs you work so hard on in a more attractive manner. If you're working on a summer crop top design or a more urban-style crop top, Placeit has the perfect mockups for you! These high-quality images are taken by professional photographers, so you can be sure your designs will look great on them. What's even better is you don't need any photography experience or any design programs to get the perfect images to advertise your apparel line!
Create Your Crop Top Clothing Logo
Rethinking your own clothing logo? You have the product, and you are serious about it, learn more about the right elements in a logo on How to Make a Clothing Brand Logo. If you are already selling your ideas online, your buyers must remember who designed them. This way, you'll start building up a fashion brand with a clear statement according to the style, messages, and colors you use on your crop tops.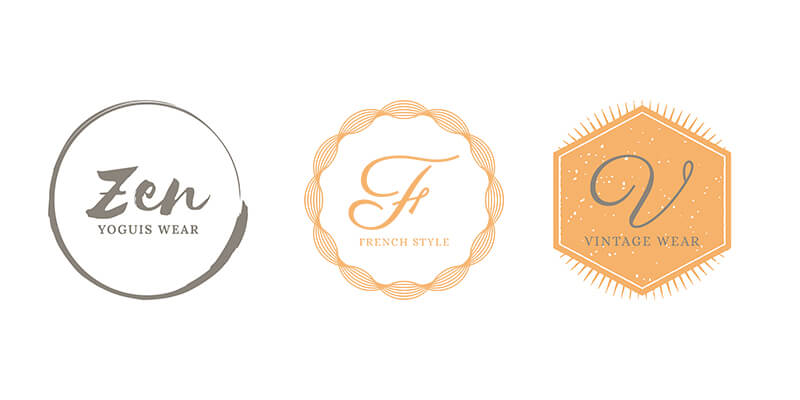 A Lesson in Fashion History: All About the Crop Top
Origins of the Crop Top Trend
Like most fashion trends, the crop top wasn't always as accepted as it is today. In fact, just decades ago, this current wardrobe staple was not accepted in the United States. Eastern cultures were the first to embrace the crop top, thanks partially to their warmer weather and cultural practices. It was, in fact, belly dancers who introduced the crowds at the Chicago World's Fair to the crop top in the 1890s. While this presentation caught the attention of just about everyone, it wouldn't be until way later that the crop top would catch on in the West.
1940s Crop Top Trend
It wasn't until the 1940s that the crop top really had its moment in the United States, and this was all thanks to rationing. The 1940s crop top was more modest and was always paired with high-waisted midi skirts in order to keep the person wearing it a bit more covered up. This was usually considered a holiday look, although these smaller tops included a high collar and sleeves.
Hippie Fashion & Crop Tops
While crop tops hung around during the years following the 1940s, it wasn't until decades later that the belly shirt and crop top styles were accepted as mainstream apparel. In the late 60s and 70s, crop top trends really gained popularity thanks to the hippie movement and the bohemian style apparel popular during the era. Instead of pairing a modest crop top with high waistlines to keep the body covered, it became popular to use cropped shirts with even lower waistlines and higher hemlines. It wasn't only the hippies wearing crop tops; celebrities like Cher made them glamorous, which helped cement their place in fashion history.
80s Crop Tops
The 80s saw the arrival of athleisure as sportswear became everyday apparel for the masses. Working out and showing off the results all that gym time resulted in making the crop top even more of a mainstream garment. Nike released male crop tops, while women were also often seen in cropped t-shirts and cropped sweaters paired with leotards and leggings. Think Jane Fonda's workout videos. Iconic films like Dirty Dancing and Flashdance put the crop top front and center on the big screen, while Madonna, the queen of pop, wore them often in what was considered racy outfits.
Crop Tops in the 90s
The crop top continued to be a staple wardrobe piece in the 90s and the early 2000s for a number of different subcultures. The 90s crop top trend was worn by all, from punks to Cher Horowitz. Whether with fringe reminiscent of the hippie movement or with a belly chain to highlight toned abs, the crop top was seen everywhere. Although crop tops were popular with pop stars through the 90s and early 2000s, their popularity eventually came to an end as they were replaced by the long and layered tank tops that took over fashion.
Current Crop Top Trends
After a short hiatus, the crop top is back! This trend has resurged in the past few seasons in a number of different styles. From the vintage crop top trend popularized by music festival attendees to the very 80s take on athleisure, just about everyone seems to own at least one belly-baring top. Whether you wear yours to the gym or out for a night on the town, it's clear that the crop top is back and is here to stay.
How to Style a Crop Top Today
Since the crop top has such a long history and has been worn in a number of different styles throughout the years, the styling possibilities are endless. Not sure how to wear your crop top? Check out these different ways to wear crop tops.
Wear a Crop Top and High Waisted Jeans
Reminiscent of the 1940s crop top trend, pairing your cropped t-shirt with some high-waisted jeans or even shorts is the perfect combination. This is a great way to stay on-trend while staying covered up if you're not quite used to wearing a belly-bearing top.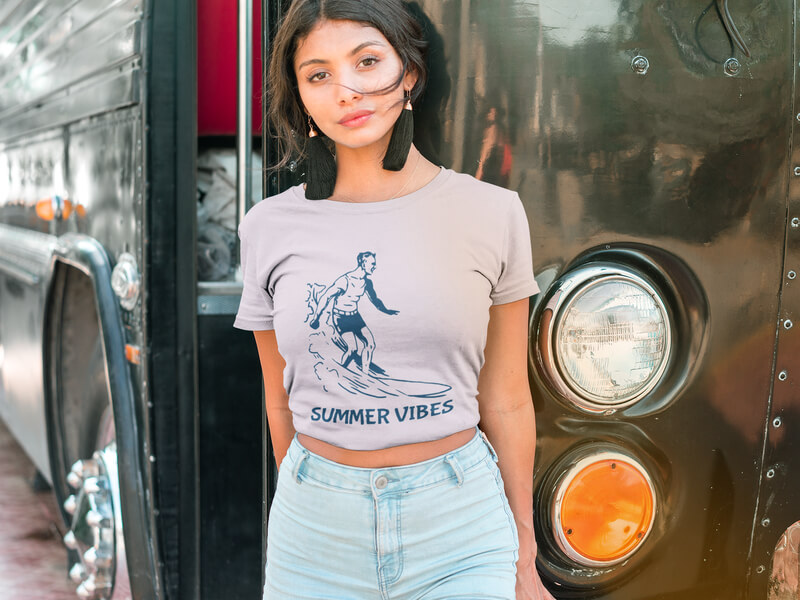 Crop Tops and Boho Festival Clothing
Music festivals all over the world have become the place to show off your unique take on fashion. More often than not, festival wear pays homage to the classic 1960s bohemian looks sported by the hippies at major music festivals like Woodstock. Think crop tops with high-waisted shorts, fringe, crochet, and plenty of peace signs. You can also try wearing your crop top with your bathing suit during a summer festival.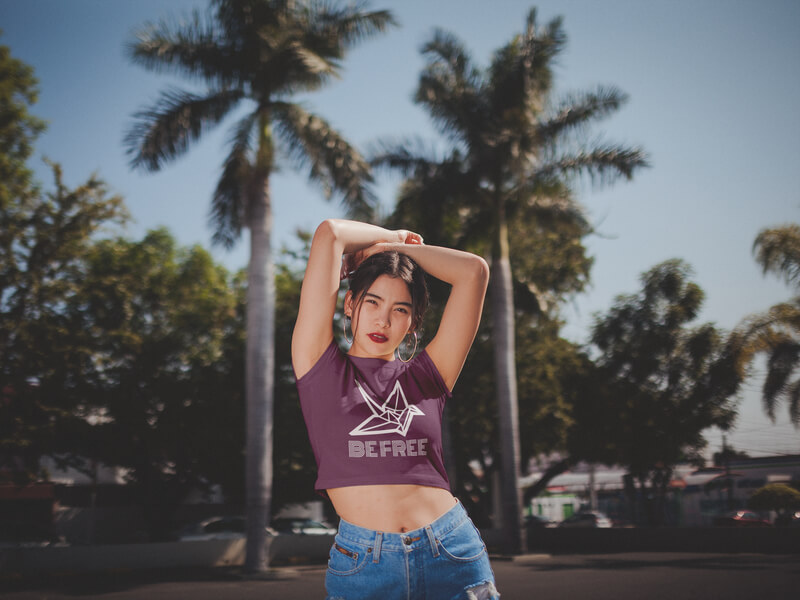 Cover up With a Crop Top
Planning on heading to the beach this summer? A crop top makes for a perfect beach cover-up! While you lounge under your beach umbrella or try to hide from the sun for a bit, pull on your favorite beach crop top design!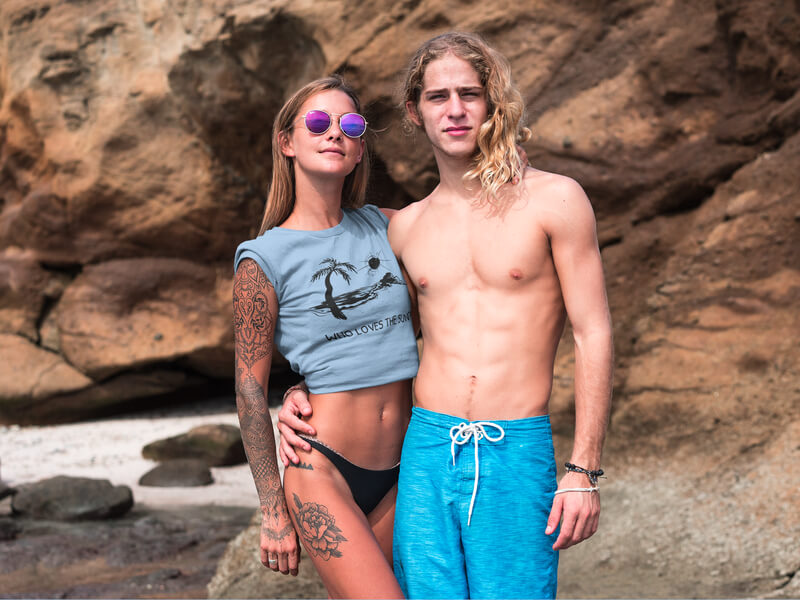 Go Back to the 80s With a Sporty Crop Top
If you're more into sportswear, wearing a crop top to the gym or pairing it with leggings and your favorite sneakers is a super comfy way to stay on-trend. This is a popular look for men, especially among football players or those taking a cue from Will Smith's character in The Fresh Prince of Bel-Air.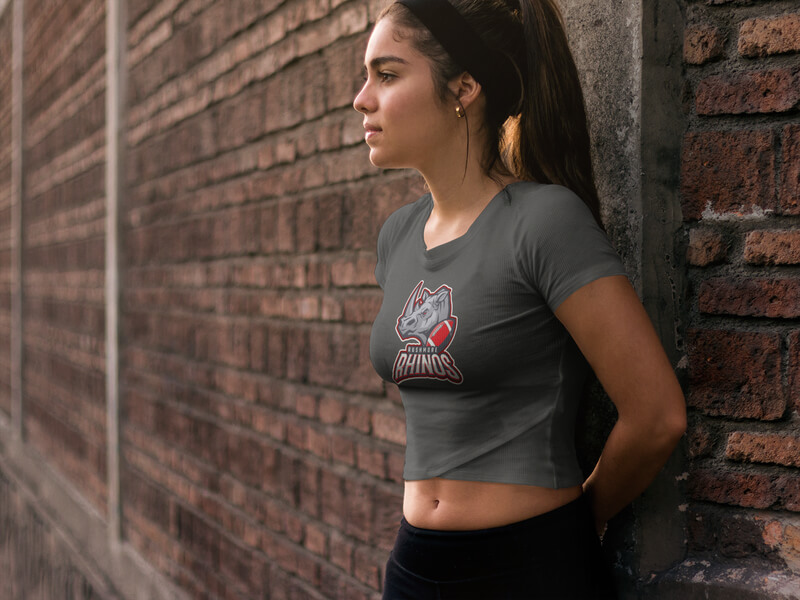 ---
Expand Your Summer Apparel Line
Selling apparel online can seem like a complicated process, but with the help of a print-on-demand site, it couldn't be easier. All you have to do is create your designs, put your designs on a mockup, and choose one of the many print-on-demand services available to start making sales! Offering seasonal products like crop tops in the summer is a great way to experiment with new POD products while offering your customers your designs on a wider array of products. There are a huge number of print-on-demand sites you can explore, but if crop tops are what you are looking to sell, Printful and Zazzle offer the most complete lines of POD products that include crop tops.
🏄‍♂️ Check out all these summer templates you can use to design everything from crop tops to bathing suits!
You also have the option to sell your crop tops in other marketplaces like Etsy. Since marketplaces like this have a larger focus on original and visually appealing products, mockups will come in very handy here. Instead of looking for models, buying camera equipment, and taking a trip to the beach for the perfect snap of your custom crop tops, check out Placeit's crop top mockups! We know you won't be disappointed!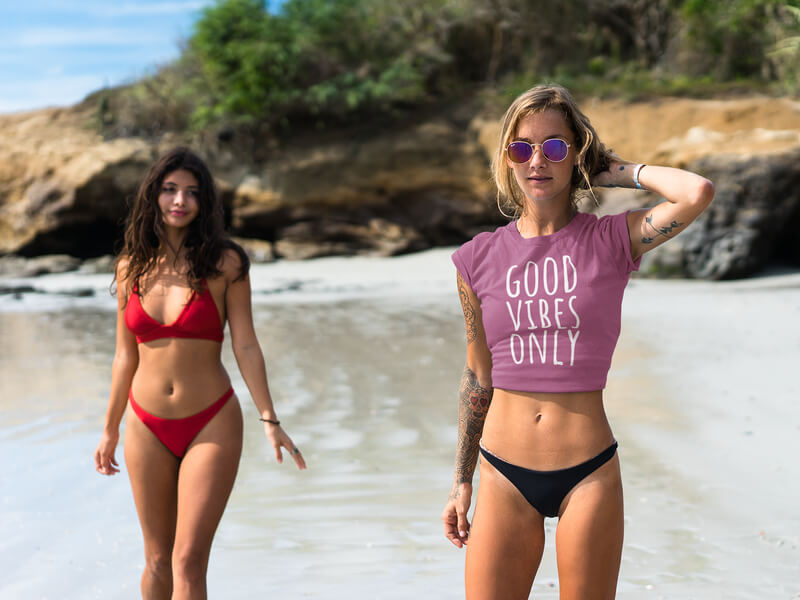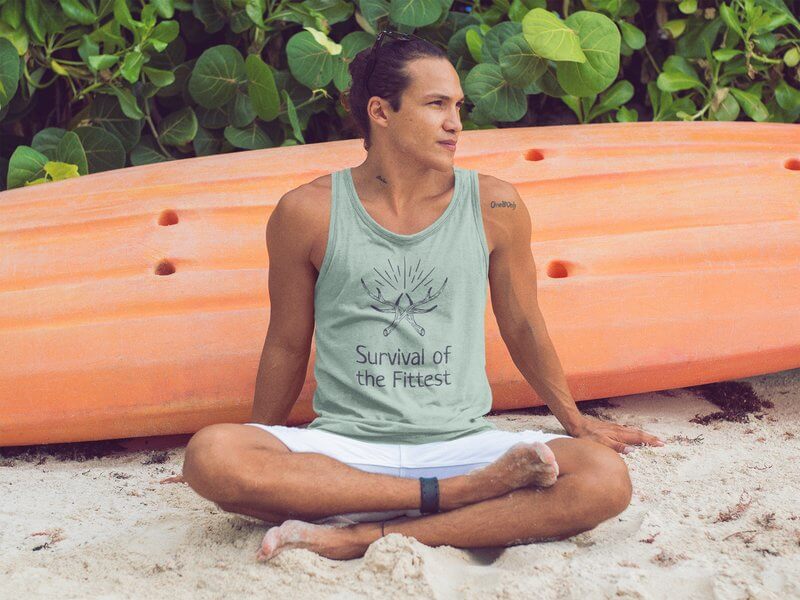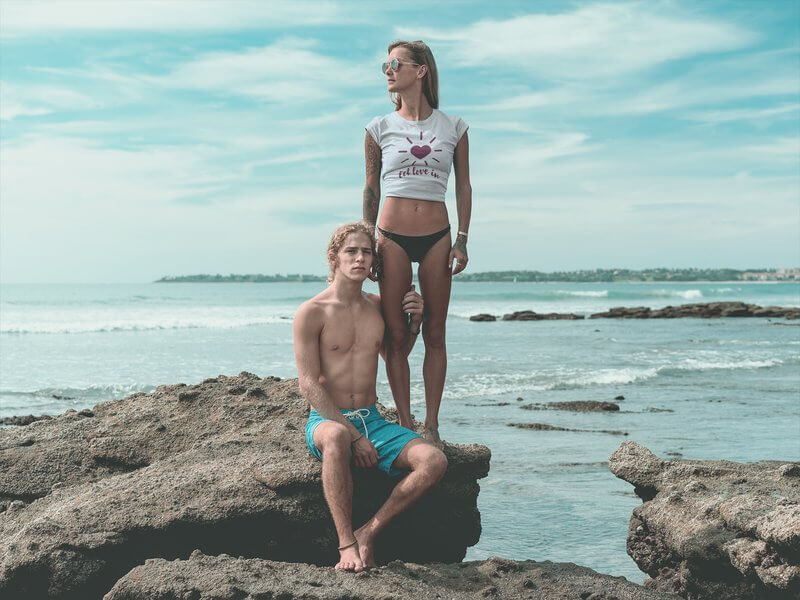 Girl Wearing A T Shirt Mockup Walking At The Beach With Her Friend
Surfer Guy Sitting In The Sand On The Beach Tank Top Mockup
Woman Wearing A T Shirt Mockup With Her Boyfriend By The Sea
Check out the different mockups Placeit offers for your summer apparel!
---
Start Making Serious Crop Top Sales
If you've gotten bored with the limited apparel available in your clothing line, why not explore new products? With summer just around the corner, we're sure your customers would love to see crop tops included in your apparel line! With Placeit's crop top mockups, you'll have the perfect images to start making serious crop top sales. Now that you're out of excuses, head over to Placeit and start making your crop top mockups!
"My t-shirt designs look amazing on Placeit's crop top mockups!"
Melanie Morris 5/5
---
Add Custom Crop Tops to Your Apparel Line
Selling t-shirts online is a great way to make some extra money, but why not take advantage of how easy this is by adding more products to your apparel line? Placeit's wide array of mockups make it easy to sell your designs on a number of products, including custom crop tops! Take advantage of the upcoming summer season and start promoting your designs on some cute, summer mockups!
Customize a Crop Top Mockup!
---