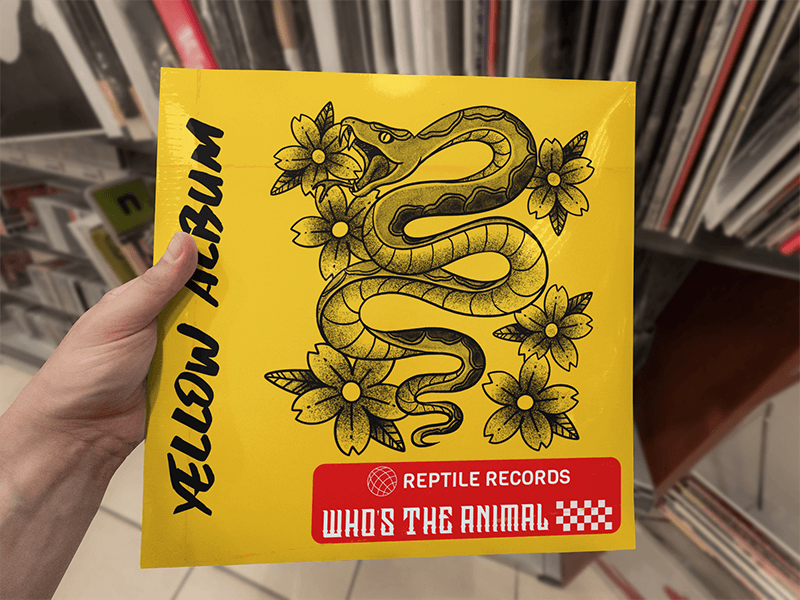 Regardless of your genre, you can find a few music graphic design styles to successfully expand your reach.
Melomaniacs respond to their favorite notes, but sight is faster than sound. That's one of the reasons you should be focusing your efforts on your visual assets to promote your music in the best way possible.
Choosing Music Graphic Design Style
We know our music is your craft and your passion. Wouldn't it be great if people could tell that you're an outstanding artist just from looking at your art cover, and merch? Well, you're in the right place to learn how to do it easy, quick, and on a budget.
Visual identity plays a significant role in building a new brand as a musician. Your album artwork, as well as logo, should match your music style, as well as your mixtape cover,  social media designs, banners, merch, and other visual assets to tell people you're in the business.
We'll go over a few graphic styles you can experiment with. Just keep in mind that there are no strict rules when it comes to choosing the style to promote your music, after all, it is all about you feeling confident enough to share your craft to new audiences.
Hip Hop Style
Hip hop is not only a music genre, but it is also an artistic expression that includes urban art, fashion, and graphic design.
Continually evolving, hip hop is the sum of a diversity of cultural backgrounds. Its visual elements are often impressive because hip hop artists tend to break the rules and keep their style evergreen.
Creative elements like artistic typography with compelling photographs really catch the attention of future listeners. However, there are no strict guidelines to follow when creating a hip hop style graphic, just stay true to your essence as an artist.
Hip Hop Cover Art
Creating a cover for your single release or your upcoming album can be a long process. Remember that this will be one of the most significant pieces to promote your music and should meet some specs for music distributors and streaming services.
Your cover art should be original. Avoid using unauthorized images or copyright protected ones unless you have permission to do so. Here are some examples of what you can do using an album cover maker.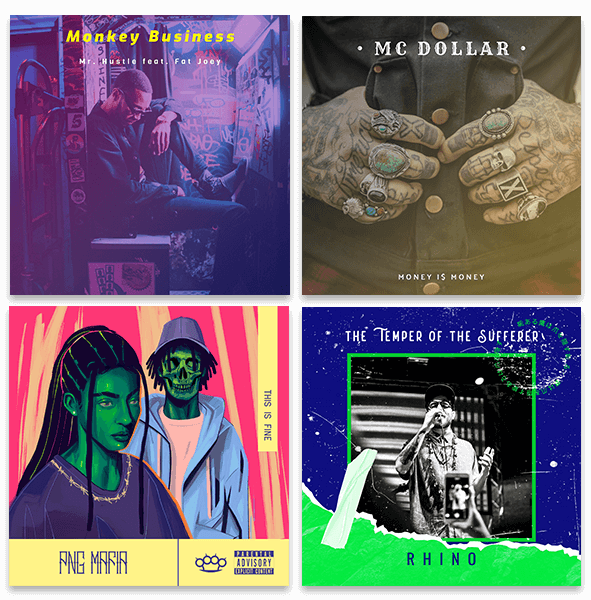 Vaporwave and Cyberpunk Design Styles
Neon lights and pop culture references are a powerful graphic statement, mostly appearing in vaporwave and cyberpunk visual pieces. Even though this trend is not new for artists, both styles have been getting stronger over the last couple of years.
Vaporwave is a music genre but also a visual art trend, it involves glitch art, 90s-inspired graphics, Japanese characters, and flashy colors.
On the other hand, cyberpunk was born as a sci-fi subgenre, mostly used in literature, but it's also present in movies, music, and fashion.
Both graphic design styles are perfect for electronic musicians, DJs, and artists who love new-wave aesthetics.
Retro Graphic Design Styles
From nostalgic pop artists to jazz and classical, retro style has a vintage feel to it but still looks current. This style includes a broad range of influences from the 1950s to the 1970s and early 1980s.
What does vintage graphic design mean? It has to do with old fonts and old illustrations or pictures. Retro design has a strong emotional feel to it, and it's an excellent choice to target a specific group of people who feel nostalgic about a bygone era. Whereas retro refers to something that imitates the graphics from a relatively recent period.
Get the attention you need from those who love past eras—people who still use pomade and love bringing up amazing historical facts.
Retro Album Cover Art Maker
So now you know which graphic style will match your music, what's next? You don't really have to learn how to make an album cover. Go through the design, choose one, customize it, and that's it!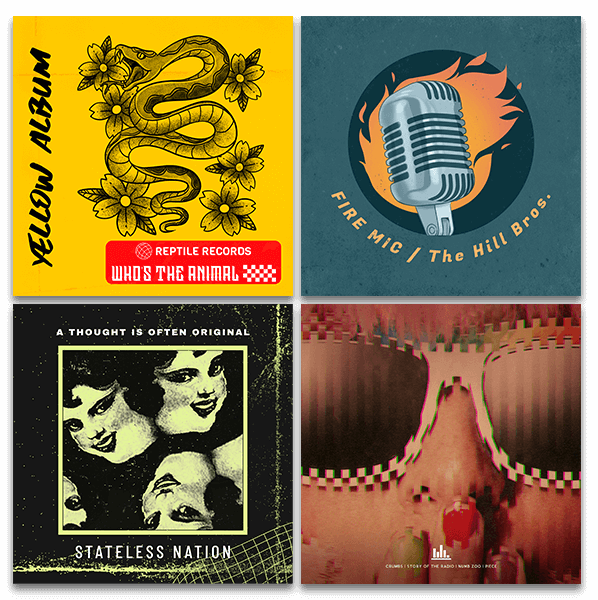 Modern Abstract Art
This style is versatile enough to fit almost any musician's needs. It's all about simple graphics mixed with bold colors and high contrast.
Its popularity is based on geometric appeal and repetitive patterns. The best feature of using an abstract design is that it looks timeless and polished.
Here are some examples of graphic design styles suitable for indie music artists who are looking for clean, modern cover art.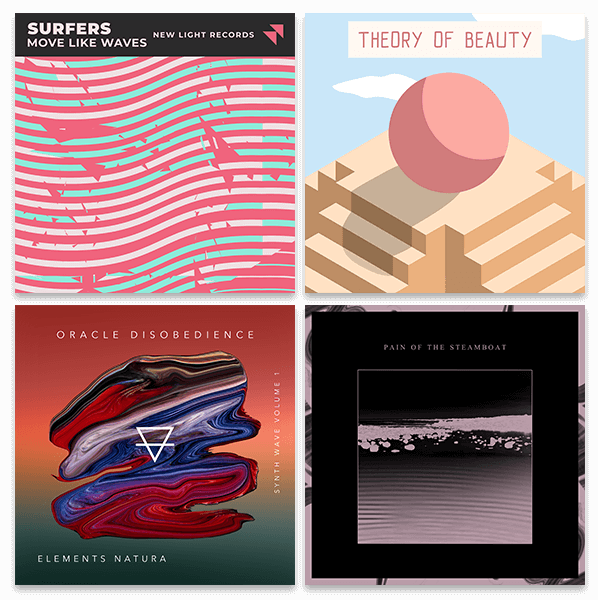 Rock Band Posters Inspiration
Rock and all its sub-genres are alive and well. Most rock visual identity is associated with black backgrounds and chiaroscuro pictures.
Dark-themed graphics and garage-inspired are a powerful way to introduce your band to a new audience.
Rock Album Cover Art
Some insights about creating the perfect rock album cover are to keep it simple and use an image that gets to the point.
Stop for a second and think about the most iconic rock albums ever. That kind of cover art will go to the pages of history because of their strong messages, and their artwork stood out.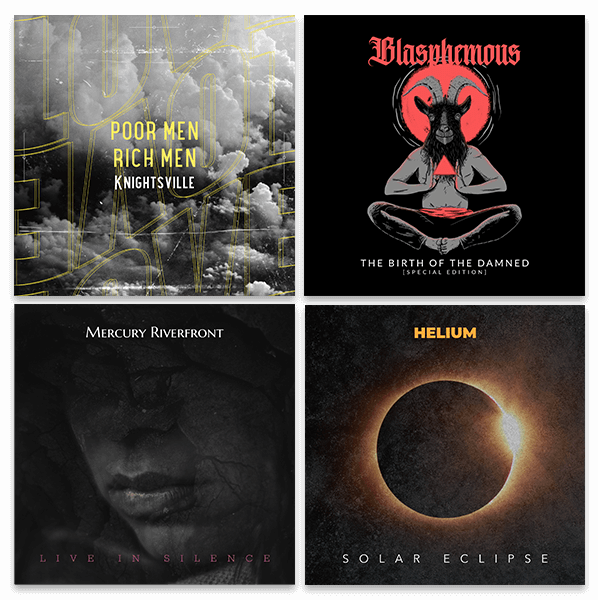 Design and Sell the Best Music Merch
Music platforms like Spotify and YouTube Music allow you to display merchandise. To get your music brand to the next level, you should get your graphic design style on t-shirts, hoodies, tank tops, posters, and more so your fans can get theirs ready to sign on your next gig.
Once your overall visual identity is set, try with different mockups to sell merch for your fans.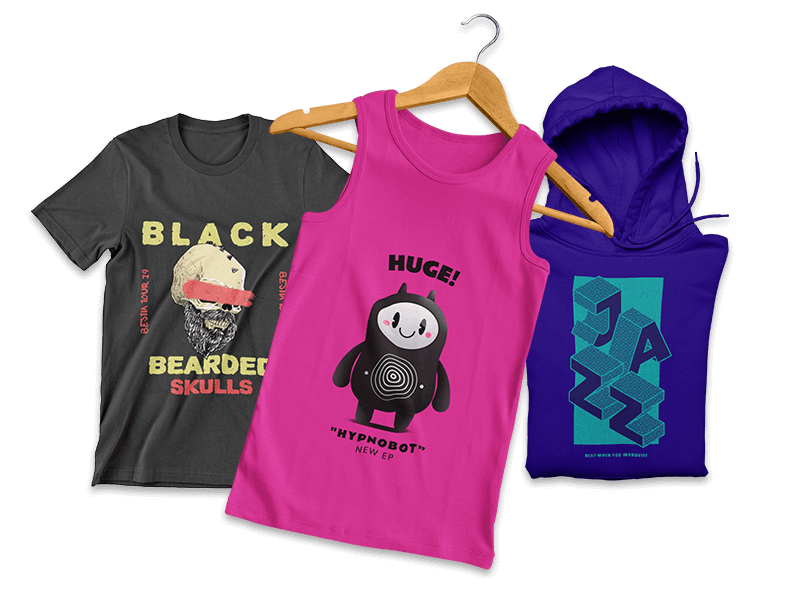 To Wrap It Up
After exploring this quick guide on graphic design styles for musicians, feel free to dig into the variety of Placeit's music templates. You can find design templates to use for your merch, as well as mockups to promote it over social media and streaming platforms. Also, you might want to complement your graphic strategy by reading the Definitive Guide to Influencer Marketing For Musicians
We would love to hear from you and watch your music career take off.

---
Want some extra insight on how to pump up your music? Go to our How to Promote on SoundCloud blog post!
---
Choose the Best Music Graphic Design Style
When you're an indie artist, social media and online platforms are your stages too. Explore all the music graphic design styles available to get your music out there!
Explore the Latest Musician Templates
---