"Can't mention this enough: For web/UI designers, Placeit is a great online tool" Six Revisions
5/5
Every product deserves a professional product mockup to display it and entice your potential customers into deciding to purchase your product. Placeit has over 800 free product mockups ready for you to upload your screenshot and create a perfect marketing image perfect for your app marketing strategy. You can use Placeit free product mockups anywhere you want. Be it for the App Store, social media or your website, a product mockup will help you highlight your best features in real environments with real people. This way, you will convince your users that your product is perfect for them.
In this list, we have highlighted 25 of our free product mockups, but remember that we have more than 800 you can use, with environments showing corporate and casual locations, bars, restaurants, homes and everything you can think of. This way you can create a very personalized product mockup.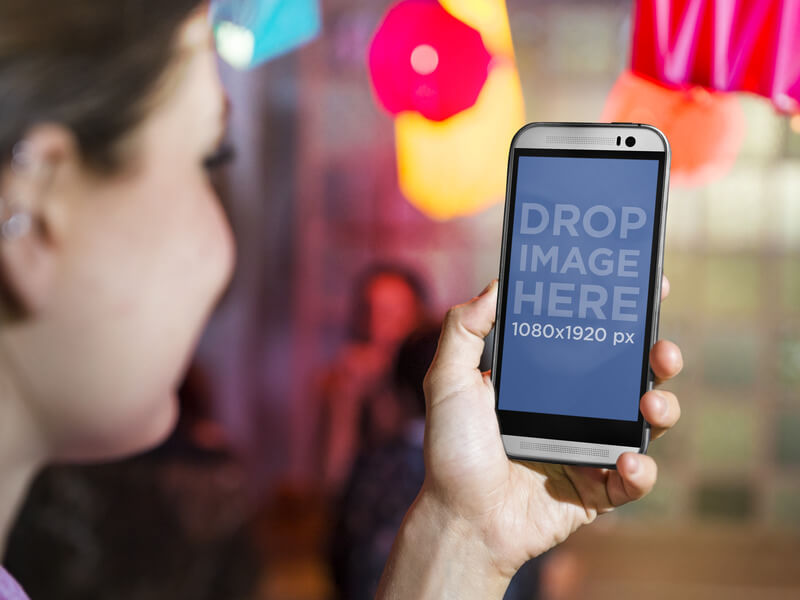 This young woman is out at for a fun night but all she can focus on is your new iOS app on this black HTC One 8M smartphone. The crowd and bright lights fade away behind the mobile phone she holds in portrait position to view your newest app. Your product takes center stage and all the focus in this HTC One 8M template. Placeit is a great marketing tool to display your app in true modern day context because they use realistic, relatable scenarios. We all know, want to know or are this tech savvy woman enjoying your newest app. Simply drag and drop a screenshot of your app directly onto the HTC One 8M screen or type a URL above. Placeit will automatically adjust it and deliver a powerful image to reach your target market. Put your marketing strategy into action today with Placeit templates.
This Apple Watch Mockup Generator is just what you were looking for to display the new iOS app you designed for the amazing Apple Watch. This amazing mockup template presents a young man who is wearing the device on his left wrist in a way that fully displays the Apple Watch screen in a portrait position, providing the perfect scenario to make your app stand out and shine under the spotlight. Take a good look at the device, isn't it cool? It has a space black stainless steel link bracelet that holds the silver aluminum case watch. This is one of those devices that will change the way we look at technology and the way we use it in a daily basis. You will want to be one of the first to use Apple Watch Mockup Templates to display your iOS app, and you can do that by simply dragging a screenshot of your app straight into the Apple Watch, your end result will be an amazing image for you to share with potential users as a part of your app marketing campaign. Go ahead and try this Black Apple Watch mockup template on a man's wrist!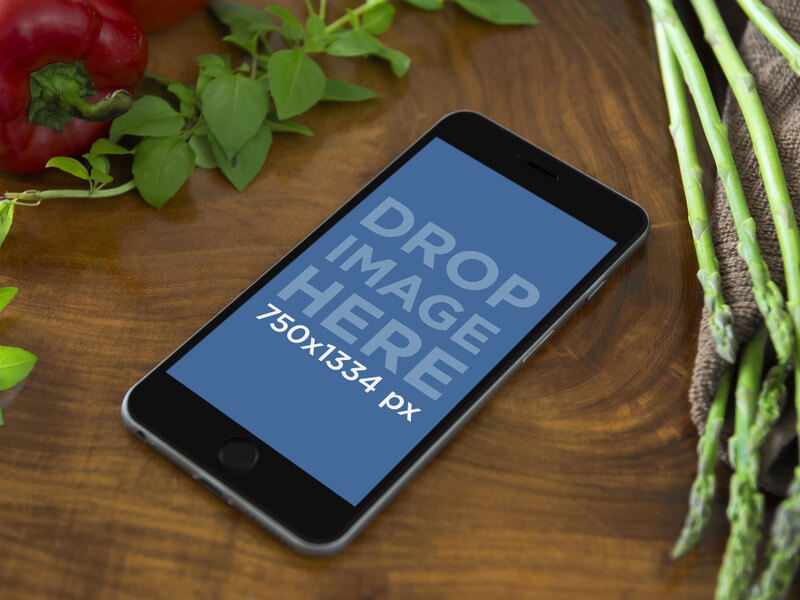 Consumers are hungry for fresh, new, inventive products. Let's check out what your new iOS app is serving up. This black iPhone 6 rests atop a natural wood kitchen chopping block, amid colorful vegetables, at an angled portrait position. This template is fresh and organic just like your newest app. Your target market is hungry and cannot wait to see what you've cooked up for them. Get back to marketing basics with this Placeit iPhone 6 mockup template. Mockup are so easy to create. Simply drag and drop a screenshot of your own app onto the iPhone's screen or type a URL above. Placeit will automatically adjust it and make a winning image out of this template. Your customers will eat it up. Don't miss out of the raw genius of this template. All that's missing is your app or website so get started today. Don't just stand there watching that pot of water boil, get it to and take your marketing strategy to another level with Placeit templates.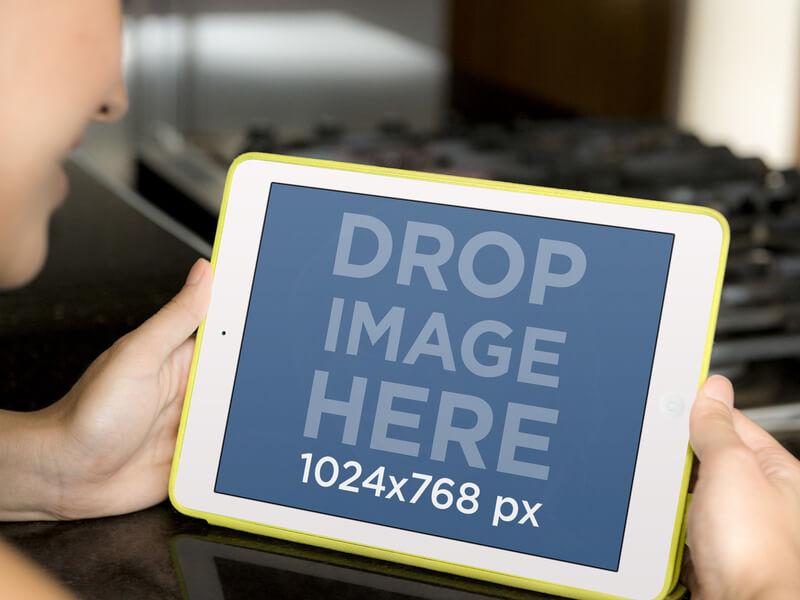 This smiling young woman is enjoying a look at a white iPad Mini in landscape position in the comforts of a home setting. iPads are a must have item in the modern world and for very good reason. They are the perfect device to use at home, on the go and of course, at the work place too. Choose this mockup template of a modern woman using this popular device to view and use your iOS apps and/or mobile responsive websites. The scene is fun, clean, relatable and simple to understand, just like this iPad electronic device. Everyone wants to be this smiling, leisurely person with the latest technology, viewing your apps/websites today. Placeit gets you and your point across, use this mockup generator as a key element of your app marketing strategy.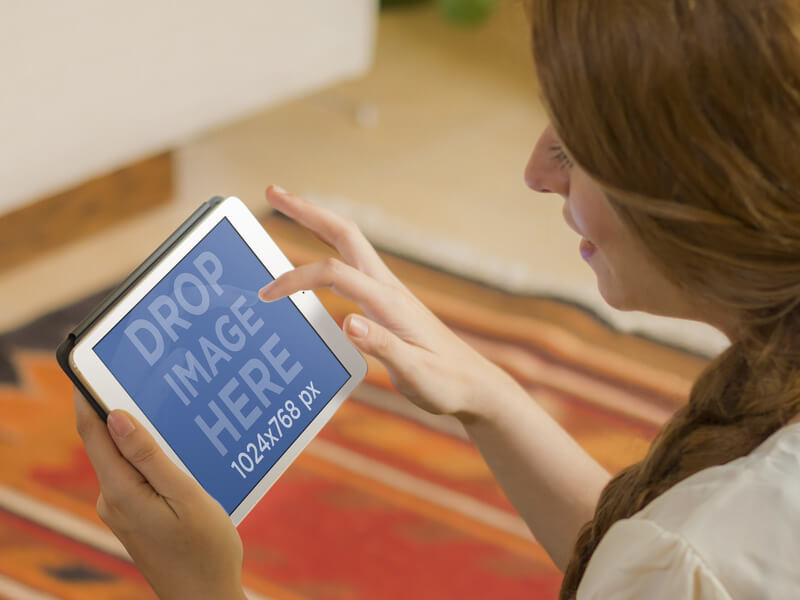 A Beautiful young woman is viewing your iOS app or mobile responsive website on a white iPad Mini. She sits comfortably and leisurely atop a brightly patterned, colorful carpet. This happy, modern woman uses this popular tablet device as it rests easily in landscape position in her hands. She swipes effortlessly and has fun using the white iPad mini to navigate your apps and websites. This mockup template is bright, colorful, youthful and modern. Just like your product. Placeit is the perfect marketing tool for your app marketing campaign, try it out right away!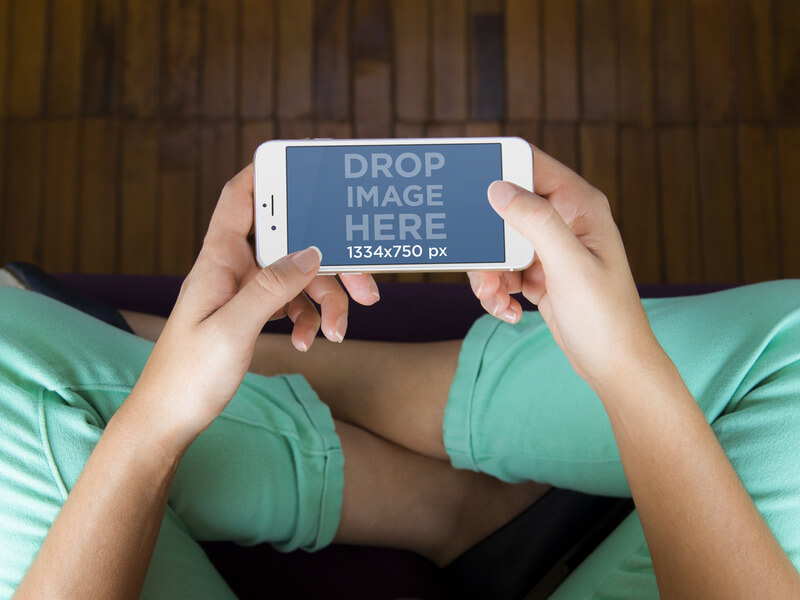 Holding a white iPhone in landscape position while sitting cross legged on a yoga mat, this young woman knows a yoga workout isn't complete without your newest iOS app to keep her company. Whether it encourages her before and throughout or rewards her exercise session afterwards, this Placeit template clearly showcases your iOS app in a cool, hip marketing image. Make the correlation between your product and the daily vital habits of the young and modern for your target demographic. Want to see your app being used by this zen young lady? It's so easy! Just drag and drop a screenshot of your own app directly into the iPhone's screen, or simply type a URL above and Placeit will automatically adjust it for a custom image designed to showcase your product. Capture everyone's attention and take your marketing strategy to the next level with this Placeit iPhone template. All that's missing in this scene is your wonderful new iOS app.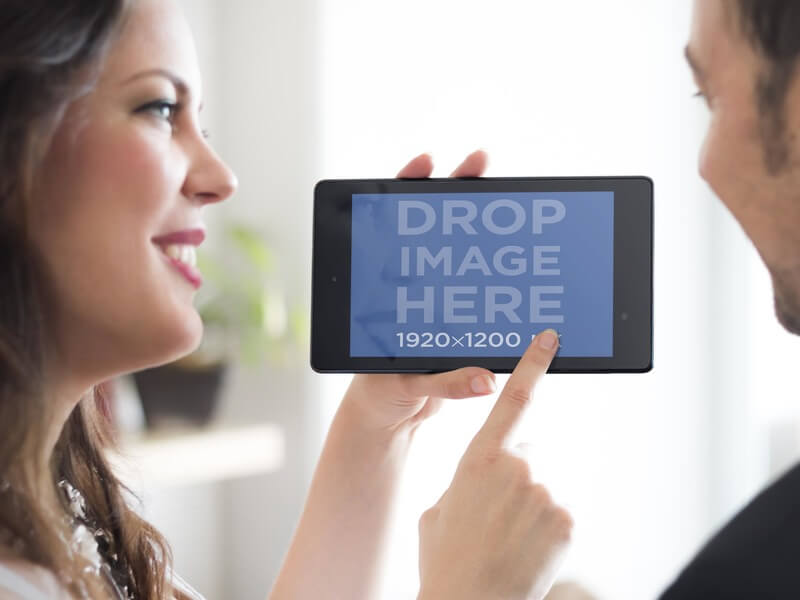 This Nexus scene makes for an amazing marketing tool. It features a couple viewing the large Nexus screen. They could be watching a movie together or flipping through a virtual photo album. She could be showing him a number of different things like; a new website she discovered, an item she found while shopping online, a message she received on a new social media app, etc. Whatever this couple is viewing, you can tell they're enjoying what they see. The close-up of the Nexus screen means you can upload an incredibly detailed screenshot from your own app. Turning this Placeit mockup into an extremely effective promotional tool.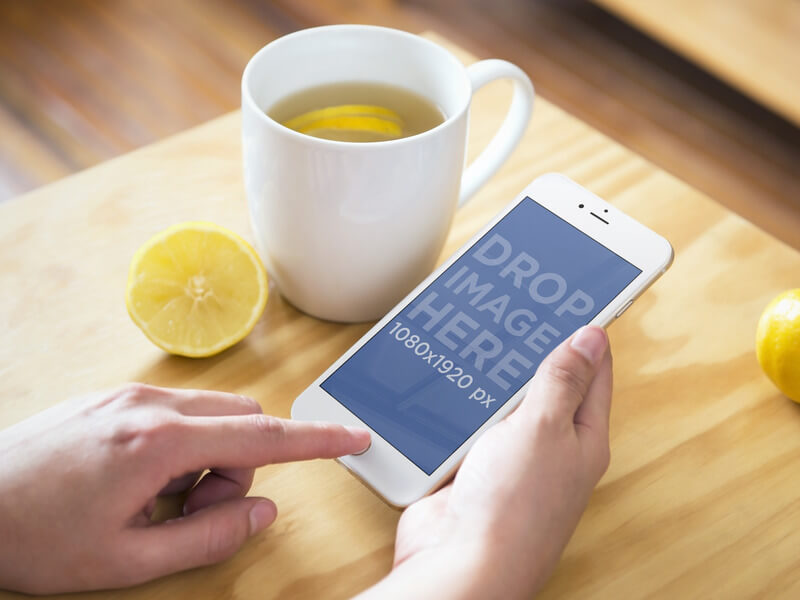 Have you created a fun new iOS app or mobile responsive website? If you have you'll need a good app marketing tool or two. Which is why you should be using Placeit's iPhone mockups and templates to promote your business and share your wonderful app with the world. Look at this scenario, for example. It features a beautiful shot of a white iPhone 6, being held in portrait position next to a cup of soothing lemon tea. There is a lot you can advertise with this iPhone template; a fun new iOS game or social app. A new way to stream videos or music online, this guy could be checking sports stats or reading up on current events. Anything would work here, and the only thing this scene needs is your iOS app or mobile responsive website screenshot! Use this mockup generator to enhance your app marketing strategy.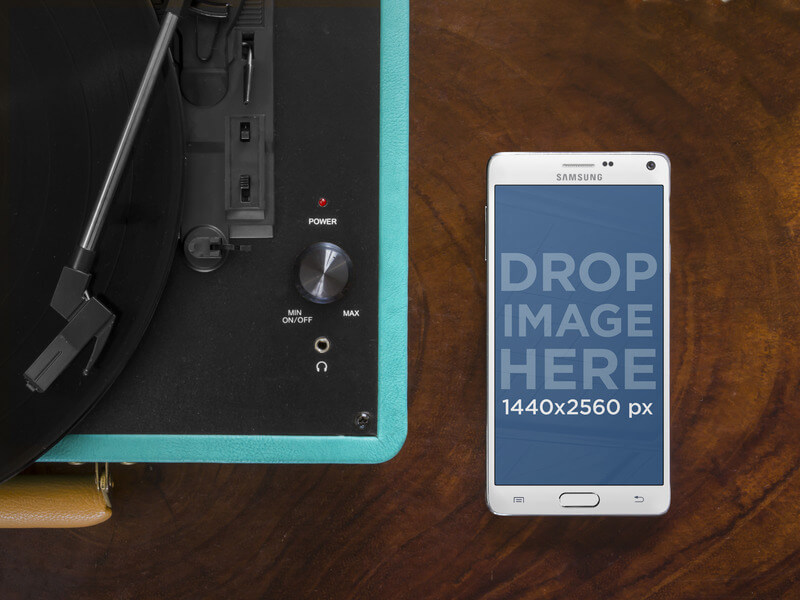 If you just finished developing a new music app for android devices this is the perfect place to show it off to the world and improve your app marketing. This Android mockup features a white Samsung Galaxy Note 4 in portrait position, over a wooden table, and next to an amazing vinyl player! Use this Samsung mockup for a hipster and cool scenario you can use to display your new app, the image is sharp and has a beautiful composition, the only thing it is missing is a screenshot of your app or website, just upload it into the Samsung Galaxy Note 4 and the image will be complete and ready for you to share with potential users or partners for a great exposure of your app.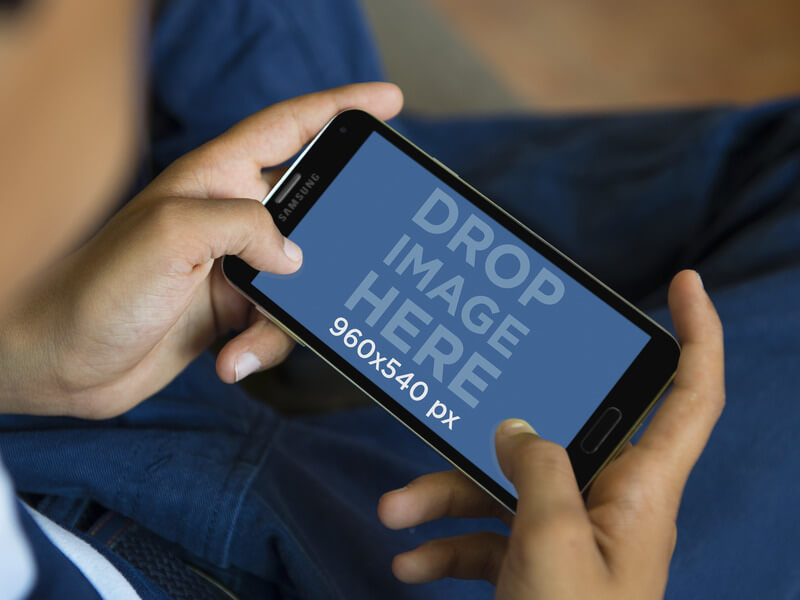 Now this is an amazing mockup template for your kids or family friendly Android app or mobile responsive website. It features a young boy sitting on a sofa, deeply engaged with his Samsung Galaxy Smartphone. He's holding his Galaxy in landscape position, which means you can display an extremely detailed screenshot from your Android app. Placeit is a truly great app marketing tool, and Android mockups are a great way to display your new app's design and innovative features. By combining this fun mockup and your Android app, you can create an awesome app marketing tool. How? It's extremely easy, simply take a screenshot from your Android app and drag it onto the screen of the Samsung Galaxy, then you just have to download the template from Placeit's website. Or to make things even easier on you, you can type your URL above, Placeit will automatically adjust it and deliver an amazing image of this little boy using your Android app and you'll be ready to share your new app marketing tool with everyone.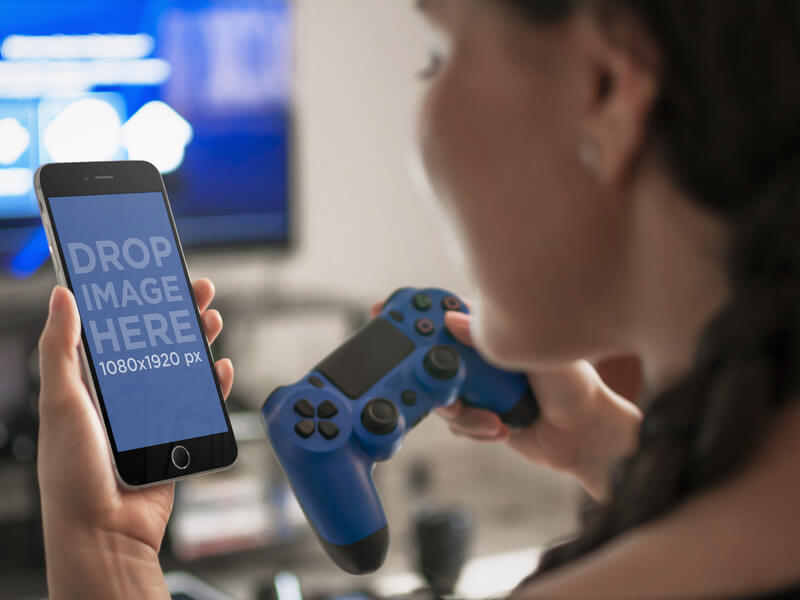 In this iPhone 6 mockup, a young woman looks at her black iPhone 6 in portrait position right in the middle of a Playstation 4 gaming session, what a risky thing to do! On her other hand, she is holding her gaming tool, a blue PS4 controller. She just paused her game to look at your new iOS app or mobile responsive website. This mockup template will be a great match for any social or gaming app, although it is versatile enough that to make most casual apps look good and stand out. Try showcasing your new iOS app within this Woman Playing Playstation 4 While Looking at iPhone 6 Mockup Template today and check out other device and context options Placeit has available for you to use as a part of your app marketing strategy. Remember all the small sizes are free and we also have app demo videos for a more in depth display of your features.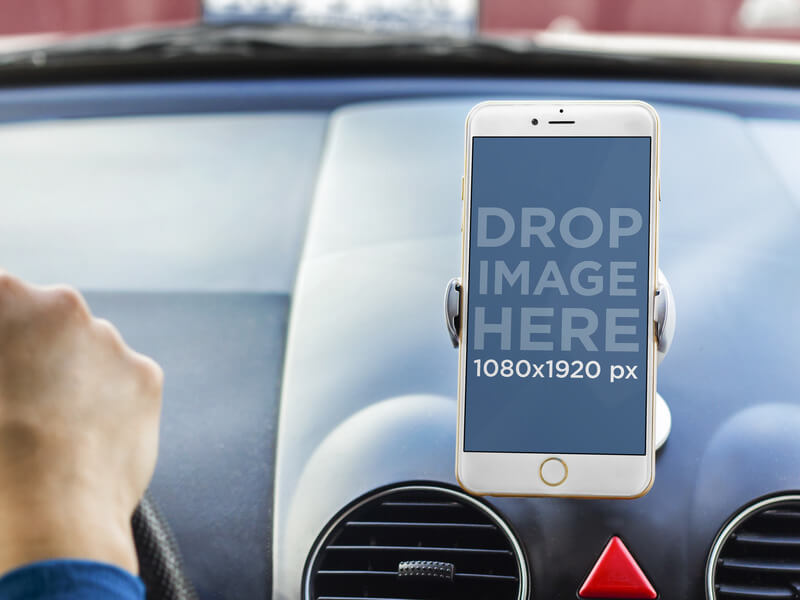 It is well known that using the phone while driving is a hazardous thing to do, that is why mobile companies offer different options to drive safely while still making great use of some of your smartphone's features. For example, in this amazing iPhone 6 mockup, we can see the device is set in a car dock that allows the driver to take quick glances at the screen and control some actions like the GPS, perhaps a music player or even use voice command to make phone calls or send texts. This is a great mockup template that displays a white iPhone 6 Plus in portrait position in an environment we can all relate to, the inside of the car, use this mockup to display your new iOS app or mobile responsive website in use and within a realistic and sophisticated environment. Go ahed and use iPhone mockup templates to enhance your app marketing strategy, Placeit makes it really simple!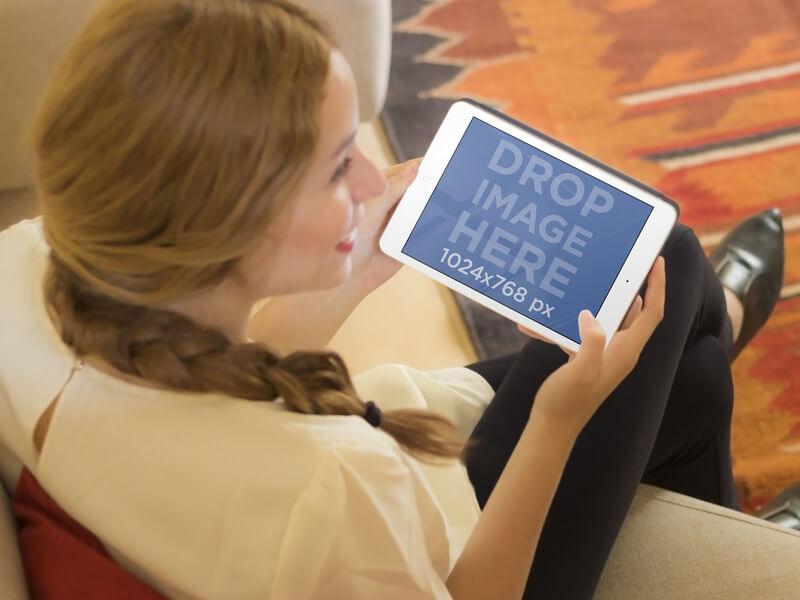 Can you think of a more effective way to market your website than having people see it being used in a real life scenario? But how do you pull that off? It's simple, you just need Placeit mockup templates to build up the magic. How does it work? First you pick out a scene that will promote your website in a fun way. Like this scene, for example. It features a smiling young woman who is holding her white iPad Mini in landscape position as she relaxes at her home living room. Is this girl shopping online, playing a game, watching a video or checking out a new social media platform? Well that's up to you. You can drag a screenshot from your mobile responsive website or iOS app and place it right onto of the iPad's screen. Then it's your website that has this woman smiling. After that, just share your amazing results with potential users and clients to enhance your app marketing strategy.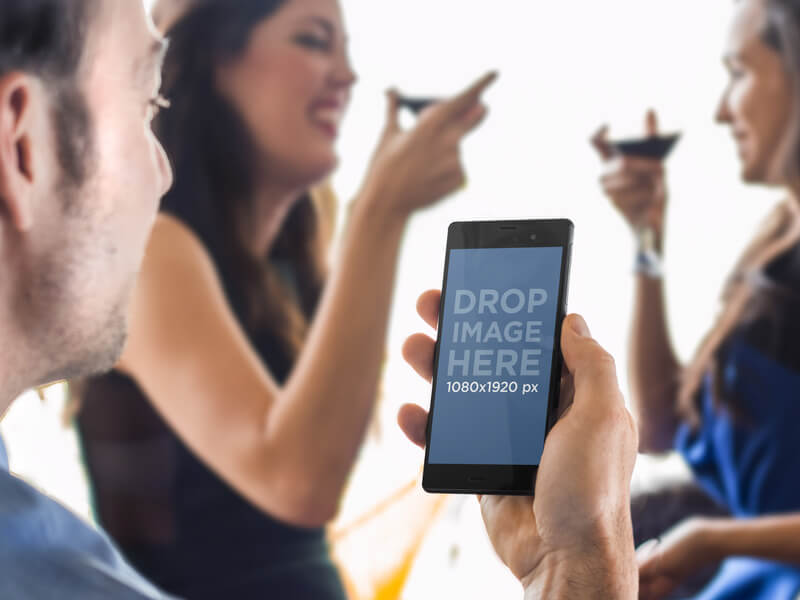 Looking for a way to show people that your app is available at more places than just the iTunes store? Then this Placeit mockup, featuring the Sony Xperia, is exactly what you're looking for. In this scene, you see a group of people drinking and having a good time. They're probably at some kind of party or social gathering. But the main focus of this scene is the man, holding up his Sony Xperia. You can tell that he is more interested in whatever is on his screen, than the party around him. What has this man so engaged? Is it a fun new game? A new social media app? Is he watching the big game on a new platform? Chatting with a friend who couldn't make it to the party? There is no end to the possibilities here. Now, don't you wish that it was your app that had this man's undivided attention? Well stop wishing, download this mockup right now and upload a screenshot of your app, right on top of the Sony Xperia screen.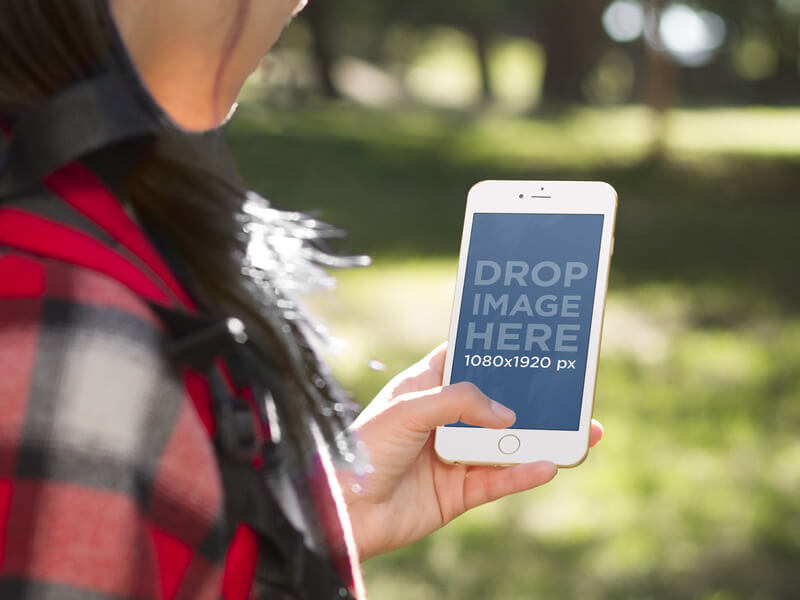 Are you looking for a way to incorporate the great outdoors into your marketing plan? Then you're going to love this mockup from Placeit. This scene features a young woman, on a hike, gazing into her iPhone 6. Making this mockup perfect for an outdoorsy app or responsive mobile website. For example, say you have an app that shows hikers nearby trails, finds camping spots, identifies plant and wildlife species or locates the nearest public bathroom. But this mockup doesn't only work for the outdoorsy apps, it could always work with a fun social app, a video chatting app or even photo sharing app. There are a million possibilities for this scene!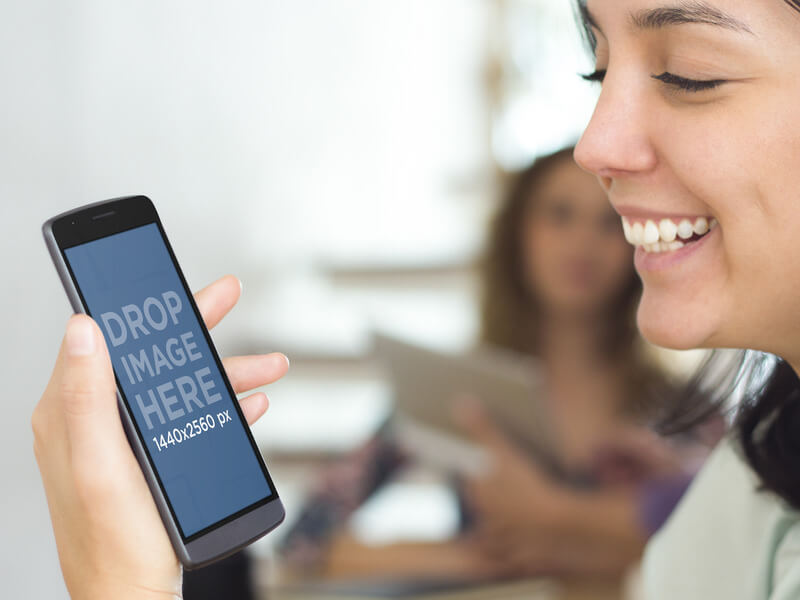 You've got to love that smile! The young woman in this scene is loving whatever is on her black LG G3 smartphone in portrait position and you can tell. Now just imagine how great it would be if she was smiling at your app? Well, you don't have to imagine. You just need to place a screenshot from your own app right onto the LG G3's screen and then download this android mockup from Placeit. It only takes a few moments of your time to create an amazing promotional tool to enhance your app marketing strategy. And don't forget to check out what other tools Placeit's has for online marketing.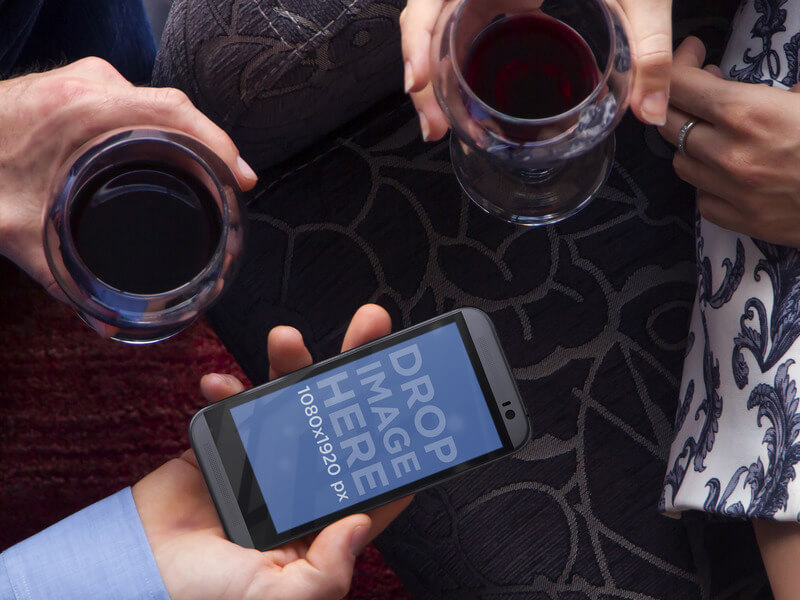 This HTC mockup is a fun one. We see a young couple on a date, enjoying some drinks, while viewing his HTC phone. They could be looking up movie times, watching a video or maybe he's showing a new app. The screen is facing straight up, meaning you can easily add and great screenshot from your own app. Then suddenly , it's your app this young couple is enjoying over drinks. Making this mockup the perfect marketing tool for you.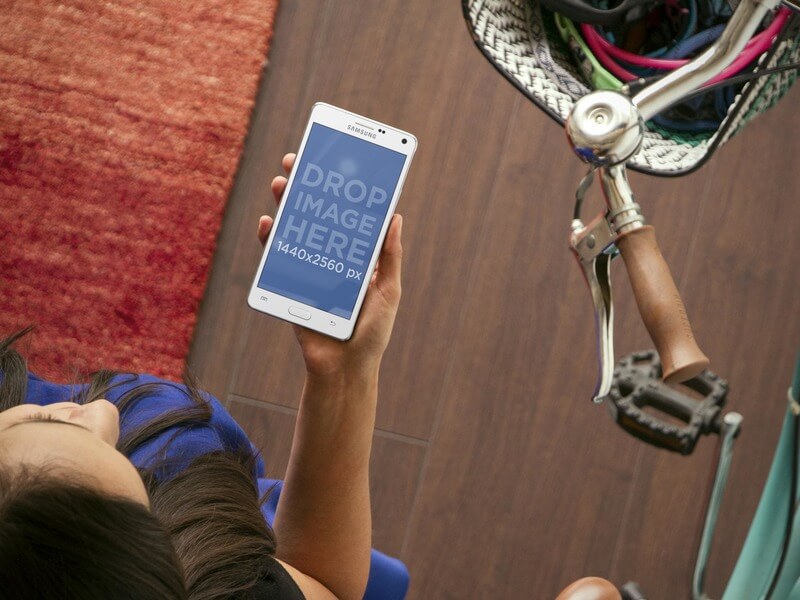 This Galaxy Note mockup is extremely versatile. This scene has a young girl using her smartphone at her apartment, next to her new bike. You can promote just about any android app or mobile responsive website here. The bike means this scenario can be use as a marketing tool for an outdoors app, a social app that appeals to women or any entertainment app. This scene could also work for an online shopping app, a new social media app or a new app that allows people to share videos and connect face-to-face. This Placeit Samsung Galaxy mockup offers a lot of promotional options.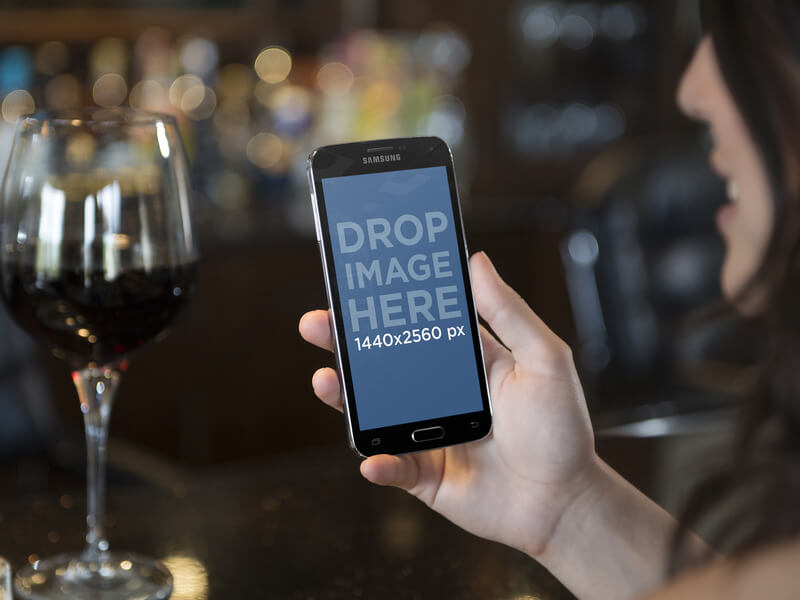 Do you see this young woman smiling at the screen of her Samsung Galaxy? She appears to be in a nice restaurant or fun bar, she is enjoying a delicious glass of wine as she browses through her black Samsung Galaxy S5 in portrait position. So what's on that screen that's putting a smile on her face? Is she checking out a new social media app? Video chatting with a potential date? Reading a funny email or message from a friend? Perhaps she is checking on her dinner reservations? Maybe she is checking out a new video or some funny photos? She could be smiling at anything really. Can you think of a good reason why she shouldn't be smiling at your Android app? We can't! So, go ahead and drag a screenshot from you app and place it right onto the Android's screen!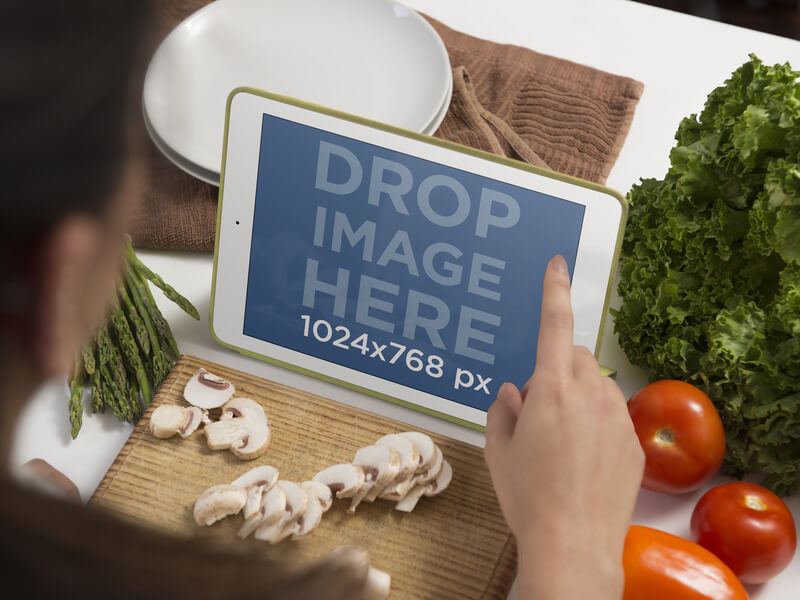 Do you have a fun cooking iOS app? How about a blog that besides being mobile responsive, provides amazing recipes? Perhaps a web app the allows people to stream videos, including their favorite cooking shows? Or a new social app that allows user to share what they're doing? If so then why not use this fun mockup from Placeit, to help promote your product? This scene features a young woman preparing something delicious in her kitchen, surrounded by fresh ingredients. But it's the large screen of her white iPad in landscape that steals the show here. All you need to do is download this mockup and drag a detailed screenshot from your site, onto the iPad's screen, and ta-da! You've just created an amazing marketing tool for your site. Pretty easy, right?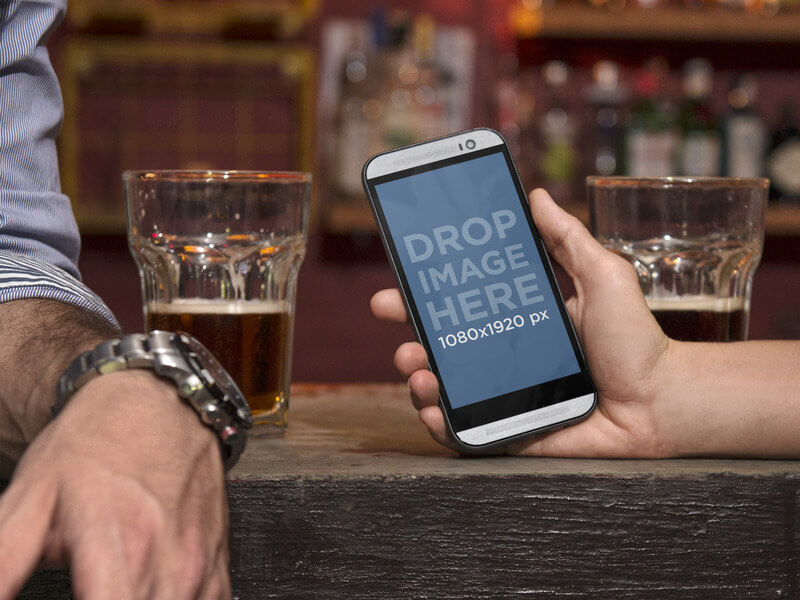 Your android app or mobile responsive website is something people want to use while they're out with friends, so highlight that positive trait by showcasing it on this template showing the portrait-angled HTC One M8. This scene shouts business-casual; help your clients see that they will be so pleased with your android app that they'll be excited to pull it out even when having a fun and relaxing night with a colleague or friend. Bring a photo of your product on the scene by dragging and dropping your screenshot onto the device. You can also import your app screenshot into this template from the drop down list above the image. Simply type in the URL when prompted; Placeit will automatically adjust your photo to fit the dimensions of the HTC One M8 screen and your image will come to life.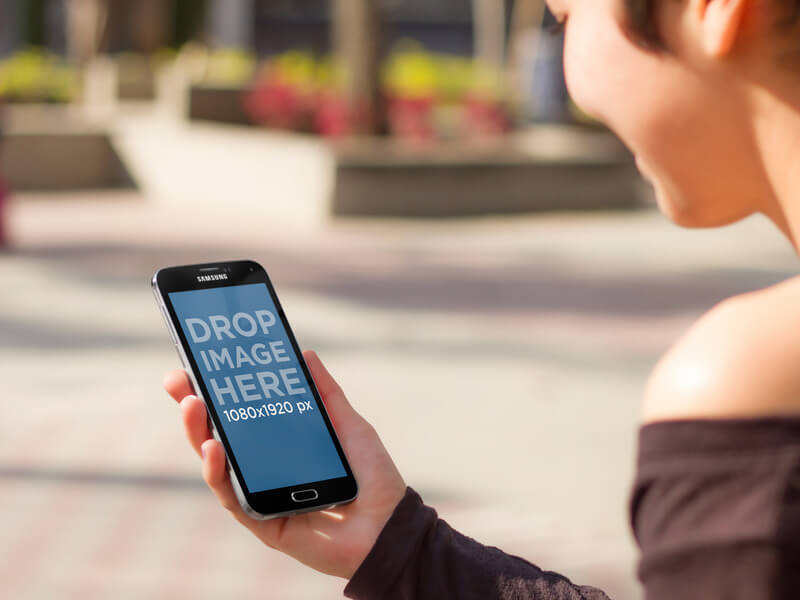 A girl, wearing a brown sweater, looks at her Samsung s5 mockup or Android mockup and, on the screen is… your app or website! This portrait mode Samsung mockup is great and versatile for any type of casual app. The urban environment makes for a very versatile background.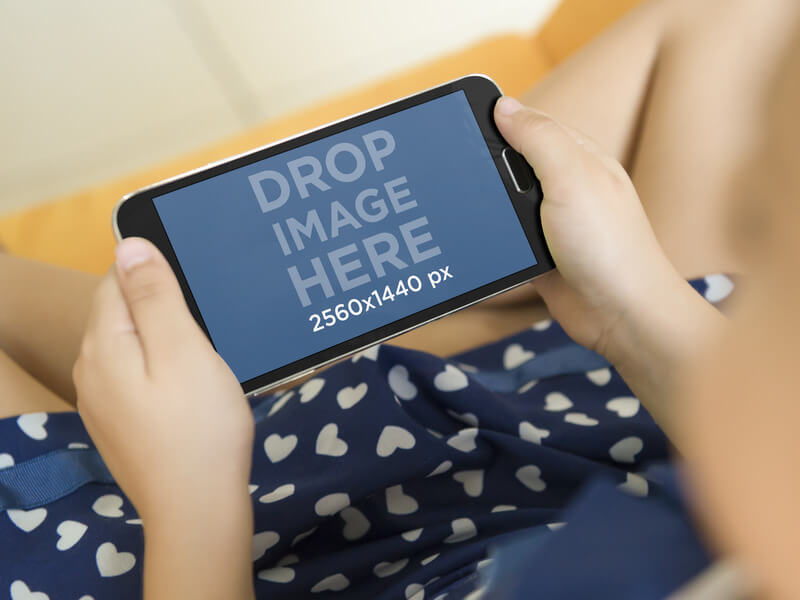 Have you created a cool new Android app or game that's family friendly? If so, then you need to check out this mockup template from Placeit. It features a young girl, sitting on her sofa, holding a Samsung Galaxy in landscape position. She could be playing a new game, watching cartoons on a new video streaming app, chatting face-to-face with her grandmother who lives on the other side of the country or maybe she's using the newest educational or reading app. The possibilities are endless here. This scene has a lot to offer; the sweet young girl, the uncomplicated but effective background and the slick Samsung Galaxy, combined to create a fun and creative app marketing template. In fact, the only thing missing here is your app or mobile responsive website! Do you want to get in on the fun in this scene? Well, you can and it's easier than you may think. Simply take a screenshot from your Android app and drag it onto the screen of the Samsung Galaxy, then you just have to download the template from Placeit's website. That's all it takes! And then it's your app, beautifully displayed on that Samsung Galaxy's screen, and you can use this app marketing tool to show the world your Android app.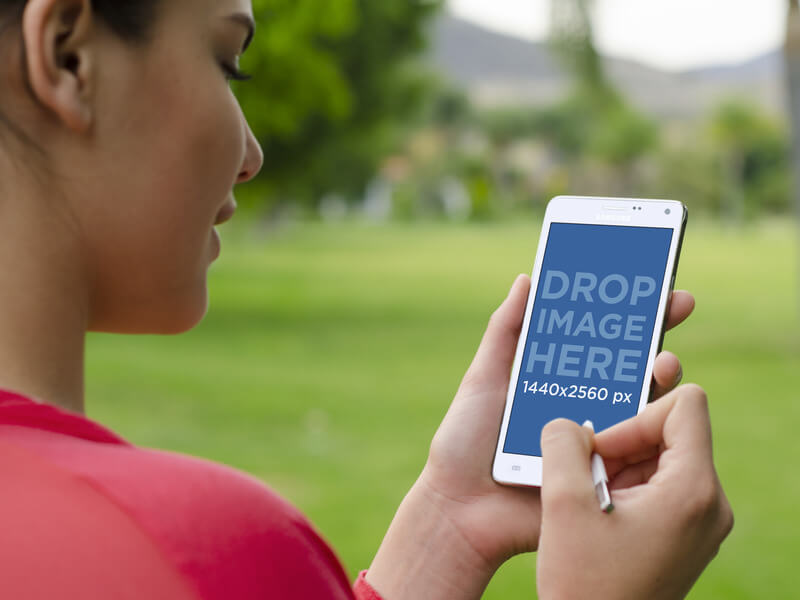 A girl wearing a red sweater, smiles as she uses a Samsung Galaxy Note with a stylus with your design on the screen! If you have developed an Android app or want to showcase a website design, this mockup is ideal for you. It's versatility allows for any design to look good, although you can match it or contrast it with your design versus the girl's red sweater or the green background. Her natural and happy attitude will really make your device pop if you use this Android mockup for your app marketing. Check out some of our other hundreds of mockups and get started now!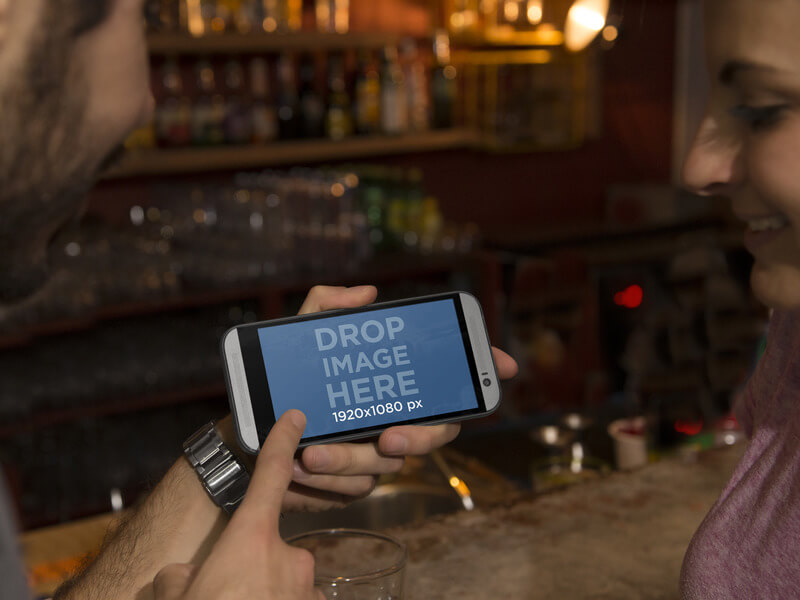 What a pickup line! A couple meets at a bar for a drink and this young man has so much confidence because he has your new android app on his black HTC One M8 to share with this lovely woman at the bar. Everything else fades into the background as they focus in on the screen, which displays your app or mobile responsive website in landscape position, your new website is the coolest thing to share on a fun night out. Connect to your target market with Placeit. Be at the hippest spots, on the latest mobile devices. They're so into you! Try this amazing scenario right away for your social, entertainment or even gaming android app.
While free mockups are always good to have, these can be overused and might have a negative impact in sales. Read about free and overused mockups.
---
---