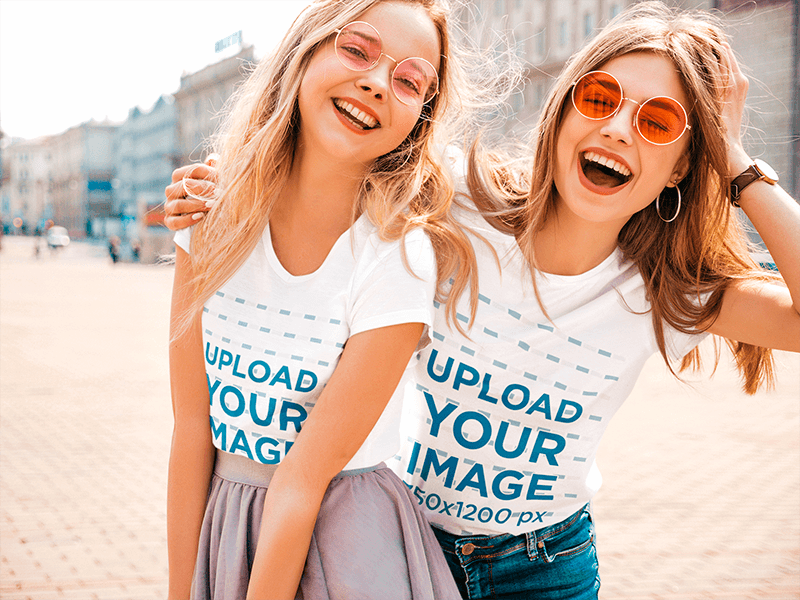 So you've established your POD shop, and now it's time to share stunning images showing what your products will look like in real scenarios. Don't kid yourself; there is a real difference in your audience's mind between looking at your design solo and looking at your design on a realistic image being worn! 
What You'll Find: 
This is why I had to let you know you can find tons of free apparel mockups on Placeit to make beautiful and professional assets for your brand without spending a fortune or investing long hours! 
 👕  Check out how to use mockups in this guide!
Real Professional Photos!
Putting your designs on realistic mockups helps your potential customer see what your product looks like and even helps you visualize your designs after production. If you choose your mockups wisely, this could make your audience feel identified with your design and feel the desire to buy!
You can target different audiences with different model types. Find all kinds of people to wear your designs: different genders, ages, nationalities, body types, and more. 
What Can I Do with Free Mockups?
Imagine the possibilities! You can use your mockups to build your shop, sell on a marketplace, share beautiful posts on social media, make promotions, build your online catalog, and more. 
Find free mockups on placeit for different products like free shirt mockups, tote bag mockups free, and free clothing mockups in general, like aprons, backpacks, bandanas, beanies, boxers, button-up shirts, coffee mugs, drawstring bags, dresses, face masks, fanny packs, flip flops, grocery bags, hats, hoodies, jackets, onesies, panties, skirts, polo shirts, scarfs, jerseys, leggings, long-sleeve tees, sneakers, sports bras, socks, sweatshirts, sweatpants, swimsuits, tank tops, t-shirts, tote bags.
Filter by product, by model, by scenario, by event, by holiday, and so on. 
🔥 You might like: Free Placeit Alternatives
How Do I Get Free Placeit Mockups?
Ok, this is super easy! It will only take a few seconds, and you can have your very own custom mockups! 
Go to Placeit's apparel mockup library.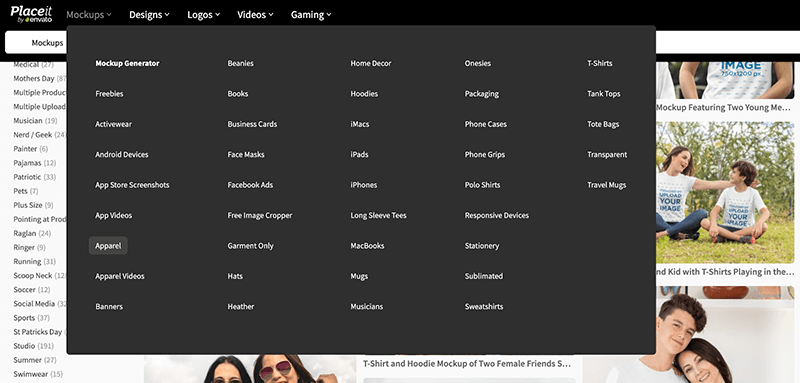 2. On the top left corner, you will see a drop-down menu with the option "mixed" selected. Change this to "free." 
3. You can filter your product using the central drop-down or the tags on the left of your screen. However, any mockup you see will be completely free for you to download at any second. 
4. Choose a mockup, add your design, and hit the download button! 
5. In no time, you will receive a high-resolution image ready to be shared everywhere. 
If you need to make further edits regarding your image's size, use this online image resizer completely free too! 
What Else Is There for Your POD?
Using Placeit, you can find just as easy other online tools to build and enhance your business, like logo maker, label maker, t-shirt designer, social media post templates, and even mockup videos! This means you can create, brand, and promote your new POD brand everything in one single place. Find all kinds of free templates all around Placeit and try them on. 
An unlimited subscription gives your unlimited downloads, which means, if you like Placeit, you can get any template, customize and download as much as you need! How serious are you about your business?
If you wish to learn more about our free t-shirt designer, you can find more information here. 
When selling POD products, using real professional images can make the difference between selling a bunch of products or nothing at all! Get your audience in love with your products, make them feel identified, and share inspirational posts with them, showing off everything you have to offer.
---
---