Promote Your Latest App on Smartphone Mockups
After you're done with all the hard lifting on your app's development process, you deserve to sit back in relax. However, app marketing shows its ugly face urging you to pay attention. Whether you are creating an app for mobile or even a website, you need to have some beautiful device mockups. With Placeit, a device mockup generator, you'll be able to make beautiful mockups to promote your design. It's also important to show it in the most accurate context possible. That way, your potential customers can see themselves using your product and are more convinced of buying.
Be it for presenting to a client or as your final marketing collateral, Placeit is the best device mockup generator. We have a collection of 800+ device mockups and we add more every day. Here is a compilation of some you might find useful! And if you want to try out the real deal for yourself, we put together a list of the best free mockups to promote your app, try them out and see why our mockups are seconds to one in terms of quality!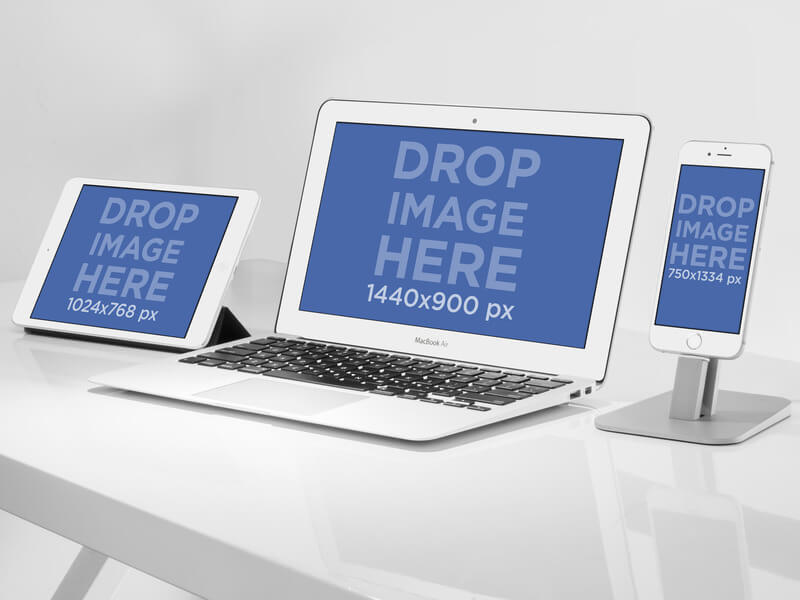 If you just created a wonderful responsive iOS app or website and you are looking for ways to display it this is the perfect setting to do so. This is a beautiful mockup of three devices that are perfect for a responsive app featuring a MacBook Air (11 inches), iPad Mini, and iPhone 6. You can use all three of these devices in the same mockup template. All three devices are demoed on a beautiful white table in a clean and modern setting, the iPad is set in landscape position and the white iPhone 6 is standing in portrait position. This is the perfect responsive mockup template for your new app; by using mockup templates as a part of your app marketing campaign you will make your app stand out from the crowd! Our instant mockup generator will create a beautiful image for you in seconds!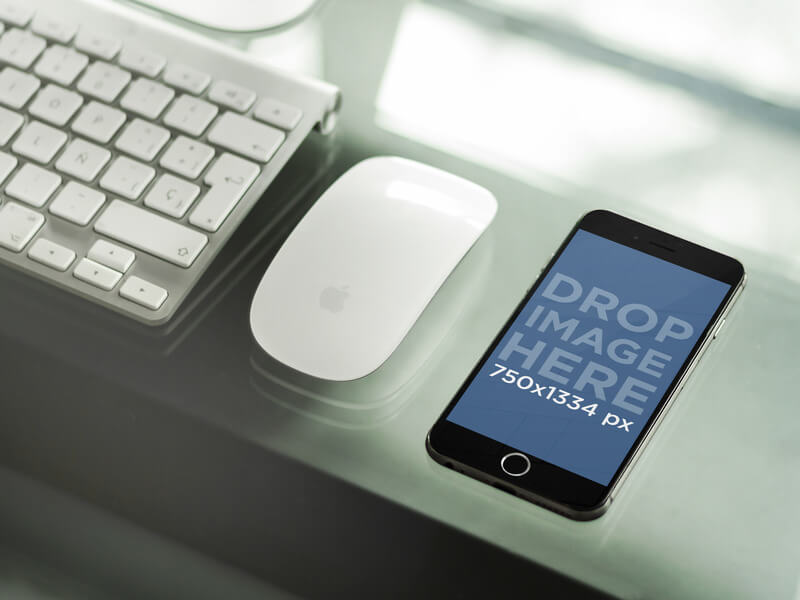 This is an elegant and professional-looking iPhone 6 mockup; just the ideal place for you to display a screenshot of your new iOS business or productivity app. Take a look at this image, the beautiful black iPhone 6 lays in portrait position over a sleek glass desk, the device is perfectly aligned to the computer's keyboard and mouse, which generates a beautiful arrangement that really makes the iPhone's screen stand out and become the main focus of attention. Imagine your app being shown on that screen? Make it happen! Just drag your image into the black iPhone's screen or type your mobile responsive URL above and it will automatically create a screenshot. Use device mockups to display and share your new iOS app with clients, partners, and potential users as a part of your app marketing strategy!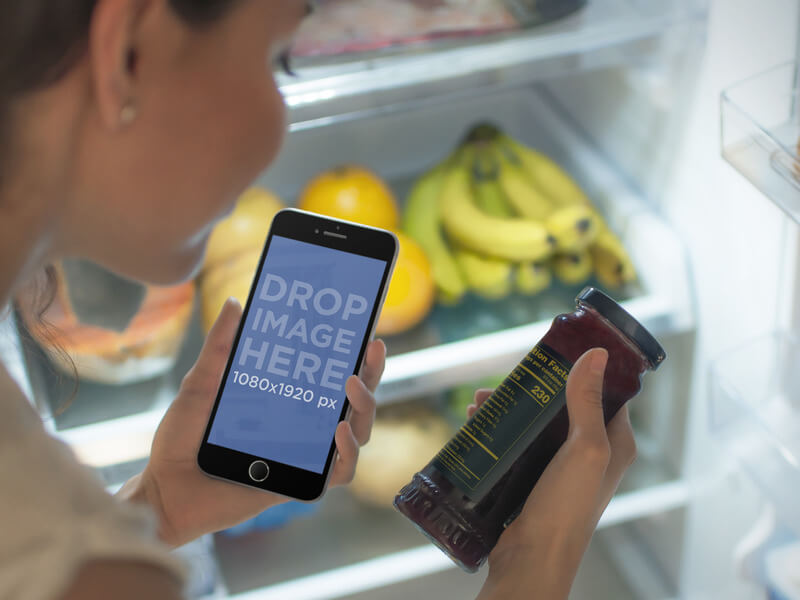 In this iPhone 6 mockup, a young woman looks at the nutritional facts on a bottle of organic jam with a dark green label in front of her open fridge, which is filled with assorted fruits. If you have a health and fitness app, this is the ideal iPhone mockup for you. Try it out for free by dropping your image or choosing a URL to screenshot. Placeit will generate a device mockup for you in seconds, so you can have your own personalized marketing collateral. Showcasing your design on a realistic mockup in context is one of the best ways to have your audience imagine themselves using your app, so you can then market it better.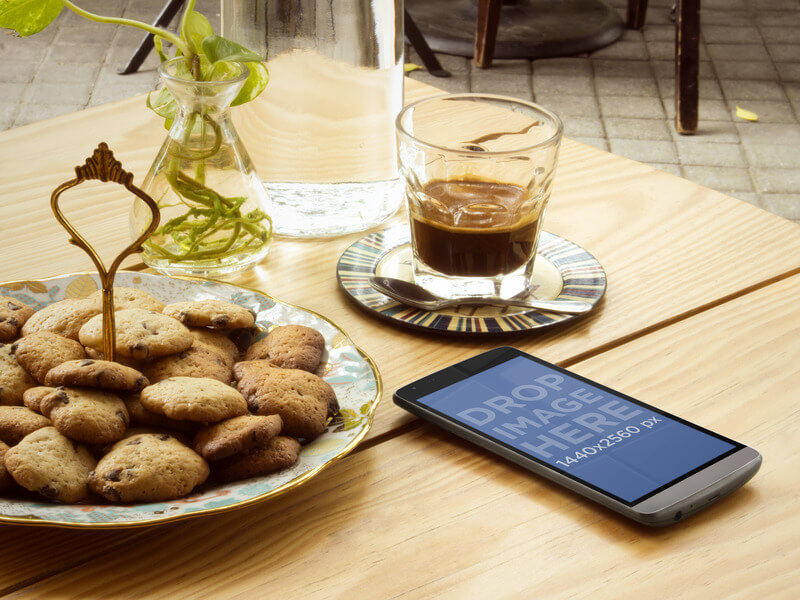 Take a look at this bright mockup, it features the LG G3 in a unique scenario that allows you to display your social or entertainment app within this dreamy coffee shop. The smartphone is lying over a wooden table next to a beautiful antique cookie dish and a delicious espresso shot. If you are looking for a cute scene to display your new android app, this is definitely the one. All you need to do is upload your own screenshot or input the URL and your end result will be a bright android mockup you will be able to share with coworkers, partners, and most importantly, potential users to enhance your app marketing strategy and increase your users and downloads. Try it out now!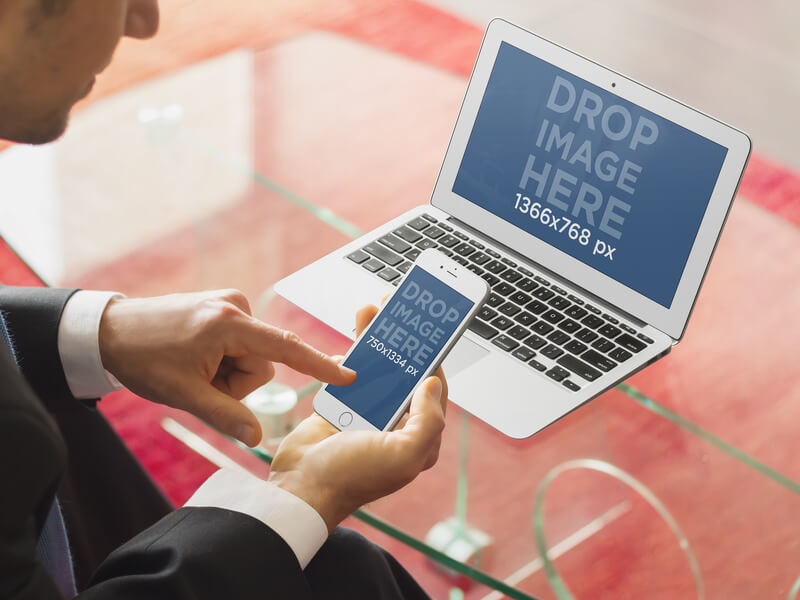 This scene offers you double the marketing power. It features a businessman, using his iPhone 6 with a MacBook Air, sitting in front of him. He's clearly hard at work using two different devices to multitask. Now the main focus is defiantly the iPhone 6. The scene provides a nice close of the phone's screen, making it easy for you to upload a great screenshot from your own mobile responsive website. But don't forget about the Macbook's large screen. It's perfect for adding a second screenshot, logo, or advertisement to this scene. This gives this scene a little extra promotional kick!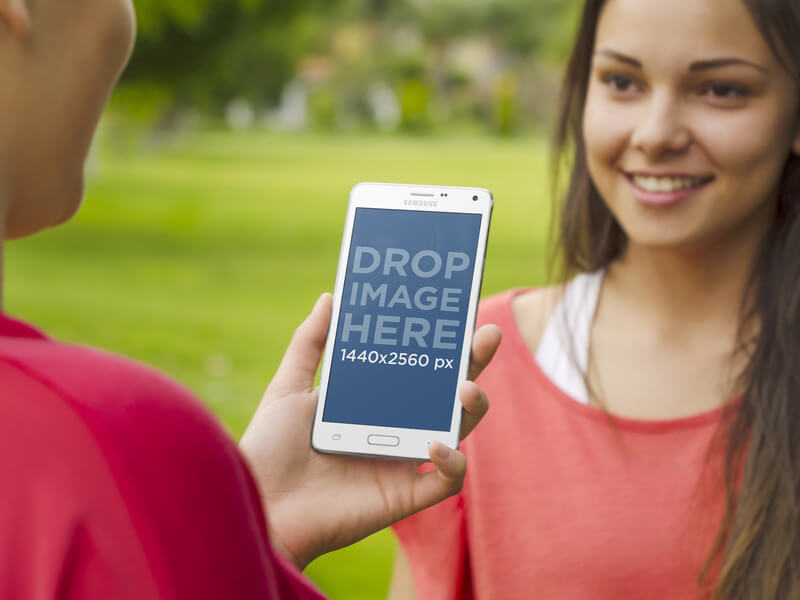 A beautiful, professional Samsung Galaxy Note mockup, showing two friends hanging out at the park. One of them holds the phone while the other smiles. Buff up your app marketing strategy with this device mockup. It's always better to show your design in context, so we created Placeit to help you. All small sizes are free. You can just drop an image and Placeit will generate your personalized mockup in seconds. If you designed an Android app and need to showcase it, try out this Samsung Galaxy Note mockup. You can also input a URL and it will show on the device screen.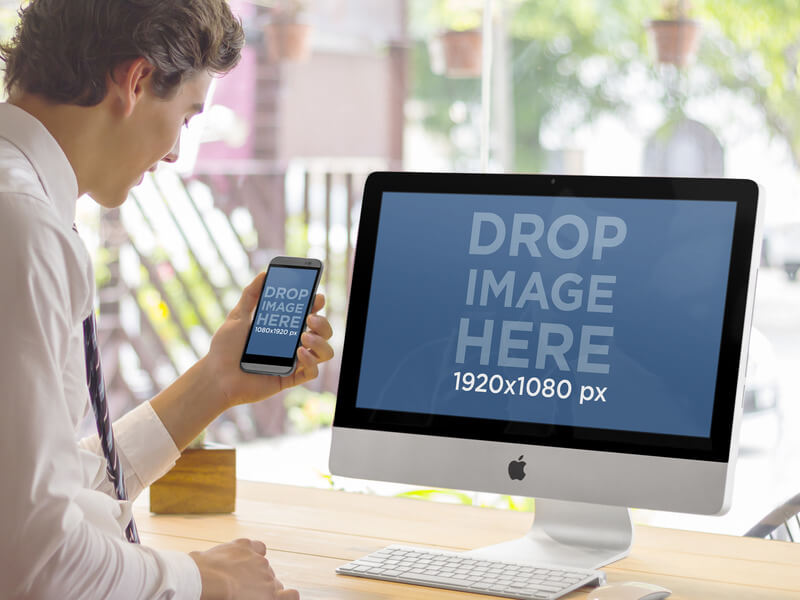 Being productive is one of the main characteristics of today's business environment. This multistage mockup perfectly represents that as we can see a handsome businessman using his black HTC One to make an important phone call while typing data on his iMac at the same time; he probably is even having a conversation with a coworker at the office, it is all about multitasking. The scene is set at a beautiful office and this man's desk is located next to a garden view window. You can use this amazing iMac and HTC One mockup to display your new productivity app or website in a real-life scenario that will provide your potential users an insight into your design and features while using the app.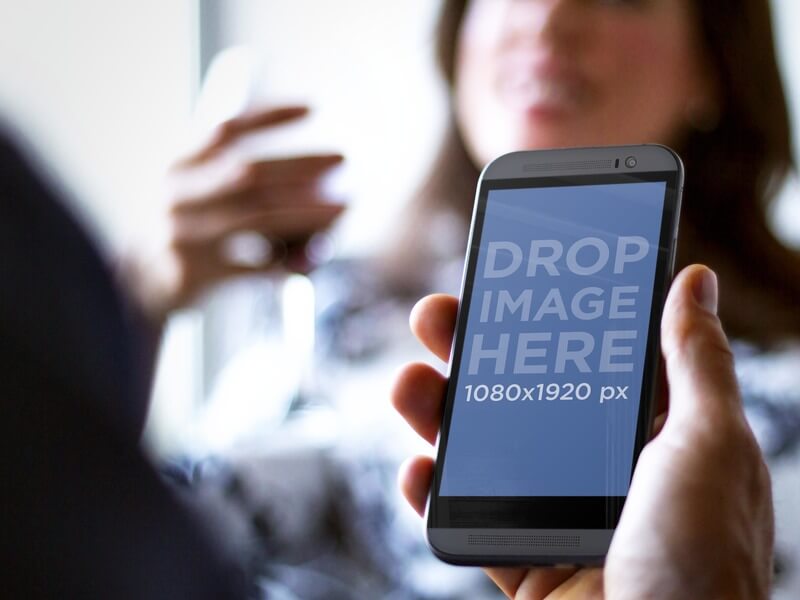 Have a leisure or event app to promote? Then this mockup is ideal for you. This scenario features a young couple relaxing over drinks. Perhaps they're on a date and the man is looking up movie times? Or the couple is having dinner and he is checking a social media account? Or maybe he is making reservations for a spontaneous trip they just decided to take? There are a lot of marketing options here. The close-up shot of the HTC's portrait screen means that you can easily upload a detailed screenshot from your app. Making this Placeit mockup the perfect marketing tool for you.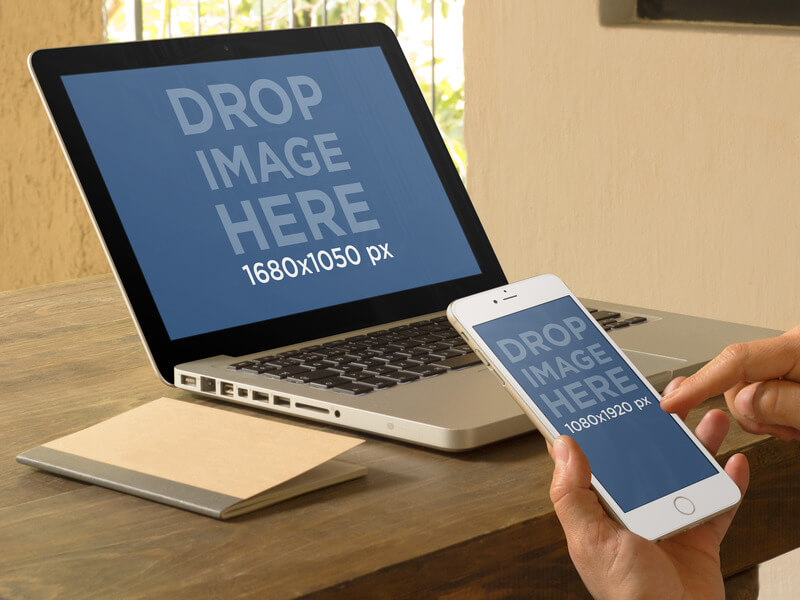 This is a beautiful multistage mockup that features a MacBook Pro and a white iPhone Plus in a home office environment, the image has warm lighting, the MacBook Pro is set over a nice wooden table next to a small notepad, and we can also see someone holding and using the iPhone 6 Plus in portrait position. This mockup is great because it can be used in several ways, you can show off a website or app on both devices to compare the mobile and desktop versions, another great option is to display related apps or websites on these great apple devices. By choosing to share your app with mockups you will enhance your app marketing and increase your users and downloads, giving your product a great exposure. Just upload your best screenshots to this mockup and see how great the image composition merges with your own app.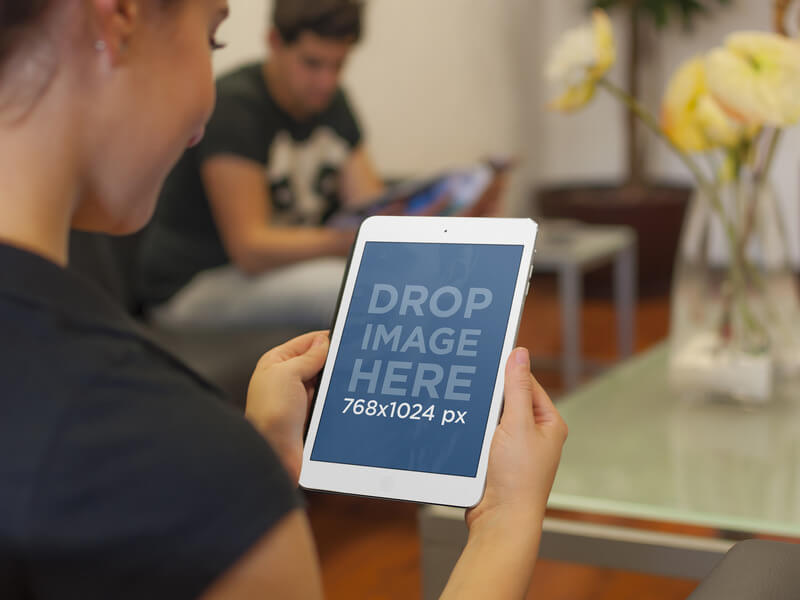 This iPad Mini mockup is a perfect marketing scene for your app or website. This scenario features a young woman, passing the time on her white iPad mini in portrait position while waiting to be called in for her appointment. Who can't relate to being stuck in a waiting room for a long period of time? People will see this scene and remember the last time they visited the doctor, dentist, ophthalmologist, etc., and how they wished they had something more stimulating than imagining to pass the time. You can see the woman in this scene doesn't mind the long wait because whatever she is doing on her iPad is helping her pass the time. Now all you need to do is to add a screenshot from your site to this mockup and people will see this woman enjoying your site, instead of being miserable in the waiting room. This means people will associate your site with fun and enjoyment. Making this mockup from Placeit an extremely effective marketing tool.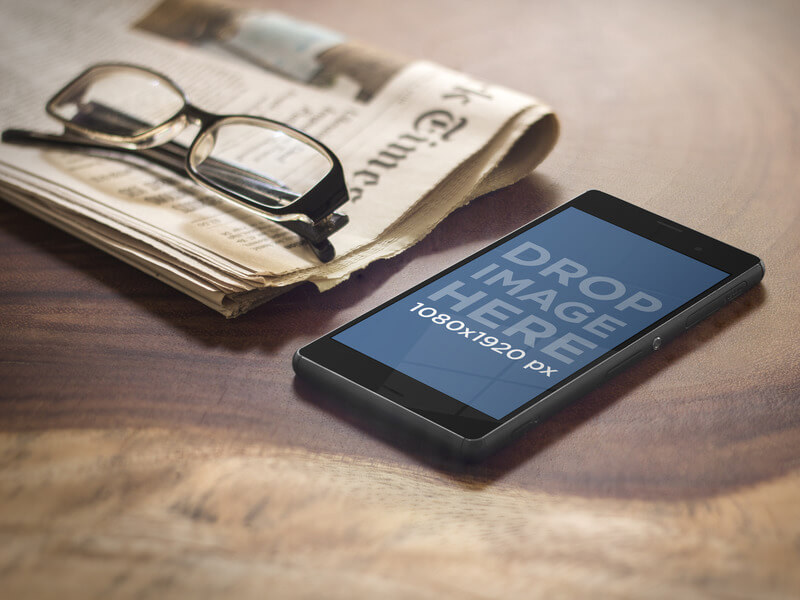 There are hundreds of Android apps at the Google Play store, in order to make yours stand out, you must think outside the box, using device mockups as a part of your app marketing strategy is a great idea since they will allow you to share an insight of your app's design and features while being used in a real-life scenario. Take a look at this particular mockup, the image has great lightning which generates a warm environment that complements perfectly with the items on the table, we can see a newspaper with a pair of reading glasses on top of it, and next to these, the beautiful Sony Xperia, isn't it a great mockup? Try it out now by simply dragging your image onto the Sony Xperia's screen, or just type your URL above.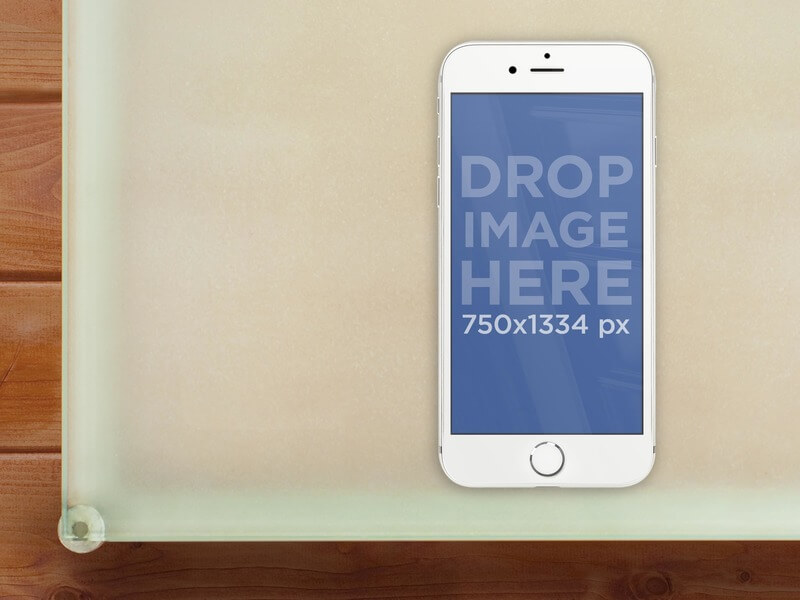 This is a simple, yet effective marketing mockup from Placeit. Here we have an iPhone 6 laying facing up in a portrait position over a corporate desktop. This scenario provides you with a lot of promotional options. You can display anything you want on the iPhone's screen. It's an ideal place to display a screenshot of your iOS business or productivity app. The desktop provides a simple and professional backdrop to the iPhone 6, that won't distract from the image on the screen. Make your app the true star of this scene. Try this amazing iPhone mockup right away!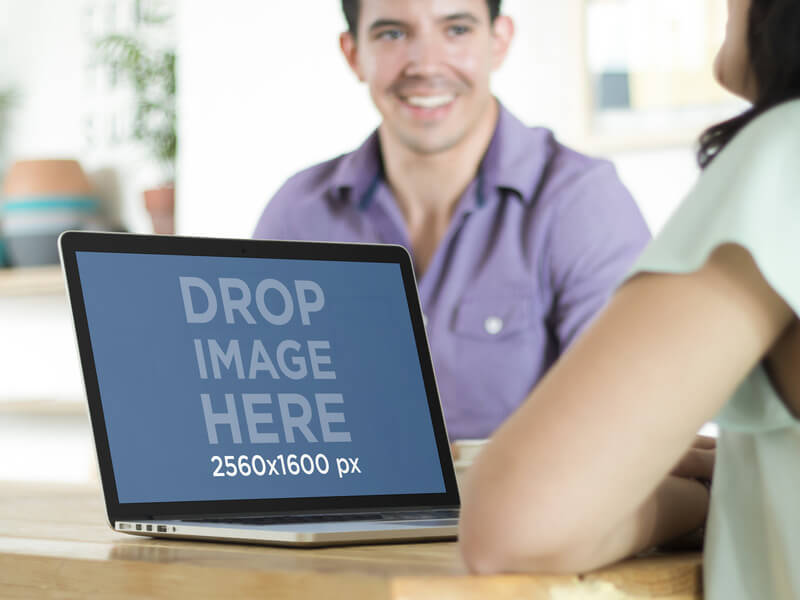 This is a great Macbook template scene for any professional or creative website or web app. Do you have a website that aids in productivity or specializes in creating presentations? Does your site provide assistance with creativity or problem-solving? Can your website improve communication or help with group work? Or does your site provide any other valuable services? If so, then this might be the right marketing Macbook mockup for you. This scenario features two young professionals collaborating in a creative office setting. They're smiling and having a good time, all while being productive. This means, there must be something really helpful on that Macbook's screen that's making their jobs easier. That could be your website in this scene, making this duo's work easier and more enjoyable. All you have to do is download this mockup from Placeit and your screenshot to the MacBook's screen.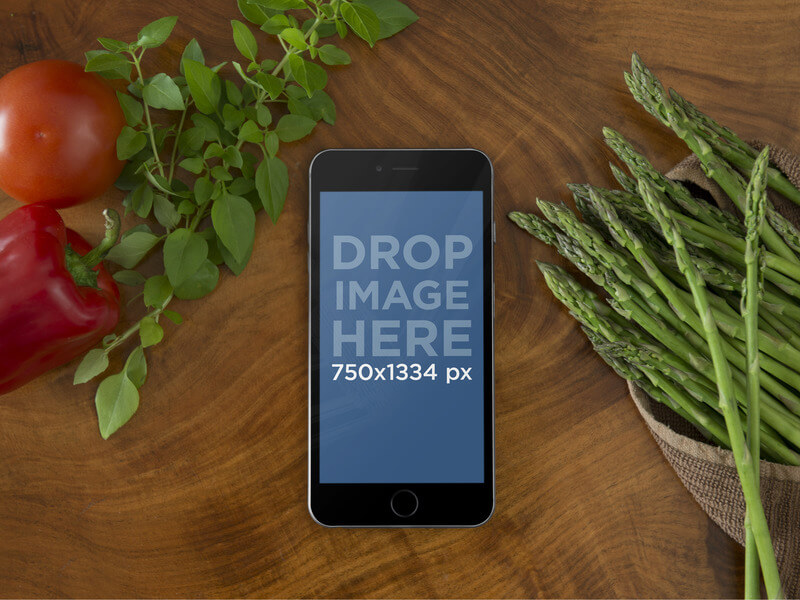 If you're looking for a scene to sell your cooking app, then look no further! This iPhone 6 mockup also works for a fun photo-sharing app. Or you can use this mockup for your reading or gaming app. The sky is the limit with this creative scene! In this mockup, we have a black iPhone 6, laying in portrait position just waiting for you to place your own screenshot! All you need to do is simply drag and drop your screenshot over the iPhone's screen and then download this amazing iPhone mockup from Placeit, then you're all set!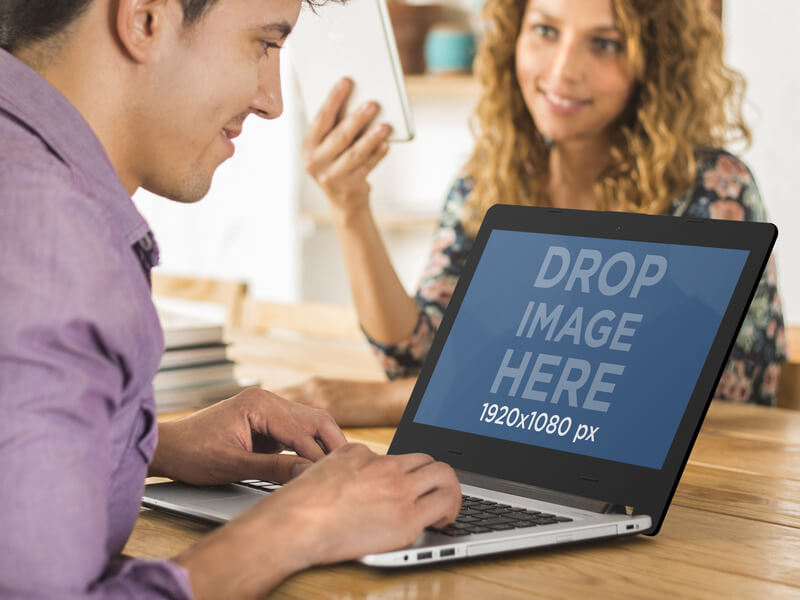 Do you have a website or provide a service that is designed for business professionals? Then what you need is a fun online marketing tool for your business to grow and expand. That's where Placeit's mockups and templates come in. Take this scene for example. It features two young professionals collaborating on an important project. The young man is working on his Asus Laptop and that laptop's screen is positioned perfectly for your use. Just drag and drop a screenshot of your website or web app directly into the PC laptop's screen and it will adjust automatically; you will be able to download the image and that's it! You have created a fun promotional tool in just a few seconds. Share this image with potential users and clients as a part of your online marketing strategy.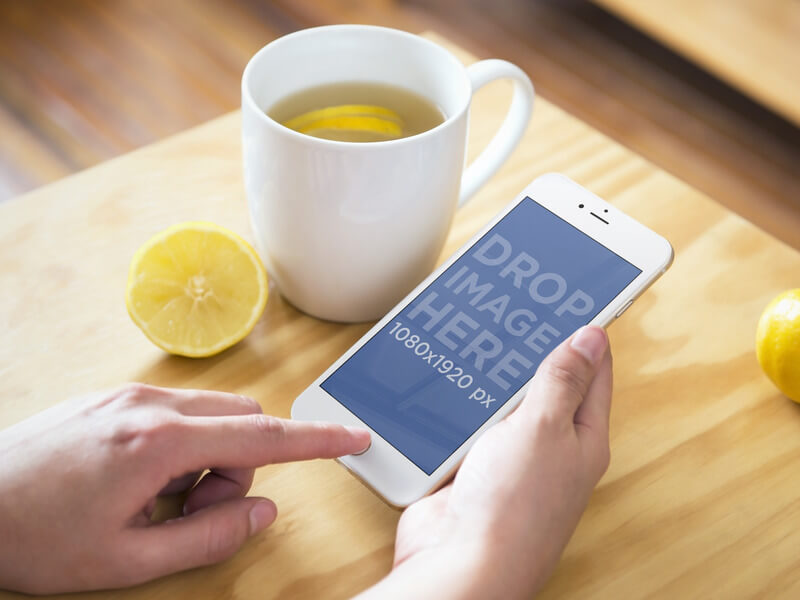 Have you created a fun new iOS app or mobile responsive website? If you have you'll need a good app marketing tool or two. This is why you should be using Placeit's iPhone mockups and templates to promote your business and share your wonderful app with the world. Look at this scenario, for example. It features a beautiful shot of a white iPhone 6, being held in a portrait position next to a cup of soothing lemon tea. There is a lot you can advertise with this iPhone template; a fun new iOS game or social app. A new way to stream videos or music online, this guy could be checking sports stats or reading up on current events. Anything would work here, and the only thing this scene needs is your iOS app or mobile responsive website screenshot! Use this mockup generator to enhance your app marketing strategy.
It's time that your iOS app gets the attention it deserves! But how do you do that? By using Placeit as a tool for your main app marketing campaign. Placeit uses real-life scenarios that people identify with to help online businesses promote their products. Like with this scenario, it features a white iPhone 6, laying face up in a portrait position over a colorful rug. The vague and simple nature of this scene means you can use it to promote an iOS app. Whether you have a new game, news app, shopping app, social media app, business app, etc. This iPhone 6 mockup template can work for you as a clever way to showcase your new app's features and design to potential clients and users; it's all about being creative! Go ahead and try it out real quick to display your new app or mobile responsive website within this colorful and ethnic setting.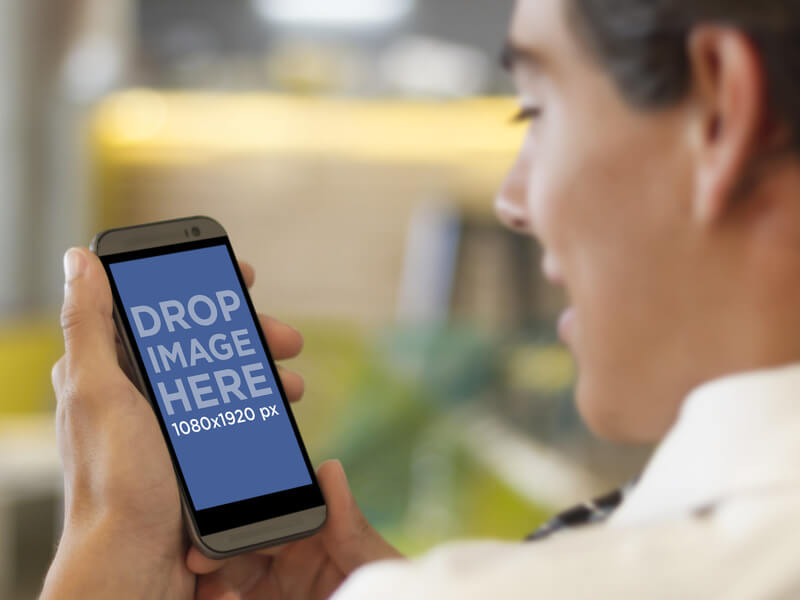 Showing off your app is the main part of the process of developing it, and to do that wisely, choosing mockups to share screenshots of your app being used in a real context is a great option. Take a look at this amazing android mockup, it features a black HTC One M8 smartphone being held by a businessman who is relaxing in the garden after a big meeting. By using this HTC mockup to display your app or website, you will increase your visibility and provide an insight on your app's design and features. Try this mockup right away by uploading your screenshots or typing your URL, Placeit will take care of the rest and you will get an amazing image that will enhance your app marketing.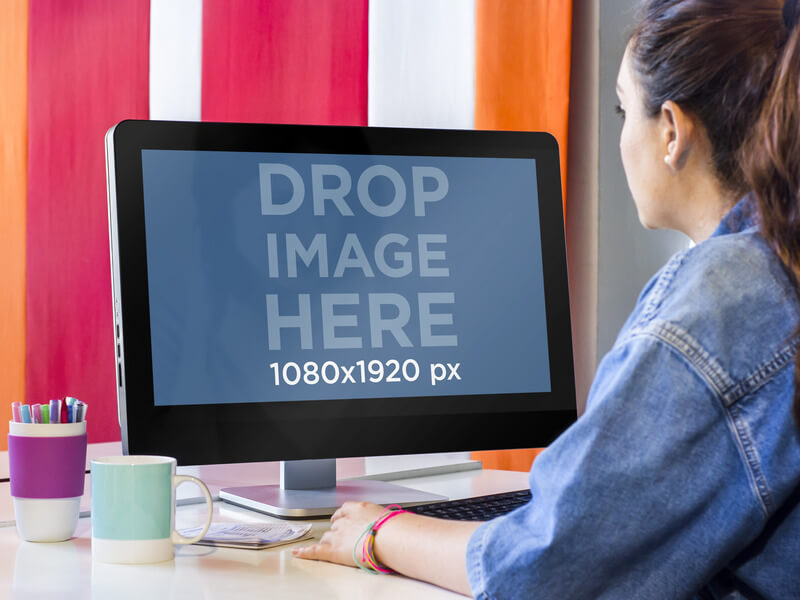 Looking for a mockup that offers a larger surface for your screenshot? Then this is the scene for you. It features a young businesswoman, sitting in front of a Dell PC at her desk. You can see that she is deeply engaged with her work. But the part you'll love most about this scene is the large screen on that desktop. The Dell screen is the main focus of this mockup and it's positioned perfectly for your screenshot. All you need to do is download this mockup and drag your screenshot on top of the Dell screen. It truly is that easy to create an amazing marketing tool for your website.
Try it here, or explore a wide collection of PC mockups! Also, take a look at our tablet mockup collection.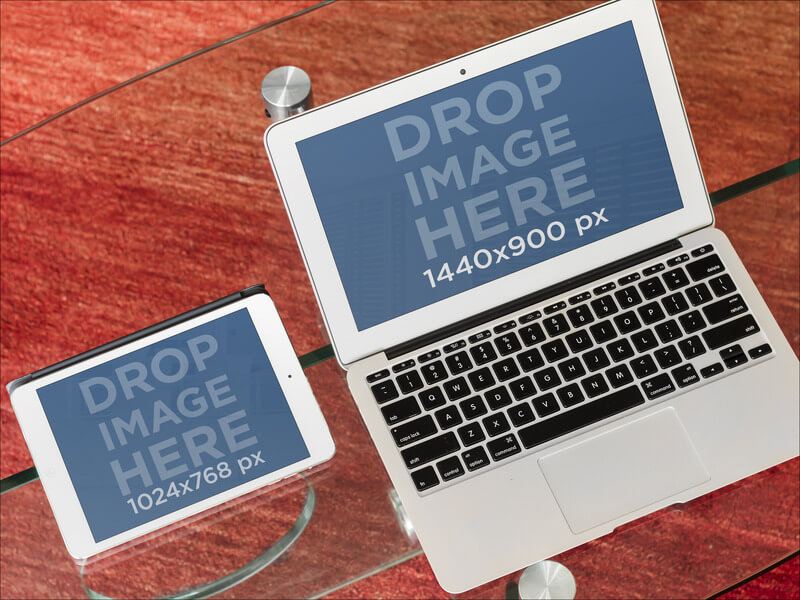 Do you find yourself in need of a simple, yet elegant marketing tool for your app or website? Then this mockup from Placeit is just what you're looking for. This mockup features a Macbook Air and a white iPad Mini in landscape position, sitting on a clear glass table on top of a beautiful wood floor. The stylish, yet not overly complex background, ensures that the electronics are the stars of this scene. This means, that this scene works as a promotional tool for any website or business. The larger screen of the Macbook means you can upload a fun, detailed screenshot from your website. Plus, the added bonus of the iPad Mini's screen, gives you the option of adding a second screenshot, logo, or advertisement to this mockup. Making this scene, twice as effective.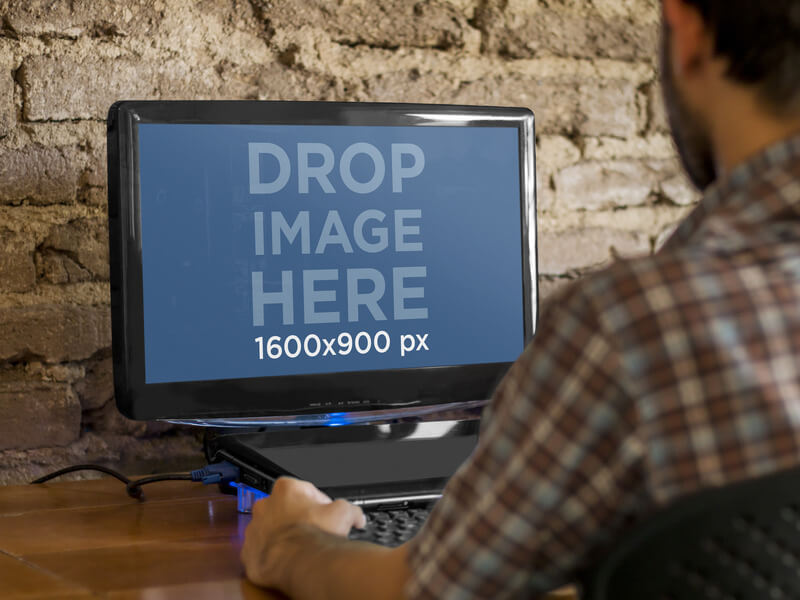 This mockup comes with a lot of possibilities. This scenario features a young man sitting in front of a PC. The atmosphere is a little more casual than in a typical business setting. So he could be at home relaxing after a long, working at the library on a school project or this scene could still take place in a creative office environment. This means this scene could work as a marketing tool for either a business-related website, an educational site, or a more leisurely site. There aren't any restrictions with a mockup like this one. You use this mockup to promote anything because just about everyone can relate to this scene if marketed the right way.
---
If you have enjoyed this post you should definitely try our app screen generator to promote your app or Macbook mockups to promote your websites! 
---
---