Photorealistic MacBook Mockups in Seconds!
With Placeit, you can create amazing photorealistic MacBook mockups in seconds. Using our state of the art technology, you'll be able to select from a large library of MacBook mockups.
Working on a MacBook mockup file when an ugly deadline peeks its head can be stressful. With Placeit, you can save all that time spent on getting the shadow or the angle just right. Our powerful app lets you drag and drop a screenshot and immediately receive a realistic result. Free MacBook mockups are usually amateur photos, so they are not as professional as our world-class photography.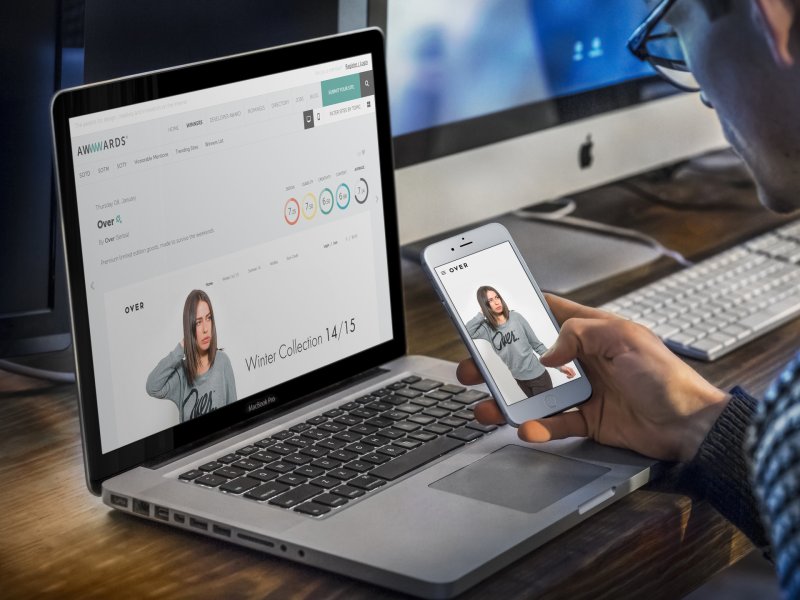 You can use this iPhone 6 mockup and MacBook Pro mockup to show off a responsive website. Here, a man is holding up his iPhone 6 while he is also working on his MacBook Pro. He is sitting at a wooden desk with an iMac nearby. The scene has dark lighting like he is working late. You can show off both your app and your site or a great responsive design. The iPhone 6 mockup holds an image of 750x1334px. The MacBook Pro mockup holds an image of 1280x800px.
We carefully selected all elements in this photograph to further stylize this mockup. That way, we can create a modern and slick frame for your design while still keeping focus on your great app or website. In this particular case, you can compare a desktop and mobile version of the same design.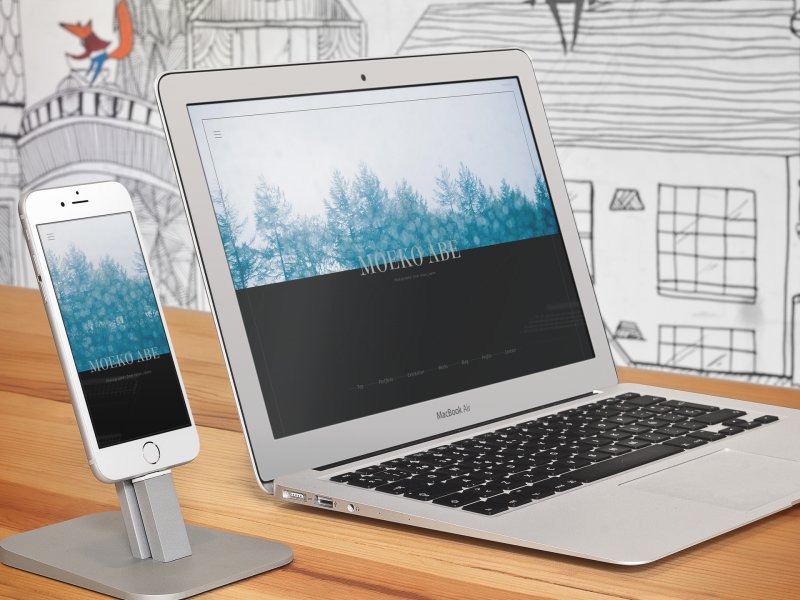 Another great Macbook mockup to compare your app and website mockup on an iPhone 6 and a Macbook Air mockup. They are both sitting on a wooden table. The iPhone 6 is sitting atop its stand. In the background, the wall is decorated with a cool illustration. This mockup is more appropriate for creative and casual use app. If your audience is comprised of designers, writers, musicians, photographers or similar, choose this Macbook mockup.
We stay up to date with the latest devices. We also offer a large variety of images, which are updated daily. With PSD mockups, you are stuck with only a couple of options. Our Swap Backgrounds option lets you create your own custom stage. That means your possibilities are endless. You can choose a device and an environment from categories such as work, home, outdoors, casual and dozens more.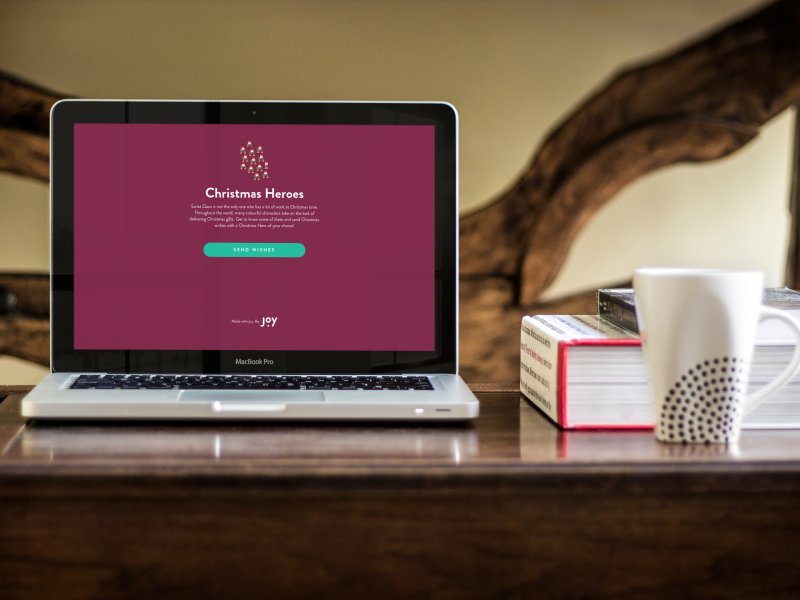 This Macbook mockup strikes a good balance between creative and professional. A frontal shot of a MacBook Pro on a wooden desk. Next to it, a big book and a cup of coffee. You can grab a screenshot from a URL and render it on the MacBook Pro mockup. You can also upload an image in landscape mode. We include image editing tools for your final mockup, so you can get it just right!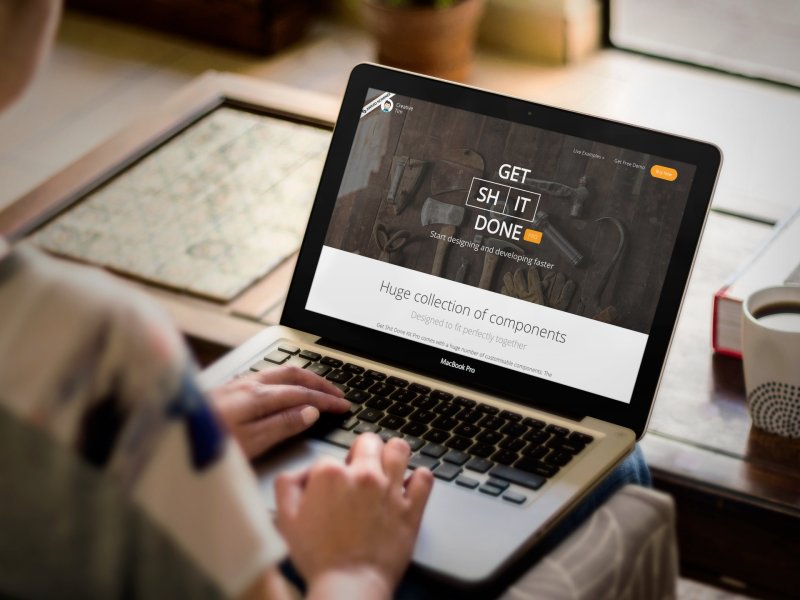 A woman browses the web in this MacBook Pro mock-up. The background is very bright so any image that you drop in it would really pop. This stage shows a creative agency type environment. Any type of website or app that is made for work can be used for this stage, but it can also show any design thanks to its versatility. As you can see, in this MacBook Pro mockup, we have created a strong focal point on your design, thanks to depth of field and professional retouching. We do this with all our mockups to ensure their effectiveness in your app's marketing efforts.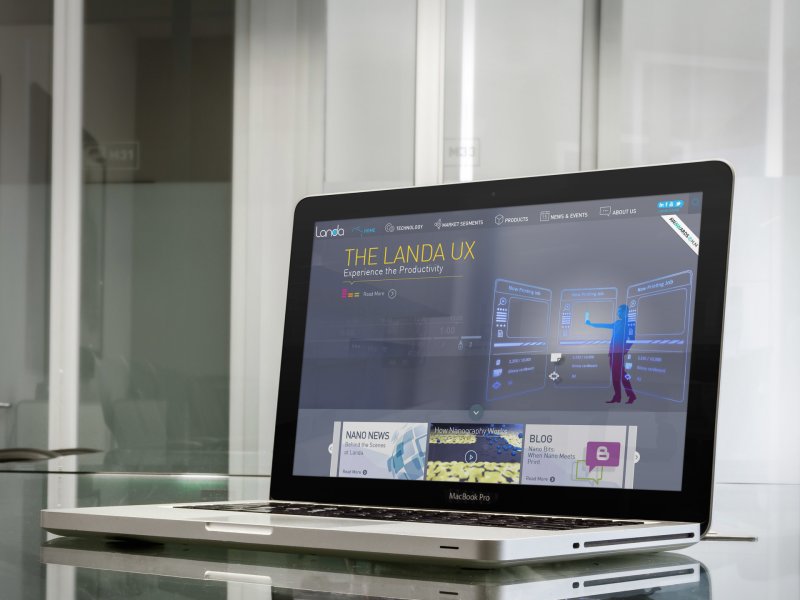 Create the perfect professional look for your app in this MacBook Pro mockup. The macbook pro is set on a glass desk in a meeting room. The meeting room has floor to ceiling windows and glass doors. The Macbook Pro holds an image of 1280x800px. This is the perfect set for a business app.
As you can see, we make a big effort to create beautiful MacBook mockups for you to market your app or design. And to conclude, in case you're looking for a software box mockup, we've got you covered too!
"Can't mention this enough: For web/UI designers, Placeit is a great online tool!"
Six Revisions 5/5
---
Promote Your Products With iMac and Macbook Mockups
Powerful visuals can propel your marketing campaign, raise your sales and improve the impact on your audience and future costumers. Placeit makes it easy to display your products with iMac and Macbook mockups, without the need for photoshop or a designer. Showcase your web or app in the proper setting and devices with responsive and transparent png mockups.
Make a Macbook Mockup Now
---