Design Your Own Tee With the Best Tshirt Template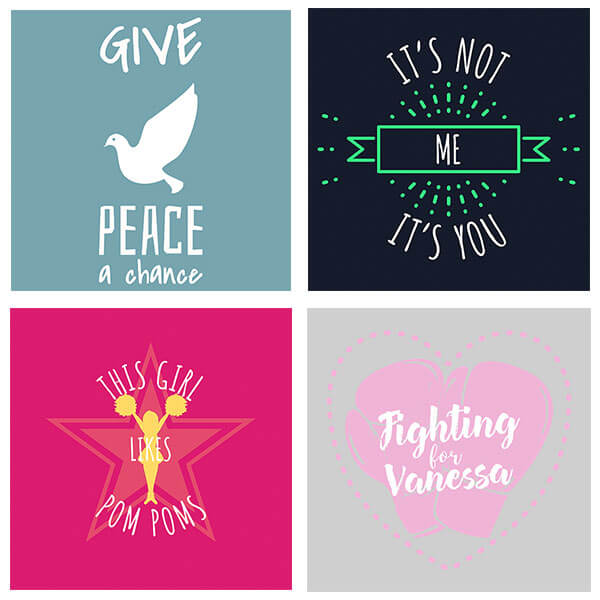 Selling t-shirts online is a great way to generate a passive income, especially because it's something everyone can do, you definitely don't need to be a designer to run a successful t-shirt business. If you haven't decided on a specific print on demand site to sell your designs on, I suggest you read this post that tells you where to sell t-shirts online, it comes with a Directory of Print on Demand Sites that will come in real handy when choosing other marketplaces to sell your designs besides Merch by Amazon.
Coming up with great tshirt designs that sell can be quite hard if you don't have the right tools to help you out, to save you from all the hassle, we went ahead and compiled the best resources from the industry so you can find the perfect tshirt template for your t-shirt business, all in one place! I've divided these t-shirt templates into three categories: tools, freelancers and downloadable resources for you to edit on your own. Ready? Let's dive in!
T-Shirt Design Makers
---
Over – iOS Only
This is an app that aims towards mobile and creativity. It allows you to make beautiful visuals from scratch using your own photos or their assets and presets. Over has gained popularity between t-shirt sellers due to it's easy-to-use interface and huge variety of icons, patterns and fonts that make great tshirt templates for Merch by Amazon, Teespring and other POD shops.
Key features: the app comes with presets for different social outlets and formats. They teamed up with Unsplash to provide beautiful photographs for you to use for your designs.
Pricing: Free with paid options and add-ons.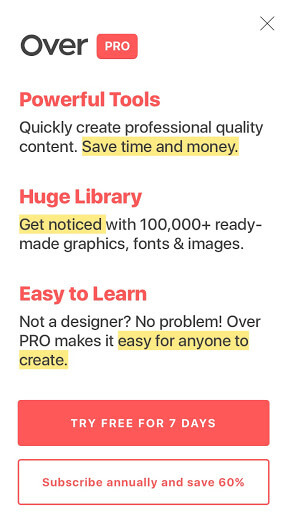 The downside: the vast majority of their most eye-catching resources fall under the "PRO" label. Not available on desktop or Android. This is not meant to be used for tshirt templates specifically, so there are no Merch by Amazon or POD presets.
Bonus: Over comes with in-app tutorials for making the most of your designs, great for beginners!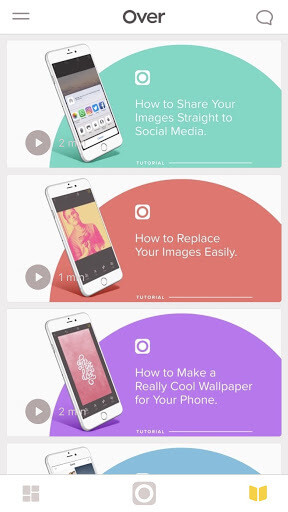 ---
Make-Merch is one of the most popular tshirt design makers among Merch by Amazon sellers, it uses the patented Doogma Designer™ for an easy-to-use product design experience and allows the user to create tons of tshirt designs to upload to their online stores. Though still in Beta, Make-Merch has established itself as one of the go-to tools to make a t-shirt design.
Key features: download sizes are Merch by Amazon ready, no need to edit the files afterwards. Ability to nudge the text lines up and down. They have a couple of t-shirt templates for inspiration, these have different text alignments. Extensive library of merch ready graphics, regularly updated including seasonal images. Unique filters can be applied to all graphics.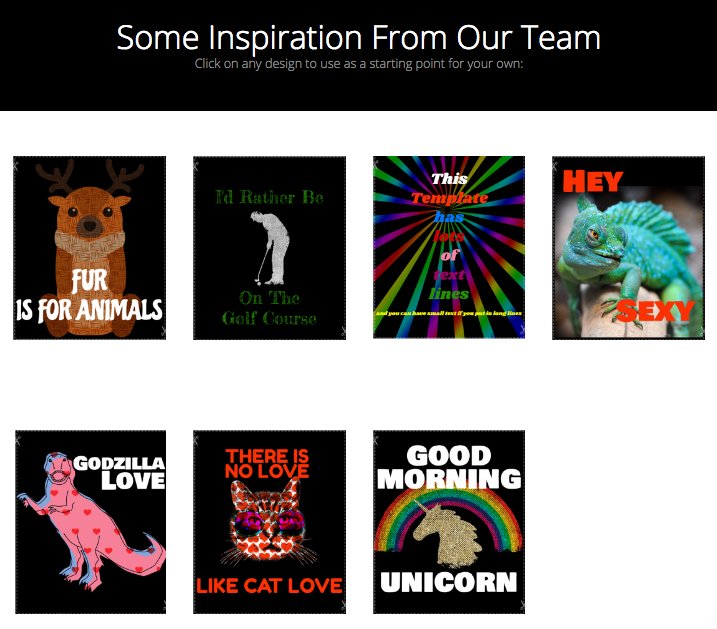 Pricing: $19.99 / month
The downside: Mobile restrictions. If you have an iPhone and are nowhere near a computer you might want to wait to get to one. This service is not fully functional on iPhone at the time.

Bonus: You can use the service in full without a subscription, you won't need to pay until wanting to download your tshirt design. They are constantly adding new graphics, fonts and features to improve this tshirt template tool.
---
Design templates is Placeit's new tool for t-shirt sellers, it lets the user choose a tshirt template and create a design to print on a tee. Packed with tons of assets and graphics and with Placeit's intuitive sense of usability, non-designers are given the possibility to make a beautiful tshirt design without any design knowledge whatsoever.
Key features: tons of tshirt templates with different layouts and arrangements. Files are 300 dpi PNG (transparency is supported) and there are several size dimensions available, according to different social media and POD requirements.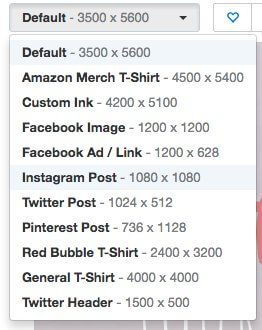 Pricing: 100% free with any Placeit subscription.
The downside: the system automatically arranges text and objects for you in a way that makes sense, so you are not allowed to manually reposition any of the elements in the design.
Bonus: Can also be used for social media imagery creation as there are presets for different outputs. New templates are being added every day.
Here are some examples of tshirt templates I made using this tool, nothing else: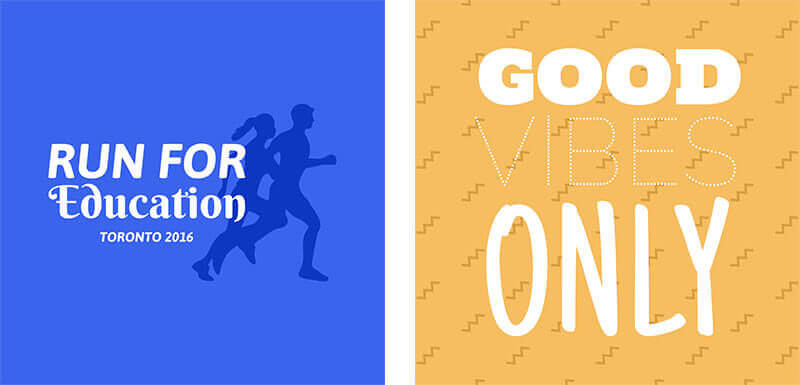 ---
Design a Shirt was one of the first design makers for t-shirt templates. Besides allowing users to create tshirt designs to sell to the masses, this tshirt generator is mostly used among people looking to design and print single tshirts or sports teams uniforms, it has also gained popularity due to the rising trend of bachelorette tshirt designs.
Key features: you can upload your own art file, or visit the idea gallery for more design inspiration. You can personalize your order with the Names & Numbers tool, which is great if you are making tees for sports teams.
Pricing: tool and assets are free.
The downside: If you plan on selling your t-shirt designs outside of this platform, these won't be of use as you don't get an option to download them, even on a paid option.
Bonus: this design studio has the option to save your design or send it to a friend for more feedback before publishing it.
---
Canva – Desktop, iOS
Though this is mostly a graphic design tool and not specifically meant for tshirt templates, lots of tshirt designers and sellers find it useful for making quick graphic tees on the go as it offers tons of different presets and layouts with a variety of fonts and graphics.
Key features: you are able to choose from a wide set of layouts or use custom dimensions.
For this example, I made a 3000 x 3000 file (Teespring's suggested upload size) and since it's not one of Canva's preset templates it has no existing designs in these dimensions, however, all of the design elements, backgrounds and text fonts are available for me to use, have a look: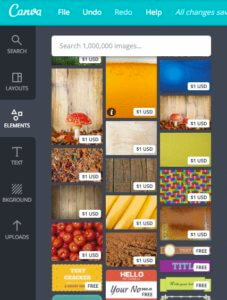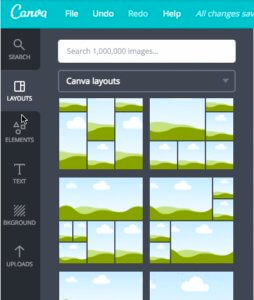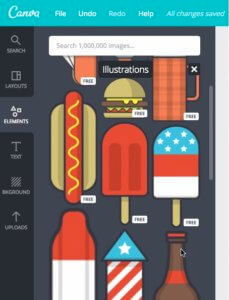 Pricing: this site is free to use, but most elements will have a watermark, to remove it you will have to purchase the premium elements (most are $1 each).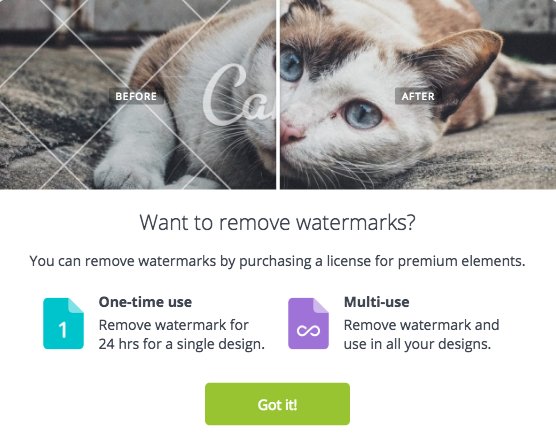 There are two paths you can go by for getting rid of watermarks and purchasing the license needed to use the designs commercially:
Purchase premium elements one-by one $1 each or $10 Multi-Use (you can use the same asset without watermark forever). You can also credit your account in advance.
Upgrade to a monthly ($12.95) or yearly ($119.40) subscription
The downside: you are not allowed to make a Merch by Amazon ready file, their max height is 5000 px.
Bonus: the iOS app doesn't let you make a custom design but you can edit your existing ones with all the same elements such as icons, fonts, etc. Here's a screenshot of how the app looks like when editing a 3000 x 3000 design: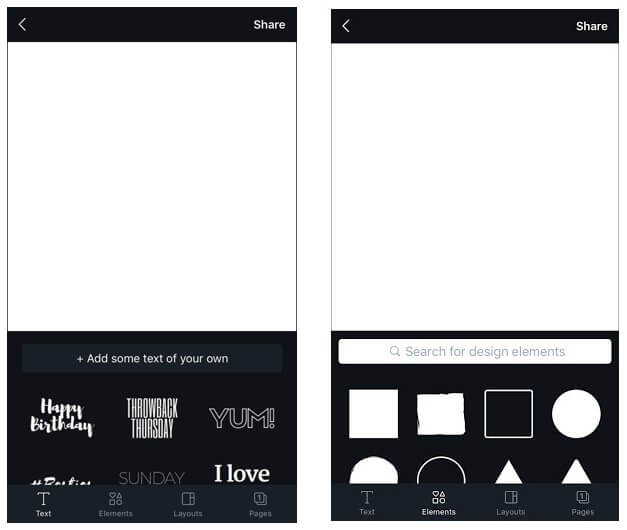 Read more on Canva's license agreements here.
---
Another great tshirt designer that delivers merch ready designs is MerchPower. This is a simple looking, yet powerful tool that has tons of tiny little features you didn't think would come in so handy. This tshirt template tool delivers a 4500×5400 px transparent background PNG file you can upload straight to MBA.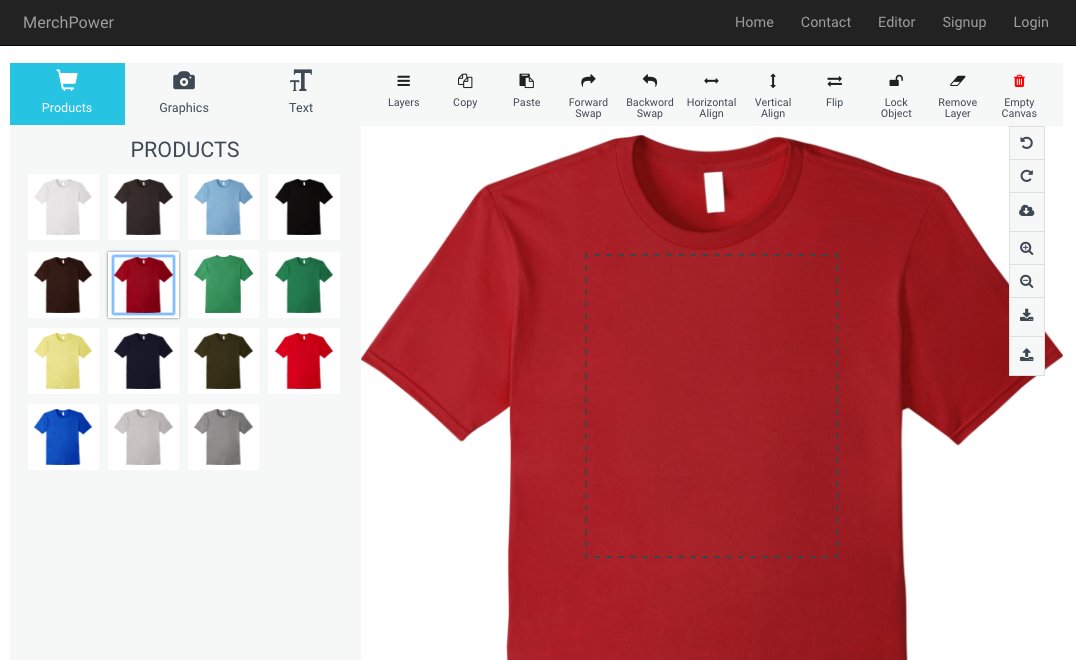 Key features: you can easily center, flip and adjust the transparency of text and graphics. Besides from preset clip art graphics, you can also use the hand draw tool or add a QR code. A great feature from Merch Power is the fact that the elements in your design are divided into layers, making easy for you to toggle between them.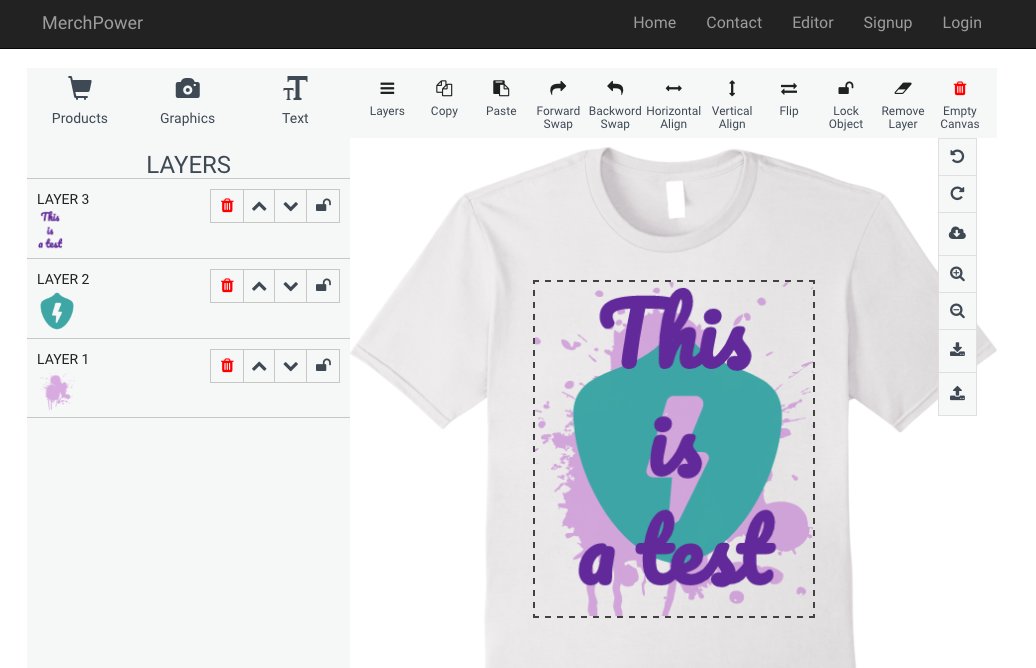 Pricing: 100% free.
The downside: there aren't that many available icons or graphics at the time. Hopefully more options will be added in the future!
Bonus: if you are into the graphic tee business, this is for you. The text editor offers many options such as curved text, line height, alignment, font size, font style, etc.
---
Built by Chris Heidorn from The T-Shirt Academy, ThreadBasket will provide "affordable, fully licensed designs at your fingertips!"
It hasn't launched yet, you can join their Pre-Launch List to get more news on when the Beta version gets released and catch some discounts!
Print-On-Demand Shops With Design Generators
---
Teespring – Mobile & Desktop
Teespring is one of the major Print-on-Demand shops out there, they have years of trajectory to hold their backs, but we're not here to talk about their business but about their tshirt designer instead. T-Shirt offers a built-in design maker that allows their users to make instant graphic tees on the go.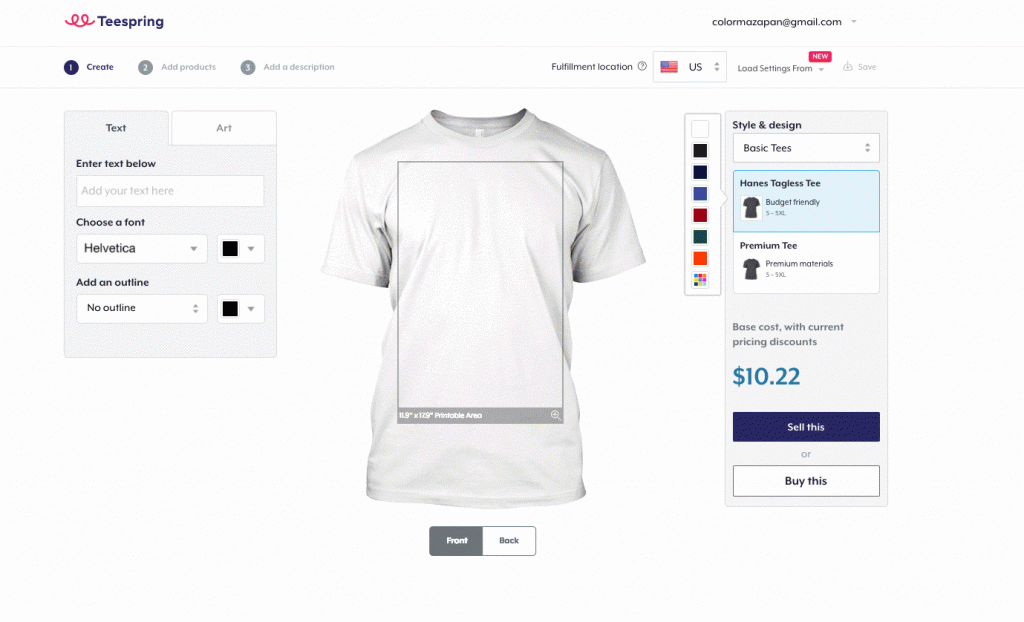 Key features: you are allowed to use the type tool, browse artwork or upload your own. Or all three!
Pricing: 100% free to use.
The downside: there's no way to actually download the file for the tshirt design you created, so your only option is to sell it on Teespring.
Bonus: by selecting the style and design of the garment you can actually see how the design will fit the actual product.
---
If you are into the online tshirt business, you've probably heard of Spreadshirt, another one of the big names in the industry that decided to take matters to their own hands and create their own tshirt design tool for both beginners and the more experienced sellers.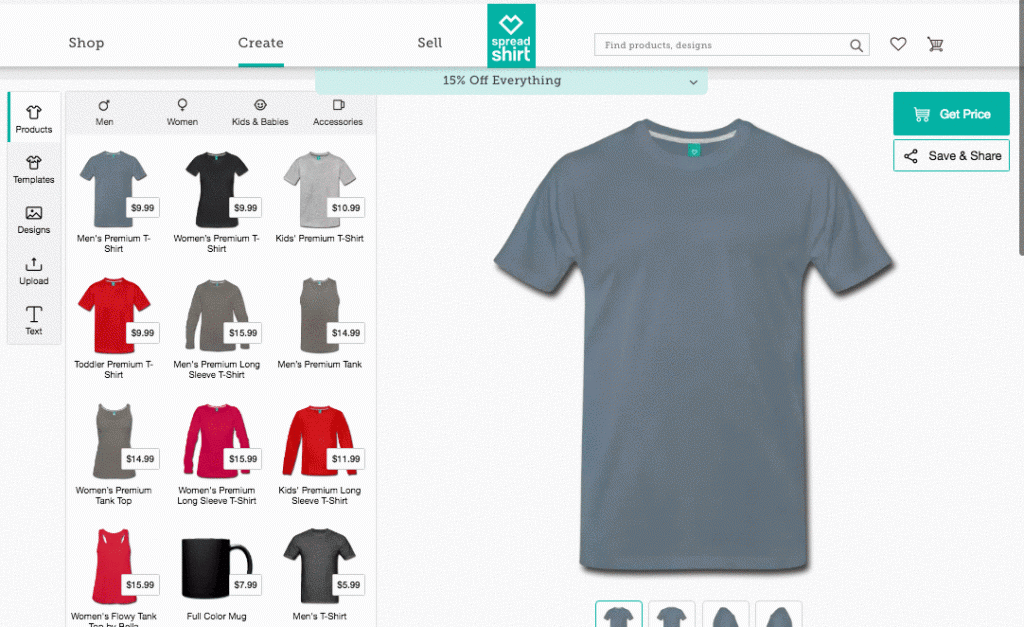 Key features: they have tshirt templates that allow you to simply replace some text fields and use the preset elements to make a tshirt design that can go straight to your shop or the marketplace.
Pricing: the design tool is 100% free.
The downside: just like Teespring, Spreadshirt encourages its users to sell their designs on their site so they don't have an option to download the design file.
Bonus: not only tees, you can also use Spreadshirt's designer for baby apparel and merchandising such as mugs, backpacks, phone cases, etc.
---
They call themselves print geeks for a reason, and that's because they really mind the details, this is a family owned company that its fully designed to take care of you, from the designing to the printing process, which is a refreshing feel, to be honest. Their design tool is very much like all the others with some cool features and additions that stand out, besides, they have one of the largest clipart libraries among these tshirt template makers.
Key features: you can upload your own image and start from there or choose from over 50,000 clipart designs, which are divided into the following categories: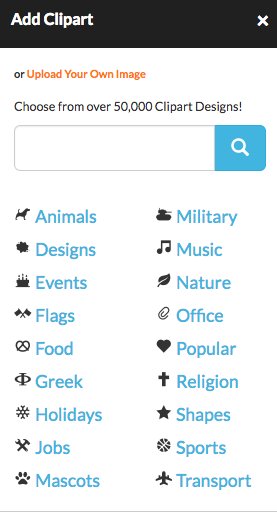 This tool has a couple of design features that may be of help when creating tshirt designs, like Distress, which adds an effect to the clipart, text or image or Mask, which puts your design inside a shape. Like other tools, Rush Order Tees also allows you to personalize tshirts for teams or groups with names and numbers.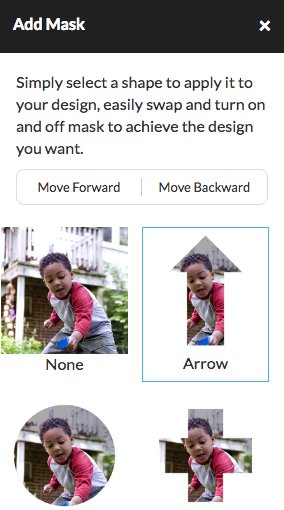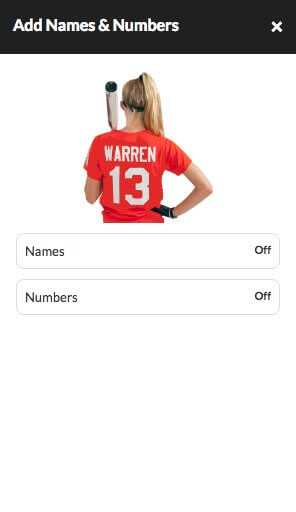 Pricing: 100% free to use to create designs
The downside: no option to download your design or to showcase on mockups with people in context.
Bonus: if you decide to create and print your tshirt designs with them they offer great assistance for design review and repair, which is great for beginners!
---
When it comes to creating and selling tshirts online, CustomInk is definitely one of the big guys. They offer tons of products with a great variety of styles, besides, their Design Lab is very user friendly, which makes it easy for people who are not into the tshirt business to go ahead and create an account and start selling tees.

Key features: great looking graphics that go along with the latest t-shirt template trends, their assets don't seem outdated. Besides being able to add text, clipart and numbers you can also add your own artwork and mix it up with their assets. They allow you to print on the sleeves, hood or side leg (depending on the garment).
Pricing: 100% free
The downside: no ability to download the design to print on your own or upload
Bonus: they have preset design templates that are divided into niche specific interests, which is great when creating tees for a narrowed audience, besides, these are super easy to edit. Great customer support!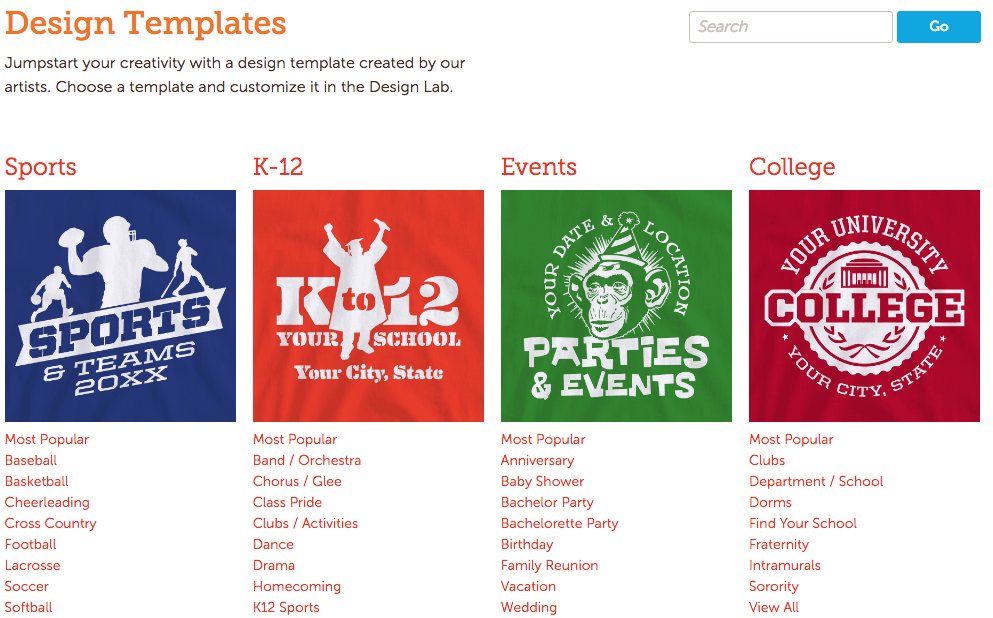 ---
Whoptee – Mobile & Desktop
Wooptee allows you to sell not only tshirts but all sorts of merchandising goods and they also feature a design maker that lets you create the designs straight from your browser, no Photoshop, or anything. Just add text, art, your image and arrange the elements to create a tshirt template that works for your tshirt business and your audience.
Key features: you can add clip art or Whoptee has the option to add Names & Numbers to your tees, great for teams or group tshirts. The different elements in your design as considered as layers and you can move them to the top or bottom.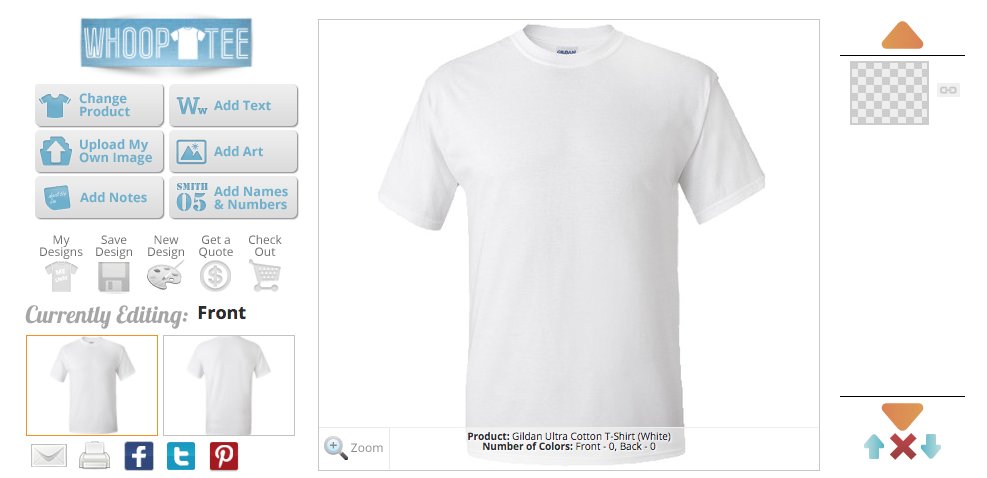 Pricing: 100% free
The downside: again, you are not allowed to download the final design file by itself to upload to other platforms. Graphics and fonts seem to be a bit outdated compared to other design makers.
Bonus: aside from using clipart or your own artwork, you can also load a template, these come in different categories, which range from sports, College, Military, Family to even Religious and Business.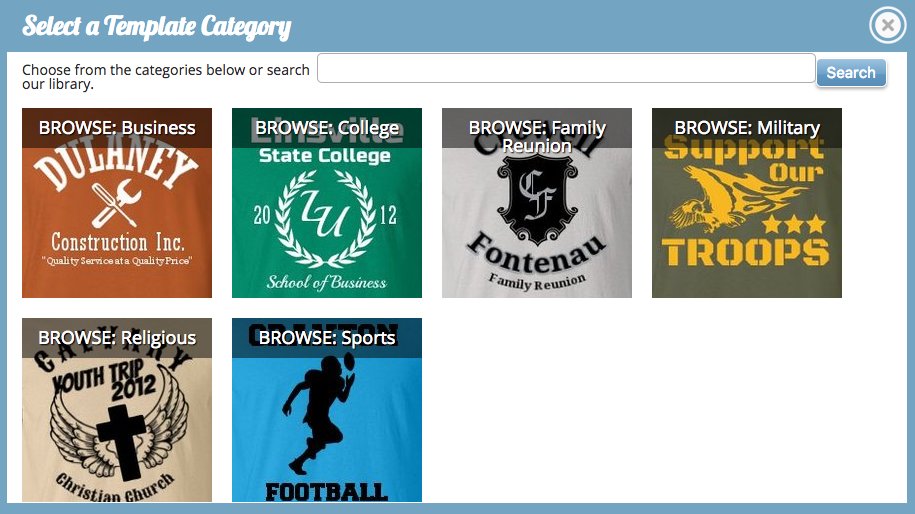 Download Packs, Freelance Designers and Agencies
---
Key features: TeeCampaign 2.0 is packed With over 700 premium T Shirt designs for 9 of Teespring's best selling niche groups and available for immediate download. They throw in Niche Spy Pro, a tool to spy on your competition's social media promotion efforts.
Pricing: one time payment of $97
The downside: since these are preset tshirt templates, there is a chance that other tshirt sellers will have the exact same tshirt design offered at their shops. I suggest making some edits to the files before uploading to your site to avoid this.
Bonus: they have a 60 day money back guarantee if you don't make any sales on Teespring, Teechip, Teezily or Gearbubble.
---
Fiverr is a platform for hiring freelancers from all around the world. You can find some hidden gems in here as some of these guys are design students looking to make some money on the side.
To find freelancers who'll do a tshirt design, simply search for it on the site, here's my search query for tshirt template gigs and some of the results it delivered: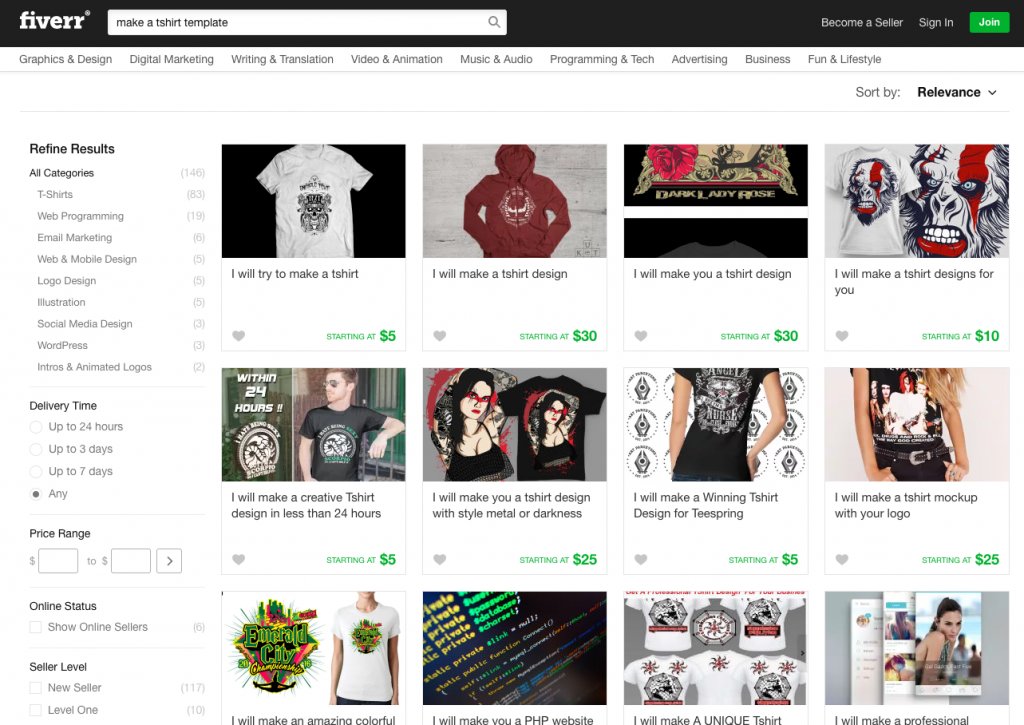 Here are a couple of designers to get you started, check 'em out:
---
IMPORTANT WARNING
Be careful when hiring people on Fiverr, keep in mind the Internet is a huge place that holds all sorts of people with all sorts of intentions, there have been cases of people purchasing tshirt designs from freelancers on Fiverr only to later find out that these designs belong to someone else and are even already listed under some other brand's profiles or shops. I suggest you read the reviews of each designer before hiring them or using the designs they deliver for your own shop.
---
Looking to delegate the tshirt designing task to someone else and focus on other matters in regards to your tshirt business? Hey, that's also an option and Raft-shirt is a design agency that's meant to help you out if this is the case. No need to break the bank or your brains while attempting to come up with successful tshirt designs, let someone else do it for you!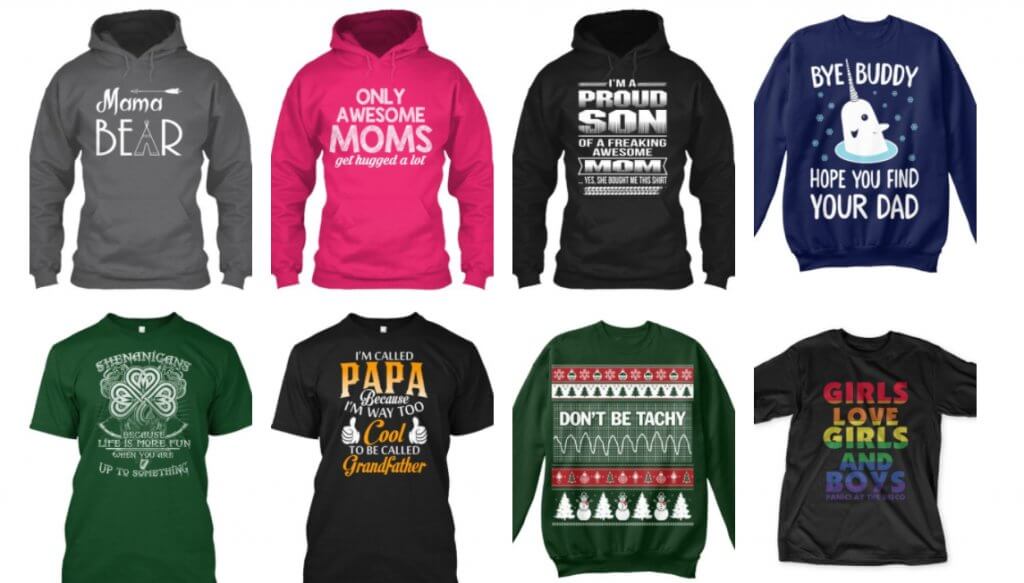 Key features: you give them an idea, they make a tshirt design around it for you to sell it online, easy as that. They deliver a first draft of the tshirt design in just 24 hrs.
Pricing: these guys will do as many tshirt designs as you want for the following amounts. The price variations basically depend on the complexity of the design, the elements used on it and the delivery time frames.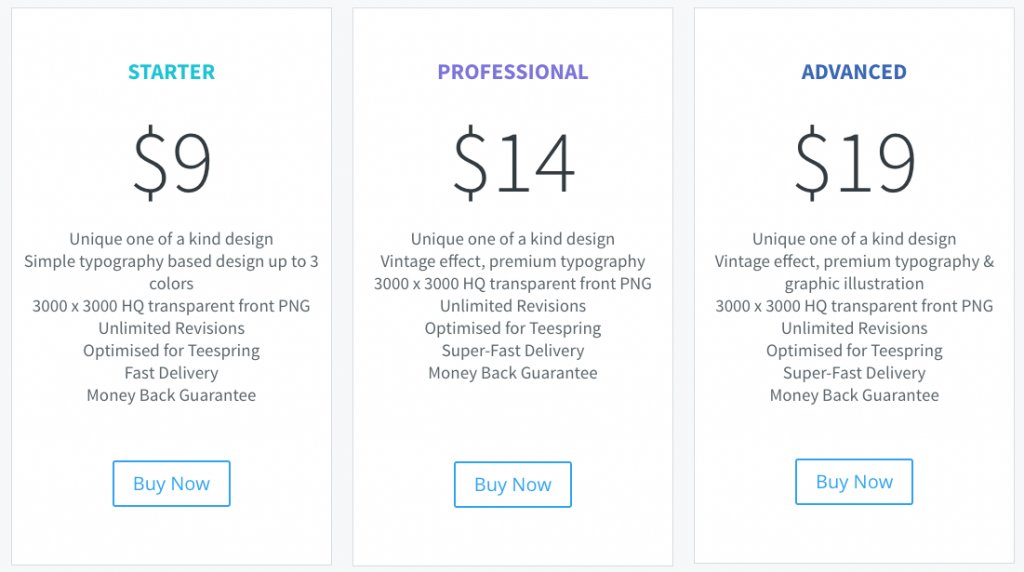 The downside: since they do the design for you, you have to rely on their taste and capabilities, but with unlimited revisions, that doesn't sound so bad.
Bonus: they advertise their services as "Optimised for Teespring" but we asked if they'd deliver a tshirt template in different dimensions, for example in Merch by Amazon size (4500 x 5400) and they said definitely yes, so kudos on that!
---
FREE Downloadable Resources
We know how hard it is to find free quality resources online, especially if you are barely getting started, so I went ahead and compiled a bunch of resources for you, think of it as a beginners kit for designing your first tshirt template.
I put these together in a .zip file totally free for you to download and share with other tshirt sellers looking for a little bit of help getting off the ground. All of these assets are free to use for both personal and commercial purposes. However, I do encourage you to read the .txt files that are included on some of the graphics as these provide guidance on how you are expected to attribute and make use of the assets.
---
CONGRATS!
YOU'VE UNLOCKED THE T-SHIRT BUNDLE
Click the image below to download the tshirt template bundle .zip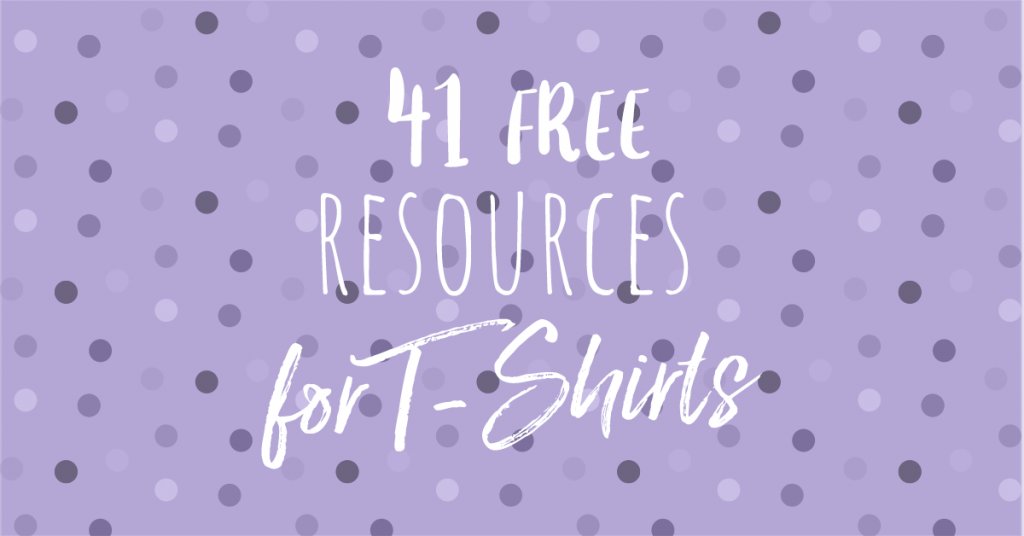 ---
Resources on this bundle were downloaded from the following sites:
Fonts for Graphic Tees
http://www.1001fonts.com
http://www.dafont.com
https://thehungryjpeg.com
Graphics and Icons for T-Shirts
https://www.vectorstock.com
http://freedesignresources.net
www.freepik.com
https://openclipart.org
Assets downloaded from clipart.org include "clipartorg" in the file name, these guys allow you to use the assets free for unlimited commercial purposes without any kind of attribution. You can refer to their license agreements here.
For the rest of the files, please refer to their corresponding .txt files when making use of the assets for personal or commercial purposes. All font files were marked with licenses for both Personal & Commercial use, most were found in this amazing post by Print Aura. 
PSD and AI T-Shirt Templates to Build Your Designs
On the bundle you'll find 4 tshirt templates, two of them are original Merch by Amazon assets, one in Adobe Illustrator and one in Photoshop, these are ready to use for Merch by Amazon tees.
You'll also find a PSD file made by me for General T-Shirts, which is 4000×4000 px, 300 dpi. This is a layered PSD file that includes centering guides and a layout that includes 2 lines of text and space to add your own graphic. The other template is an AI file created by John E. Adams, which he was kind enough to share on Merch Community, one the major Facebook groups dedicated to Merch by Amazon sellers.
The idea is that you use these tshirt templates to experiment with the graphics and fonts also included in the bundle and create your own designs.
And that's it! I hope you find these tools, services, resources and graphics useful and you are now headed towards the bank to cash in on all your sales! Please let me know if you use any other tshirt templates or tshirt design makers that I
---
Placeit Tools Will Help You Promote Your T-Shirt Designs
Using Placeit's design templates is easy and will enhance your promotion efforts with professional quality images. You can also use Placeit's mockups to further improve your marketing campaigns and make sure your designs will take off before sending them to print. Don't Wait to Visualize Your T-Shirt Ideas.
Make a T-Shirt Design Now
"How easier would have been to set up my tshirt store if I knew

Placeit

before
"
Monique Snyder
5

/5