This Is the Esports Logo Maker of Your Sweetest & Wildest Dreams
Designing a logo for your esports team or gaming clan can seem like a daunting task, only thinking of opening Photoshop and tinkering with endless images, fonts and colors can be enough for someone to rage quit without even starting. And let's be honest, you would rather be laddering instead of talking to a designer for endless hours to get your view across. In this post, I'll show you how to create a logo for your esports team with an esports logo maker! With an awesome logo or avatar, you can start building a solid brand and even start your journey towards becoming a gaming influencer!
---
How to Make a Gaming Logo:
---
Use Placeit's Esports Logo Maker
The awesome thing about this logo creator is that we have lots of fonts for you to choose from, even some free logos. So write in your team name, choose a font that compliments your theme and pick the font color. Think of it as one of the main colors of the logo because it's one of the most visible ones.
For characters, we have a wide range to choose from. So the second step would be to select one that goes well with your team's name and that will represent your team well. Also, choose the main and accent colors for your team. Think that these colors can be later used for merchandising and even for Facebook posts and streaming overlays. Make sure that you choose colors that compliment each other.
Finally, you'll have to pick a background color for your download. I recommend you download it with a transparent background to be used in all types of materials later.
What are the Benefits?
First of all, it's super easy to use and you'll have a professional esports logo in minutes, you don't need to be a designer or spend hundreds of dollars on designer software (better spend them in-game on some killer skins).
You'll get a gaming logo instantly and you won't have to wait weeks to get the final product.
There are tons of options and combinations to get the exact logo you've been looking for.
Making an Animated Logo Too!
You can also make an animated version of your logo using Placeit's Animated Logo Maker tool. You can make your own short animations to post on all your gaming channels.
What Else Can I Do With an Esports Logo?
Your logo is the jumping-off point for your team branding, so once you have it you can start designing merchandise. How about printing out some hoodies with your team's logo to give out to your players or supporters? We also have some awesome hoodie mockups to show off your logo design.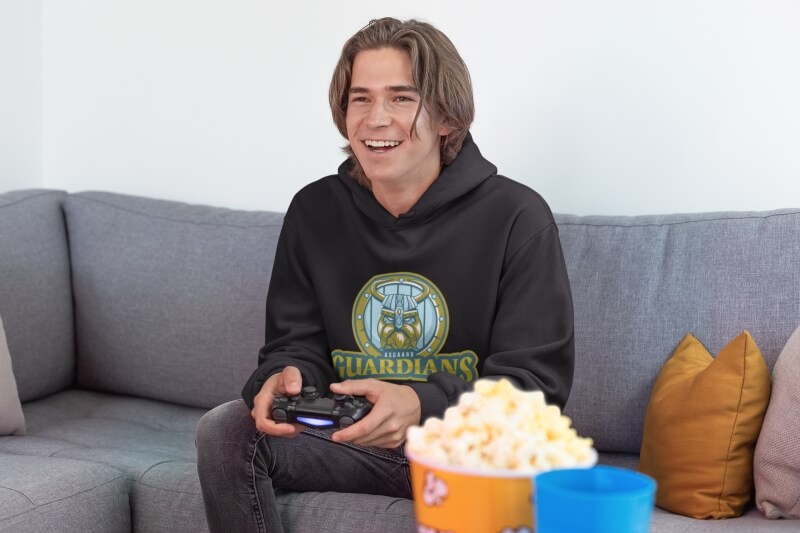 Or why not make some hats for players to show off on stream. Check out our hat mockups, we have a bunch of styles from dad hats to snapbacks to display your logo.

Video Mockup of a Girl Wearing a Snapback Hat
There are hundreds of uses for your logo, you can also use it as a banner in some games, or as a branding jumping-off point for your stream, just think of the possibilities.
These Look Great! Aren't They Super Expensive?
No! That's the best part! Your brand new gaming logo will be half price with a Subscription plan and once you click download you'll get a 4000 x 4000 pixels PNG file that can be used to promote your gaming clan on Twitch, social media, get sponsors, print merch. The options are endless. By the way, you will want to read these 5 quick tips to start streaming on Twitch if you are serious about wanting to grow your channel!
Placeit's logos fall under an Unlimited Commercial license which means that you can use them to print out merch, or branding and sell them to fund your team's next trip to an eSports event.
Are There Any Other Options Out There for my Esports Team Logo?
Yes, you could design a logo in Photoshop. If you have the time on top of your gaming and training, this would be a good way to create your logo. It would also be useful if you have knowledge (or the time to learn) about some basic design principles. Here's a video tutorial to make a gaming logo in Photoshop.
Another option is to hire a professional designer, there are really talented people out there designing for eSports, but it usually takes from one to two weeks to get your logo and it can cost around 40 to 200 USD, depending on the designer. Again, if you have the time and money this could be a good choice.
Placeit's logo maker is a great choice for those who want a well-designed, quick logo and that don't want to break the bank by doing so. So why not try out this logo maker? It will be easier, faster and with far less headache-inducing. I made a quick video to show you how to use Placeit's Logo Maker, watch it below:
Learn more about how to design a logo with Placeit's Logo Maker and start creating amazing eSports logos.
Brand Your Streamer Identity!
As a gamer, you should establish your stream branding right from the start. This means consistent graphics all across the gaming platforms you use including Twitch. Try this Twitch Logo Maker to brand your channel like the pros and then go ahead and make a banner for your Twitch channel!
Now try 9 Tips to Create Your Own Fitness & Gym Logo to start creating great fitness designs! Part of a sports team? You can also design amazing sports logos for your team that will look sweet on your uniforms! Try our volleyball logo design tool.
"My team's logo is OP and it was super easy to make with Placeit's logo maker"
Tim Williams 5/5
---
The Easiest Way to Make an eSports Team Logo
Is your team ready to make its way through grueling battles and leave all you've got in the online gaming arena? Why not do it with a logo that represents all that your team has been working on? With Placeit's eSports Logo Maker you can create one that fits your style, in minutes and without having to hire a designer or spending hundreds of dollars and hours on Illustrator.
Make an eSports Team Logo Now
---