Stay Sharp! Make a Stylish Barber Shop Logo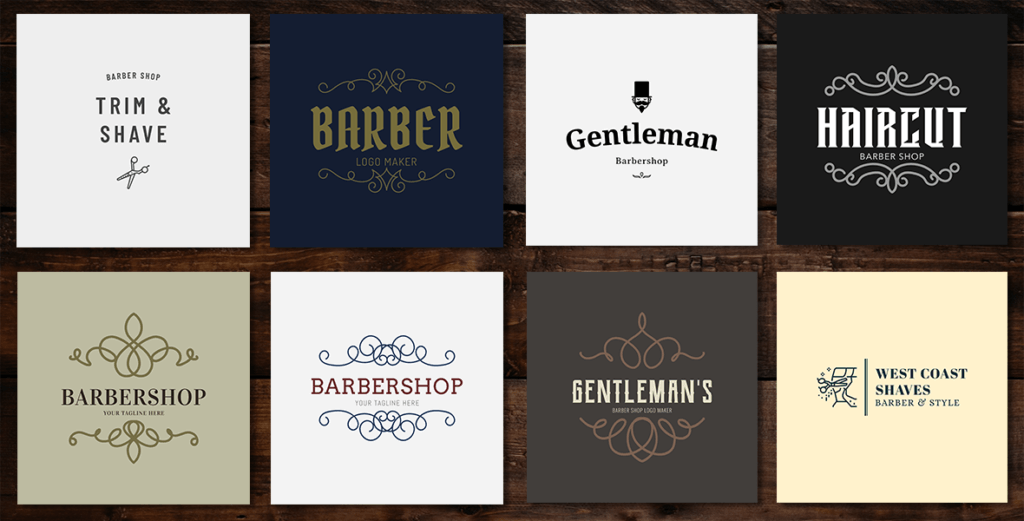 Now we both know that as a barber you are especially careful with looks and style. Your work speaks about you as a professional, and nothing is more impressive than a haircut and shave that is hella sick! Naturally, you should put the same effort into making your business's image look as good as your services.
"With a great beard, comes great responsibility"
So following up on where you should stand as a professional barber, have you made your barber shop logo yet? Relax, it is not hard at all! You can design your own logo without hiring anyone else, buying expensive software, or spending weeks on a design. Placeit's barber shop logo maker offers a variety of templates you can customize to make your own.


What Do I Need to Open My Barber Shop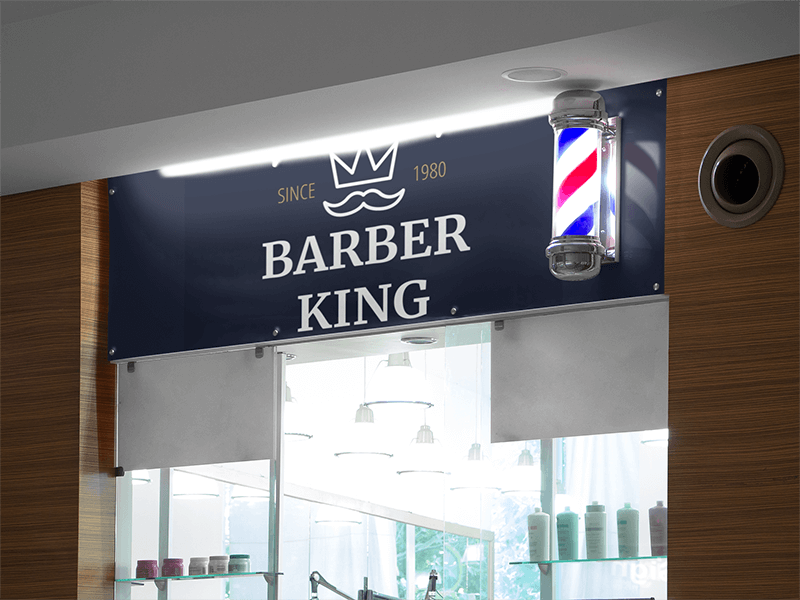 Horizontal Banner Mockup at a Barber Shop
If you are still in the planning stages, the following checklist will be very useful to get your needs in order:
Location and Facility- Unless you are willing to spend your savings, a leased space is cheaper while you try out your business. Prime locations are more expensive but they put you in a better spot.
Get Qualifications- You need a master barber's license to open your business, which requires training and passing an assessment test. You also need an employer identification number, federal tax identification number, and a sales and use tax identification number in some states.
Shop Requirements- Comfort and aesthetics are an important consideration when buying equipment for the business. The equipment you purchase should meet state standards in order to operate the business. Some of the things your barber shop will need include:
Barber chairs, child seats, and seats for the waiting area
Scissors, clippers, trimmers, razors, brushes, mirrors, etc.
Disinfectant chemicals and sanitizers per station
Spray bottles, neck dusters, talcum powder, towels
Garbage cans for waste products and 'to be cleaned towels'
Pro Tip: If you are looking for a loan, it helps to have a written business plan that is consistent and that looks professional. There are great apps to help you achieve this like Enloop App or StratPad.
Where Do I Start to Make My Barber Shop Logo?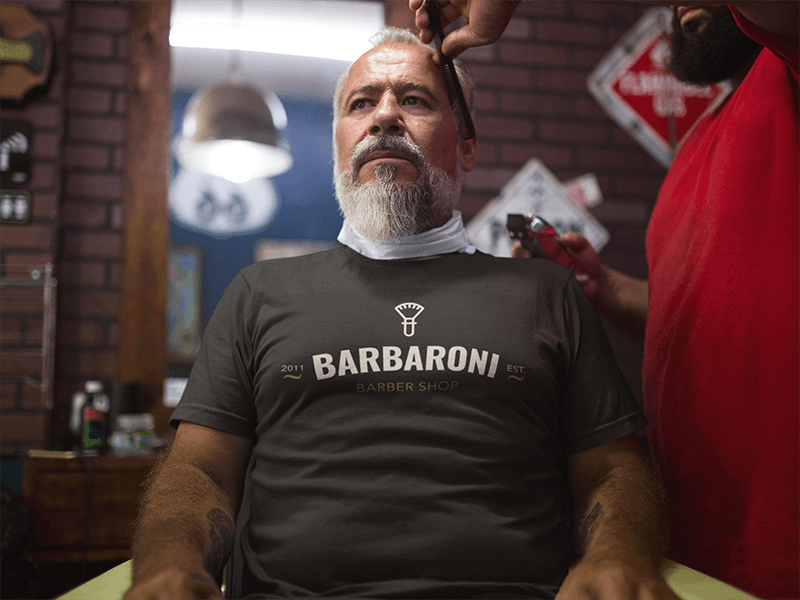 T-Shirt Mockup of an Older Man at a Barber Shop
First, take your time to look at the barber shop logo templates we have for you. Once you've found your favorite template, you can customize the font, the graphic, the colors, and make it your own. When you are done and satisfied with the result, click on the download button and you will get two files: a png with the color background of your choice and a png with a transparent background. Both files offer the highest quality for logo purposes and you will be able to use your new logo anywhere!
Brand, Shave, Shine
Branding your business is an important matter from day one. Your logo is the central piece to your brand, but there is still plenty of work to do before achieving brand recognition.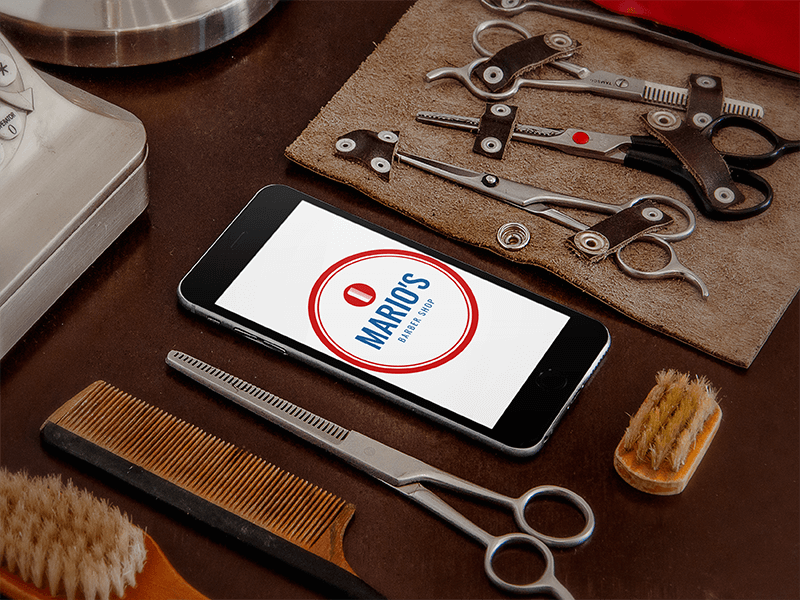 Product Mockup, iPhone 6 at a barber shop
Why is this relevant to your business? Let's say you get your first round of customers, but you don't have a business image just yet. It's then very probable that the only thing they will remember is your location, kind of, and that's it! There is no Facebook to look at, no Google Business, no Foursquare, and on Instagram for them to follow. Other people can't really see your work making it harder for them to decide if they like it before actually going to your shop. So you are stuck hoping that the people that pass in front of your shop will want to try your services.
There is another option… you can get your branding in order so that people will be able to find you, like you, remember you, and choose your barber shop over others!
Branding means using a consistent style on all your prints or digital assets. Stick to the same fonts, colors, styles…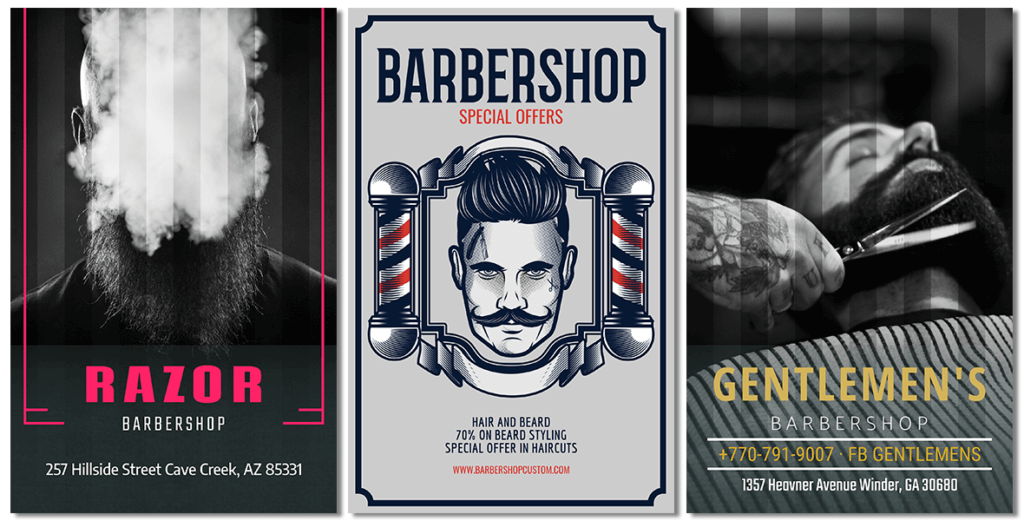 Unlimited Designs! What Else Will You Ever Need?
With Placeit's subscription, you get unlimited access to all of Placeit's professionally-designed assets. Make as many branding assets as you want for one low monthly price. You can also make mockups, mockup videos, video animations for social media, t-shirt designs, social media images, and so much more! Get started today!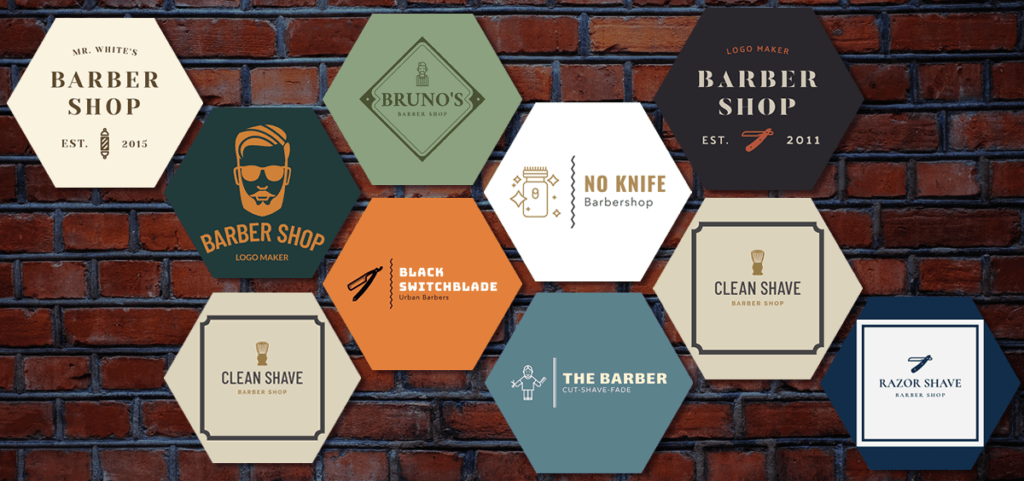 "I made my barber shop logo with Placeit's logo maker in just a few minutes!"
Tony Brown 5/5
---
Make a Charming Barber Shop Logo and Look Sharp!
Create your barber shop logo in seconds with Placeit's logo maker tool. Use an online design template to make gallant branding assets to match your shop with the easiest tool available. Design business cards, flyers and any kind of images with just a few clicks.
Make a Barber Shop Logo
---