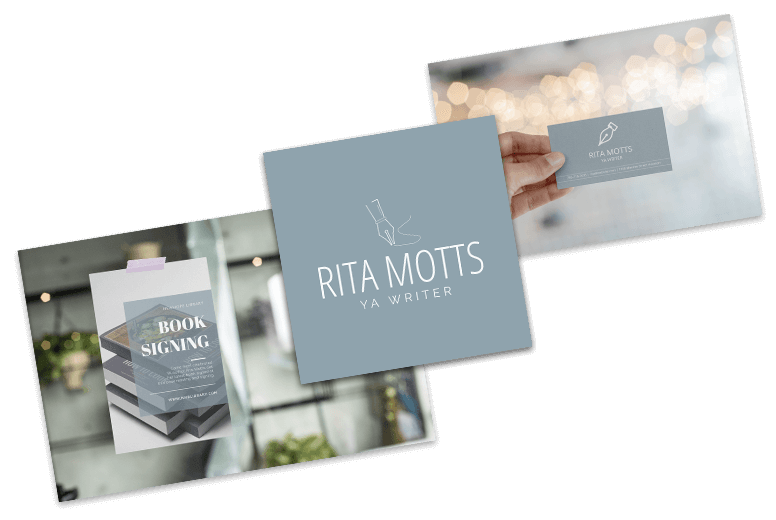 Let's face it. Traditional marketing does not work as effectively as it worked a decade ago. Modern customers tend to make more informed buying decisions. And it's not that easy to manipulate those decisions using standard commercials, banner ads, and social media ads.
If you want to succeed in 2019, you should make your brand stand out from the crowd. You should create high-quality branded content and promote it online. Do you need some inspiration? Take a look at the following great examples of branded content. 
What Exactly Is Branded Content?
Before we move to examples, let's clarify what branded content is all about:
Branded content never involves traditional advertising, such as TV commercials and banner ads. In most cases, branded content includes articles, YouTube videos, podcasts, and films.
The companies use branded content not to promote a specific product, but to address one of the issues that exist in society (e.g., beauty stereotypes, gender inequality)
When used correctly, branded content should drive engagement, increase brand awareness, and improve brand loyalty.
Great branded content always involves storytelling.
Branded content evokes one of the following feelings:

Sadness
Happiness
Fear or surprise
Anger or disgust
Top 9 Examples of Branded Content
The Lego Movie
Have you watched The Lego Movie? If you like cartoons, or if you have little kids, you probably have watched this popular movie a few times. The trick is that The Lego Movie is not an ordinary movie. It's the most successful branded content piece that companies ever produced.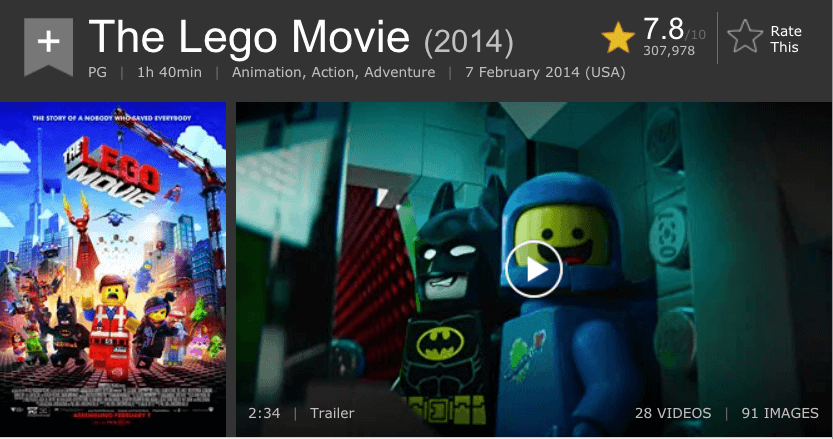 After watching The Lego Movie, thousands of kids and adults wanted to buy Lego products. As a result, the company improved brand awareness and increased sales by 25%.
"Real Beauty Sketches" and #ShowUs Project by Dove
Dove is another brand that is famous for its branded content. In 2013, Dove started "Real Beauty Sketches" marketing campaign. The company released a few short films to show women that they are more beautiful than they think. The films got more than 75 million views on YouTube.

In 2019, Dove started a new marketing campaign to shatter beauty stereotypes. According to statistics, 70% of women still don't feel represented in media and advertising. So Dove decided to collaborate with Girlgaze Photographers and Getty Images to create the most extensive stock photo library powered by women.
The goal of this branded video was to present the vision of beauty where no women or girls are excluded. If you check #ShowUs hashtag on social media, you will see that this branded content campaign resonated well with the target audience.
https://youtu.be/7OufbVVpqV0
"Make Your City Safe" by Volvo Auto India
According to statistics, 84% of women in India do not feel safe in their cities. And, Volvo, as a company that stands for safety, couldn't stay away from this problem. Volvo organized a Mumbai night walk "Make Your City Safe" to reclaim the night as a safe space for women. Also, it created a branded video to draw people's attention to the event as well as to the safety problem in general.

This is a perfect example of branded content. As you can see, this branded video does not look like an ad. However, it presents the brand in the most favorable light. The video promotes the core value of the company (safety in general) and addresses the topical issue that exists in society (women's safety in India).
Red Bull Cliff Diving
Have you ever watched Red Bull's videos on YouTube? If you are interested in extreme sports, it's highly likely that you have seen at least one branded video created by this brand. Red Bull is one of those companies that heavily invest in branded content production and collaborates with the influencers in extreme sports. Currently, Red Bull has almost nine million followers on YouTube and releases new videos on a weekly basis. It helps the company to engage the audience and keep sales on a high level.
Do you want to see an example of branded content created by Red Bull? Watch the video "Freerunning a Ghost Town in Turkey". It was published just a month ago but has already gotten more than 140,000 views.

Do you need more examples of excellent branded content? Watch the video "Last Call for Mr. Paul". It was published two years ago and has gotten more than 114 million views.

Both of these branded videos contain the Red Bull logo, but they do not showcase any of Red Bull's products.
Animated Movies About Famous Athletes by Gatorade
Gatorade created animated movie series about famous athletes such as Usain Bolt, Lionel Messi, and Hirving Lozano. All these movies reveal the saddest and the happiest moments of the athletes' lives. Also, these movies show why it's so important to be persistent in pursuing dreams.
This type of branded content perfectly appeals to the Gatorade's target audience – the young athletes and sports fans. The short animated movies not only entertain the viewers but also teach them not to give up in difficult situations.
https://www.youtube.com/watch?v=5z7TnZcHCXY
If you have just watched this YouTube video, you have noticed that it contains product placement. And probably you wonder whether this animated movie should be considered as an ad or as a piece of branded content. So let's make it clear.
The movie about Lionel Messi shows that a football player achieved success because of his dedication and hard work, not because of the magical effect of Gatorade drinks. Since the video is focused on the story of the athlete, not on the product, we can conclude that this video is a piece of branded content.
Airbnb's Article on Fatherly
In 2017, Fatherly, the popular parenting blog, published a sponsored article "How to make a memorable family vacation on a budget with Airbnb". The goal of this article was to encourage parents to appreciate the time spent with kids and to go on a family vacation.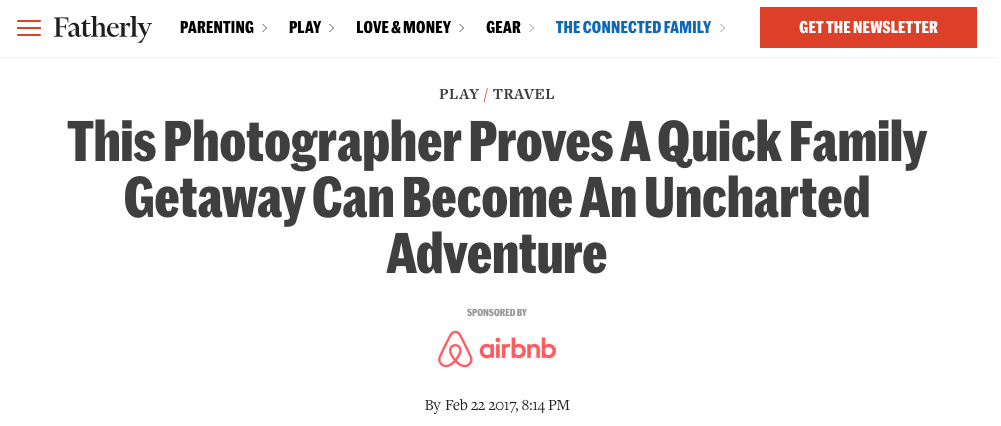 Look through this article, and you will see that it doesn't look like a salesy copy. It doesn't describe the benefits of Airbnb services. It shows the benefits of the family vacation. This piece of branded content is built around the values that readers and companies have in common. And, for this reason, it works better than any ad.
If parents see Airbnb's ad on YouTube, it's highly likely that they will skip it. But if parents read the sponsored article, they will want to plan a family vacation. And the high chances are that they will want to use Airbnb services.
"The Lag Stress Test" by Umeå Energi
Whether your company operates in the B2B or B2C sector, you can use branded content to draw customers' attention to your product. You just need to be creative and find the right way to present your brand. If you doubt that branded content can be used to promote such products as optic fiber, take a look at the following example.
Umeå Energi is a Sweden energy company that supplies electricity and provides broadband internet access services. In 2015, it used branded content to explain to its customers why it's important to choose high-quality optic fiber.
The company carried out a brain-sensing experiment, "the lag stress test", and published the video of the experiment on YouTube. The goal of the test was to demonstrate that lag always causes frustration. And the purpose of the video was to explain that high-quality fiber helps to avoid frustration in real life.
In Conclusion
In 2019, a strong brand is everything. And if you want your company to succeed in the long run, you should follow the famous brands' examples and create branded content.
Consider branded content as an integral part of your marketing strategy, put your customers first, and you will achieve the desired results.
---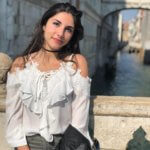 Diana Nadim is a writer and editor who has a Master's degree in Marketing. Now she is a content editor at TrustMyPaper. She works with professional writing companies such as GrabMyEssay, BestEssayEducation, and Studicus as a writer. The texts she writes are always informative, based on qualitative research but nevertheless pleasant to read.
"Placeit's design templates are the easiest to use, just customize and download!"
Raquel Witter 5/5
---
Promote Your Brand with on Social Media
Branded content is a great way for out of the box advertising trough mentions in articles online, websites, YouTube videos and more you can create buzz about your brand without pushing your products on viewers. If you're looking for great images for your branded content, check out Placeit with thousands of templates to create a well-rounded brand experience from mockups to social media images.
Start with a Design Template
---